Conscious Alliance Hosts Food Drives This Summer
Submitted by madison on Sat, 05/26/2007 - 19:38
Colorado not-for-profit Conscious Alliance continues to broaden their reach, hosting food drives at concerts and other events throughout the country this summer.  In addition to returning to such festivals as 10,000 Lakes, Wakarusa, Bonnaroo, All Good Music Festival, and Camp Bisco, and touring with such bands as Sound Tribe Sector 9 and The String Cheese Incident, Conscious Alliance will debut their services at the Joshua Tree Music Festival and the Taos Solar Music Festival, among others.  Conscious Alliance will also host their 1 st annual benefit festival, Sonic Bloom, in their home state of Colorado.
Their complete list of summer stops is as follows:
May 18-20 Joshua Tree Music Festival Joshua Tree, CA                  
June 7-10 Wakarusa Music Festival Lawrence, KS
June 14-17 Bonnaroo Music Festival Manchester, TN
June 21-23 Sonic Bloom Red Feather Lakes, CO
June 29-July 1 Taos Solar Music Festival Taos, NM
July 6-7 Re:Generation Music Festival Asheville, NC 
July 13-15 All Good Music Festival Masontown, WV
July18-21 10,000 Lakes Music Festival  Detroit Lakes, MN
August 3-5 Big Summer Classic Salem, MO
August 16-18 Camp Bisco VI Mariaville, NY
September 8 Power to the Peaceful Festival   San Francisco, CA 
September 14-16 Earthdance Laytonville, CA
September 20-24 Symbiosis Festival Northern CA
The String Cheese Incident Summer Tour
Sound Tribe Sector 9 Summer Tour
As always, attendees at the above events are encouraged to donate 10 or more non-perishable food items at the entrance, redeemable for an exclusive event poster. Food donated will benefit local America's Second Harvest food banks, and monies donated will help support the development of a second emergency food storage facility, this one on the Northern Cheyenne Indian Reservation in Montana. Additional food drives to be announced. For more information visit www.conciousalliance.org.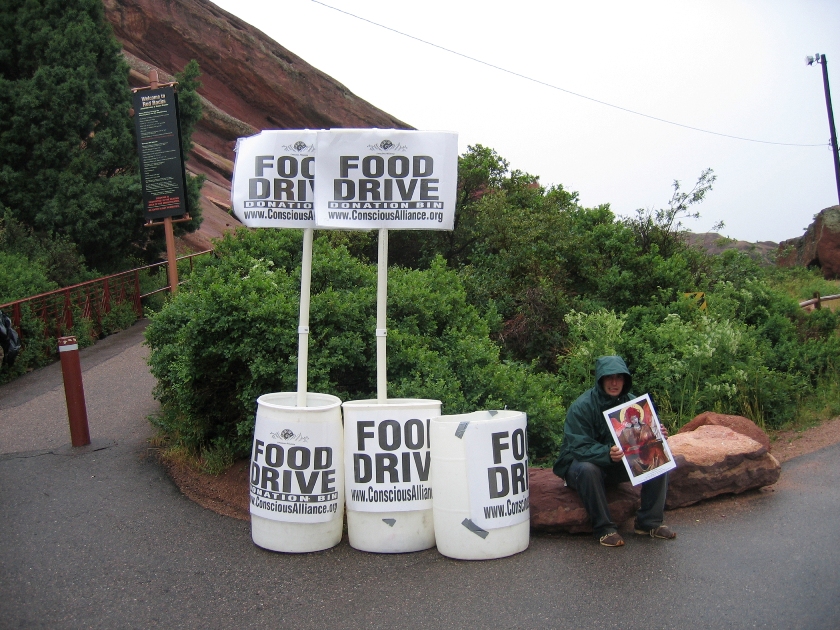 Conscious Alliance is a 501(c)3 non-profit organization committed to the redistribution of much needed food to the impoverished communities of the United States.  They operate an ongoing, national grassroots food collection and hunger awareness program. In short – they organize food drives at concerts and sporting events to collect food donations to benefit local food pantries and impoverished Indian reservations throughout the U.S.
Since their first event in 2002, Conscious Alliance has hosted hundreds of food drives at many events, including such music festivals as Bonnaroo, Power to the Peaceful, and the Langerado Music Festival, and for such artists as Jack Johnson, Foo Fighters, Bruce Springsteen, Michael Franti & Spearhead, The Dead, The String Cheese Incident, and many, many others. The net result: the redistribution of over 300 tons of food – and counting!
During a Hurricane Katrina benefit concert in 2005, The Conscious Alliance teamed up with the Dave Matthews Band, resulting in the collection of over 30,000 lbs. of food and over $70,000 in donation money that supported the disaster relief efforts.
Also in the fall of 2005, Conscious Alliance completed the first phase of Project Restoration, a project that created a brand new food storage and distribution facility on the Pine Ridge Indian Reservation, in South Dakota.  The facility provides emergency food relief to hundreds of families each month, and phase two of the project is currently in progress.