Davy Knowles & Backdoor Slam Tour
Submitted by mike on Fri, 11/27/2009 - 02:57
Davy Knowles and Back Door Slam resumed their North American tour on November 20 in support of the Blix Street Records album COMING UP FOR AIR, produced by Grammy® Award-winning guitarist Peter Frampton. The band has been touring non-stop since the album's release in June, most recently making its Australian debut with shows in Perth, Melbourne and Sydney following a stop in London and a triumphant homecoming to Knowles' native Isle of Man (in the Irish Sea between Belfast and Liverpool).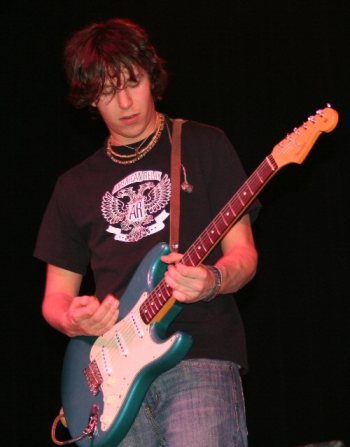 Following an October British media blitz in anticipation of the November 9 release there of COMING UP FOR AIR, Davy Knowles was profiled in the Sunday Times Culture Magazine in a story written by Paul Sexton (you can read it online) and BBC Radio 2 added the single "Coming Up For Air" to their playlist.  Knowles will also be profiled in the December issue of Britain's Classic Rock Magazine.  Their homecoming concert on October 12 at the Gaiety Theatre in Douglas, Isle of Man was streamed live over the internet and recorded for a DVD now slated for release on December 7.
To coincide with the U.S. fall tour, superstore Best Buy is hosting a series of guitar clinics presented by Best Buy Musical Instruments at which Knowles, the 22-year-old singer, songwriter and guitar prodigy, will perform live in the store and discuss guitar playing, highlighting his learning curve as an artist, his style and his equipment. He will also touch on what it's been like to work with guitar masters such as Peter Frampton, Joe Satriani, Jeff Beck, Warren Haynes and Paul Reed Smith during his short, but meteoric career.  The first of the guitar clinics took place on Sunday, November 22 at the Best Buy in Ann Arbor, Michigan, followed that evening by the band's appearance at The Shelter in Detroit.
The title cut from the CD-"Coming Up For Air"-was recently shipped to AAA radio as the CD's second single and was the second most-added single out of the box. "Coming Up For Air" from the Gaiety Theatre show, mixed and edited for the forthcoming DVD, is available for viewing on the band's YouTube page.
Davy Knowles' interview for BETA Records TV, the weekly 30-minute music centric show carried  in over 140 U.S. cities, will also air this week.  The weekly magazine format series is carried in over 200 millions homes via various cable and satellite outlets, among them Time Warner Cable, DirecTV, Comcast and Verizon FIOS.  After broadcasting, it will live permanently on the BETA website as an archived episode.
The fall tour will culminate with an exciting New Year's Eve appearance at the World Café in Philadelphia.  Special guest stars for that evening will be announced, and the band will appear on WXPN Radio's "Free at Noon" concert program that day, December 31.
Tour Dates: