Del & Dawg: 'Hardcore Bluegrass in the Dawghouse' Available Now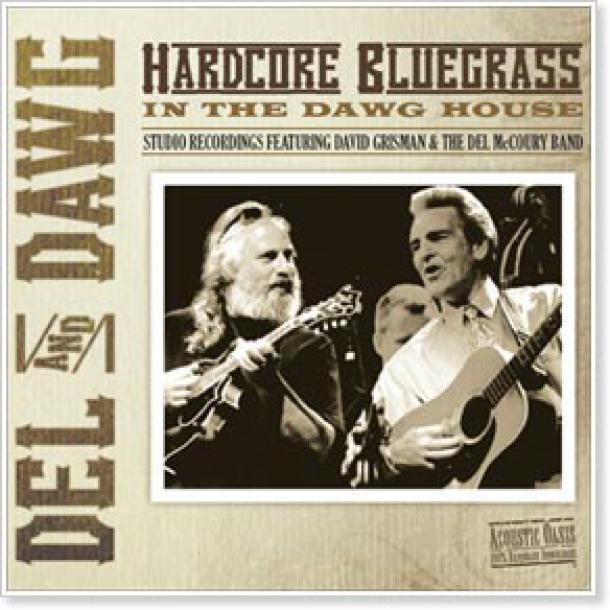 Award-winning mandolinist and music producer David Grisman announced today the release of Del and Dawg - Hardcore Bluegrass in the Dawg House. The album features 16 tracks from two recording sessions with celebrated bluegrass master Del McCoury and his band. Eleven of the sixteen tracks have never been released.
This unique collection of bluegrass classics by these legendary musicians is available for download immediately at AcousticOasis.com, Grisman's digital distribution arm of his Acoustic Disc label, which he founded in 1990.
"The Del McCoury Band is arguably the best traditional bluegrass band in America, and I'm honored to have been able to share the stage with Del and the boys on various occasions over the last four decades," says Grisman.
Grisman and McCoury made the recordings in two jam sessions at Dawg studios in 1992 and 1999. McCoury's soaring tenor voice and rock solid guitar combined with Grisman's sterling mandolin picking are featured along with McCoury's two sons, Ronnie (vocals and mandolin) and Rob (five-string banjo) as well as Jason Carter (fiddle) and Mike Bub (bass.)
Grisman and McCoury began what would become a life-long friendship 50 years ago when they met at McCoury's appearance with the legendary father of bluegrass, Bill Monroe. Del and Dawg played their first show together two years later in Troy, NY at the Rensselaer Polytechnic Institute.
Del and Dawg - Hardcore Bluegrass in the Dawg House can be downloaded here.