Elvis Presley & Robbie Williams Graphic Novels Out This Week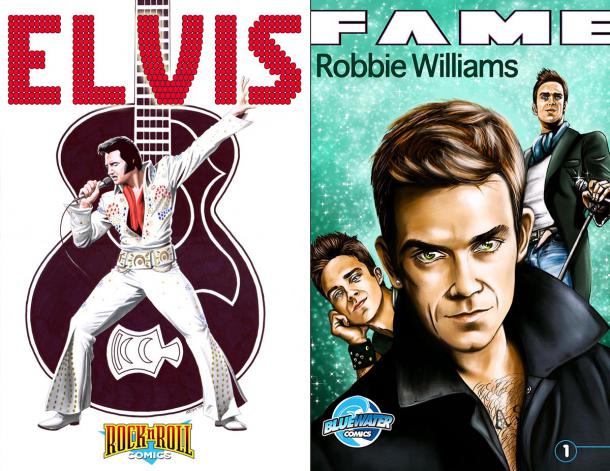 Chart toppers Elvis Presley and Robbie Williams get the comic book treatment this week in two new releases, "The Elvis Presley Experience" & "Fame: Robbie Williams."
"The Elvis Presley Experience" is both scholarly and dramatic in its graphic recreation of the King's remarkable life story. Though the series was among the best selling contemporary biographic comics of the 1990s, the individual issues have been out of print for over ten years and for the 1st time together in this collection.
This 200-page graphic novel features art by future Marvel and DC star Aaron Sowd (Wolverine), with a story co-scripted by Babylon 5 TV vet Patrick McCray. Azim did the cover.
"The Elvis Presley Experience" is available in print at Amazon or wherever books are sold.  The graphic novel will be released digitally for the 1st time on ITunes, Nook & Kindle.
"FAME: Robbie Williams", the bad boy of boy bands. The number 9 of pop. The big "R." Mr. Let Me Entertain You is back! The Brit sensation Robbie Williams is back with a vengeance in this 4th wall breaking bio comic. Follow Robbie through his life from his early days in Take That! To soaring solo success-- all with a little touch of the Robster himself!
"Fame: Robbie Williams" is written by Steven Stone and drawn by Jill Lamarina.  There will be two covers for this issue, one by artist Jill Lamarina and one by Michał Szyksznian. Both will be available in print.
To order "Fame: Robbie Williams" exclusively at Comic Flea Market in print for $3.99 please click here.
Download the comic to your e-reader from iTunes, Amazon, Barnes and Noble, Kobo, ComiXology, Google Books, DriveThru Comics, Wowio, iVerse, and more.
The company produces three lines of biography comics: Female Force, Political Power and Fame. Each line has produced comics that have sold out of their original runs at a time in which independent comics companies are struggling to gain an audience. Upcoming comic book biography titles are Adele & Paul McCartney.
Still available in print and digitally are the graphic novels of "The Beatles", "Pink Floyd" & "Led Zeppelin"
Bluewater's biography comic book series has been embraced by the media and featured on television news outlets including The Today Show and on CNN. The series has also been featured in many publications such as The Los Angeles Times, Billboard, MTV, Time magazine and People magazine.