Eric Lambert & Friends Winter Wallow Tour 2013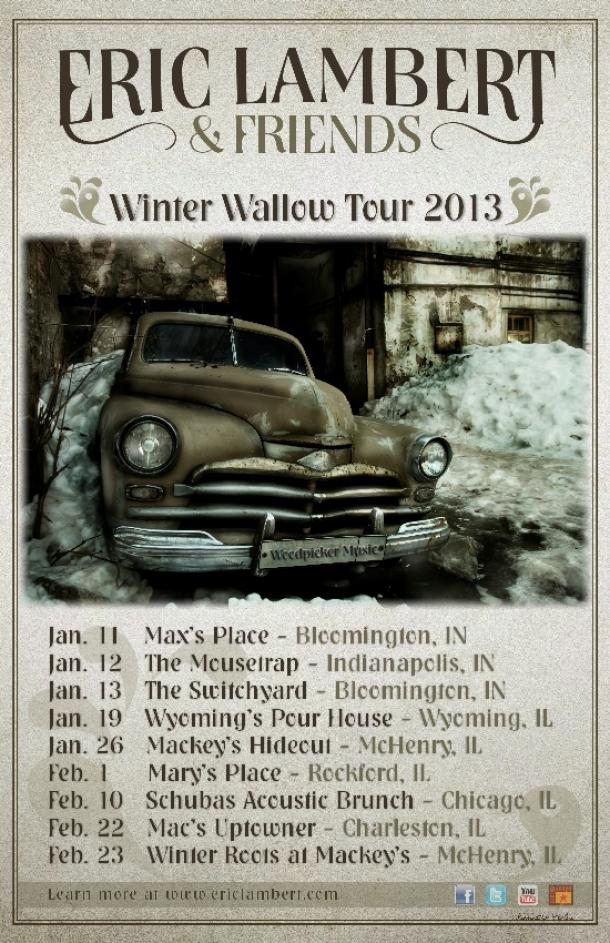 From the recording studio to the open road, Eric Lambert & Friends (ELF) kicks off a new tour this weekend. The Winter Wallow Tour will take the band through their home states of Indiana and Illinois, providing the opportunity to reconnect with family and friends, and play some well known haunts.
The tour unfolds this week, beginning Friday, January 11 at Max's Place in Bloomington, IN. The Stuttering Ducks will get the night started off right. Then it's on to Indianapolis for a big Saturday night in the state's capital. Eric Lambert & Friends headline The Mousetrap for the first time on January 12, with Midwest Rhythm Exchange opening. They will head back to Bloomington on Sunday, January 13 to perform at The Switchyard's weekly music and food gathering, which includes a Pot Luck dinner. The event is open to the public. Participants are encouraged to bring a dish to share and join in on the community-style flare.
On January 19, ELF heads to the neighboring state of Illinois for shows in Wyoming, McHenry, Rockford, Frankfort, Chicago, Charleston, and back to McHenry. On Sunday, February 10, they will be playing Schubas Acoustic Brunch. The popular brunch in Chicago is family-friendly with delicious food cooked up by head chef Alberto Garcia. The music is served up organically and is unplugged, and reviews highlight Schubas bloody Mary's as amazing, being made with their specially-crafted mix.
The final show of the tour is Winter Roots 2013, happening at Mackey's Hideout in McHenry, IL on Saturday, February 23. The 3rd Annual 'indoor winter festival experience' will feature the hot music stylings of The Henhouse Prowlers, Eric Lambert & Friends, Sisters & Brothers, Sean Shiel, and more. Definitely an event not to miss!
Eric Lambert & Friends have been on the move performing across the country, from Colorado to North Carolina. The band will feature the same ensemble this tour as in recent tours; Eric Lambert on guitar and lead vocals, Dan Rogers on bass, Lukas Simpson on mandolin and vocals, and Pat Fiddle on fiddle and vocals. The group has been traveling and performing together for the past few months, and are currently working on a new studio record.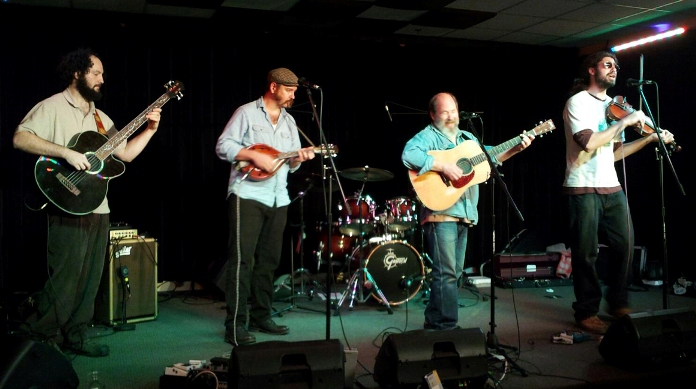 "We are looking forward to getting back to our roots and playing music for familiar faces," shared Eric Lambert. "While it is always great to get out into the world and stretch your legs, there's no place like home." The Winter Wallow schedule is shown below. You are invited to share the dates with family and friends near those locations. Warm up a cold, winter evening wallowing with Eric Lambert & Friends.
Eric Lambert & Friends Winter Wallow 2013 Tour Dates:
Jan. 11:      Max's Place – Bloomington, IN with Stuttering Ducks
Jan. 12:      The Mousetrap – Indianapolis, IN with Midwest Rhythm Exchange
Jan. 13:      The Switchyard – Bloomington, IN with a Pot Luck dinner before the show
Jan. 19:      Wyoming's Pour House – Wyoming, IL
Jan. 26:      Mackey's Hideout – McHenry, IL with Jeremey Bates
Feb. 1:        Mary's Place – Rockford, IL
Feb. 9:        Smokey Barque – Frankfort, IL – Eric Lambert Solo Show
Feb. 10:      Schubas Tavern – Chicago, IL – Sunday Acoustic Brunch
Feb. 22:      Mac's Uptowner – Charleston, IL
Feb. 23:      Winter Roots – Mackey's Hideout – McHenry, IL