First Zach Deputy Disc Jam and Golf Tourney set for March 8-10 at SOSMP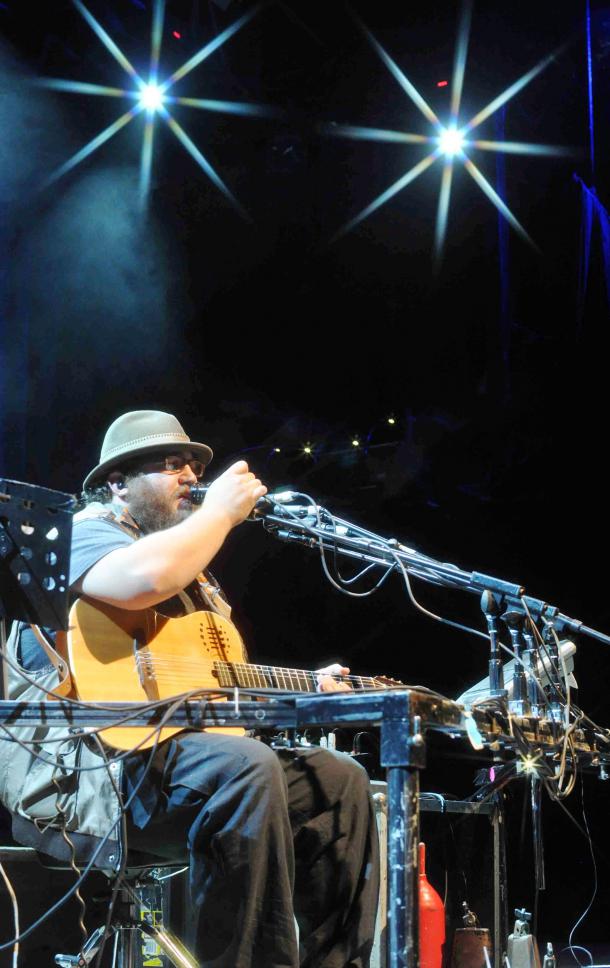 Music artist and one man band Zach Deputy will entertain and hold his first very own disc jam and golf tournament March 8-10 at The Spirit of the Suwannee Music Park (SOSMP) in Live Oak, Fla. Plans are to hold the event annually. While Zack Deputy will entertain at least once each day during the three-day event, other artists include The Legendary JC's, funkUs, Greensound, Herd of Watts, My Morning Fatty and Love Chunk.
Zach Deputy is a unique one-man band who had played the SOSMP many times during Bear Creek Music & Art Festival and other festivals. He was appointed several years ago as one of the first "Celebrity Ambassadors" for Innova Champion Discs, the industry leader of disc golf, one of America's fastest growing outdoor sports. Deputy, an emerging international musician, recording artist and avid disc golfer, looks forward to helping expand the game by turning new people on to disc golf. He first started playing disc golf as a way to get exercise while on tour and fell in love with the game.
The big weekend kicks off March 8 with Long Pad Doubles disc golf played on the SOSMP's unique disc Magnolia Disc Golf Course at 3 p.m. and entertainment in the amphitheater.
TICKETS
*$35 advance/$45 at gate for Music and Primitive Camping
*$40 advance/$50 at gate for Amateur Division Disc Golf Tourney, Music and Primitive Camping
*$50 advance/$60 at gate for Pro Division Disc Golf Tourney, Music and Primitive Camping.
Tickets may be purchased here
DISC GOLF SCHEDULE:
Check-in Friday is noon -10 p.m. and Saturday 8 - 9:30 a.m.
Friday - Long Pad Doubles (optional) 3 p.m. $10
Saturday - Short Pad Doubles (optional) 3 p.m. $10
Sunday - Round 2 Tee-off at 10:30 a.m.
Awards - 2 p.m.
Ring of Fire - immediately after awards
MUSIC SCHEDULE
Friday, March 8
7-8:30 p.m. - Morning Fatty
9-10:30 p.m. - Herd of Watts
11 p.m. -1 a.m. - Zach Deputy
Saturday, March 9
7-8 p.m. - Greensound
8:30-9:30 p.m. - funkUs
10-11:30 p.m. Legendary JC's
Midnight -1:30 a.m. Zach Deputy
Sunday, March 10
1 - 2:30 p.m. Love Chunk
There will also be music in the Music Hall Friday with Willow Creek Band Friday evening March 8 and Jamie Davis and his band Saturday March 9. Entertainment begins in the Music Hall at 8 p.m. while the SOS Café and Restaurant opens in the Music Hall at 6 p.m. for dinner. Admission is free. As always, the SOSMP's SOS Café and Restaurant have available delicious food at regular prices along with nightly specials and a full service bar. The SOSMP also offers a huge variety of outdoor activities including canoeing, hiking, bicycling and more.
If you would like to make reservations for RV parking, cabins, primitive camping or camper parking for the SOSMP or to purchase tickets for upcoming events, call 386-364-1683, email spirit@musicliveshere.com or go to www.musicliveshere.com.
Other upcoming events include SpringFest, Purple Hatter's Ball, Wanee with the Allman Brothers, Suwannee River Jam Auditions, The Ultimate Redneck Wedding Game Show, Ms. Suwannee River Jam Daisy Duke Style contest, Suwannee River Jam and much, much more.
The Spirit of the Suwannee Music Park is centrally located at 3076 95th Drive, 4.5 miles north of Live Oak, Fl off US 129 at the famous Suwannee River. The SOSMP centrally located 4.5 miles south of Interstate 75 and 4.5 miles north of Interstate 10 off US 129. Keep an eye out for the SOSMP sign and white painted board fence!