Grateful Dead Announce Dave's Picks Volume 4
Submitted by dead.net on Mon, 10/01/2012 - 17:35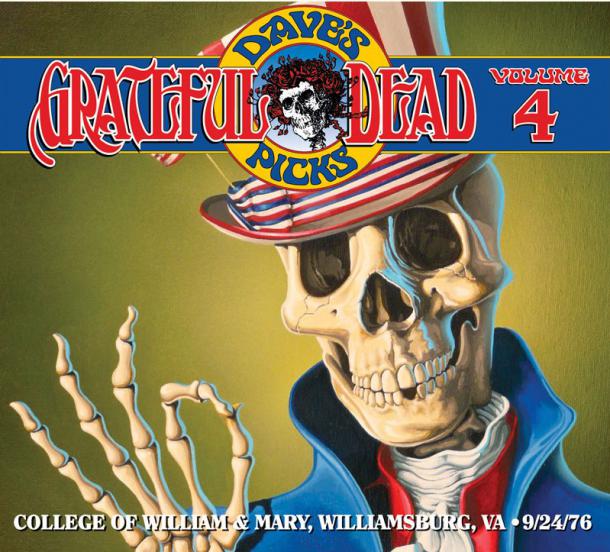 Dead.net is dipping into that Golden Decade of the '70s one mo' time as we unveil Dave's Picks Volume 4: College of William & Mary, 9/24/76. That's right, rabid collectors — you read that date correctly. We have located the uncirculated soundboard master reels of this highly regarded show and are pleased as (psychedelic) punch to send it your way for your listening and dancing pleasure!
The Grateful Dead had played a pair of fine shows at William & Mary three years earlier (9/11-12/73), and obviously dug the vibe enough to warrant a return during one of their "comeback" tours following their hiatus. The concert at William & Mary Hall was the second show of the Dead's brief fall East and Midwest swing, and it stands as one of the strongest outings from this period — its best moments up to the level of the following 9/25 and 9/28 shows that made up the superb Dick's Picks Vol. 20 (released in 2001) and the October 9 and 10 Oakland Stadium shows that became Dick's Picks Vol. 33 (2004).
As always, the original tapes have been lovingly mastered to HDCD specs by Jeffrey Norman, and the beautifully designed package includes a colorful booklet with photos and a historical essay — in this case by the esteemed curator of the Grateful Dead Archive at UC Santa Cruz, Nicholas Meriwether.
As most of you know by now, subscriptions aside, we have only a few thousand copies of the 3-CD Dave's Picks Volume 4 for sale individually. Dave's Picks Volume 4 ships November 1st, but you can pre-order it now. Jump on it pronto or you might just forever be filled with that awful feeling of regret...