Indie Acoustic Quintet Elephant Revival Announces Spring Tour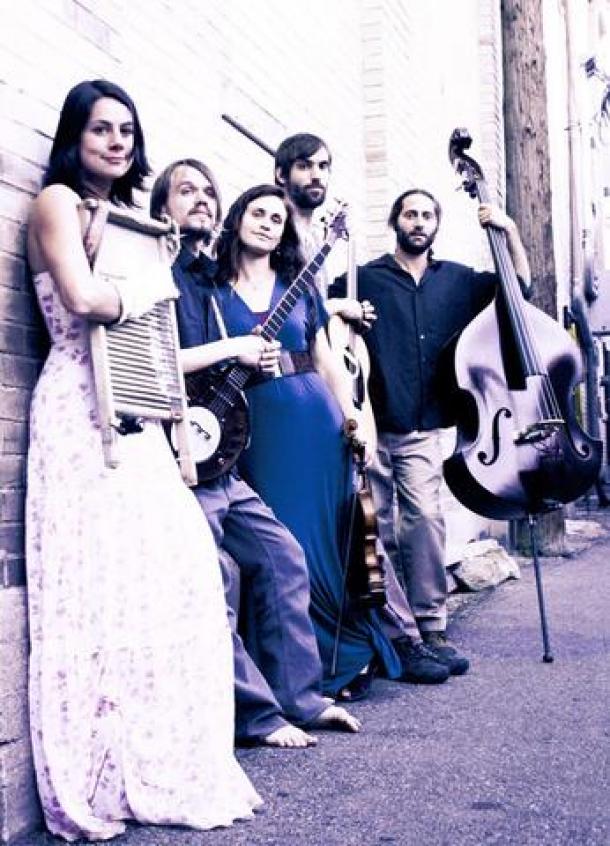 Following a fabulous 2012, indie acoustic quintet Elephant Revival is ready to bring even more fans into their musical fold with a spring tour launching March 21 at Eddie's Attic in Decatur, Ga., and wrapping April 27 at the Norman Music Festival in Norman, Okla. (See schedule below.)
The band is stopping at several iconic venues during its current winter tour as well, including Club Passim in Cambridge, Mass., and Joe's Pub in New York City. They're also showcasing at the 25th annual International Folk Alliance Conference in Toronto, and still basking in the glow of positive reviews for their November EP release, IT'S ALIVE. The New York Times' Paul Krugman labeled their music "very fine" and gave the band two consecutive "Friday Night Music" mentions on his blog. With his second video post, of their song, "What Is Time," he added, "If this doesn't make you smile, something is wrong with you."
Elephant Revival are: Bonnie Paine (vocals, washboard, djembe and musical saw); Sage Cook (electric banjo/guitar, acoustic guitar, mandolin, viola and vocals); Dango Rose (double-bass, mandolin, banjo and vocals); Daniel Rodriguez (acoustic guitar, electric banjo/guitar and vocals); and Bridget Law (fiddle and vocals). Fans can follow the band and watch for performance updates on twitter @elephantrevival; at facebook.com/elephantrevival or at elephantrevival.com.
Spring tour dates
March 21 – Eddie's Attic, Decatur, Ga.
March 22-23 – Suwanee Springfest, Live Oak, Fla.
March 25 – The Hamilton, Washington D.C.
March 29 – Belly Up, Aspen, Colo.
March 30 – Warren Station Center for the Arts, Keystone, Colo.
April 4 – Vilar Performing Arts Center, Beaver Creek, Colo.
April 5 – Mesa Theater, Grand Junction, Colo.
April 6 – The State Room, Salt Lake City
April 9 – Crystal Bay Club, Crystal Bay, Nev.
April 10 – The Independent, San Francisco
April 11 – The Mint, Los Angeles
April 12 – The Loft, San Diego
April 13 – AMSDconcerts, San Diego
April 14 – Rhythm Room, Phoenix
April 16 – KTAOS Solar Center, Taos, N.M.
April 20-21 – Old Settler's Music Festival, Driftwood, Texas
April 24 – George's Majestic Lounge, Fayetteville, Ark.
April 25 – Abode Venue, Wichita, Kansas
April 27 – Norman Music Festival, Norman, Okla.
May 24-26 – Dark Star Jubilee, Thornville, Ohio
May 23-26 ­– DelFest, Cumberland, Md.
May 31-June 1 – Ogden Music Festival, Ogden, Utah
June 21-24 – Telluride Bluegrass Festival, Telluride, Colo.
Winter tour dates
Feb. 20 – Beachland Ballroom and Tavern, Cleveland
Feb. 21 – The Ninth Ward at Babeville, Buffalo, N.Y.
Feb. 22-23 – International Folk Alliance Conference, Toronto
Feb. 27 – Historic Blairstown Theatre, Blairstown, N.J.
Feb. 28 – Higher Ground, Burlington, Vt.
March 1 – Iron Horse Music Hall, Northhampton, Mass.