The Infamous Stringdusters Announce 2013 Ski Tour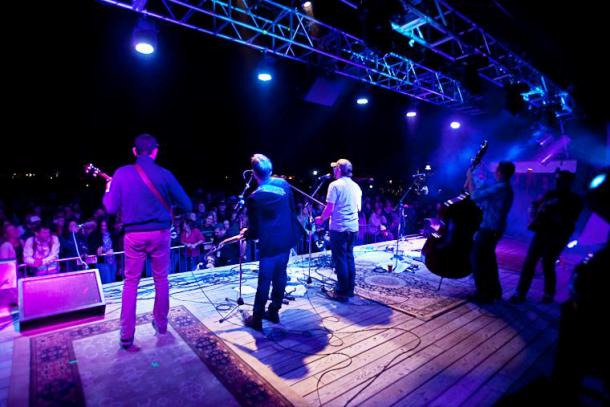 Today The Infamous Stringdusters announce their 2013 Ski Tour – a run of shows that brings the band, and their fans, to the Rocky Mountains' best U.S. ski towns this winter. The itinerary - which includes stops in Vail, Colorado, Park City, Utah, and Jackson, Wyoming, among others - promises a few days off to hit the slopes. Along for the ride are partners POW (Protect Our Winters), Icelantic Skis, Oskar Blues Brewery, and Mountain Khaki, who will host special events and giveaways along the tour. The full list of 2013 Ski Tour stops is included below.
The Infamous Stringdusters' 2013 Ski Tour is yet another example of how this talented band is seamlessly and authentically integrating two things they love most: great music and outdoor living. In October, the band celebrated the 3rd installment of The Festy Experience, their annual more-than-music festival featuring outdoor activities like the Blue Ridge Burn, a 5k/10k trail race that winds up old logging roads. Along the band's recent Fall Tour, the band hosted lunchtime bicycle rides with fans and local bike enthusiasts alike, and made in-store appearances at REI, Blue Ridge Outdoors, and others. Not surprisingly, as the weather turns colder, the Dusters are now ready pull out their skis.
Before hitting the slopes, the band will launch their The Infamous Stringdusters GoPro Live Virtual Tour – with an exclusive video posting at a different online location each week. Filmed during their recent Fall Tour, the videos – recorded on cutting edge GoPro cameras and made by the band members themselves – offer stage perspectives and behind-the-scenes views, set to some of the tour's epic live musical moments. The Virtual Tour launches today at Relix.com, and hits American Songwriter on December 11. Visit www.thestringdusters.com for the full Virtual Tour schedule
Also in December, the band heads to the Mayan Riviera for Cloud 9 Adventures' inaugural Strings & Sol adventure. For their end-of-year plans, the band recently announced shows in New York City, Philadelphia, and Falls Church, VA, and bid 2012 farewell with a hometown New Year's Eve show in Charlottesville, VA. The complete list of confirmed tour dates is included below.

The Infamous Stringdusters' constant, relentless, revelatory musical evolution is on display throughout the band's new double disc release Silver Sky-Deluxe Edition (October 16, 2012 / High Country Recordings and SCI Fidelity). Working with an unlikely studio partner – hip-hop producer Billy Hume (Ludacris, Nas) - Silver Sky (first released in March of this year) finds The Infamous Stringdusters' powerful rhythms and vocal melodies at the forefront of the music. Paired with We'll Do It Live – a seamless live recording culled from four epic 2011 performances - Silver Sky-Deluxe Edition eloquently demonstrates a band whose artistic voice has fully emerged, and offers a riveting glimpse of just how, and where, The Infamous Stringdusters are leading the bluegrass revolution. Silver Sky-Deluxe Edition is available exclusively at independent retail stores throughout the country, with Silver Sky (without the bonus track) and We'll Do It Live available separately online, and on vinyl at retail stores only.

The Infamous Stringdusters complete list of confirmed tour dates is as follows:
Wednesday, December 12 - Sunday, December 16 Strings & Sol Festival
Dreams Resort Tulum Tulum, Quintana Roo Mexico
Thursday, December 27 Bowery Ballroom New York NY
Friday, December 28 Union Transfer Philadelphia PA
Saturday, December 29 State Theater Falls Church VA
Monday, December 31 Jefferson Theater Charlottesville VA
Thursday, January 10 The Blind Tiger Greensboro NC
Friday, January 11 The Handlebar Greenville SC
Saturday, January 12 Georgia Theatre Athens GA

2013 Ski Tour - Icelantic Skis, Oskar Blues, Mountain Khaki, & Protect Our Winters
Wednesday, Community Concert Hall at Ft Lewis College Durango CO
Thursday, February 14 Belly Up Aspen CO
Friday, February 15 and Saturday, February 16 Fox Theatre Boulder CO
Sunday, February 17 Winter WonderGrass Vail Valley in Edwards CO
Wednesday, February 20 Park City Live Park City UT
Friday, February 22 and Saturday, February 23 The Pink Garter Theatre Jackson WY