Jam Cruise in Haiti: Positive Legacy Makes Big Donations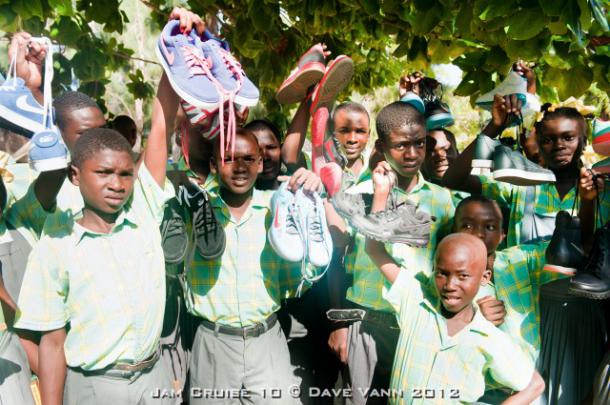 Cloud 9 Adventures – the team behind music travel experiences Jam Cruise, Holy Ship!, Mayan Holidaze and Panic en la Playa – gives back to the communities they visit via their non-profit organization Positive Legacy. For Jam Cruise's recent 10th sailing, the MSC Poesia visited ports in Haiti and Jamaica where Positive Legacy partnered with various organizations on humanitarian and environmental outreach projects to benefit the specific needs of both communities.
In Haiti, Positive Legacy is proud to have teamed up with Soles4Souls – with contributions from One World Running and Nike, and donations from Jam Cruise passengers – to deliver 12,200 pairs of shoes to the people of Haiti. Also with the help of Jam Cruise passengers, Positive Legacy donated 2,000 pairs of new socks; both the shoes and socks will be distributed to Haitian communities in need for months to come.
"Our mission has always been to help individuals improve their lives through the gift of footwear. Jam Cruise and Positive Legacy have allowed us a new opportunity to impact individuals not only in the developing country, but also through the passengers aboard the ship," said Wayne Elsey, Founder and CEO of Soles4Souls. "We couldn't have hoped for a better outcome than 12,000 lives changed through the hope that proper footwear provides," he added.
An important part of Positive Legacy's mission is moving communities toward sustainability. In partnership with Sustainable Organic Integrated Livelihoods and Trees, Water & People, Positive Legacy and Jam Cruise passengers led the charge in seeding 6,000 citrus trees in Labadee, Haiti that will move to the now 10,000 seedling nursery at SOIL's rural compost site in Limonade, Haiti. JC10 represented the festival's most ambitious carbon offsetting effort to date, as the establishment of this nursery will lead to a healthier environment, and increased tree cover in Northern Haiti.
Positive Legacy is also providing $9,000 to Haiti Village Health to improve sanitary conditions at their clinic, which up until now has been providing primary care services to 25,000 people without any running water. Construction of a well and septic system is currently under way, and the funding from Positive Legacy will provide for bathrooms with plumbing to sinks and toilets, and a new roof on the clinic.
For more information on the important work of Positive Legacy, please visit www.positivelegacy.com.
About Positive Legacy:
Positive Legacy's mission is to create meaningful opportunities for musicians and fans and inspire them to do outreach projects together, give back through donations, participate in humanitarian and environmentally inspired service activities, and better the lives of those who inhabit the communities visited while traveling and attending music events around the globe. Working in conjunction with Cloud 9 Adventures, Positive Legacy is based in Boca Raton, FL and has done projects with musicians and fans in such places as Costa Maya, Roatan, Grand Cayman, a remote area in Belize, Turks & Caicos, and various places in Jamaica.
About Soles4Souls® Inc.
Soles4Souls collects new shoes to give relief to the victims of abject suffering and collects used shoes to support micro-enterprise efforts to eradicate poverty. Soles4Souls' other two divisions, Clothes4Souls and Hope4Souls, provide the same relief and support through clothing and other necessities. Donating parties are eligible for tax advantages. Visit www.giveshoes.org, www.clothes4souls.org, or www.hope4souls.org for more information.