Jason Isbell & The 400 Unit @ The Fox Theater | 1/5/2012
Jason Isbell is one of those artists able to magnificently personify a region of the United States through his performance; he and his band are undoubtedly from the South, Muscle Shoals, Alabama to be exact. On Thursday night at The Fox Theater in Boulder they treated the audience to some musical southern hospitality in the finest sense.
Since his amicable split from the Drive-By Truckers in 2007, Isbell has continued to serve up the goods. Despite taking their name, "The 400 Unit," from an Alabama hospital's psychiatric ward, the group rocked full-throttle throughout the evening. Isbell (vocals, guitar) and his comrades Derry DeBorja (keys), Jimbo Hart (bass) and Chad Gamble (drums) threw down an ass-whoopin' rock fest that was equal parts sentimental story-telling and unbridled, southern-style guitar rock.
Songs like "Tour of Duty," "Outfit" and "Dress Blues" are beautiful introspective tales that feel like they were originally worked up on the banks of some random bayou and exude that romantic desperation that is a staple of Isbell's style. It was like having a grandfather or an uncle tell you stories that are remarkably heart-felt and sentimental, but only being able to hold a wide smile or perhaps shed a happy tear while listening.
The boys rolled through an evening of their finest songs including "Alabama Pines," "Heart on a String," "Daisy Mae," "Go It Alone" and the evening closer "Codeine"- all from 2011's Here We Rest. In addition to dipping into the DBT catalog for "Danko/Manuel" and "Decoration Day" (much to the pleasure of the crowd), there were incredible covers of Neil Young's "Like a Hurricane," "Hey Pocky Way" by The Meters and John Prine's "Angel From Montgomery."
Isbell jokingly invented the term "alca-tude" to describe how he feels when playing a show in the Rocky Mountain region, and even kept a bottle of whiskey passing around on stage for authenticity.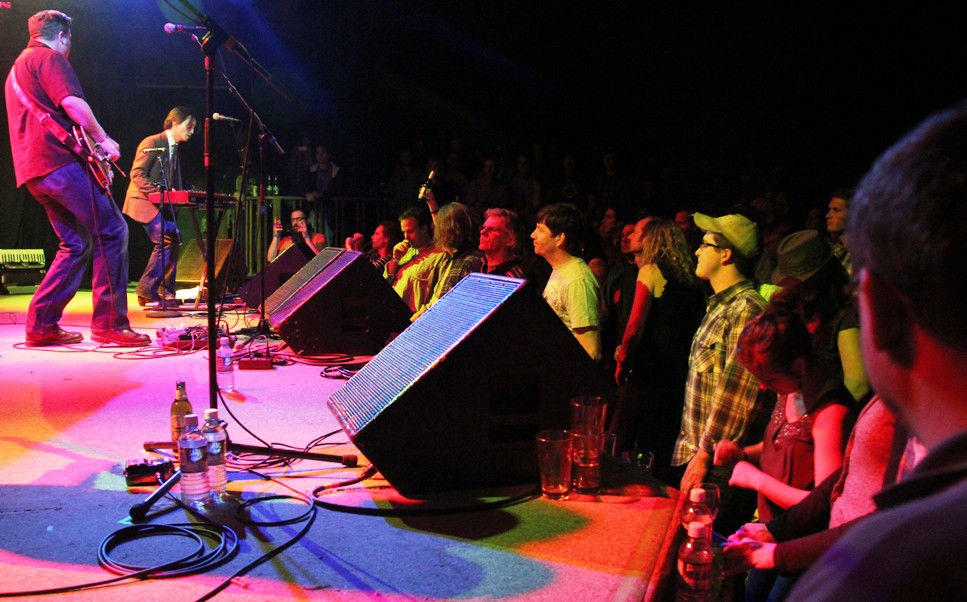 Two of the hardest rockers came late in the set. "Try" (complete with a bit of a "No Quarter" by Led Zepplin interlude) and "Never Gonna Change" to close out the main set were two of the more notable- in the sense of in-your-face, guitar-soloing stompers.
The crowd was initially warmed up by Band of Heathens from Austin, Texas. Playing songs from their glorious 2011 release Top Hat Crown & the Clapmaster's Son, they were the perfect compliment for an evening of southern rock and roll.