Edges is cmprised of 12 original tracks by Jocelyn and Chris, and also features their band and special guests including Gov't Mule's Danny Louis, back-road blues artist G Love on harmonica, and Jazz vibraphonist Tony Miceli. The first single, "Shame," is available for streaming on Paste Magazine, and second single, "Too Much To Me," is streaming on Relix. The duo's third single "Hot" can be streamed on The 405. Fans can also watch Jocelyn & Chris' new live video for "Where's The Rain" (filmed The Move Music Festival) on Baeble Music.
About Edges, Jocelyn and Chris Arndt shared: "Simply put, Edges is an album of straight-up, thump-in-your-chest, real-deal, authentic rock. After our EP "Strangers In Fairyland" gained some traction last year, we wanted to make a cohesive full-length album - a holistic musical listening experience that would leave listeners hooked from top to bottom. We wanted it to feel like we just walked into a room with our band and played. That's a lot of the reason Edges turned out the way it did. Special guests like G Love and Gov't Mules Danny Louis only added to the organic rock-jam vibe.
This music is who we are. It's every edge of us, every facet. And we've truly never been so excited to share something with all of you out there in the world."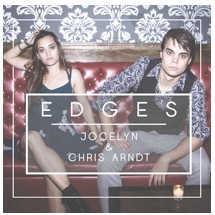 Devastatingly powerful vocals, retro-rock guitar, and lyrics that run the gamete between vulnerable to all-out venomous, Jocelyn & Chris Arndt's music has matured into what can only be described as a throwback to pure, authentic rock. Together with their band they logged more than 100 shows in 2015 including stops at The Sundance Film Festival and Mountain Jam Music Festival, television appearances across NY, TN, VA, and CA and featured play on more than 100 college radio stations. Jocelyn and Chris kicked off 2016 with shows across CO, NV, AZ, and CA, including a headline performance at The Legendary Viper Room in Hollywood.
Their blues-rock style has been coined "a gorgeous mixture of classic rock and contemporary indie energy" by Joonbug.com. The Arndts' recordings strike an effortless blend of angst and personal emotion, while their live performances are simply incredible.
Edges is the full-length follow-up to last fall's seven-song EP Strangers In Fairyland. For more information, please visit www.Jocelynandchrismusic.com.
Edges Track Listing:
Shame
Too Much To me
Where's The Rain
More Than I Say I Do
Jagged
Hot
Mystery
Cinderella
Cut The Cord
Because Of You
Dry Cereal
Here To Stay