The past few weeks have brought hints of spring to the Bay Area. Crystal blue skies and near-70s temperatures in San Francisco spark thoughts of baseball and brunch under the sun and afternoons spent in Dolores Park. And most importantly, concerts in the beautiful outdoors. Outside Lands and Hardly Strictly Bluegrass are still a few months away, but UC Berkeley's outdoor haven The Greek Theatre is kicking off their season later this month.
The Greek Theatre has amassed an impressive schedule thus far, and the lineup for April 19 is not to be missed. Indie rock veterans Dr. Dog are joining folk superstars The Lumineers for what is sure to be an electrifying performance. Fellow folk trio Sawmill Joe, whose song "Ain't Nobody's Problem (But My Own)" is a staple (and a hit) of The Lumineers' live set, will open up the show.
The Lumineers are currently having the kind of ride every band dreams about. Sure, they struggled at first, as most bands do, but once their exceptionally catchy hit "Ho, Hey" began making the rounds, you couldn't turn the TV on or go to the grocery store without hearing it. Soon after, they were on SNL, boasting a platinum debut album, and scoring Grammy nominations—two to be exact (and no they didn't win, but have you been nominated lately?). They stopped by San Francisco to play Hardly Strictly Bluegrass last year, where they kept the audience moving effortlessly, spicing up slower tunes like "Slow It Down" and reciting lyrics so the crowd could join in. With their debut album clocking in at just 42 minutes, we're almost guaranteed to hear something new in addition to the (now old!) favorites at The Greek.
Dr. Dog are no strangers to San Francisco either—they made an appearance at Outside Lands last year, but in one of San Francisco's best decisions of 2012, they also played a free show on the Marina Green celebrating America's World Cup Series. The indie rockers have been making music together for more than a decade. They have two solid vocalists, killer guitar hooks, and they love California even though they're from Pennsylvania (much like myself, ironically). If that's not enough for you, listen to the lyrics in "That Old Black Hole" and pretend they're not brilliant. (You can't.)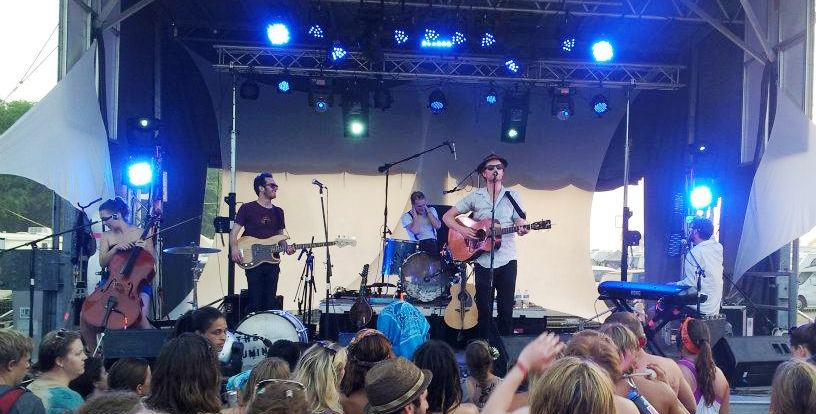 The Greek Theatre is an unparalleled venue, guaranteeing even the shortest music fans a good view no matter where you sit in the circular amphitheater (and you may sit anywhere—the entire theater is general admission). Tickets for the April 19 show are sold out, but with the Greek's capacity of 8,500, there are sure to be some extras floating around the internet or even the Greek before the show. And trust me—this show will be worth it.