This weekend, I was one of the luckiest people in the world. San Francisco had a banner weekend full of events, from Fleet Week to the World Cup to the Castro Street Fair to Litquake to Hardly Strictly Bluegrass—and that's not to mention the athletic events that took place in the Bay Area. Such a full calendar guarantees that all modes of transportation will be a nightmare, if not deadlocked. Lucky for me, I live near 36th and Fulton, just a few convenient steps away from where Hardly Strictly Bluegrass is held in Golden Gate Park. The free 3-day festival is in its 11th year, and as long as its attendees continue to cooperate with the city of San Francisco, it has the ability to remain free for at least a dozen more years thanks to late founder Warren Hellman.
I ventured into the festival around 3 PM on Friday, just minutes before the San Francisco-born Ben Kweller took the Rooster Stage as part of "Conor [Oberst] Brings Friends for Friday." He kept it mostly upbeat, with his keyboard providing pleasant melodies that made the afternoon sun that much more enjoyable. Right before Jenny Lewis came on next, I leap-frogged over blankets and lawn chairs and legs and cheese spreads to the front of the crowd, where it was still acceptable to stand up. The adorable Jenny Lewis (and The Watson Twins) delivered a fun, spunky set that made me wonder why I don't listen to more Jenny Lewis. She bounced between her guitar and her keyboard easily, and even brought frequent Conor Oberst collaborator Nate Walcott onstage for a few songs.
I ended Friday with a front row Conor Oberst and the Mystic Valley Band (and friends) show. I've seen Oberst in many forms (variations of solo, Bright Eyes, Monsters of Folk, and most recently Desaparecidos) so I was curious what form he'd take when I saw that he was written in the HSB schedule as just "Conor Oberst." As the Mystic Valley Band spilled onstage, I was thrilled. I'll take Conor Oberst in any form I can get him (and especially when he's free), but watching him make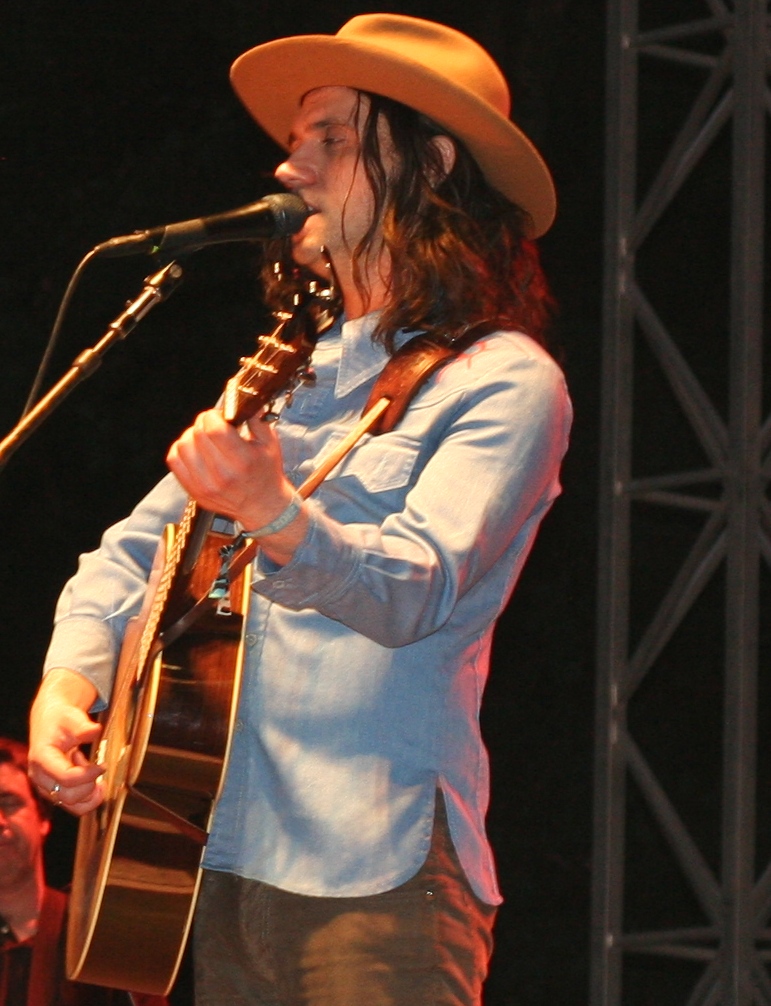 music with the MVB is so inspiring. The members of that band are beyond talented, and they share a musical freeway with each other. It is so fun to watch them get on that freeway and just take off. That's exactly what they did on Friday, reunited "against all odds," according to a long-haired Oberst. In their hour and 15 minute set, they powered through a fair amount of songs from both Conor Oberst and Outer South, appropriately kicking off with "Sausalito." They also sprinkled in a decent amount of Bright Eyes material, with Jenny Lewis and The Watson Twins reappearing for "Make a Plan to Love Me" and "Lua." For the last song, "Make War," Oberst invited everyone who'd played that day to join him, and even Ben Kweller popped back up. Of all the shows I've seen Oberst perform, I've never seen him as happy as he was on Friday. I've seen him politically enraged, introverted, wasted, and passionate. But this time, he was interactive and genuinely stoked to be performing. He kept a running conversation with an avid Bright Eyes fan in the audience, trying to appease her recommendations. Before leaving the stage, he expressed his love for HSB, promised he would be back, and blew the audience kisses. (Don't worry, Conor, I caught them.)
Saturday was a gorgeous San Francisco day: bright and 70s in the sun, but with a breeze. I headed straight to my faithful Rooster Stage to size up the crowd for The Lumineers. After hanging back for sets by Lloyd Cole and Guy Clark, I did exactly what I'd done the day before: sidestepped my way up front. The Lumineers came onstage to a pumped up crowd of dedicated fans. As they delivered their set of feel-good folk rock, playfully speeding up the slower songs, there wasn't a body in the crowd that wasn't moving. They played a few new songs, just as catchy and lyrically tender as those off their self-titled debut, but mixed it up with covers of "Subterranean Homesick Blues" by Bob Dylan and "Ain't Nobody's Problem (But My Own)" by Sawmill Joe. Lead singer Wesley Schultz observed the crowd, remarking, "I think this is the most people we've ever played to in our lives." The sun was beating down and as The Lumineers were pouring their souls into Golden Gate Park, a fleet of Blue Angels flew over the stage near the end of the set, striking even the band members with awe. At the risk of sounding corny, it was pretty fucking magical.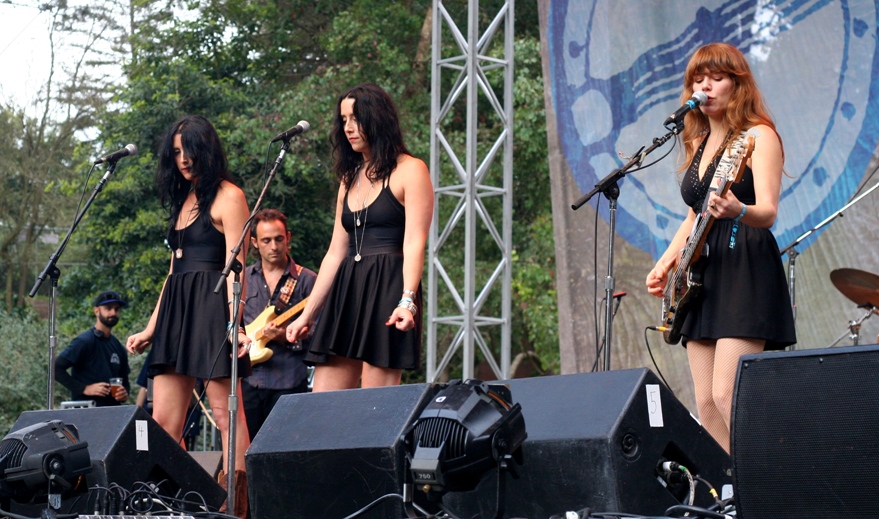 I finally ended my affair with the Rooster Stage and headed to the Towers of Gold Stage to catch the much-hyped group The Head and The Heart. I hung back for their show, joining some friends about halfway down Lindley Meadow. The Head and The Heart have been making waves for a couple of years since the release of their self-titled debut in 2009, so my anticipation had been months in the making. Perhaps HSB wasn't expecting the seemingly 20,000+ people who had appeared for the show, or maybe they were simply ill-equipped to deal with them. The sound was disappointingly low (particularly the vocals), even though we were standing close enough that it shouldn't have been an issue. While most of their recorded songs are the type to make you want to sit around a fire, swaying with your closest friends, that feeling didn't necessarily translate on Saturday. Everyone was drinking, the sun was shining, and the slow tempo was stifling the crowd's urge to move. Don't get me wrong, I still enjoyed their show—it'd have to be pretty rough to dampen a free music festival in sunny Golden Gate Park in the most beautiful city in the world—but it wasn't the immersive experience I'd been associating with HSB so far.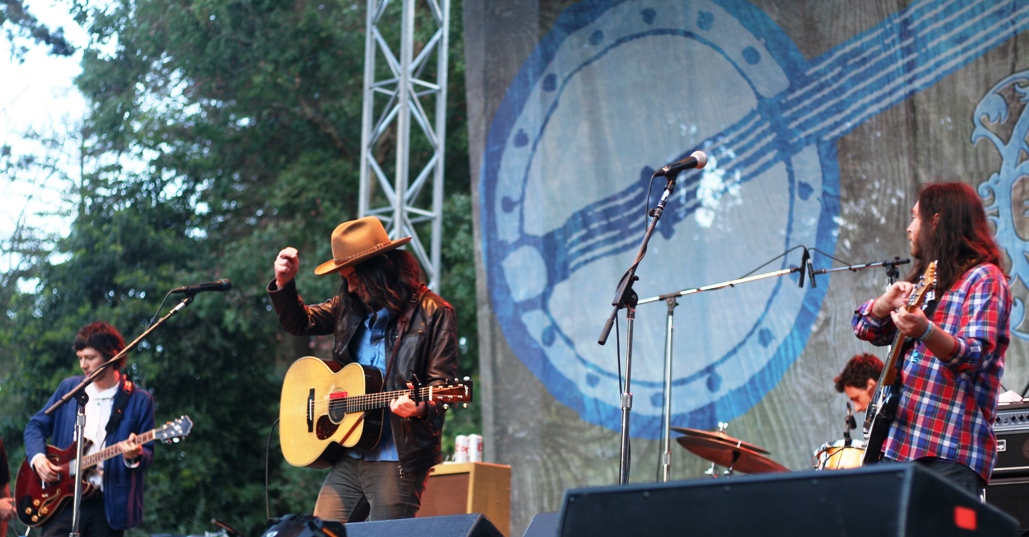 I returned on Sunday for a few hours to say goodbye to Hardly Strictly Bluegrass. Still packed, still sunny, still with the occasional plane making an appearance, day three of HSB was exactly the mellow ending I needed. Since I had spent much of my time at the Rooster Stage, I took a tour of all six stages before getting Coconut Curry Chicken (which was bangin'!) from Veritas Food Truck and claiming a patch of grass at the Towers of Gold Stage for Dwight Yoakam. Although I'm not too familiar with Yoakam and I'm not a fan of down-home country (blame the four years I lived in Kentucky), it was the perfect true-blue sound to end a blissful weekend. Thank you, Warren Hellman, for making it possible—I will definitely be back to Hardly Strictly Bluegrass next year.