Public Property: New Wave Reggae
From the Heartland of America, Iowa City, IA, comes a new heartbeat in reggae. Public Property, originally a trio mushroomed into a 8-member full-out reggae band just last year. They are pumping out old school reggae laden with original lyrics that are fresh and timely about issues we all need to talk about.  Even when they speak about romance, it's with a sweetness and respect for that special lady that reggae hasn't seen in a decade or two.
David Bess, guitarist and founder of the group, recalls the bands early roots. "It started out as a trio three years ago. We just started out: me, a good friend who was a drummer, and we found a good bass player.," he says. "I had a bunch of songs already written so we just went off that."
But it was a Bob Marley tribute night in 2004 that held the vision of what Public Property could become. Bess and a few female friends (Mareva Minerbi, Georgette Stern, and Margaret Larson) had talked about doing some classic reggae. The women came to the mike as Public Property's backup singers, and Bess knew then he had started something. 
"From there it grew," he says. "We had a  percussionist added to the band and a keyboard player."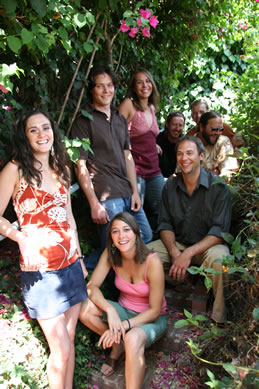 But it wasn't without some growing pains. As the band began to gig seriously and talk of wider touring, band members left. "A year later, that whole line up changed. Some people split for another band, and others just left," Bess says. This was just after their sophomore CD was released to critical approval.
But Public Property cast its musical nets upon the waters and new musicians were brought in. In addition to the three backup singers and Bess, the lineup is Ben Franklin, Paul Hala, Jeremiah Murphy, and Andy Parrott,. "Now, we have a permanent rhythm section," says Bess. "This is THE band." It is a combination that is gelling into New Wave Reggae with some touches of ska, hip-hop, and island uke stylings. 
Though Bess himself has been playing guitar since he was 12, he picked up ukelele two years ago and incorporated it into the band's instrumentation. "I'm an OK ukelele player," he admits. "I'm primarily the rhythm guitar player for the band. We have a lead guitar player who has tons of experience.. He's a great guitar player." That guitarist was part of the new blood in the band that is coloring the band's older material with new hues. 
Public Property just recorded their third album, Movement, Movement, which will be out in August.  Their debut album, a self-titled CD, sold out. "We've got to reprint it.," Bess says. "That album had 16 songs on it. So, we had lots of material to start with. It was a good thing to have that first album. It's definitely a beginning album." But it was their seond CD, What's Going Down, that started raising eyebrows and getting media attention because of its mix of reggae-rooted musical styles and its consciousness-raising lyrics. "The second album is much more mature. It definitely got us on our feet,' Bess says.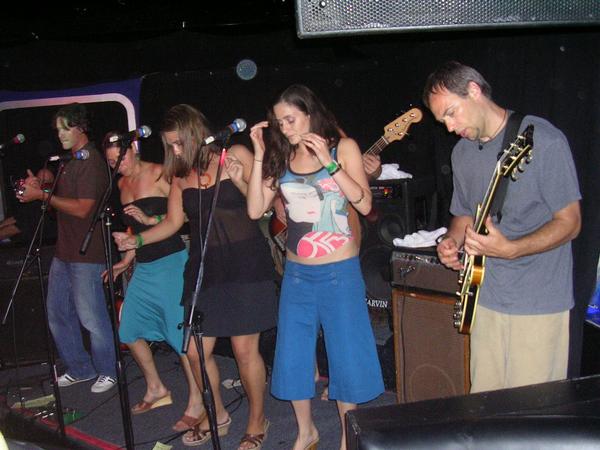 Though the band is instrumentally accomplished, it is unlike many bands that play jam festivals.  Public Property is as Bess puts it "very song-writing oriented, very vocal-heavy."  The lyrics are substantial and deal with war, religion, peace, and love with the big L, but they are wrapped up in the happy reggae and island sounds. Don't be fooled by the sweet harmonies and the dance beat. The message doesn't pull any punches. Nothing is sacred or off limits. Everything comes under the scrutiny of Bess's pen. He and Public Property speak not only for their generation but for the rest of the world. The deceptively light "Choo Choo" is really a call for humanity in the face of the brutality of the genocide in Rwanda. "Higher" takes on religion and war fought in its name.  "Power Trip" indicts governments. Public Property deals with issues that belong to all of the world. They are in truth public property.
On its very first national tour this summer, Public Property has been hitting venues on the West Coast and throughout Colorado. They will make their debut at a major festival this Saturday when they perform at the Saloon Stage at the 10,000 Lakes Festival in Minnesota.. Public Property was brought there as part of the Cosmic Break Midwest band search that the festival does every year. Their appearance this week is a testament to their potential. Come listen. Come dance. Come absorb the lyrics.