Rose's Pawn Shop Announces 10 Day Fall Tour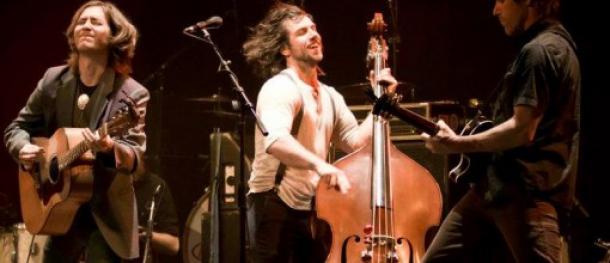 Lock up your daughters and hide your sisters, the five-piece Americana outfit Rose's Pawn Shop is hitting the road this fall on a fourteen-day west coast tour that will take the band along the pacific coast and through the mountain west  including stops in Oregon, California, Washington, Montana, Utah and Colorado.
Known for watertight musicianship and soaring harmonies, the LA based string band has been blowing the roof off of basement dives and packed theaters since the release of their 2010 album, Dancing on the Gallows. A little bit bluegrass, a little bit alt-country and a whole lot of rock and roll, Rose's Pawn Shop delivers a new definition to the art of string music. Coupled with a high-octane performance style that consistently leaves the audience breathless, this is a band to watch in 2013.
"The harmonies blend effortlessly and the lyrics flow easily with the melodies as they combine bluegrass, country and rock elements into a style that gives them a definite stage presence and a sound that is totally their own." – Vernell Hackett, The Boot
With an arsenal of banjos, guitars, mandolin, fiddle, pedal steel, upright bass, and thundering drums, Rose's Pawn Shop will hit the road for a 10-day tour in late August that will lead them throughout the pacific coast and into the Rocky Mountains this fall. For more information about Rose's Pawn Shop, or their fall tour, check out the bands official website at www.rosespawnshop.com for more information.
TOUR DATES:
August  20th - Virginia City, NV - Red Dog Saloon
August  21st - Portland, OR - McMenamin's White Eagle
August  23rd - Seattle, WA - Tractor Tavern supporting The Gourds
August  24th - Port Angeles, WA - Olympic Cellars Vineyards Music Series
August  25th - Bellingham, WA - Green Frog
August  26th - Missoula/Hamiliton, MT - Bitter Root Brewery
August  27th - Bozeman, MT
August  28th - Salt Lake City, UT - The Garage on Beck
August  29th - Denver, CO - Larimer Lounge
August  30th - Boulder, CO - Fox Theater w/ He's My Brother, She's My Sister
September 1st - Flagstaff, AZ - Coconino Country Fair
September 1st - Flagstaff, AZ - Monte Vista Cocktail Lounge
September 21st - Jacksonville, CA - Lost Sierra Hoedown
October 5th - Pioneertown, CA - Pappy and Harriet's Place