Rusko Gives Fans a Chance to Be in His Video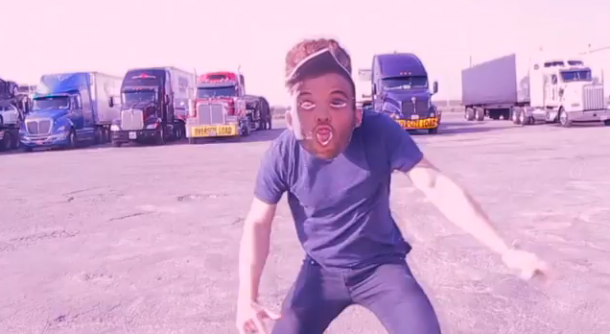 Rusko's highly anticipated new album SONGS was released just last week on Mad Decent/ Downtown Records and planted itself firmly at #1 on the iTunes Electronic chart in the USA, UK, Canada, France, Ireland and Holland! He's about to kick off a Spring US Tour in celebration and is giving fans a chance to be in the video for "Skanker", which he has made available for free download here. Before they make the video, Rusko has a question for his fans, "Are you a dubstep skanker?" We've all seen that "move" before, but what exactly is it? You're at a dubstep show and take a look around to see one guy flailing his arms recklessly through the air, another person headbanging so hard they could break a 2x4, and then of course…the open armed wing flap. RUSKO is giving everyone the chance to embrace their inner-"Skanker" and let their own interpretation of that feeling when you hear dubstep be shown to the world. Watch a video demonstration featuring A-trak and Diplo here. Fans have two ways to enter, they can print the mask and be filmed or film themselves wearing it at one of the upcoming Spring tour dates or they can film themselves with the mask anywhere and upload to YouTube. The full instructions are at: ruskoonfire.com/skankervideo. The winning submissions will be chosen at the end of the spring tour and placed in the official "SKANKER" video.

Rusko's new album, SONGS, has been receiving rave reviews with Billboard declaring it " guilt-free bass bliss for the post-genre generation" and Rolling Stone giving it three and half stars. These are the songs that will dominate festivals and dance-floors this year and beyond! At the center of the adventurous and exciting sound of SONGS is Rusko's virtuosic ability to tackle and re-imagine a variety of genres.
Rusko Spring 2012 Tour
April 20 - 1st Bank Center (Denver, CO) #
April 21 - The Complex (Salt Lake City, UT) #
April 22 - The Knitting Factory (Reno, NV) #
April 24 - The Warfield (San Francisco, CA) #
April 26 - Roseland Theater (Portland, OR) #
April 27 - WaMu Theatre (Seattle, WA) #
April 28 - PNE Forum (Vancouver, BC) #
April 29 - Edmonton Event Centre (Edmonton, AB) #
April 30 - Flames Central (Calgary, AB) #
May 3 - Myth (St. Paul, MN) #
May 4 - The Rave (Milwaukee, WI) #
May 5 - Congress Theater (Chicago, IL) #
May 6 - Royal Oak Music Hall (Royal Oak, MI) #
May 8 - Sound Academy (Toronto, ON) #
May 9 - Metropolis (Montreal, PQ) #
May 10 - House of Blues (Boston, MA) #
May 11 - Wellmont Theatre (Montclair, NJ) #
May 12 - Festival Pier (Philadelphia, PA)
May 13 - Terminal 5 (NY, NY) *
May 14 - Ram's Head Live (Baltimore, MD) *
May 16 - The Tabernacle (Atlanta, GA) *
May 17 - Hawaiian Village (Tampa, FL) *
May 18 - House of Blues (Orlando, FL) *
May 19 - The Fillmore (Miami, FL) *
May 21 - Sugar Mill (New Orleans, LA) *
May 22 - Stereo Live (Houston, TX) *
May 23 - Palladium Ballroom (Dallas, TX) *
May 25 - Austin Music Hall (Austin, TX) *
May 26 - Buchanans (El Paso, TX) *
May 27 - Sunshine Theater (Albuquerque, NM) *
May 28 - Marquee Theatre (Tempe, AZ) *
May 31 - 4th and B (San Diego, CA) *
June 1 - Palladium (LA, CA) *

# = with SIGMA as support
* = with REDLIGHT as support