They Might Be Giants Live on Jimmy Fallon + New Video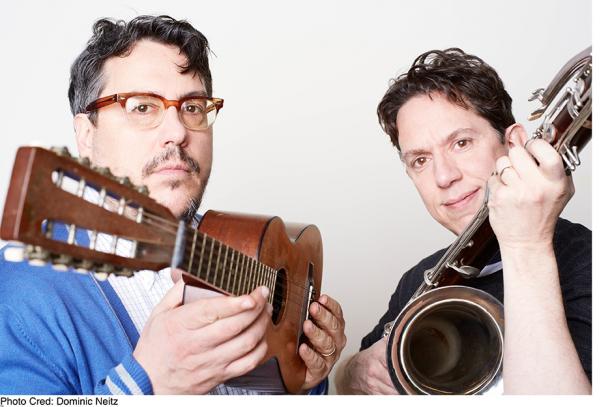 America's most durable alternative rockers They Might Be Giants have finally perfected their deliriously catchy, original sound! Their latest studio album, Nanobots, features 25 startling tracks in 45 memorable minutes that play to all the bands strengths. The band is currently on the second leg of a massive international tour which includes a lengthy stint in Australia & New Zealand. Fans that are not able to make it out to a show can catch the band performing LIVE on Late Night with Jimmy Fallon on May 24th.
Two-time GRAMMY winning Brooklyn originals have released their extraordinary 16th studio album Nanobots--returning with electrifying pop melodies, vivid lyrics and just enough bass clarinet. Today they release an earth-shattering video directed by Liam Lynch (Tenacious D, Sarah Silverman) for album title track "Nanobots". Bringing to life the cartoonish spin that the song brings to the world of technology, check out the "Nanobots" video where it premiered with Mashable today or HERE.
Nanobots was created at the private studio of They Might Be Giants' long time producer Patrick Dillett (St. Vincent, David Byrne, Mary J. Blige). It's available at all digital & physical retailers via Idlewild Recordings, and marks the debut offering through the band's new distributor Megaforce. Known for recording numerous themes most notably The Daily Show with Jon Stewart, and the GRAMMY-winning Malcolm In the Middle theme, the band has 2 platinum albums, 2 gold albums and have been nominated for 3 GRAMMYs, winning two. Revered for their energized live show and love of the road, catch the band live on tour!


TMBG US Tour Dates
* = w/ Moon Hooch
# = w/ Vandaveer

4/12: Asheville, NC @ Orange Peel *
4/13: Atlanta, GA @ Variety Playhouse *
4/14: Atlanta, GA @ Variety Playhouse *

Australia & New Zealand Dates
4/23: Melbourne, AU @ The Corner Hotel
4/24: Sydney, AU @ The Metro Theatre
4/25: Sydney, AU @ The Beresford Upstairs
4/27: Maitland, AU @ Groovin' The Moo Festival Maitland
4/28: Canberra, AU @ Groovin' The Moo Festival Canberra
5/2: Melbourne, AU @ The Corner Hotel
5/3: Melbourne, AU @ The Corner Hotel
5/4: Bendigo, AU @ Groovin' The Moo Festival Bendigo
5/5: Townsville, AU @ Groovin' The Moo Festival Townsville
5/7: Brisbane, AU @ The Zoo
5/8: Brisbane, AU @ The Zoo
5/9: Adelaide, AU @ The Gov
5/10: Perth, AU @ Rosemount Hotel
5/11: Bunbury, AU @ Groovin' The Moo Festival Bunbury
5/14: Hobart, AU @ Wrest Point Show Room
5/17: Wellington, NZ @ Bodega
5/18: Auckland, NZ @ The Studio

US Tour Dates Continue
5/30: Indianapolis, IN @ The Vogue #
5/31: Milwaukee, WI @ Turner Hall #
6/1: Minneapolis, MN @ First Avenue #
6/2: Iowa City, IA @ Englert Theatre #
6/4: Des Moines, IA @ Wooly's #
6/5: Omaha, NE @ The Slowdown #
6/6: Kansas City, MO @ Crossroads #
6/7: Denver, CO @ Ogden Theatre *
6/8: Salt Lake City, UT @ The Depot *
6/9: Boise, ID @ Egyptian Theatre *
6/10: Vancouver, BC @ Biltmore Cabaret #
6/11: Seattle, WA @ Showbox SoDo #
6/12: Portland, OR @ Crystal Ballroom #
6/14: San Francisco, CA @ Warfield Theatre #
6/15: Anaheim, CA @ HOB #
6/16: San Diego, CA @ Belly Up #