Sandy, go funk yourself - Dumpstaphunk & Friends Relief Concert
Submitted by press on Mon, 11/05/2012 - 13:45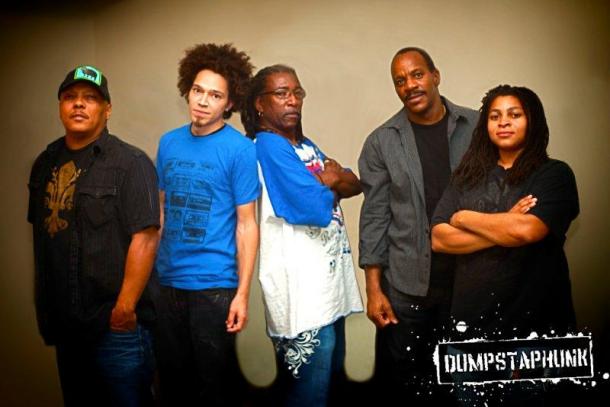 No strangers to the pain of a hurricane strike, New Orleans' all-star funk ensemble Dumpstaphunk will bring some much needed smiles and never before seen collaborations to New York City tonight Nov. 5 at the Highline Ballroom. Starting around 9 p.m., the renowned funksters will be joined by a slew of special guests, including Bela Fleck, Luther Dickinson of the North Mississippi Allstars, Amy Helm of the Levon Helm Band, Scott Metzger, Eric Krasno of Soulive and a DJ set by Questlove, with all profits benefiting hurricane relief efforts in the Northeast.
Dumpstaphunk is a poignant headliner for the finale show since the New Orleans-bred group experienced the devastation of hurricane Katrina first hand in 2005. The band since channeled that struggle into songs like "Meanwhile..." and "Put It In the Dumpsta" and knows all about rallying behind a city in need. "Our heart goes out to everyone that's struggling through this," said Ivan Neville, Dumpstaphunk's keyboardist and band leader. "We're blessed to play some music for these people, and maybe put a smile on somebody's face in times of trouble."
New York marks the finale of the HeadCount Participation Tour, which began as a voter awareness tour with fellow New Orleans rocker Anders Osborne. The tour started in Baltimore 11/2, then went to Philadelphia 11/3 and Washington, D.C. 11/4 with the tour ending in New York on Election Eve. Special guests Keller Williams joined Dumpstaphunk and Anders Osborne on stage in DC at the Howard Theatre, with John Kadlecik of Further sitting in with Anders Osborne at both the Baltimore and DC shows. Anders Osborne will not perform at the New York Finale due to personal reasons.
Tonight's show at the Highline Ballroom offers a melting pot of some of the most acclaimed names in the jam scene, backed by the funkiest house band a fan could ask for. Highlights will include a first-time collaboration with Dumpstaphunk and Bela Fleck, as well as many more pairings and sit ins throughout the evening. For more information, visit www.headcount.org.
ROCKERS RALLY FOR RELIEF
Ivan Neville's Dumpstaphunk Headlines Hurricane Sandy Benefit Concert with a Little Help From Their Friends
Special guests Bela Fleck, Luther Dickinson, Amy Helm, Scott Metzger, Eric Krasno and Questlove
To join the New Orleans funk ensemble tonight in New York City at the Highline Ballroom.