SCI Fidelity Records Releases Free Music Sampler Today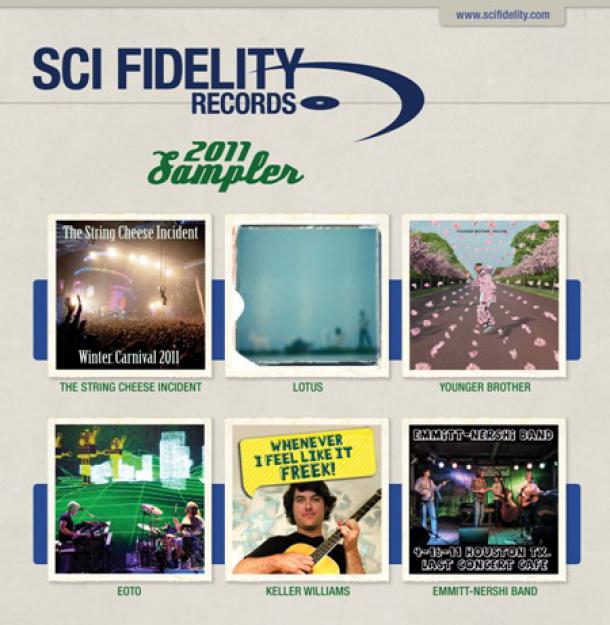 SCI Fidelity Records releases a free music Sampler today – available for download at the SCI Fidelity Soundcloud Store and at www.scifidelity.com. A limited number of CD copies will also be available along The String Cheese Incident's upcoming Fall Tour. Stop by the merchandise table at SCI shows to pick up your complimentary SCI Fidelity Records Sampler.
The Sampler features ten live and studio tracks from six SCI Fidelity artists, including The String Cheese Incident, Keller Williams, Lotus, Younger Brother, EOTO and Emmitt-Nershi Band.
The complete track listing for the 2011 SCI Fidelity Records Sampler is as follows:
1. "Rosie" (Live) – The String Cheese Incident, 07.02.11, Rothbury, MI
(Hollingsworth) © Musicworth Publishing (BMI)
08:09
2. "Golden Ghost" – Lotus, Lotus
(J. Miller) © Lotus Vibes Music (ASCAP)
05:18
3. "Shine" – Younger Brother, Vaccine
(Campbell, Posford, Vaughan) © Twisted Records
04:45
4. "Geliel" (Live) - EOTO – 10.09.11, Northampton, MA
(Travis, Hann) © Starfruit Music (BMI) and Bopland Music (SESAC)
05:17
5. "B.I.T.C.H." – Keller Williams, from the series Whenever I Feel Like It Freek
(Williams) © Basil Leaf Music (ASCAP)
03:49
6. "New Country Blues" (Live) – Emmitt-Nershi Band, Recorded by Texas Roadhouse Live at the Last Concert Café, Houston, Texas 04.16.11
(Emmitt, Nershi) © Hurt Leg Music (BMI) and Gritty Ditties (BMI)
05:24
7. "Song In My Head"(Live) – The String Cheese Incident, 07.01.11, Rothbury, MI
(Nershi, Law) © Gritty Ditties (BMI) and Scott Law Music Publishing (ASCAP)
08:50
8. "The Surf" – Lotus, Lotus
(L. Miller) © Lotus Vibes Music (ASCAP)
04:02
9. "Pound A Rhythm" – Younger Brother, Vaccine
(Campbell, Posford, Vaughan) © Twisted Records
05:35
10. "Give Me The Love" (Live) – The String Cheese Incident
From the iTunes exclusive release Winter Carnival 2011
(Kang, Barlow, Burn) © TwentyTwelve Songs (BMI), Ice Nine Publishing (BMI) and Neeha Music (ASCAP)
07:09