Shakedown Street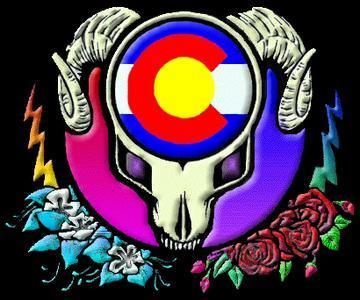 In the live music venues of the Rocky Mountain region, there are only a few bands that consistently draw large crowds. One of the more notorious is Shakedown Street. By virtue of their success, they have proven that Grateful Dead music is an American musical institution that is rallied by hundreds of thousands and hard to resist . By necessity and demand, there are literally dozens of Grateful Dead cover bands in this country. However, Shakedown Street has garnered a national reputation as being the mother of all Dead bands!! Shakedown Street has provided a musical and spiritual public service for "deadheads" for over 17 years. The Band has performed numerous times with former members of the Grateful Dead including; Vince Welnick (keyboards), Tom Constanten (Keyboards), and Bob Bralove (the Dead's longtime sound designer.) Shakedown Street has also played with and opened for many national acts including three shows with Hot Tuna, twice with the J.G.B. Band, twice with The David Nelson Band, Merl Suanders and the Rainforest Band, several shows with Spirit, Mitch Ryder and the Detroit Wheels, Jerry Jeff Walker, Big Brother and the Holding Company, Arlo Guthrie, The Fabulous Thunderbirds, and many others.
The Band still includes original members Ted Galloway (guitar, Vocals), Rick Starkey (bass, sax, flute, and vocals) and Bryant Jones (keyboards, organ) from Manitou Springs Colorado. David Recker (guitar, vocals) from Leadville, Colorado, and Trevor "Bones" David have both been with the band over 7 years. The band is hotter than ever, and obviously having the time of their lives during performances reaching some of the most intense levels in 16 plus years of Shakedown Street. To assure consistent high quality sound, Shakedown Street employs the full time dedicated expertise of The Ray Sound Company, which has worked closely with the group over 15 years.
Including the best of the Dead, original compositions, and other great tunes, Shakedown Street has a vast repertoire (over 400 and expanding) featuring many styles of music (rock, country, bluegrass, jazz, swing) thus having the musical capability to provide something for everybody. To keep things interesting and to keep the fans from burning out, Shakedown Street never repeats a show, won't repeat any song in a five night run (except at gunpoint or for big tips), and never really plays the same song the same way twice. This compels the fans to make every show in a multi-night run - they want to see what the band is going to do next and how they are going to do it!!!
Performing up to 200 shows a year for the last 16 years, Shakedown Street continues to be the hardest working band in the Rockies averaging 50,000 miles a year from Salt Lake City to Santa Fe. Headlining at the largest club venues and theaters in the Rockies in a never ending rotation, Shakedown Street enjoys the reputation and security of drawing large crowds everywhere. They perform at numerous benefits each year for humanitarian or environmental causes such as the Guatemalan medical relief project, the rain forest benefit, and the annual Boulder County Rape Crisis Team benefit, Shakedown Street has always been eager to help the local and global community with financial assistance.
Shakedown Street is more than a musical production. It's a mobile road carnival, a mobile party unit, a revelous extravaganza!! It's a celebration of the life of Jerry Garcia and the Dead; a celebration of our own lives. The Shakedown Street audience typically is a demographic mix of hippies, yuppies, bikers, professionals, college students, good ol' boys, rednecks, nuns, caballeros, ex-presidents, vaqueros, and insurance salesmen who range in age from three to ninety-three, and seemingly appear to and know and love one another extremely well. Enjoy the party!