Sol Driven Train | Underdog | New Music Review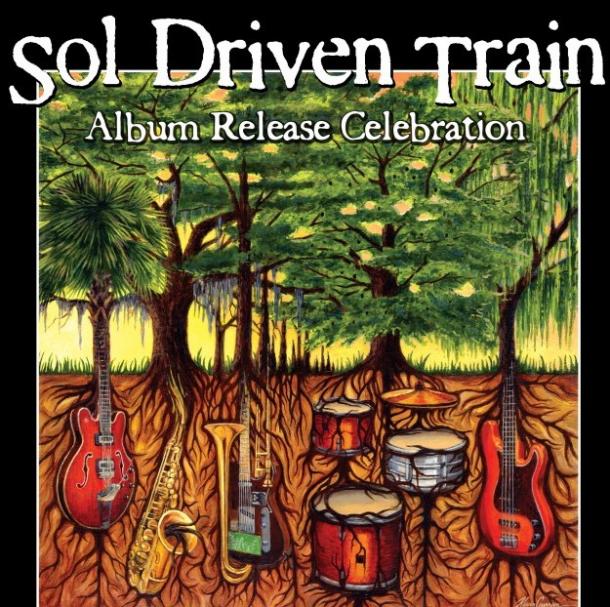 If you are a sucker for rich vocals, clever lyrics that will make you think and encourage you to keep your life going in a positive direction AND love a great horn section; Charleston, South Carolina's Sol Driven Train has all that handled.  They have been recognized by the Charleston City Paper as Rock Band of the Year for 2011 and Jam Band of the Year 2012.  It is simpler to peg them as a band that will make you happy after you give them a listen. 
Along with the vocals, lyrics and horns on Underdog, the band offers listeners a great deal more. From acoustic bluegrassy ballads, complete with mandolin and banjo, with lyrics addressing the deepest topics in all of our lives to a bouncing, bluesy and sometimes ragtime feel good sound, Sol Driven Train covers a lot of ground.  The musicians on the album Underdog are an ensemble of Charleston musicians, Russell Clarke (saxophones/ vocals), Rusty Cole (bass/ vocals), Wes Powers (drums), Joel Timmons (guitar/ vocals) Ward Buckheister (trombone/ guitar/ vocals) and guest vocalist American Idol 2012 finalist Elise Testone.
A recurring theme with Sol Driven Train's music revolves around the adventures we all share as we strive to achieve our goals in life.  As stated by Joel Timmons, "The pursuit of our collective musical dreams and the need to cultivate healthy relationships and lifestyles at home is at the heart of many of the songs on Underdog. Struggle, spiritual growth, love and longing are all intertwined and has influenced the writing on this new album. We're proud of the result of these challenges and we hope to inspire the underdog within every listener."
As for a couple of tracks from the album that may catch your ear or spirit is the first track, Underdog.  Underdog comes with a catchy electric guitar riff and lyrics you will be able to sing along with after only a few listens; PLUS lots of horns.  The lyrics will put your mind in a kind place that gives the listener a boost to keep on their chosen path to success despite life's hurdles and hassles. With Guest List, the band sings about the concept of Heaven.  Being a tricky subject whatever your religious or spiritual status may be, the band happily addresses some thoughts on getting to Heaven. There is no singing of fire, no doom and gloom of brimstone, no streets of gold, no preaching designed to scare you into giving money but there is a marching, upbeat ragtime shuffle that encourages the listener to at least try to get to where ever they want to be when it is time to move on from this dimension.  Changed Minds offers wailing dreamy guitars along with a strong low end organ that will remind some listeners of the Allman Brothers or southern gospel blues.  Lady from Chiang Mai is another song that will stick in your mind after only a few listens. While all the songs on the album show off the band's impressive musicianship and talent with a variety of instruments, Sol Driven Train decided to show off a little with this number.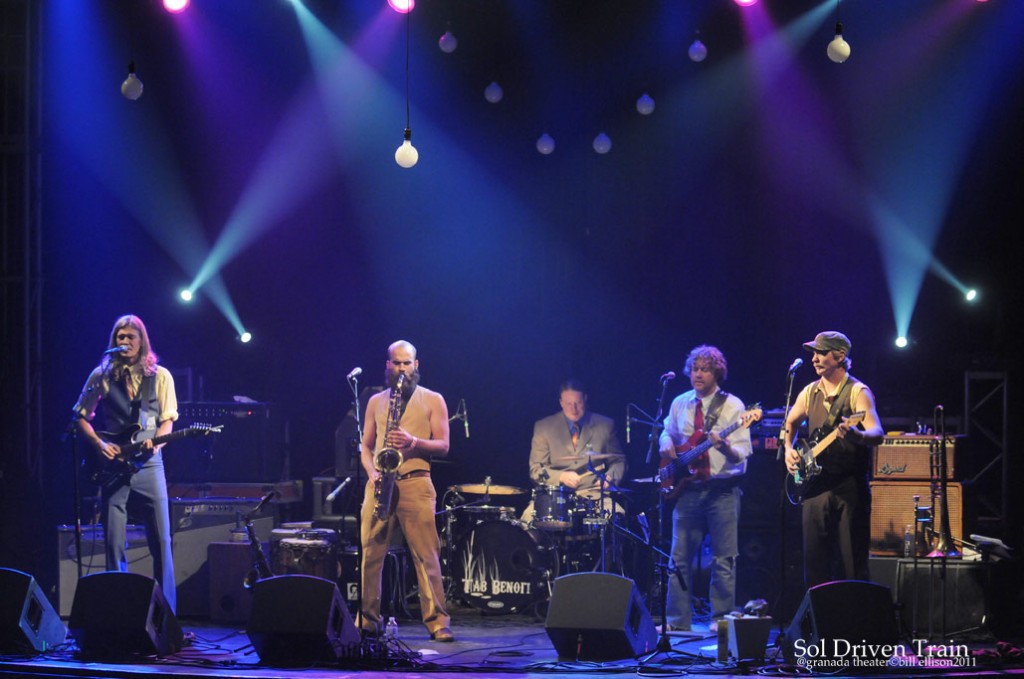 "Low Country Roots Rock" is the genre given to Sol Driven Train's sound.  With all the genre's popping up these days, it can be difficult placing a band in whatever genre someone has created. Dodging all that, Sol Driven Train offers its fans a feeling and sound that is similar to Donna the Buffalo meets Keller Williams that is heavy on horns plus some accordion, mandolin and banjo.  Really unique.  Really good.