Stephane Wrembel and His Band Announce 2013 Spring Tour Dates
Submitted by LiveLoud on Fri, 01/25/2013 - 10:11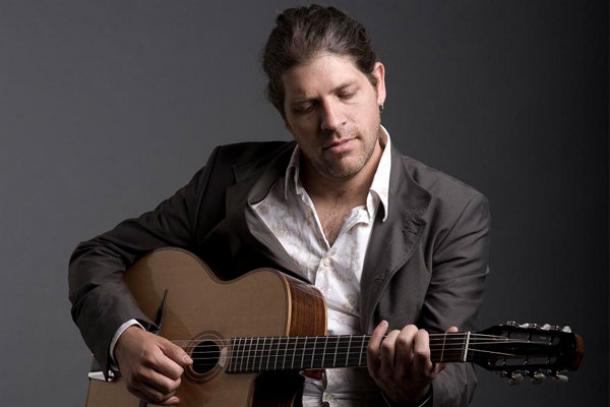 2012 was a huge year for Stephane Wrembel. The guitarist released his fourth album, Origins, to critical acclaim; performed his original song "Bistro Fada" (the theme to Woody Allen's Midnight in Paris) at the Academy Awards; made studio visits to NPR Weekend Edition BBC Radio, WNYC and others; toured across the U.S. and throughout Europe; and helped Gentleman Shaver win a Clio Award for "Best Original Song Used in A Commercial".
Raised in Fontainebleau, France -- the birthplace of Impressionism and the home of famed gypsy guitarist Django Reinhardt -- Wrembel was shaped by the fertile creative landscape of the area from his very early years. He began with classical piano at age 4 before exploring musical genres such as rock, Django, jazz, country, blues, Indian raga, West African, Middle Eastern and others - embracing the many cultures and musical styles he discovered along the way. His arsenal of influences result in a sound unique to Wrembel; a music without genre.
It's Wrembel's unbounded Impressionist musical style and state-of-mind that captured the attention of director Woody Allen, who most recently recruited him to score the theme for his smash film Midnight in Paris (Wrembel also composed music for Allen's 2008 Golden Globe winning film Vicky Christina Barcelona). Wrembel's extraordinary ability to capture, in music, the soul of an image, is invaluable in film scoring. Being able to trigger images - whether universal or personal - in the listener's mind is also a huge part of Wrembel's own musical vision. The element of mystery and freedom his music imparts makes it as impossible to ignore as it is to pin down. Whether rocking a huge festival stage or filling up every breath of air in an intimate club - the experience of seeing Stephane Wrembel and His Band perform live is truly unforgettable.
Upcoming tour dates for Stephane Wrembel include:
Wednesday, February 13 Merrimans' Playhouse South Bend IN
Thursday, February 14 The MidWest Gypsy Swing Festival @ The Brink Lounge Madison WI
Friday, February 15 - Saturday, February 16 The Green Mill Chicago IL
Sunday, February 17 Shank Hall Milwaukee WI
Wednesday, February 20 The Slow Down Omaha NE
Thursday, February 21 Vaudeville Mews Des Moines IA
Friday, February 22 The Englert Theatre Iowa City IA
Saturday, February 23 The Canopy Club Urbana IL
Sunday, February 24 Cliff Bells Detroit MI
Thursday, March 7 The Saint Asbury Park NJ
Friday, March 8 Suffolk Theater Riverhead NY
Saturday, March 9 The Van Dyck Schenectady NY
Sunday, March 10 Hoboken Pilsner Haus Hoboken NJ
Thursday, March 14 Emerald Lounge Asheville NC
Friday, March 15 Next Door @ The Acoustic Coffee House Johnson City TN
Saturday, March 16 Community Arts Cafe Winston-Salem NC
Sunday, March 17 Preservation Pub Knoxville TN
Thursday, March 21 Barking Leg Theater Chattanooga TN
Friday, March 22 Heartwood Abingdon VA
Sunday, March 24 Sixth and I Historic Synagogue Washington DC
Saturday, April 6 Memorial Art Gallery Rochester NY