Stephane Wrembel Announces New 2012 Dates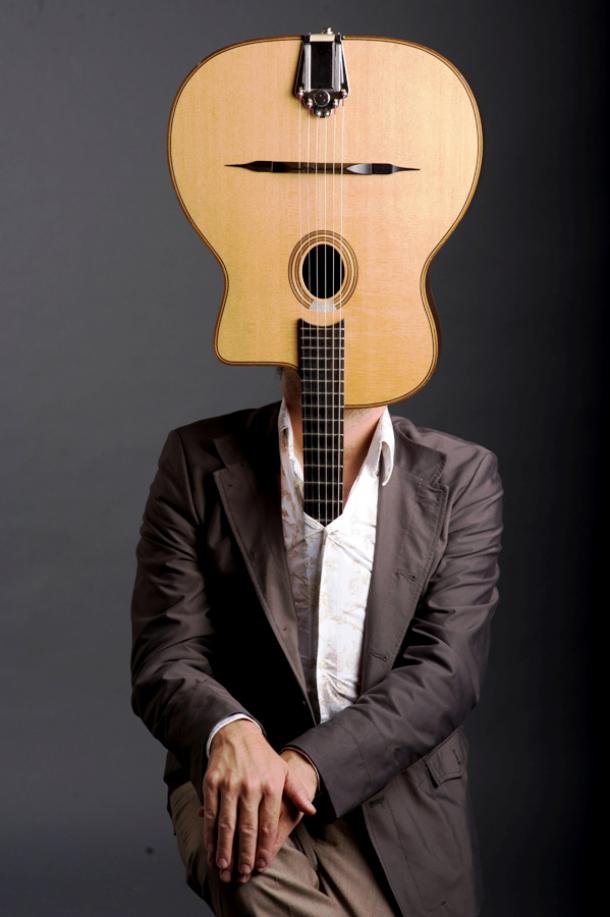 French–born guitar virtuoso Stephane Wrembel - whose original theme song for Woody Allen's smash hit Midnight in Paris is currently topping charts - announces stops in select markets this winter. For these one-off shows, Wrembel - who has been called "a revelation" (Rolling Stone) embodying "a John Coltrane-ish search for a moment of musical nirvana" (Variety) – will be backed by his band: Roy Williams on guitar, David Speranza on bass, Nick Anderson on drums, and David Langlois on washboard, fondue pot and musical saw! Find the complete list of currently confirmed tour dates listed below.
Stephane Wrembel was recently commissioned (for the second time) by famed filmmaker Woody Allen to compose an original theme song for his new film Midnight In Paris. The resulting tune, entitled "Bistro Fada," is a favorite on the soundtrack, which is currently at #1 on iTunes' Soundtracks Chart and at #20 and climbing on iTunes' Album Chart. The success of the soundtrack and film has brought Stephane's music, and his astonishing talent, to a worldwide audience. Check out this video of "Bistro Fada" performed at Barbes in Brooklyn, NY in Fall 2011.
All of this comes just as Wrembel's wildly popular Django A Go-Go Festival wraps up. The very special musical event – which features numerous guest musicians from all over the world – celebrates the life and music of fellow Frenchman Django Reinhardt. For 2012, Django A Go-Go expanded beyond New York City's Joe's Pub for the first time since it's inaugural event seven years ago, hitting several neighboring markets.
What audiences might not yet know is the breadth of Wrembel's musical inspiration, and his vision on where it will take his music next. Look for Stephane Wrembel to release his fifth studio album, and embark on a nationwide tour, later this year. 

Upcoming tour dates for Stephane Wrembel and his Band include:

Friday, January 20 Joe's Pub @ The Public Theater New York NY Django A Go-Go Festival - 2 shows
Saturday, January 21 Joe's Pub @ The Public Theater New York NY 3 Guitars**
Saturday, January 21 Joe's Pub @ The Public Theater New York NY Django A Go-Go Festival - 2 shows
Sunday, January 22 Barbes Brooklyn NY
Wednesday, January 25 Regatta Jazz Club Cambridge MA Django A Go-Go Festival
Thursday, January 26 The Egg Albany NY Django A Go-Go Festival
Friday, January 27 Museum of Modern Art Philly Philadelphia PA Django A Go-Go Festival
Saturday, January 28 Whitaker Center Harrisburg PA Django A Go-Go Festival
Sunday, January 29 Birchmere Alexandria VA Django A Go-Go Festival
Friday, February 10 Town Crier Cafe Pawling NY
Saturday, February 11 Bedell Cellars Cutchogue NY
Thursday, February 23 The Thunderbird Pittsburgh PA
Friday, February 24 8 X 10 Baltimore MD
Friday, March 16 Memorial Art Gallery Rochester NY
Sunday, March 18 Lee's Palace Toronto ON
Wednesday, March 21 Union College Barbouville KY
Thursday, March 22 Barking Leg Theater Chattanooga TN
Friday, March 23 The Blue Wisp Cincinnati OH
Thursday, April 26 Music on Main Street Woodbridge NJ
Thursday, June 21 - Saturday, June 23 Wanderlust Festival Bondville VT
Thursday, July 5 - Saturday, July 7 Wanderlust Festival Colorado Copper Mountain CO
Thursday, July 26 - Saturday, July 28 Wanderlust Festival Lake Tahoe Lake Tahoe CA