Steve Kimock News: Harmony, Europe & More
Submitted by press on Fri, 06/12/2009 - 05:40
Kimock returns to his Sonoma County roots playing the Harmony Festival, June 12th -14th at the Sonoma County Fairgrounds in Santa Rosa CA, celebrating 31 years of "Harmony From the Roots Up", focusing on progressive ideals, community activism, and uplifting music.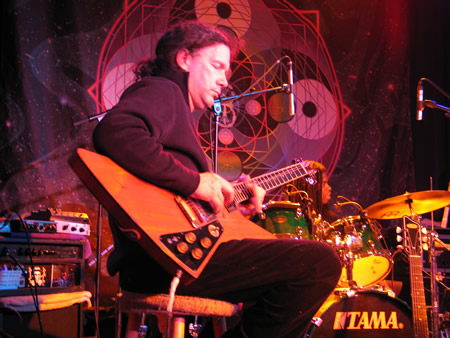 Steve Kimock Crazy Engine plays Friday night main stage with special guest, bassist  Reed Mathis! Later that night, Steve Kimock will also play late night as a special guest with ALO! This year's HARMONY FESTIVAL also features Michael Franti, India.Arie, Matisyahu, Cake, Sierra Leone Refugee All Stars and many more great acts.
Additionally, the festival includes 350 vendors with many attractions such as Global Marketplace, Crafter's Village, Wellness Pavilion, Eco Village, Healing Sanctuary, Goddess Grove, Eco-Fashion Zone, Film Screenings, Saturday Afternoon People's Parade, Harmony Altar, Eco Cup & Skate.
VIP Magic Passes, Shabbaton, camping and kids 6 and under FREE. Tickets/info: Harmony Festival
On Tuesday, June 16th Steve Kimock Crazy Engine plays at the Old Rock House in St. Louis featuring Melvin Seals, John Kimock & special guest bassist Reed Mathis. Show is three sets with doors at 9PM and music playing until almost 3AM!   Tickets are available now. There will be shuttles from the Phish show available.
Steve Kimock will be returning to Europe for three weeks starting late August through early September. The band features John Kimock (drums), Billy Goodman (vocals, slide guitar), and Trevor Exter (bass, cello). The band has already spent some good times in the barn preparing for this adventure!
While we are still filling in some dates, most of the shows and workshops will be in and around the Black Forest in Germany. The first show is on August 20th @ Waldsee, Freiburg, followed by an afternoon workshop in Herrenwies on August 21st with a show that night at the Turning Point. The band will also play later in the week at the Turning Point, finally landing in Immeldorf, Germany for the weekend of August 28th & 29th; with Kimock rounding out his trip in the Netherlands.
Stay Tuned for more complete details within the next few weeks.
We are thrilled to join Jamcruise 8 and so many great musicians onboard this musical adventure.  Cabins on sale now! We want to make sure that our fans don't miss out!
Jam Cruise 8 sets sail January 3-8, 2010 on the beautiful Italian ship: MSC Poesia. The ship leaves from Ft Lauderdale's Port Everglades and heads to Ocho Rios, Jamaica & Georgetown, Cayman Islands.
One of the best features of the Poesia is the ABUNDANCE OF double occupancy cabins with standard & large balconies.