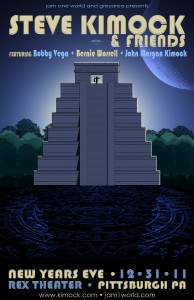 Happy Holidays and good tidings to our musical family. We want to thank all of the incredible musicians who shared the stage with Kimock this past year and especially our fans for their support of live music. We are very thankful for ALL of you and feel fortunate to share in peace and light through music. May you all have a safe and wonderful New Year...We do hope you join us NYE, our family and friends at the Rex Theatre in Pittsburgh! Very much looking forward to 2012~!

We are bringing in 2012 at the Rex Theatre in Pittsburgh, PA! Steve Kimock with Bobby Vega, Bernie Worrell and John Morgan Kimock celebrate the New Year in Kimock's home state.

Tickets and VIP Packages available.
Doors: 7:30 (VIP doors at 7:00PM)

FACEBOOK EVENT:RSVP and spread the good word!
Kimock plays his hometown of Bethlehem, PA on December 30th at Godfrey Daniels with Steve Kimock and Friends. With tickets to the first show at 8PM selling out quickly, Godfrey Daniels has added a second show at 10:15PM. Kimock has yet to perform with his own project in Bethlehem and will be joined by a powerhouse line-up including bassist Bobby Vega, legendary keys player Bernie Worrell, and John Morgan Kimock.

These shows are bound to be special in such a unique and intimate listening room. If you missed out on the first show, tickets are now on sale for the 10:15PM show.
SK&F begin their next run on December 28th, playing until the wee hours at the Hiro Ballroom.

CEG presents Kimock, Vega, Worrel and Kimock at this funky after-Phish party starting around midnight...an ideal setting to kick back and absorb the transcendental K-Waves. Will likely be last chance for a while to catch Kimock & Vega in NYC, so do not miss these shows!
FACEBOOK EVENT:RSVP and spread the good word!
And there's more! We're giving away two tickets and free Kimock mp3 singles at our Dec 28 Hiro Ballroom show. Download the @Livetapp app on your iPhone or Android, and check out the @Headstash Holiday Event Guide. RSVP to the Hiro Ballroom show through the app for your chance to win tickets, and check-in during the show for free Steve Kimock tracks!
MORE INFO HERE
Join PRAANG for their annual winter experiment in Denver. Four musicians that bring a long tradition of improvisation into the future using everything from advanced technology to ancient instruments, making a sound unlike anything heard before...

Kimock, Travis, Hann and Janover will play January 6 & 7 at Quixotes. See you there!

FACEBOOK EVENT

ZERO plays the weekend of January 20-21, 2012 in the Bay Area First, ZERO unites for a show at the Great American Music Hall featuring Steve Kimock, Greg Anton, Bobby Vega, Judge Murphy and Chip Roland, on Friday, Jan 20th for a celebration of life. This will be the only Bay Area show with this core line-up.

On Jan 21st, the band plays a benefit for SEVA at the Sebastopol Community Center, also featuring the David Nelson Band and the one-and-only Wavy Gravy as host.
TICKETS for SEVA show.
TICKETS for ZERO at GAMH are on sale NOW!