Steve Kimock News: Summer Dates & More
Submitted by press on Tue, 05/12/2009 - 05:37
Kimock's on the boat! We are thrilled to join Jam Cruise 8 and so many great musicians on board this musical adventure.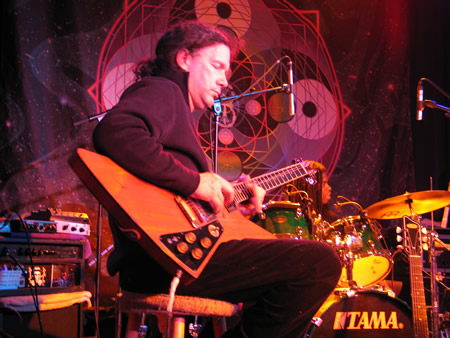 Jam Cruise 8 sets sail January 3-8, 2010 on the beautiful Italian ship: MSC Poesia. The ship leaves from Ft Lauderdale's Port Everglades and heads to Ocho Rios, Jamaica & George Town, Cayman Islands.
Public on-sale will be in June 4th. We want to make sure that our fans don't miss out! One of the best features of the Poesia is the ABUNDANCE OF double occupancy cabins with standard & large balconies.
Hope to have you on board!
May 23 - Hookahville - Thornville, OH *
June 4 - Wakarusa - Ozark, AR *
June 6-7 Mountains of the Moon Festival - Salmo, BC
June 12 - Harmony Festival - Santa Rosa, CA
June 16 Old Rock House - St. Louis, MO
July 3 - Grateful Fest - Nelson Ledges, OH
July 4-5 - High Sierra Music Festival - Quincy, CA
July 8 Port City Music Hall - Portland, ME
July 9 Rocks Off Concert Cruise - NY, NY
July 10 Sherman Theater - Stroudsburg, PA
July 11 - All Good Music Festival - Masontown, WV
July 24 - 10K Lakes Music Festival - Soo Pass Ranch, MN
Aug 14 Stone Pony - Asbury Park, NJ
Aug 15 A Bear's Picnic - Laurelton, PA
Nov 14 Bear Creek Music Fest - Live Oak, FL
Jan 3-8 - Jam Cruise 8 - Caribbean Ocean
* w/ George Porter Jr
*Kimock will also play a late night at Wakarusa with Praang featuring members of EOTO and Jamie Janover)
Steve Kimock w/ Everyone Orchestra and more!
May 12 - Daze Between Fest - San Francisco, CA
June 20 - Church of Universal Love & Music - Acme, PA
Kimock will be making a special appearance with Everyone Orchestra on May 12th at the Daze Between Fest at the Mission Rock Café in San Francisco, CA. Kimock will appear late night from around midnight until 4AM.
Also playing are members of Hot Buttered Rum and ALO plus Melvin Seals, Wally Ingram, Chris Haugen, Mike Sugar, Audio Angel, conducted by Matt Butler, and a whole lot more...also featuring live painting by Alex and Allyson Grey and the return of the Furthur Bus with lots of hipsters, tricksters and pranksters. The festivities will begin at 8pm and continue through the dawn. Are you on the bus?!
A.T. Furthur: Daze Between is an eclectic art gathering celebrating the legacy of Ken Kesey and the Merry Pranksters in the mid-60s. The original Prankster Acid Tests were created as multi-media art parties where exciting, new, and still legal entheogens were imbibed in the spirit of breaking new creative ground.
Don't miss Wakarusa! Final chance to buy cheap tickets!
With multiple stages featuring great live music over four days from June 4-7, Wakarusa is a serious music festival. The 2009 lineup features nearly 100 bands playing over 125 sets. With Full Event passes currently available for $139, you can enjoy a full weekend at Wakarusa for just over $1 per set! Get your Full Event Passes now! For a complete list of all ticket and camping options, including VIP, visit www.wakarusa.com.
Steve Kimock Crazy Engine will be playing main stage on Thursday, June 4th and there is a special late-night performance with Praang (Kimock, Travis, Hann, Janover).
Don't miss Wakarusa 2009 at a fantastic new venue, Mulberry Mountain! With shade trees, float streams and waterfalls, Mulberry Mountain is an absolutely beautiful setting for 4 days of music and activities!