Umphrey's McGee Announces early 2013 West Coast Dates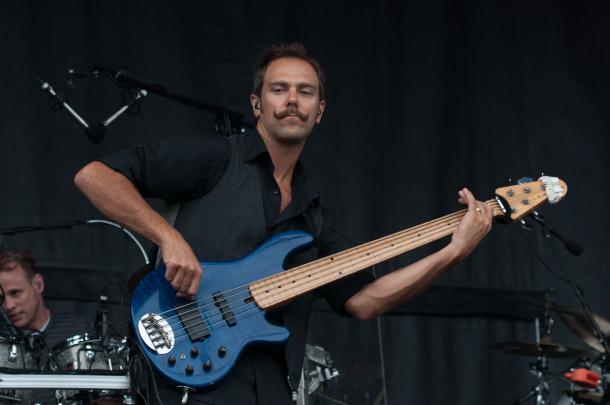 You are cordially invited to head out west with Umphrey's McGee in 2013! Leg two of tour carries UM into the Rockies and down the California coast, including a triumphant return to the breathtaking Fox Theatre in Oakland St. Patrick's Day weekend. To celebrate Umphrey's first ever two-night stand in LA, they're offering the Hollywood Nights VIP and Travel Packages. Check out umVIP for full details. Ticketing pre-sale begins Monday, November 26th at NOON CT through Umphrey's Ticketing. Full leg two tour dates are listed below.
But wait! The clock is winding down on the Movember sale on UMLive.net, with deep discounts on all November shows from 2005-present. Not sure where to start? Look to The Floor as Kevin Browning picks notable moments in UM November history.
As Thanksgiving nears, UM will take this opportunity to express their gratitude to you- the best fans in the world. Without your support, there would be no upcoming 4-night New Year's Eve run in Atlanta; no double-headers in St. Louis, Aspen, and LA.
December
12.8 Brendan and Jake Acoustic Christmas, Park West, Chicago, IL
12.8 Digital Tape Machine, The Bottom Lounge, Chicago, IL (Official holiday after-show)
12.11 Brendan and Jake (ft. Joel and Kris) Shedd Aquarium, Chicago, IL
12.17-21 Mayan Holidaze, Tulum, MEX SOLD OUT
12.28 The Tabernacle, Atlanta, GA (w/ The Bright Light Social Hour)
12.29 The Tabernacle, Atlanta, GA (w/ Zoogma)
12.30 The Tabernacle, Atlanta, GA (w/ Moon Taxi)
12.31 The Tabernacle, Atlanta, GA (w/ nopener) SOLD OUT
January
1.16 Town Ballroom, Buffalo, NY
1.17 Landmark Theatre, Syracuse, NY (w/ Giant Panda Guerilla Dub Squad)
1.18 Beacon Theatre, New York, NY
1.19 Fete Ballroom, Providence, RI
1.23 Ziggy's Rock House, Winston-Salem, NC (w/ Papadosio)
1.24 The Fillmore, Charlotte, NC (w/ Papadosio)
1.25 The Ritz, Raleigh, NC (w/ Papadosio)
1.26 The National, Richmond, VA (w/ The Mantras)
1.30 Tennessee Theater, Knoxville, TN
1.31 Buster's, Lexington, KY
February
2.1 Orbit Room, Grand Rapids, MI (w/ Greensky Bluegrass)
2.2 The Fillmore, Detroit, MI
2.6 The Venue, Fargo, ND
2.7 First Avenue, Minneapolis, MN
2.8 The Pageant, St. Louis, MO (w/ Mike Dillon Band)
2.9 The Pageant, St. Louis, MO (w/ Mike Dillon Band)
2.10 The Bluebird, Bloomington, IN
2.15 LC Pavilion, Columbus, OH (w/ Mike Dillon Band)
2.16 Orpheum Theater, Madison, WI (w/ Mike Dillon Band)
2.17 Canopy Club, Urbana, IL
March
3.6 Belly Up, Aspen, CO
3.7 Belly Up, Aspen, CO
3.8 The Depot, Salt Lake City, UT (w/ The Bright Light Social Hour)
3.9 Wilma Theatre, Missoula, MT (w/ The Bright Light Social Hour)
3.10 Emerson Cultural Center, Bozeman, MT (w/ The Bright Light Social Hour)
3.14 The Neptune, Seattle, WA (w/ The Bright Light Social Hour)
3.15 McDonald Theatre, Eugene, OR (w/ The Bright Light Social Hour)
3.16 The Fox Theatre, Oakland, CA (w/ The Bright Light Social Hour)
3.17 Montbleu Resort, Stateline, NV (w/ The Bright Light Social Hour)
3.21 House of Blues, Las Vegas, NV (w/ The Bright Light Social Hour)
3.22 House of Blues, Los Angeles, CA (w/ The Bright Light Social Hour)
3.23 House of Blues, Los Angeles, CA (w/ The Bright Light Social Hour)
3.24 McDowell Mountain Music Festival, Phoenix, AZ