Umphreys McGee Embrace Change
Submitted by Tim Hurley on Sun, 05/03/2009 - 00:37
Change.  It has been the ringing theme across America throughout the last six months, not only politically but socially.  Our country has finally come to the conclusion that "business as usual" can no longer work, seen most prominently by the economic turmoil facing the nation today.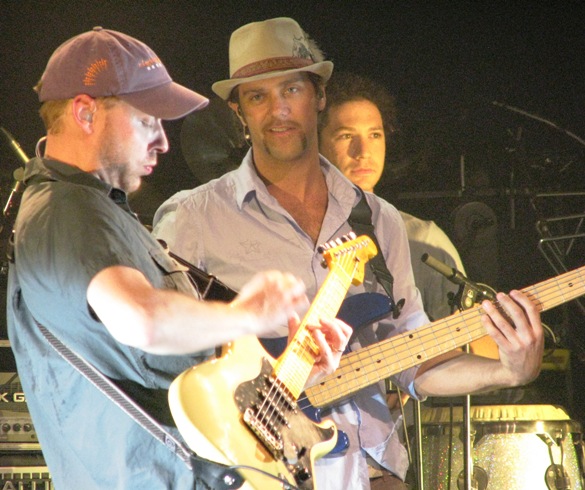 One area reeling from its own such financial crisis is the music recording industry.  Sales from physical albums have massively plunged over the last decade, due mostly in part to the rise of the digital age.  There are too many options via the internet for people to get their music for free or cheap, making the purchase of CDs virtually too expensive or unnecessary.
Record company executives have been scrambling to figure out ways to make money off of their artists, and some are beginning to try new revenue streams in hopes of making their products profitable again.  Yet many still seem to be relying on tired methods of heavy marketing, and fighting digital retailers such as iTunes.
Artists have taken note, with some prominent names deciding that they no longer necessarily need distribution labels to sell their music.  There is a fundamental shift taking place in the music industry, one that now seems long overdue.  A change in approach has become evident, and no group this year has embraced such change more than the progressive rock outfit Umphreys McGee.
The popular touring band from Chicago started off 2009 fresh with a brand new studio release called Mantis.  Musically it was their most bold, complex, and well-produced album to date.  But what really made this project so special was the means by which they chose to market it.  The campaign consisted of a grassroots-type effort of giving fans more music through their pre-ordering system.  What it came down to was the more orders that got placed then the more fans would get out of it.  Levels of digital bonus content would be "unlocked" if more folks purchased orders for the new album.
In addition to the ordering campaign, the group incorporated a new technology into the disc itself that worked like a "key" to getting even more bonus material from the internet.  Using this PUSH product, users only needed to insert the disc into their home computers, which would then direct them to a website where they could download more content such as photos, liner notes, and live songs.
And the strategy worked.  Fans old and new excitedly purchased the new album, landing the release on the coveted Billboard Top 200 for that week.  This is from a band that went from modest CD sales to #62 on that chart.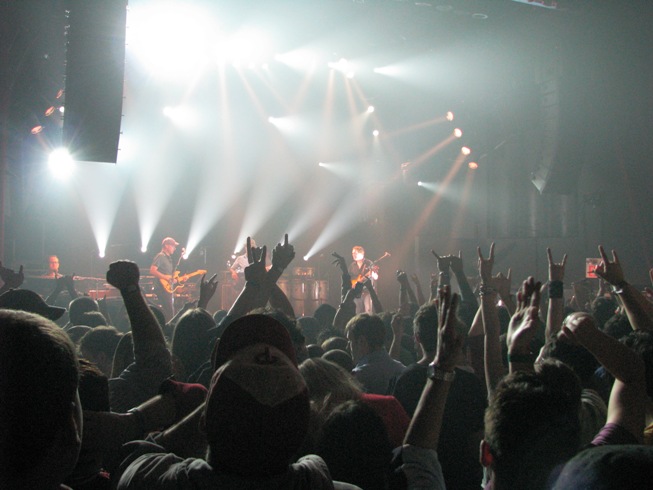 Umphreys McGee did not stop there when reworking their image.  Shortly after the release of Mantis, the band hit the road in support of the album.  They are no strangers to large tours, but decided to also alter the way they approach touring.  First they brought along famed lighting engineer Jeff Waful to set up a new light rig and wow fans with a more visual experience.
Second, they are considering changing the two-set format that most jam bands use in performances to one longer set with an extended encore.  This will give fans the same amount music, but will inevitably cut production costs with shorter overall venue use.
As if the experience of the show is not enough, fans can also purchase downloadable copies of each performance through their partnership with Live Downloads at UMLive.net.  The concerts can be purchased as MP3s or the higher quality FLAC files.  The band will also soon be delivering shows in a new HDMP3 format, which will give listeners lossless audio files that are compatible with standard MP3 players, thus providing much better quality overall sound.
The band has those who want the whole live music experience, but cannot be there in person, covered too.  On a recent string of shows the band partnered with iClips to allow fans the opportunity to stream live shows as they happen.  For a modest fee of $5 anyone could get a virtual experience of a live Umphreys McGee concert.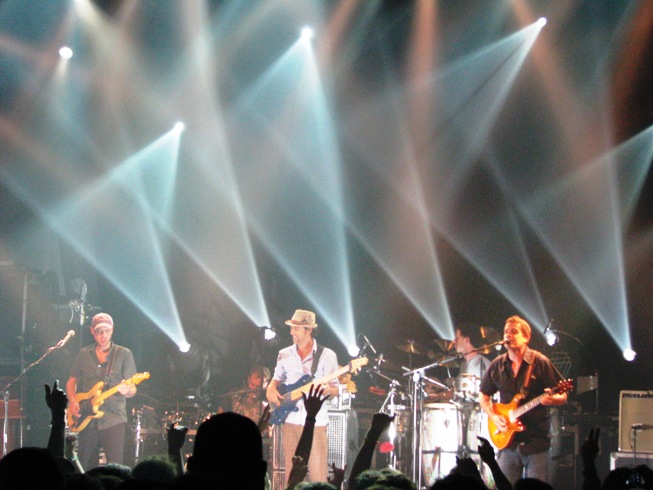 These revolutionary methods are working off the mantra, the more you give the more you get.  And because of this thinking, the band is experiencing their most successful year of their career.  By embracing change the group is laying the groundwork not only for their future, but the future of those who follow.
As artists and recording companies look for ways to survive in a suffering industry, Umphreys McGee may be the ones to lead the charge of new methods of not only sustainable, but profitable growth.