Widespread Panic April 21st & 22nd
Submitted by aaron on Thu, 04/27/2006 - 17:47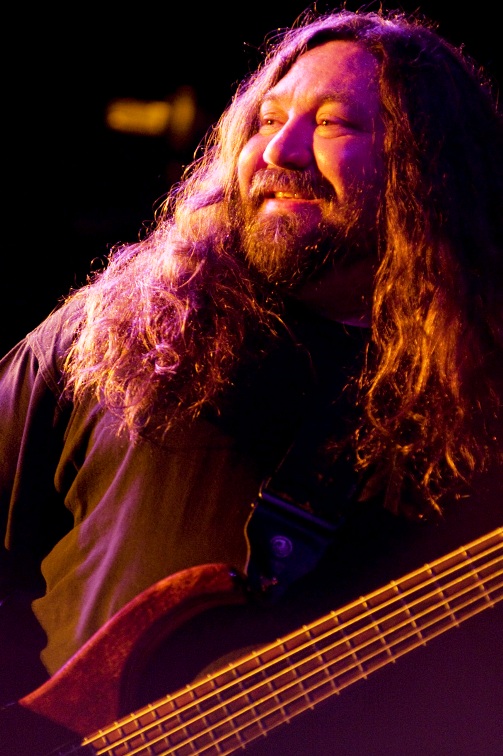 Amphitheater, Raleigh North Carolina
The Holiday Inn Brownstone, where we were staying, is the main hotel for most of the Panic fans this weekend. By Friday morning the parking lot already had people partying and blasting their live shows thru their car speakers. Our crew decided to rent a large SUV Limo for the show. When we all left for the show that day, we were riding in style.
The Walnut Creek Amphitheater is a wonderful venue to see a show. Not only are there enough bathroom and plenty of areas to eat and drink, but the folks who worked there were some of the nicest employees I have ever dealt with at a show. After getting our beverages, we quickly ran to our seats under the Amphitheaters covered section. Right then the first wave of screams came from the crowd as Panic took the stage and delivered a large "Proving Ground – Chilly Water – Proving Ground" sandwich. John Keane who has produced many of Widespread Panics albums joined them on stage for most of this first set. He sat in on the next two songs, "C Brown" and "Porch Song" switching between guitar and pedal steel guitar the whole time.  Next Panic served up another sandwich by playing "Driving Song – Tie Your Shoes – Driving Song".  I took a minute to look back at the crowd and saw the whole place dancing like this was their last show ever. The first set wrapped up with "Ain't Life Grand" and a Jerry Joseph cover "Chainsaw City".
The second set opened with a new Panic song, "Second Skin". Widespread will be issuing this song on their soon to be released CD, "Earth to America".  The next song was a cover of War's "Low Rider", followed by "Junior" and a song I have not heard in awhile "Love Tractor".  During set break they played the Rolling Stones album 'Exile on Main Street' so it was not too surprising, when after Drums, they played a killer version of "Stop Breaking Down Blues". The second set finished up strongly with versions of "Traveling Light" by JJ Cale, "This Part of Town" an old Michael Houser tune, and "Solid Rock" a Bob Dylan cover from his religious days that will also be released on the new album in June.
The night ended with a slow encore of "Nobody's Loss" followed by another uplifting cover of Jerry Josephs "Climb to Safety". The band left the stage and the crowd worked their way back to their cars and headed home for the night knowing they had just been to a party with thousands of friends.
**
-Day two at Walnut Creek Amphitheater.
It seems the older I get the harder it is to rebound from the concert the night before. I move a little bit slower to my seat, but my feet still want to dance when the lights go down. Tonight's show opened with a Widespread Panic classic "Diner". It almost felt like a huge sing along from their first song into "Blackout Blues".  The crowd let the band sing again on the next few songs, "Thin Air (Smells Like Mississippi)", "From The Cradle", and my favorite Widespread Panic tune "Holden Oversoul". If ever I felt like I wanted to dance, this was the time.
John Keane was back again tonight playing thru the end of the first set again on "Blue Indian", "Travelin' Man", and "Wondering". The first set finished up with a rockin' tune I have never heard the band play called "Georgia On A Fast Train".
Thank God we had our same seats under the roof tonight, because the weather was going to change real quick. No sooner had I left the bathroom and got a few beers for the second set that I felt the rain come. Not just lightly mind you, but fast and hard! By the time I made it to the covered area I was soaked and every person in the place was trying to get into our seats. Needless to say I had to 'move' a few people out of my way and play security for all of my friends trying to get back into their seats. Right away all you could hear was the rumor of a Hatfield. Who was Hatfield and what is the song about? You will have to Google that for yourself. All I can tell you is it deals with cooking up some rain.
The second set started like this "Old Neighborhood, Pigeons, Good People, Rebirtha > Jam". Then came the song everyone wanted to hear, even the wettest of wet fans standing in the rain on the lawn. "Hatfield" is an older Widespread Panic song, but it always seems to come alive when the rain is pouring and the crowd is feeling the thunder. After that epic song I could not expect the best part of the whole two nights run would be what came next.
"Ribs And Whiskey" is a great song with even better lyrics 'seen your sister naked, ain't nothing I tried to see'. Then Sam Holt, Michael Houser's old guitar tech came out for a long missed "Machine" into "Barstools and Dreamers" song. This combo is something older Panic fans could truly appreciate as Holt played his guitar just like Houser used to. The set ended with another JJ Cale cover "Ride Me High" and a Widespread Panic heavy guitar riffing song called "Give".
The two night show ended with a sweet encore of "Clowns Come Home", a Neil Young cover of "Don't Be Denied", and a wonderful "Imitation Leather Shoes".  The two nights were over, the fans were spent, and the last thing I heard that brought a smile to my face was from a lady by the exit, "Thanks for coming, ya' all come back real soon". You know what….I think I just might.
Other Lynel Honerman Reviews:
WideSpread Panic 11/3/2005 Fillmore in Denver CO
Rose Hill Drive does Zepplin One
Hairy Apes BMX and the Dead Kenny G's