Winners, 2009 Jazz Awards
Submitted by press on Tue, 06/23/2009 - 20:38
A bevy of jazz's best singers convened  at the 13th annual Jazz Journalists Association Jazz Awards at the Jazz Standard (June 16) as Kurt Elling, Sheila Jordan, Roberta Gambarini, Giacomo Gates and Venissa Santî gathered around bebop-vocalist Mark Murphy to wish him well. Murphy, age 74, was recipient of the first "Words and Music" Awards, co-presented by the JJA and the Jazz Foundation of America, whose director Wendy Oxenhorn made an appeal for $20 donations to cover the crisis in housing and health care for musicians in need.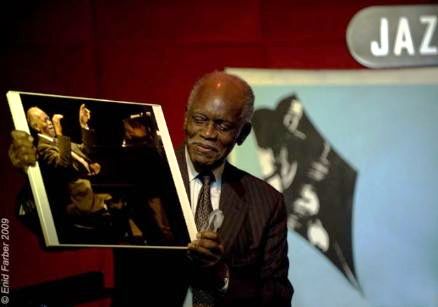 Besides the singers (Elling was named Male Vocalist of the Year, Gambarini was Female Vocalist of the Year 2008)  the following Awards winners were in attendance: Trumpeter Terrence Blanchard, alto saxophonist Rudresh Mahanthappa, Latin jazz bandleader Arturo O'Farrill, trombonist Roswell Rudd, violinist Billy Bang, reeds player Frank Wess, clarinetist Anat Cohen, organist Dr. Lonnie Smith and producer of the year George Wein. Nominees including vibeist Stefon Harris, saxophonist Noah Preminger, trombonist Clifton Anderson, flutist Jamie Baum, pianist Vijay Iyer, baritone saxophonist Claire Daly,  multi-instrumentalist Scott Robinson, drummer Harris Eisenstadt and big band composer-conductor Darcy James Argue and Karen Mantler were in attendance. So were a multitude of jazz journalists from the U.S. and overseas, including Gary Giddins, Dan Morgenstern, Ira Gitler, Arnold J. Smith, Francis Davis, Doug Ramsey, Dan Ouellette, Bill Milkowski, Marc Myers, David Hajdu, David Adler, Art Lange, Fred Kaplan, Laurence Donohue-Greene, Chris Kelsey, Tim Wilkins, Nate Chinen, Ben Ratliff, Marcia Hillman, Hank Shteamer, Christian Broecking (Germany) and Cyril Moshkow (Russia), photographers John Abbott, Fran Kauffman, Enid Farber, Steven Sussman and broadcasters Linda Yohn (WEMU-Ypsilanti), Ben Young (WKCR-Columbia University and Becca Pulliam (WBGO-Newark) along with program director Thurston Briscoe and general manager Cephas Bowles.
Music was provided by the Charles Tolliver Big Band, Jane Bunnett's Spirits of Havana, pianist Marian Petrescu and guitarist Andreas Öberg, saxophonist Carol Sudhalter and singer-pianist Daryl Sherman, and saxophonist Matt Miller's trio. Jazz Awards winners receive engraved statuettes, having been voted upon by professional members of the Jazz Journalists Association, a world-wide non-profit organization. For further information about the Jazz Awards go to www.JazzJournalists.org http://www.JazzJournalists.org , and for further information about the JJA go to http://www.Jazzhouse.org
A complete list of Jazz Awards winners follows.
Winners, 2009 Jazz Awards


Lifetime Achievement in Jazz

Lee Konitz

Musician of the Year

Sonny Rollins

Composer of the Year

Maria Schneider

Up & Coming Artist of the Year

Esperanza Spalding

Events Producer of the Year

George Wein

New Festival Productions

Record of the Year

Appearing Nightly

Carla Bley Big Band

(Watt/ECM)

Latin Jazz Album of the Year

Song for Chico
Arturo O'Farrill

(Zoho)

Historical Recording/Reissue of the Year

Road Shows, Vol. 1

Sonny Rollins

(Doxy)

Historical Recording Boxed Set

The Lester Young/Count Basie Sessions 1936-40
(Mosaic)

Record Label of the Year

Mosaic

Female Singer of the Year

Cassandra Wilson

Male Singer of the Year

Kurt Elling

Instruments Rare in Jazz

Richard Galliano, accordion

Large Ensemble of the Year

Maria Schneider Orchestra

Arranger of the Year

Maria Schneider

Small Ensemble Group of the Year

SF Jazz Collective

Trumpeter of the Year

Terence Blanchard

Trombonist of the Year

Roswell Rudd

Tenor Saxophonist of the Year

Sonny Rollins

Alto Saxophonist of the Year

Rudresh Mahanthappa

Flutist of the Year

Frank Wess

Baritone Saxophonist of the Year

Gary Smulyan

Soprano Saxophonist of the Year

Branford Marsalis

Clarinetist of the Year

Anat Cohen

Guitarist of the Year

Bill Frisell

Pianist of the Year

Hank Jones

Organist of the Year

Dr. Lonnie Smith

Strings Player of the Year

Billy Bang

Bassist of the Year

William Parker

Electric Bassist of the Year

Steve Swallow

Mallet Instrumentalist of the Year

Joe Locke

Percussionist of the Year

Hamid Drake

Drummer of the Year

Brian Blade

Periodical of the year

Jazz Times

Website of the Year

AllAboutJazz.com

Blog of the Year

Jazz Beyond Jazz

By Howard Mandel

www.artsjournal.com/jazzbeyondjazz

Best Book about Jazz

A Power Stronger Than Itself: The AACM and American Experimental Music

By George Lewis

(University of Chicago Press),

Best Photo of the Year

Hank Jones, Montreal Jazz Festival 2008

By Kris King

The Lona Foote–Bob Parent Award

for Photography

John Abbott

The Willis Conover–Marian McPartland Award

for Broadcasting

Ben Young, Director, WKCR

(Columbia University)

The Helen Dance–Robert Palmer Award

for Review and Feature Writing

Nate Chinen

Lifetime Achievement in Jazz Journalism

Mike Zwerin

The Jazz Foundation of America
                                      and the
   Jazz Journalists Association
      Special Career Honors
            for Words with Music
            
                   Mark Murphy

A Team Awards for:

Herb Alpert

Musician, Producer, Jazz Supporter

Dr. Agnes Varis

Jazz Angel

Bruce Lundvall

Record Man

David N. Baker

Jazz Educator

Timuel Black

Cultural Historian

Steven Saltzman

Chicago Jazz Advocate

Ruth Price

The Jazz Bakery

Clarence Acox

Garfield High School

Jazz Band Leader

Scott Brown

Roosevelt High School

Jazz Band Leader

Peter Levinson

Author and Publicist

Richard Sudhalter

Author, Journalist, Musician