The fifth annual 10,000 Lakes Festival (10KLF) held July 18 – 21 at the Soo Pass Ranch in Detroit Lakes, Minn. is quickly becoming the summer's must attend live music and camping event.  Adding artists to its growing lineup, 10KLF announces the confirmation of these groups:
The Tragically Hip
Zappa Plays Zappa
Particle
Blueground Undergrass
Outformation
The Lee Boys
Big Organ Trio
That 1 Guy
Continuing the high standards of musical excellence that festivarians expect, this year's 10,000 Lakes Festival lineup already features Bob Weir & RatDog, Trey Anastasio, The Disco Biscuits, Umphrey's McGee, moe., Keller Williams, Gov't Mule, Little Feat, The Derek Trucks Band, New Riders of the Purple Sage, Ivan Neville's Dumpstaphunk, Everyone Orchestra, Trampled By Turtles, Pnuma Trio, God Johnson, GypsyFoot, Bump, Mr. Blotto, WookieFoot, The Burnin' Smyrnans, The Heavy Pets, and Moses Mayes.
Additional acts recently confirmed in this round include Kinetix, Stealin' Strings, Down Lo, White Iron Band, Hobo Nephews, The Smokin' Bandits, Unity, Madahoochi, and The Lighterside of Being.
Over the past four summers 10KLF has grown into the Midwest's premier festival destination through its mix of subdued natural beauty and world class live music.  As the most recent addition to the lineup, The Tragically Hip has grown into one of Canada's most beloved bands over the past two decades by mixing traditional and roots rock, releasing eleven albums and offering intimate connections with its audience.
Zappa Plays Zappa is Dweezil Zappa's live tribute to the prolific and 'legendarily intricate' music of his father, Frank Zappa, with the moniker 'Accept No Substitutes.' Performing at the 10,000 Lakes Festival as the group's only American summer festival appearance, Dweezil Zappa is joined by a hand-picked crew of focused musicians as well as legendary Zappa band alum, Napoleon Murphy Brock, who all perform Frank's timeless music meticulously.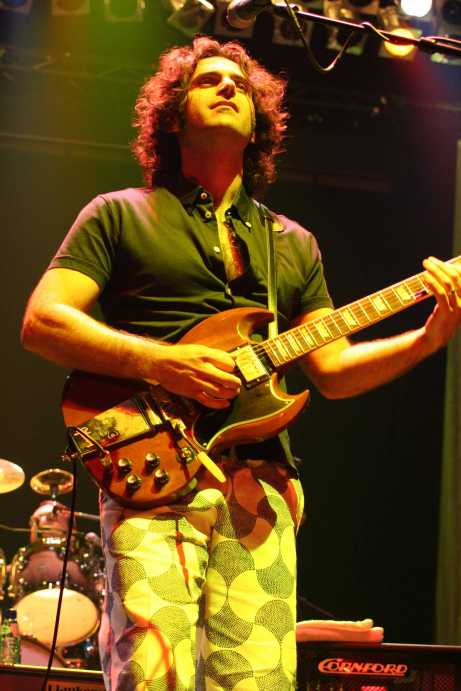 "I would love to expose multiple younger generations to Frank's music," Dweezil says.  "There will always be people looking for an alternative form of musical entertainment and I happen to feel that Frank's music is certainly worth a listen. I really think that younger audiences would be fascinated by it because it's so different than anything they're exposed to currently."
Taking a green approach to powering the festival through a partnership with CLIF Bar and Native Energy, the 10,000 Lakes Festival now allows patrons to offset the CO2 emissions of their automobile or airline travel up to the festival by purchasing 'Cool Tags' at the online ticket check out.  Each Cool Tag invests $2 in Native Energy's WindBuilders program, helping the Rosebud Sioux Tribe build a wind farm on their reservation in South Dakota. Wind farms deliver clean, renewable energy to the grid without releasing CO2 into the air, thereby displacing energy that comes from polluting facilities.
The 10KLF Cosmic Break Tour continues its continental search in March and April for talented independent and unsigned artists to perform at this year's event. Through a series of regional showcases, five bands square off and the group with the most audience votes receives a festival gig.  Bands outside of the Cosmic Break's ten tour stops may register for a chance to earn a performance slot in the 'Online Voting Booth'. Cosmic Break Tour and Online Voting Booth info is available at www.10KLF.com.