I am nobody special, I come from a nobody special family in a nobody special kind of town. However, when I spent Independence Day 2011 at Electric Forest Festival, I felt special. Suddenly I was from the String Cheese Incident's family and I lived in the Sherwood Forest! Consider the word independence: independent dance. Now, electric: the connection that brings life to independence. And that's what you get when things become alive. It's that feeling you get when dancing by yourself or dancing with connection, when you remember that all is related. You can feel the pulse in the ground. This Independence Day weekend brought to mind the gauntlet that we live everyday in this nation. The legends and heroes of our time continue to fight for our freedom, although everyone is a warrior in their own right.
The String Cheese Incident went independent in 1998 when they started their own record label that is now home for so many other acts. What I have come to appreciate about the String Cheese Incident is that when they throw a party, they bring everyone with them- even the odd cousins and long lost displaced family members, heh. The other concept I picked up on with SCI is that if you don't like what they are playing now, just wait till the next song. They have so many styles up their sleeve; ya never know what will happen next. This was no coincidental culmination of incidents. Electric Forest was a precise open door policy that has perfected the art of enjoying the ride. Electric Forest brought forth tribes of many regions and lands to purify and parade their colors together in hopes of a more harmonious and congruous path from here on out. The music ranged from whomp to bluegrass stomp to frolicking rolling to meditative soul strolling. The art was a part of every raindrop and every ray of sunshine tingling the skin from pore to lake superior, the anterior, posterior and ancestors that couldn't exactly make it here in the flesh.
Every great legend has its oral traditions: stories spiraled down from generation to generation. The legend of SCI has pleased so many that the inevitable Midwest gathering of Electric Forest was a myth in its own right. Because of these six talented musicians many doors of adventure have opened for other artists onward to tread forth to myth and legend statuses.
Thursday
Upon arrival Thursday night, I saw Emmitt-Nershi band kick off with roots and foundations all the while keeping it fresh with Anders Beck from Greensky Bluegrass up on stage. You could tell his reverence for the players he was performing on stage with. I wonder what goes thru Anders' head when he is knocked down a peg but brought up a notch all at the same time. Opening the festival, you couldn't hear his thoughts only the beautiful music from up on stage. Truly, they all played together with grace and ease.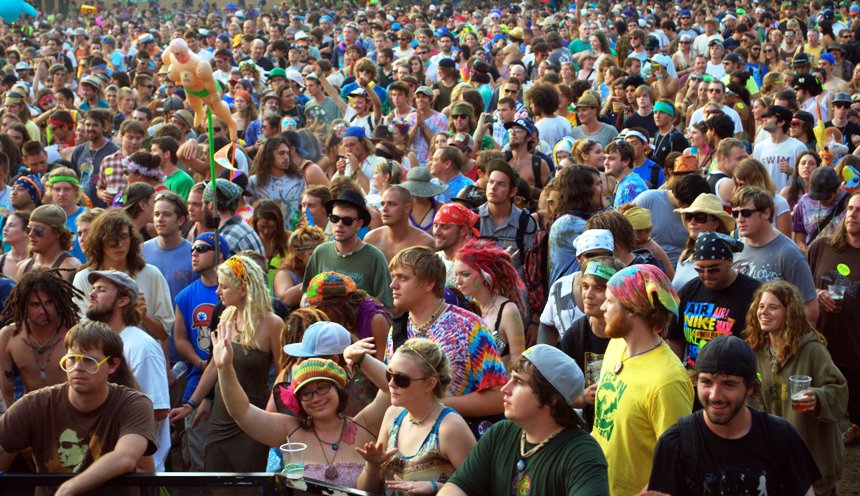 Meanwhile Kyle Hollingsworth was keeping it juicy with a lil' Lynx on the microphone. In the middle of his latest hit, The Way That It Goes, this garden fresh gal got up and beat-boxed Blackstreet's "No Diggity" and I couldn't help but jump. Problem was… I was photographing from back stage. My nobody self was reminded to put my feet back on the ground. I do, love the way they were working it, no diggity. Kyle had an apparatus that connected his microphone and his keyboard that allowed him to make voice signals in key along with her. It was techno-funky and fun, with a rotating cast of characters on stage along with him. The Rob Base of jam bands, Kyle is a wizard but he doesn't hide behind a curtain.
The juice was loose and the scene was set for a magnificent electrical storm to the opening ceremony of Electric Forest. Greensky Bluegrass went on stage but only for a few devoted fans before calling it off due to dangerous conditions. In the Sundance ceremonies that Native Americans hold around summer solstice, they believe that rain is a good sign, a cleansing of the land before ceremony. Truly that is how I felt as we huddled back to our campsite homes and got to know each other better, for better or for worse thru the lightning and thunder. For the most part, the rain subsided, but I was bummed when the drops fell heavy and I decided to save my immune system and skip out on the Michal Menert set that started at 1am. If only I would have known that the Wagonwheel Stage was actually an indoor club…
Friday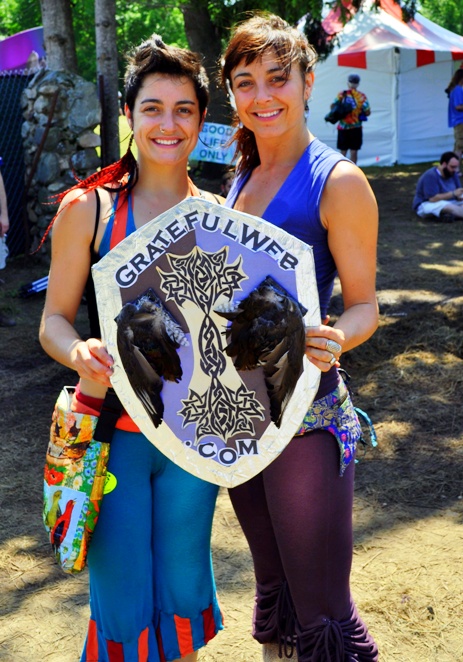 Lucky for me, the tales of musical silk were being woven all weekend. That was not the last time any of the Thursday night artists played. It was an all-star-sit-in-jam all weekend long to build the legacy that SCI built. The String Cheese Incident is the story that the trees whisper. The Sherwood Forest was alive with energy, renewed by Thursday night's rain, and I swore the Green Man was calling forth the God of the woods right there next to me as I went to the porta-potty. Friday morning, rise and shine, the day began with more myths, dreams, and illusions. Yoga, Poi spinning, hooping, and the art of storytelling were first on the schedule. I appreciated the way the production company had arranged the schedule throughout the entire weekend. There was time to catch up, time to relax, and of course, time to rage. I could tell that the staff were seasoned veterans and the security told me that they had done this once or twice before, namely for Phish. At the very same time the Superball was going on the East coast and the vendors had that show streaming live. This was a festival where not only did I feel special but I felt like I could be everywhere all at once. This truly was a unified effort on everyone's behalf for magic can only happen when everyone believes.
The only thing possibly not thought of at this festival was the moving walkway from the airports. However, this being the inaugural year, I wouldn't put it past them to figure out a way to include that next year. All at the same time Friday afternoon we started with Reverend Payton's Big Damn Band, JJ Grey & Mofro, The Treasures, Van Ghost, and Zion I and the Grouch. It was declared in the kingdom of my soul that I needed a rest before Stephen Marley at 5:30. How quickly I forgot that a summer day does not mean that the sun sets at 5:30 but rather at about 8pm. I had a quick bite to eat to nourish myself and back to the festival grounds I went. Chiddy Bang rowked the socks off at the ever spoiling Tripolee Stage while the Forest Stage was chillin' in the shade to the DJ sounds of Kraz. The early evening included not only the Marley legend doing classics like Could You Be Love, but the myth of the ever fading New Deal. Their last summer tour was quickly passing before my eyes. I wanted that moment to last forever.
All this happiness surrounding me, the kings and queens of the court along with the jesters, the cooks, and the servants too were itching to dance and made their way to the big main event: String Cheese headlining, although not closing, the evening with no contest. It's nice to know that if fellow festivarians want to see music, they will be here with me at the same stage. I can see all the totems to each tribe, I can see every smile of the singing crowd, and I get to see the pure skill of everyone's dance moves. Cheese played Got What He Wanted, Rivertrance, and encored with a Keller special Best Feeling.
Dance moves were mythodical and melodic as Tiesto, the international dance club DJ that sells out massive shows, mixed up a dish of bump n whomp. The late night selections competing with Tiesto were one for everyone. Dragon Wagon was bluegrassin it up to their hometown Michigan crowd, Galactic was giving their New Orleans funk to the crowd at the Sherwood Court Stage while again the Tripolee and Forest Stages were thumpin to some DJ vibes of Bonobo and Emancipator for the hipsters that didn't feel the Dance Club mainstream beats of Tiesto. I closed the night out over at the Forest Stage to check out the Cirque du Whomp's Ultraviolet Experience. I was a tad disappointed as I thought they had live performers but I was too tired to care. It was back to the camp shack for me!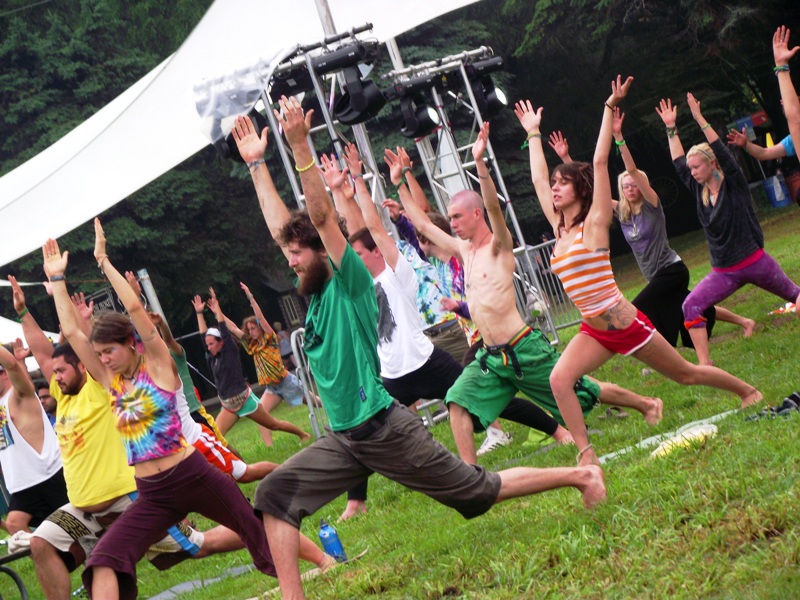 It has been 24 hours since I last saw the Wizard. I went to watch him turn his passion for music into my passion for beer, but first I joined with the rest of my electric rubbernecks at some noon-time Shakti Sunfire Yoga. I had to loosen up and stretch before dancing day #3 away. The rain had given us a light blessing but disappeared now. The sun was at full blast and I was filled with its never ending energy. Naturally, I linked up with the Macpodz. Their Michigan exuberance was the perfect match to my sun shine soul. They rowked the crowd with no guitar but a front man and bassist that took it to the crowd as much as possibly allowed. The physique of these fellas caused shrieks' and topless dancers in the front row. I couldn't possibly do that as much as I wanted to. Me think pink was keeping my shirt on today cuz the melon like sunburn would hurt tomorrow. There's always tomorrow...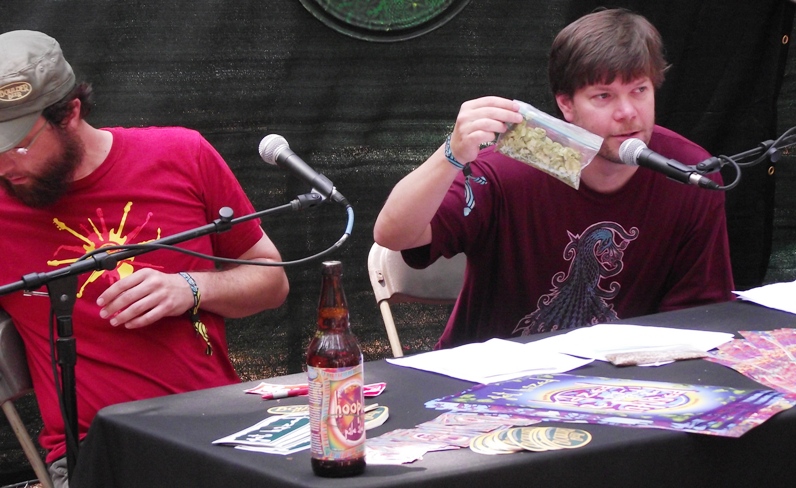 As I connected for the full effect of the wizard, I found myself thirsty. Thankfully as Kyle Hollingsworth spoke of his latest effort to make a whole new kind of beer, he also handed out samples. He has created a whole new type of beer, dubbed "festival pale ale." The hoopla of it all was matched with intellectual conversation about secret kinds of yeast strains and the hops he prefers as he handed out samples of all for the laymen to better understand. My favorite Kyle quote from the talk was, "like when I'm listening to Warren Haynes, really ragin it, but you can't hear the keys! What the heck! It's not my favorite jam because it needs to be balanced just like a good beer." If the whole making music or beer making thing doesn't work out, I do believe Kyle Hollingsworth would make a fantastic professor. For now I'll keep paying my money to see the Wizard play those keys.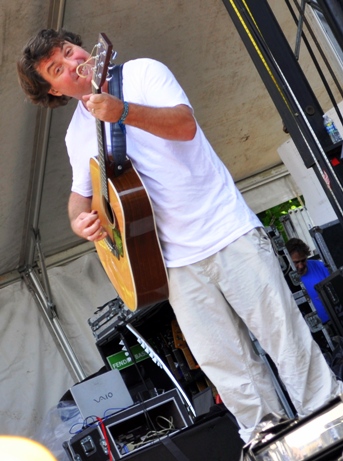 With my hoopla brain spinning from facts n figures of the science and art of making beer (he blinded me with science!) I skipped happily over to the best feeling man. The Incident would not be complete without Mr. Keller Williams. In retrospect what I considered a rather mellow Keller set was indeed a respectful genuflect of correct analects. He began with Stupid Questions (who what when where why how much) and gently nodded us in the audience to remember this is not a sprint, this is a marathon. For the second time this summer, Keller covered Beck's Hollywood Freaks. Party people know he is that type of freeker by the speaker. Yes! His creative movement of Eyes of the World was enriched by adding Michael Kang and Keith Moseley up on stage with him. The trajectory of his message lay soft and in harmony with the whisper of the trees spreading the Cheese legacy. They know that without the fans, there would be no one to perform for and they want to keep us safe and able to resurrect ourselves for the long oncoming days of music. We are free but not safe. If we are to truly celebrate Independence we must look at ourselves first. "Be the change you wish to see in the world" –Gandhi
With that Keller feller swimming in my heart, I bubbled over to Rubblebucket's set. They are on a "yes wave" of being open and continuing thru each and every green light that will no doubt continue to precede them. With Kalima Traver, female of sax, in the front of the 8 piece orchestra consisting of Alex, Adam, Craig, Darby, Dave, Ian, and Jordan, they brought energy to the Sherwood Court that surely found new fans. The increasing court was pleased to mingle and do the sprinkler, the shopping cart, and maybe even the running man with this Rubblebucket crew after running away from the harsh cries of REO Speedwagon. In order to get over to the stage where they were performing, the crowd had to walk past REO where shouts of, "there are 30,000 people at this festival so where the f*ck are you?!!?" screeched over the microphone. In my happy place, that is just not what I enjoy hearing. I ran away like a child from an angry father.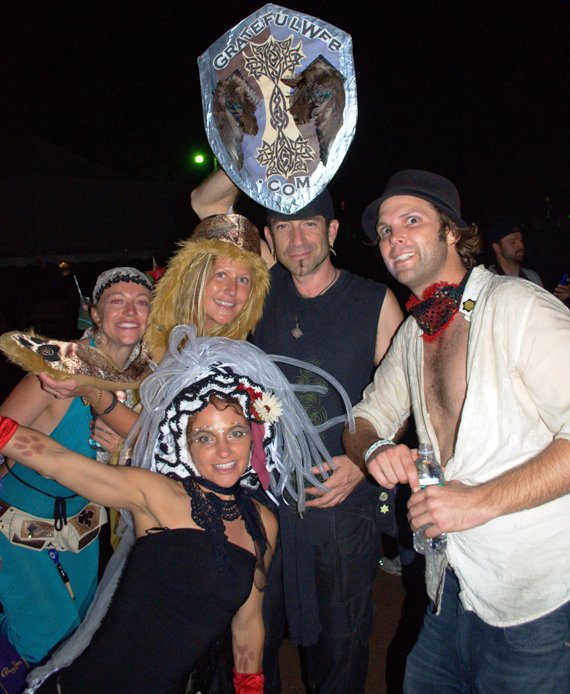 Strolling on my own path of green, rubbing my tourmaline, living in my own yellow submarine, I submerged on over to Future Rock. I caught the tail end of their set before preparing for the triumphant return of uncontested String Cheese Incident night #2. Although I didn't catch the title of it Future Rock announced that "this song is the first song of our new EP." Does anyone else feel the beat of the Beastie Boys when you think of that phrase? I can hear the Cheap Trick sound bite starting off Check Yo Head right now. Back when analog met digital, Future Rock fits the bill. Future Rock is the shrill thrill with a digital package that always delights me. I even fist pumped in an ode to the boom box I used to sport on my shoulder.
So String Cheese wasn't entirely uncontested on night #2. There was SuperDre for the first hour, then an uncontested Cheese for an hour and a half, and then Paper Diamond began almost 2 hours before Cheese ended. If you have to ditch out on Cheese…and you are interested in the Whomp, Paper Diamond really is a great set to ditch out on Cheese for. The Whomp kept it going all night with ESKMO, Big Gigantic, more Kraz, and after Cheese was Bassnectar. I have become a collector of Bassnectar direct projectors aka the sound that has taken over the scene. The last set I caught at Summer Camp was relatively mellow compared to this. The crowd was huge and ready to rage with so many big bright glowing totems held high amongst the crowd. I also felt that this crowd was a little friendlier than Summer Camp. Why wouldn't they be? They had been entirely catered to at Electric Forest, they are happy to share the precious nectar. I was so pleased with my new found bass faced friends that I went for a walk to get Shpongled. I ended up with Skrillex all over my teeth.
Sunday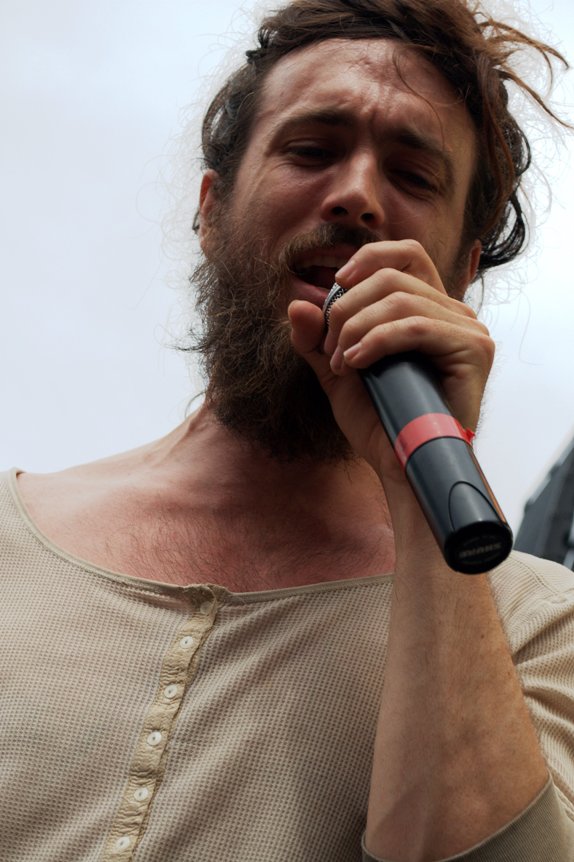 Another beautiful day, another asana in the sun of Sunday and even though I felt limber and lifted I still could not manage to be at all the music I wanted to see at once. In the Realm of Faeries you are instructed to invoke more magic by sitting a lot, patently, and alongside trees. So I did at the Ranch Arena. Sure enough, the entrance to the faerie den opened up and Railroad Earth appeared. Tim Carbone on the fiddle makes music that is not little but pixie like all the same. This band occupies a unique niche between worlds of folk and funk and bluegrass. As fast as the reed vibrated on both saxophones in Andy Goessling's mouth, the illusion of Sunday afternoon passed thru my ears. I sat in silence to continue the gratitude for all that had been over the past 4 days.
My very best friend lives in Alaska and I don't get to see her nearly enough. One of our favorite songs has been Home by Edward Sharpe and the Magnetic Zeros. It has that great feeling that home is a place in your heart, not just a location on a map. I have been so looking forward to catching this set Sunday afternoon to prance, dance and advance all this love and spirit out to her in Alaska. Unfortunately, the pinnacle was never reached as I almost fell off the precipice. A great set for sure, the harmony was just off balance for me. Supposedly there is this great love between Alexander and Jade and while I sure did boogie to the music, I didn't feel the love. It's Electric? Boogie woogie oogie? Where was the love? It fell flat. There was a disconnect on stage that plagued the dance floor. A group hug began the performance but it did not include Jade. When she came out on stage, she and Alexander shared a half-hearted hug and I felt like my parents just told me they were getting a divorce.
I should have caught Beats Antique. I should have strummed to the Infamous Stringdusters. I should have definitely caught Papadosio. I bet my bassface friendly buddies would have been there. Maybe the Pimps of Joytime could have ripped my viceroy of grime. I had a quandary of musical climbing to get back out of this hole I found. Thankfully, the whole reason we all came together was next. The String Cheese Incident took the stage to sage the session of regression. Night #3 of Cheese began and I couldn't have needed it more.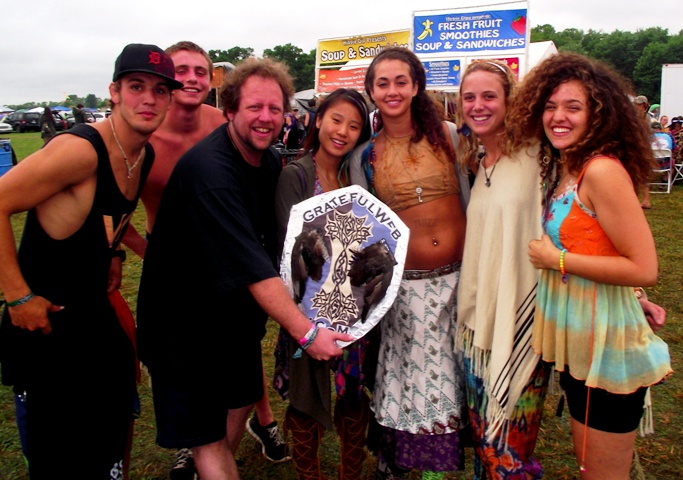 Totally uncontested, Sunday night was the show stopper that started with Cedar Laurels. The Native Americans doing the Sundance would be proud. They believe that Cedar is a sacred herb and that it connects us with our ancestors by means of protection. Again, the care and compassion of The String Cheese Incident is evident as they continued on to Lonesome Fiddle Blues, and Joyful Sound a little further on into the first set. Members of Railroad Earth added to the sprite spring of the sweet grass I smelled somewhere off in the distance and my soul was soothed once again.
After Cheese night #3 was Pretty Lights. I once caught up with Derek Vincent Smith at a little club in Fort Collins. He is incredibly tall, hard to miss, and larger than life. Of course I took the opportunity to drill him with questions about his music when really, I'm sure he was just trying to enjoy a night out. Albeit the arrogance and haughty backlash of his responses, he told me his music is made for anyone from age fourteen to forty. He is entirely correct. My posse of bassfaced friendlies had grown. There was something for everyone. My absolute favorite that still gives me goose bumps as I type was his summertime re-mix. Talk about the perfect storm, It was the right mix at the right time to the right people. He had his own original song Summer's Gone mixed with DJ Jazzy Jeff & the Fresh Prince's Summertime with Mungo Jerry's In the Summertime. Derek Vincent Smith, if you wanna enjoy a drink, I promise to not bog you down with my measly journalist aspirations. You deserve it.
EOTO took the warriors of Electric Forest into the dusk just past 1 am. The cool breeze of nighttime air felt fuzzy on my skin as I sauntered back to my sleeping bag. I dreamt of the Gogmagog, to the soundtrack of EOTO. Gogmagog is a Celtic God that is really two Gods in one, brothers, and mentioned in the Bible as the grandchild of Noah. Gogmagog signifies light and dark in a way that defies both, almost a skipping of a stone as it rides the surface between water and air. It was a beautiful dream.
In the morning I took my time. My Minnesota neighbors were gone before I woke up and left nothing behind. Things were much cleaner than the leftover morning mess of Summer Camp. I spilt some wine for the family and friends that were not with me and I swear I saw the Earth take a deep drink. They were here weren't they? That cedar had worked, hadn't it?
Check out more photos from the 2011 Electric Forest Festival. Thanks to Rich Jameson for his help with the props! As always, a huge thank you to MHP for their warm hospitality.