MerleFest, offering the feel of both music festival and family reunion, drew nearly 76,000 fans to North Wilkesboro, North Carolina during April 25-28, 2013.  Beginning in 1988 as a tribute to the life of Merle Watson, this year's event also served as a celebration of the lives of Merle's parents, "Doc" and Rosa Lee, who passed away in 2012. With the number of performers who grew up attending and following the festival's happenings who return to play the event and the fans that become regulars after their first MerleFest experience, the family reunion feel is as genuine as the music.
Hankering for some Hank Williams, Sr.? MerleFest has it. Got your mind on some mandolin? MerleFest has it.  Prefer your bling from a banjo string? MerleFest has it. Call a violin a fiddle?  You won't be alone at MerleFest. Need to just get away from the television and unwind for a few days? MerleFest is the spot.  In short, MerleFest is good for what ails you. The Little Pickers Family Area offers all kinds of age appropriate activities in a world where children grow up way too quickly. The songwriting and instrument contests offer the yet to play a stage at MerleFest among us, the chance to open the door to dreams. The campus of Wilkes Community College serves as the setting for the festival and provides a clean, easily accessible and family friendly home away from home for the duration of your stay.  With 14 stages and scores of bands, it is guaranteed that you will hear some of your favorite performers playing your favorite songs and an excellent chance you come away from the festival having discovered some new favorites.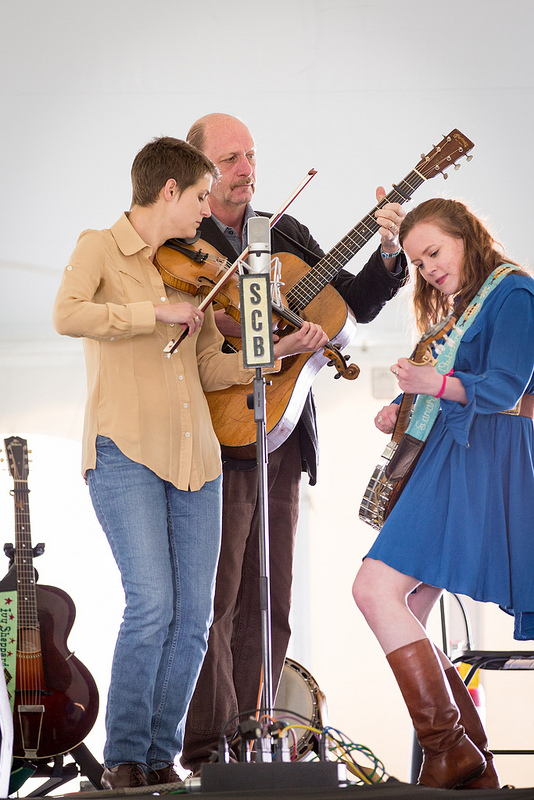 Some of this year's favorites and favorites to be:
Dubbed the "The New Queen of Bluegrass" by the Wall Street Journal, the queen and her court were in their usual rare form for their set Thursday. From speedy instrumentals to soft ballads, Rhonda Vincent and the Rage have collected dozens of music awards but more importantly, give their all to their fans with every note they play.
WOW !  Needing some old school gospel or Hank Williams, Sr. in your ears? The South Carolina Broadcasters comprised of Ivy Sheppard (fiddle, banjo, guitar, vocals), Sarah Osborne (banjo, vocals) and David Sheppard (guitar,vocals) have all you need. Their version of "When I Get To Glory" earned them the first of multiple standing ovations from the Saturday crowd. With so many great artists at MerleFest it is hard to say any particular performers stole the show but The South Carolina Broadcasters had the show stuck halfway in their back pocket and were heading for the door.  Truly outstanding!
From attending the festival as youths, to performing at Merlefest, to playing "late nights" in Greenville, North Carolina at East Carolina University, to blowing up on a national and international stage over the past few years, these North Carolina boys have more than made good. Fans in attendance for the Avett Brothers on Sunday afternoon were richly rewarded for toughing out the weather.  The set consisted of songs from their entire portfolio of music rather than plugging their latest album.  In addition, they showed Doc Watson some love by closing their set with "Shady Grove" and "Blue Ridge Mountain Blues".
Having played with Bill Monroe, "Doc" Watson and Earl Scruggs, Sam Bush is a bridge from the finest bluegrass has seen, to the finest bluegrass is seeing today and will see tomorrow.  Like all of us fortunate enough to be accumulating some birthdays, Sam Bush realizes the preciousness of music and the good fortune of each and every day we get to listen and play. Sam led the star studded Tribute to Doc Jam on Saturday which to many was the set of the festival.
"Gov't Mule at MerleFest?  What in the world is going on here?"  That was a legitimate question for many that had not had the opportunity to find out what Warren Haynes(guitar, vocals), Danny Louis(organ, trumpet, trombone, guitar and basically whatever he wants to play), Matt Abts(drums) and Jorge Carlsson(bass) put down as Government Mule.  It was also a legitimate question for folks that had been bright eyed and bushy tailed over Gov't Mule's since Warren and Allen Woody started this band as a side project from their duties with the Allman Brothers.  To legitimize Gov't Mule's appearance at MerleFest or any festival they may play, just check the list of artists Warren has played with over the last 20 plus years.  While there wasn't a traditional bluegrass instrument in sight, the tradition of music making people enjoy life more and the tightness of a great band were there for all to see.  During the set, the band paused to pay respects to "The Possum" George Jones and closed out their set with "Soulshine".  Soulshine, a song with lyrics that address what Merlefest is all about…Music. Moments.  Memories.
Yeah. Yeah.  We know. We know.  The Devil went down to Georgia and got his @$$ kicked in a fiddling contest with a good old country boy and isn't there something about a chicken picking out dough and a potentially biting dog belonging to someone's granny? I believe there was something about "getting loud little children cuz the South is going to do it again!", too.  Well, 30 years after those songs were popular and 50 years since beginning his career and Charlie Daniels is still making his music pop, delighting his long time fans and creating a new generation of listeners. His set Thursday defied time and space.  GET LOUD AND BE PROUD LITTLE CHILDREN CUZ CHARLIE HAS DONE IT AGAIN!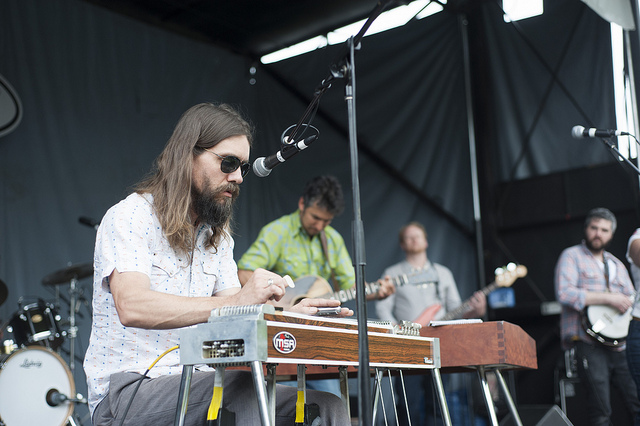 Another band that came in somewhat under the radar for many but left the festival as another potential show stealer, The Black Lillies opened lots of eyes and dropped many jaws with their performances.  Their albums, 2009's "Whiskey Angel" and the currently on the Americana radio Top 40 for several months, "100 Miles of Wreckage" make The Black Lillies a band to keep in mind and on your listening device.
Looking rather tame with a boyish charm, David Holt may not get all the love he deserves from the longhairs and youngins.  Well, David Holt has paid his dues throughout the Appalachian Region of the United States like few others.  From traveling the recesses of the North Carolina Mountains to perfect his musical craft, getting the news out to the world about bluegrass and traditional music through his documentaries, having won multiple Grammy awards and being tight with Doc for years and years speaks to that fact.
Interesting name for a band.  As you listen you may think the name is a reflection of the smooth vocals and jams(could have heard a "St. Stephen/Morning Dew Jam" if you listened hard enough during their afternoon set on Saturday), the Honey, and the "cutting up" they do when they let loose on their instruments. With Anne Platt(vocals, guitar), Peter James(guitar), Tal Taylor(mandolin), Ian Harrod(bass) and Richard Faulk(drums) with their talents and broad range of songs The Honeycutters do not fit neatly into one particular genre, their sound is a sound of success.  Being able to point out each and every fantastic musician at this event is simply impossible but Peter James, deserves his propers for his guitar playing.
Carrying on the Watson traditions of the importance of family and musical excellence, Richard Watson, sets an example for us all.  After mastering his father Merle's blues guitar style, Richard began playing Merlefest in 1991. Let's hope that continues until at least 2041.  See yall there!
Holy Smokes !  Expecting every sound to be soft and sweet from a band with the word "Heart" in its name is jumping to conclusions.  While Mountain Heart can be soft and sweet with their ballads, the band can also blow up with some Newgrass sounds that will get you heart thumping and your feet jumping.  Do a little research on who all these folks have played with and check the number of Grammy, ACM, CMA and IBMA awards nominations and wins gathered by Mountain Heart.  Impressive.
Doc, RosaLee and Merle Watson
With our spirit being what drives and defines us, Doc, RosaLee and Merle were most certainly on every stage this weekend.  
These words are from the eulogy at Doc's funeral:
"Now when they've laid me down for the last time,
With these tired hands resting on my breast,
I don't want no weeping and crying over me,
Because this old boy has gone to rest."
If recent writing collaborations with Jerry Garcia's partner in lyrics Robert Hunter is not a sound enough reason to check out Jim Lauderdale, there is much more to enjoy.  Jim puts his accomplishments shortly and sweetly in his own words, "I love that I can play the Opry one weekend, a jam-band festival the next and then a bluegrass festival the following week.  That's really inspiring to me and I think there's a real thread there.  The roots are the same for all of them and that's the music I'm interested in." 
Having been a part of Merlefest since the very beginning, Jerry Douglas is living proof of both the music festival and family reunion feel of MerleFest.  Having 13 Grammy Awards, 3 CMA Musician of the Year Awards and so many other accomplishments, things would start to get boring to read if they were all listed.  Basically he plays his instrument like few other musicians on the planet, plays with whomever he wants to play with and plays wherever he wants to play.
Yet another Grammy winning band, winning in 2013 for Best Bluegrass Album titled "Nobody Knows You", the Steep Canyon Rangers graduated from playing modest venues around Chapel Hill to headlining on tours across the nation.  The Rangers are Woody Platt(guitar, vocals), Mike Guggino(mandolin), Graham Sharp(banjo), Charles R. Humphrey III(bass) and Nicky Sanders(fiddle).
Bringing it all the way from San Francisco to North Wilkesboro, The Waybacks mix the flare of San Francisco with the flat picking of the Appalachians to be one of MerleFest's most popular acts each festival.  The Wayback's Hillside Album Hour, where the band selects a classic album to perform in its entirety, is one of the can't miss performances of the festival year after year.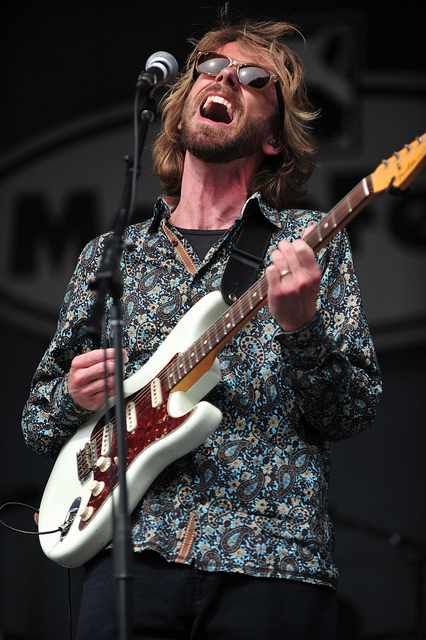 As you run down you lists of festivals, MerleFest needs to be up at the top.  No huge transportation hassles, no outrageous prices, fresh mountain air, a well laid out venue, the promoters have been doing the festival long enough that the kinks are worked out and the cream of bluegrass musicians make it a bucket list type of event.