Whoever did the booking for the Village Voice 4Knots Festival at South Street Seaport knocked it out of the park. It was a fantastic, eclectic mix of bands and genres, both local and far-flung, performing on two stages, all of whom were immensely talented and put on great, highly entertaining sets. Luckily Mother Nature cooperated as well, a day that had been forecast for intermittent thunderstorms turned out to be clear blue skies with a great breeze off the East River. The crowd was an eclectic mix as well of hipsters there for the music and tourists down to check out the Seaport or take a Circle Cruise around the city and the fact that it was free allowed for a great intermingling of both groups.
Things kicked off early at 1:30 with a last minute addition set by Steve Gunn, the guitarist in Kurt Vile's band. He's an excellent singer-songwriter in his own right and although the vibe of the music had the same wistful, laconic feel as Vile's, I really enjoyed the stark, atmospheric nature of Gunn's performance, it had a very stripped down, driving through the desert feel to it. All in all, it was a great mellow set to kick off the day, trance-like, acoustic guitar, people rolling in, still hungover from the night before (or maybe it was just me) and ready for a long day of tunes in the sun.
Next up was Brooklyn band Heliotropes, an all-female four-piece that kicked off the overriding musical theme for the rest of the day, rocking out and plenty of it. 90's influences abounded in their set,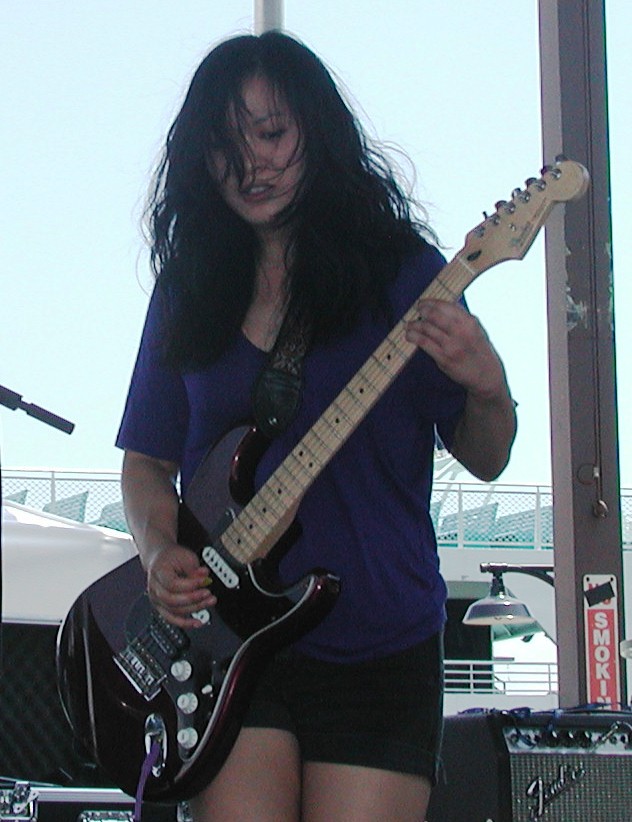 from Smashing Pumpkins to the Pixies to Dinosaur Jr. Their pretty vocal harmonies did not detract from the head banging quality of their playing and the appreciative crowd loved every minute.  It was a great, high energy performance from a band that I look forward to seeing again, but they're NYC based and the performer on the second stage is someone I don't have the chance to see every day. Fat Tony is a (not-fat) Houston based rapper and the lone hip-hop artist of the day. Charming and funny, he and his DJ/fellow rapper Tom Cruz dished out some smooth danceable beats behind a captivating rhyming style that made me scratch my head and wonder why this guy isn't huge in the hip-hop scene. He certainly deserves to be and I'll be happy to say that I saw him back in the day. The crowd seemed to be equal parts people both familiar and not with him, but everybody in the crowd had huge smiles on their faces, nodding along with his flow.
Unfortunately, with the dual stages I had to miss most of the set by the Babies, from Brooklyn, but I caught the last few songs of the four piece indie-rock band and they had a crowd of enthused fans dancing along to their catchy high-energy set. High energy doesn't even begin to describe the next performance by fellow Brooklyners, Hunters. Punk is definitely having a moment in the sun right now, which, having a soft spot for punk myself, I have mixed emotions about. If there's one genre you don't want to see co-opted and turned into something commercial and watered down, it's punk rock. Unfortunately, every punk fan has seen this happen throughout the years and I'd like to give my personal stamp of approval to Hunters. There's nothing watered down here: pink haired lead singer Isabel Almeida threw herself around stage with a complete lack of regard for her own safety (like any true punk singer) while the rest of the band rocked furiously through a raucous set of numbers that were equal parts melody and cacophony. This was punk rock as seen through John Lennon's glasses (the Beatles are an acknowledged influence) and the crowd they drew to their set loved every minute of it.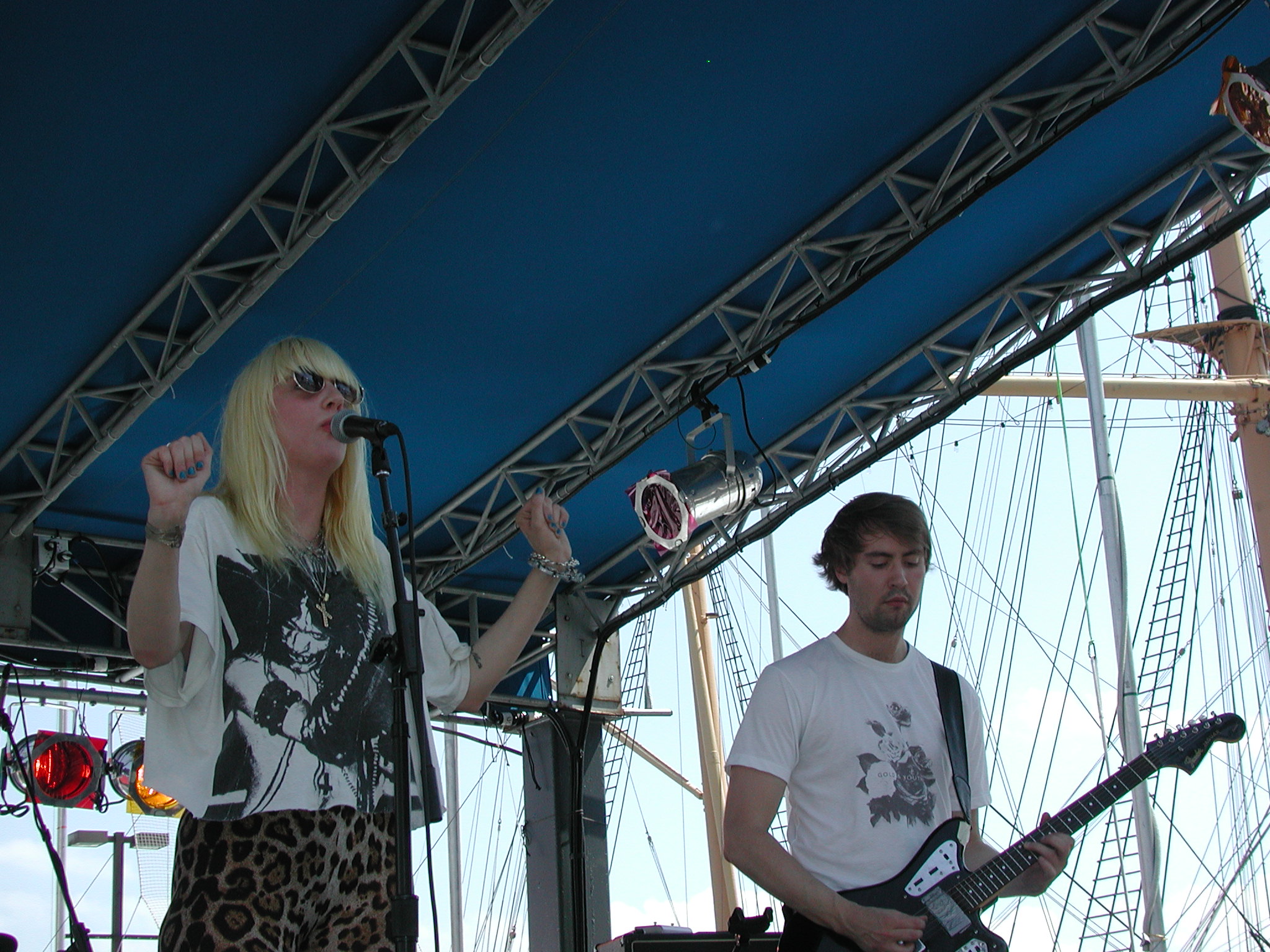 Punk made another appearance with a set by White Lung and, two great punk bands with female singers aside, White Lung is the band whose show I'd be more scared of getting caught in a mosh pit and breaking a limb at. They were the dark speed-metal yang to Hunters' lighter, Ramones-style yin, and their lead singer, Mish Way, embodies the snarling punk attitude better than anyone I've seen in recent memory. This was fast, loud, angry music that had a passionate group of fans in the front row shaking their fists and screaming along with every word. I'm happy to report that if Hunters and White Lung are taking the mantle of punk rock and running with it, I no longer need to be afraid of a Mohawk-wearing  Sarah Jessica Parker at a Vogue Magazine tribute to punk as being a sign of end days.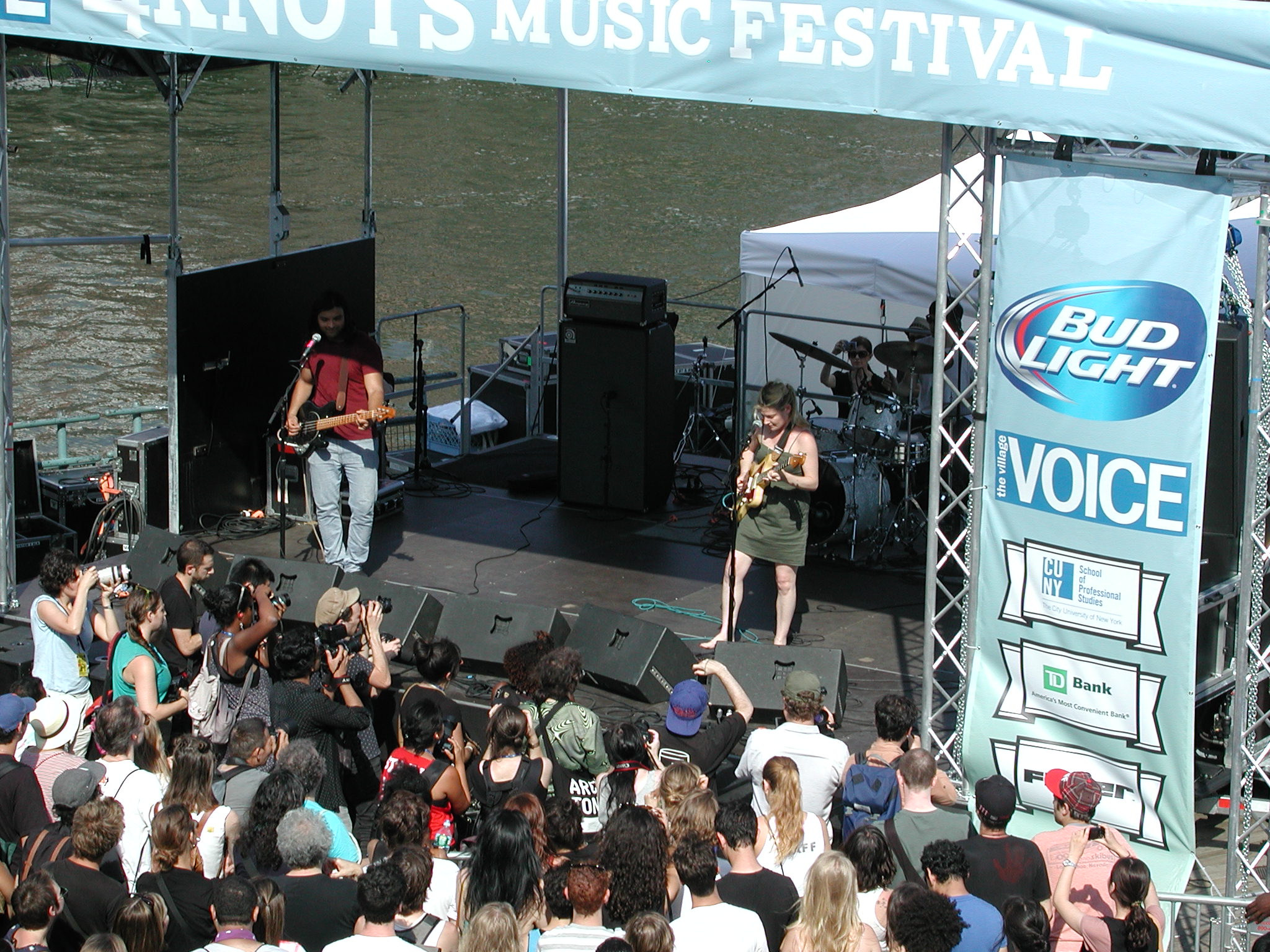 While the main stage was showing unaware tourists that punk rock in NYC is alive and kicking, the second stage had Marnie Stern showcasing both her unique style of guitar and dense, undefinable style of music. After some initial hiccups with getting the sound right, she proceeded to put on a set that demonstrated why the hype surrounding her is well-deserved. "Shredding" is an adjective that gets thrown around a lot in describing her playing but to me that descriptor is too simplistic. Sure, her fast finger-tapping style of playing gives her distinctive sound, but it's her overall lush, layered sound, which at times evokes bands like Dead Can Dance and Cocteau Twins, with complex time-signatures that makes her performance truly memorable. She's got a great voice as well that ranges from a child-like sweetness to a low and husky PJ Harvey growl.
I'd heard lots of positive reports about Brooklyn's (does Brooklyn have any residents who AREN'T in a band?) Parquet Courts, and if they were the only band I saw all day, they alone would have been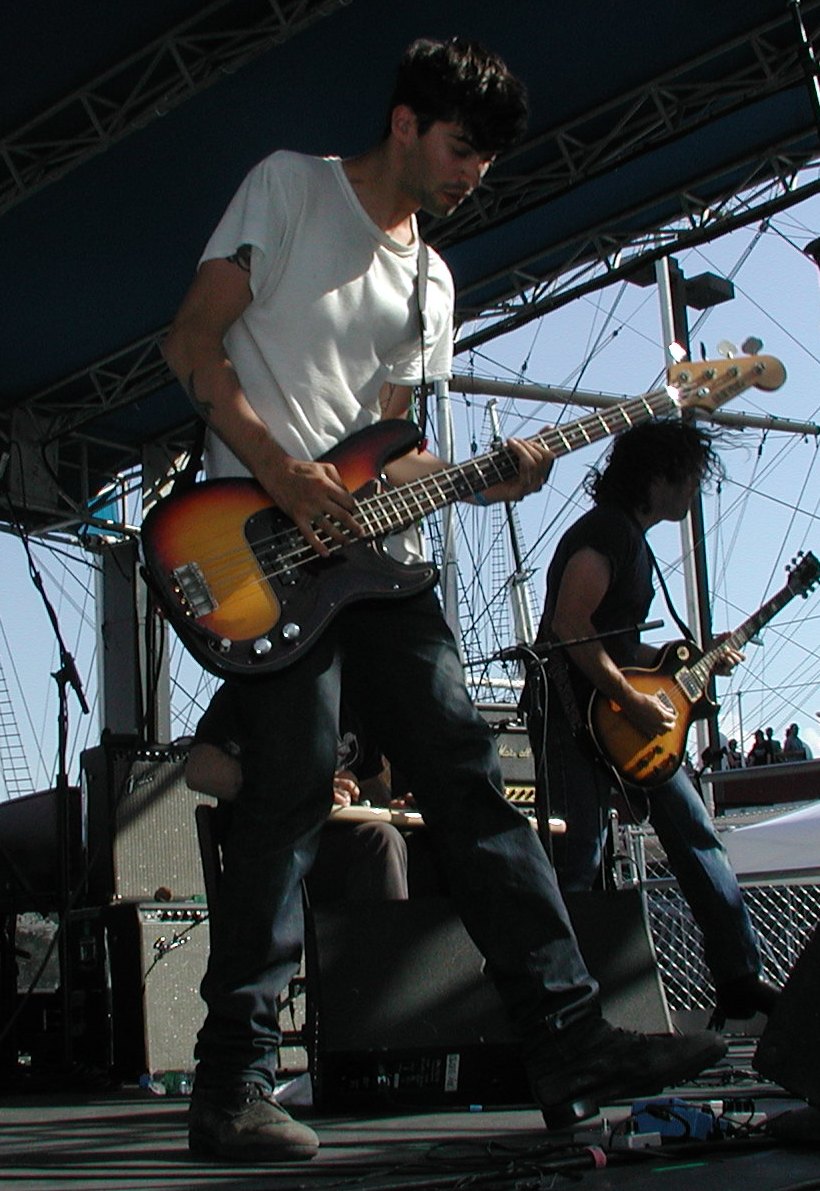 worth the brutal price of watching music on the East River with the Brooklyn Bridge in the background. Besides their catchy single "Stoned and Starving" being my new self-appointed theme song, their guitar hook heavy and distortion laden brand of "indie-rock" hit the mark on all levels. They struck me as a cross between Sonic Youth and Rival Schools, great song-writing and straight up rock and roll with a punk edge to it.
The next set proved to be my personal favorite performance of the day. The Men, from, you guessed it, Brooklyn, were five guys who played like it was the last show of their lives. I've heard them described alternatively as noise-rock, post-hardcore, garage-punk and alt-country so apparently nobody knows how to describe their sound. One guy was playing slide guitar which I guess is where the country reference came in but other than that it was five guys playing their asses off, a vocalist who sounded like Lemmy and a sick cover of I Wanna Be Your Dog that whipped the crowd into a frenzy and included a guest saxophonist. I'm not crazy about the name but I will definitely be at their next New York show, they are one hell of a band.
Reigning Sound from Asheville by way of Memphis, composed of former members of Memphis garage-punk legends Compulsive Gamblers and the Oblivians, came up next and were the perfect next-to-last act for a crowd that had been drinking beer in the sun all day. With a retro sound that hearkens back to 50's rock-n-roll and soul, frontman Greg Cartwright and company gave the already raucous crowd the perfect drinking and dancing music to rock out to before the relatively more staid headliner of the day.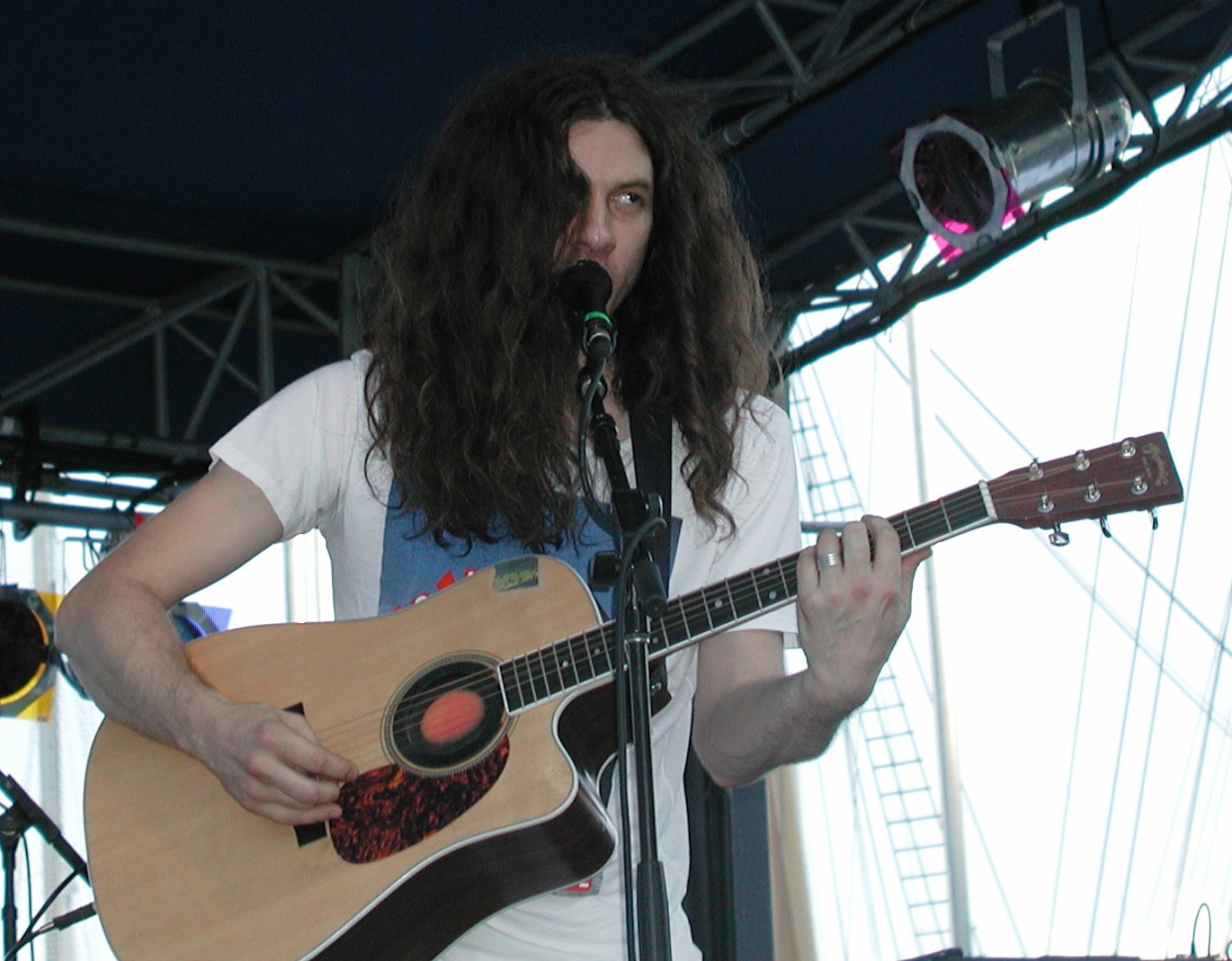 The majority of the large crowd were obviously there to see Kurt Vile, his reputation deservedly keeps growing, with every New York performance he does selling out almost immediately. His new album Wakin' on a Pretty Daze is on every music critic's best of list, and he seems to have hit a stride of making beautiful psychedelic folk that you can make out to or get drunk mourning the person you used to make out with, in equal parts. I always envisioned him as being a gloomy sort of guy based on his music, but seeing him walking around during the day, smile on his face, toddler daughter on his shoulder, he looked like he's at a happy place in his life. He's assembled a terrific backing band in the Violators and his set included both songs from the new album as a well as fan favorites from previous albums. His set was a great way to end a gorgeous NYC day, and a festival that showcased an outstanding range of talent. Bravo to the Village Voice for pulling it off and proving what a relevant arbiter of culture they still are in NYC.