You know what the world really needs? Another music festival. Just kidding of course, I'm very happy to be living in a day and age where this summer I have an outstanding choice of festivals with phenomenal lineups, plus the annual jump on the bus summer tours to choose from, all within easy drives from the NYC area. My only complaint festival wise is how uniform most of the lineups are. There's a lot to be said for diversity, and with that in mind I have the perfect suggestion. All I could think of during last Wednesday night as I watched The Get Right Band, at the little known gem of a club Zirzamin, is how they are tailor-made for summer music festivals. The band's slogan is "an ass-shaking good time" and they bring it as advertised: three extremely skilled musicians playing a fun, jammed out show of funk, reggae, blues, and two excellently chosen covers: Talking Head's "Life During Wartime (This ain't no party, this ain't no disco)" and Justin Timberlake's "Sexy Back".Guitarist Silas Durocher, bassist Jesse Gentry and drummer Chris Pyle use the hotbed of musical talent Asheville NC as their home base and, having lived in that area myself for several years, there's a laid back, good time vibe going on with the Get Right Band that's something I feel is endemic to Asheville's music scene. Durocher and Gentry have been playing together since their high school days in Maryland and reunited in the Asheville band, Soulgrass Rebellion which included Pyle on drums, before venturing off on their own to start Get Right Band. Their experience playing together is obvious, there's an easy rapport among them, listening and feeding off each other, using their prodigious individual talent for the greater good.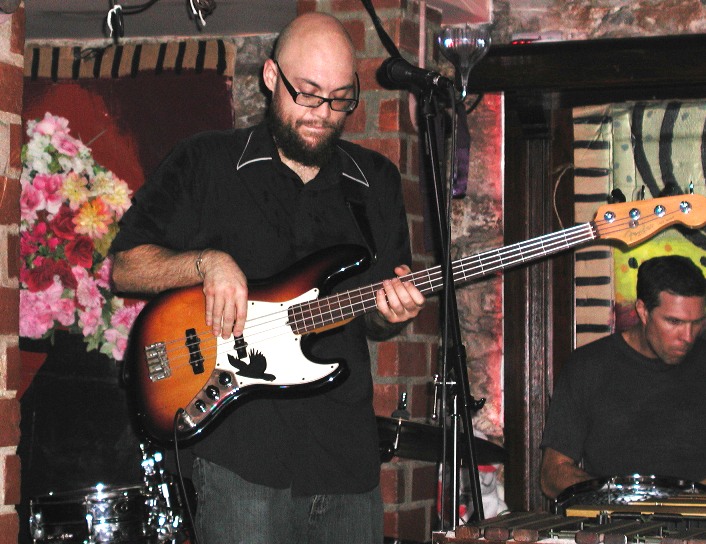 There are a lot of influences in their music, without any of them feeling derivative. The show opened with a funked out bang, "Devil On My Shoulder" tips a hat at The Meters and featured a ripping guitar solo by Derocher.  They definitely have the chops to be a great straight up instrumental band but songs like "If I Was Prettier" a raw stripped down blues with bitter, jilted lover lines like "you don't like the songs I write/but I sold a hundred records so far/but somebody does even if you don't/I bet you really won't like this one at all" show a dark lyrical humor that I really enjoyed. "Dancin' Shoes" another funked out jam, put the spotlight on bassist Gentry both vocally and instrumentally, but also featured the jam of the evening (watch the You Tube clip), a jawdropper that made you realize this band came out to do more than just make you shake your ass.
Chris Pyle is a seriously great drummer who switched musical genres with impressive adeptness. His powerful yet fluent style drove every song but also interplayed with the other instruments in a way that reminded me more of a drummer in a jazz trio. His playing on "Life During Wartime" really stood out to me, taking that beloved Talking Heads tune with Chris Frantz's more straight-ahead style and putting his own unique, dynamic spin on it. The other cover of the evening "Sexy Back" was a hilariously awesome way to get your typical NYC "not gonna dance till someone else starts" crowd out on the floor. It's probably too late for this summer, but 2014 festival bookers, put these guys on your radar, they're undeniably talented and they know how to throw a party.