It's
the week following Memorial Day weekend and the smell of summer is in the air. The young Grammy Award Nominated Swedish DJ and Producer, 
Adrian Lux
 just kicked off his US tour dates which included main stage peformances at both Ultra Music Fest and Coachella, and this week, following his play at Chicago's EDC, he drops "Damaged," his firs
t commercial release of 2013 and the new single from his forthcoming sophomore album on Ultra Music.
For many, the name Adrian Lux will be synonymous with his breakout hit from 2010, 'Teenage Crime', a bona fide smash, which exceeded platinum sales in Australia and appeared on Swedish House Mafia's debut album, Until One. Not only did it rocket to top the Dance Charts through out the world, it also went large in club-land thanks to Adrian's skillful mastery with vast melodies. But that's not all he's widely known for.
Carving himself a distinct, amazing sound,
Damaged
 yet again shows us Adrian Lux is anything but slowing down. Lux says of the forthcoming material,
"
I have been locking myself in the studio trying to make new interesting sounds that are representative of me, instead of looking on what's going on in the music world I have really just tried to find the inspiration within myself."
From his first acclaimed singles "Strawberry" and "Can't Sleep" and his remixes for artists from Britney Spears to Natalia Kills, and Roger Sanchez to the TRON soundtrack, Miami Horror, and PNAU, everything has been leading up to what first evinced his daring diversity.
Orchestrated in true Adrian Lux fashion, Damaged delivers on all levels one would expect. On Damaged, the former punk rock guitarist continues to showcase his personal and powerful distillation of dance, house, pop, and indie into one undeniable sound. Lux says, "On the new album I have been working with some really interesting, talented people who inspire me daily.There will be a great bit of organic depth in the music, something I feel is very important to me to be creating that special feeling I love."  With that said, Damaged, features the irresistible, bittersweet vocals of Alva Tång and  the post-punk Cure-like rhythm guitar courtesy of Nico Malmstedt, together these elements glide on ethereal harmonies, heavenly production that drive the song's infectious hook into one momentous, neat, sexy, sleek package that is destined to pack dance floors around the globe.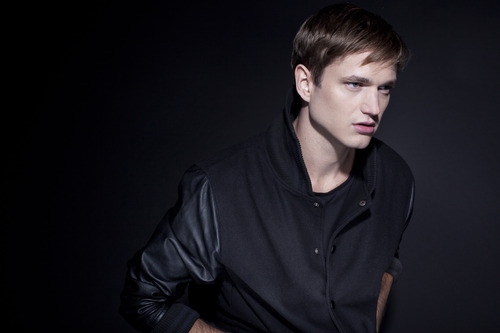 Adrian says today that he's very excited for this one,
"I'm moving things in a new direction!!"
  These are true words indeed, especially since Lux has now relocated to Los Angeles, setting his sites on playing live on festival stages and in club land through out the US this summer including
EDC Las Vegas
plus a residency at the premiere Vegas nightclub
Surrender
. He'll also be strutting his stuff in NYC, Chicago, SF, Houston and more.  There's nothing quite like experiencing Lux live. He's toured the U.S. supporting
Tiësto,
and he's garnered support from
David Guetta, Avicii, Max Vangeli, Ferry Corsten,
and countless others. Once he hits the stage, you can feel why as you'll hear a lot of styles you wouldn't expec
t, "I like to get crowds to go crazy by hearing and seeing something they've never experienced."
The same can be said for his music. It's unlike anything out there in the electronic dance music scene. "I'm trying to do something new," he concludes. "I'd love for audiences to get something fresh and personal from it. If they have a good time and walk away smiling, I'm happy."
Adrian Lux On The Damaged Tour
Sunday       5/26/2013    Chicago                    EDC Chicago
Thursday    6/6/2013      Las Vegas                Surrender 
Friday          6/7/2013      Orange County       Sutra 
Friday          6/21/2013    Las Vegas, NV        EDC
Friday          7/5/2013      Detroit, MI                 Elektricity 
Saturday     7/6/2013      Ottawa, ON               Ottawa Blues Fest (early)
Saturday     7/6/2013      Toronto, ON             Hoxton (late)
Thursday    7/11/2013    San Francisco, CA Ruby Skye
Friday          7/12/2013    Seattle, WA               Foundation
Saturday     7/13/2013    Los Angeles, CA     Exchange
Thursday    7/18/2013    Las Vegas                 Surrender
Friday          7/19/2013    Phoenix                      Maya Beach Club
Saturday     7/20/2013    New York                   Webster Hall
Saturday     8/10/2013    Houston, TX              Stereo Live
Friday          8/16/2013    Las Vegas, NV          Surrender
Saturday     8/17/2013    Chicago, IL                The MID