At the All Good Music Festival held this past weekend in Masontown WV, the motto by which attendees live by is also the name.  How convenient.  Despite the mantra that anything goes, the festival has been noted as one of the better organized, least problematic, and most entertaining of the summer.
This year it was hard not to notice the spectacular lineup.  In this reviewer's humble opinion, it was the best lineup of the summer with not a single act on the main stage that should have been missed.  If you are a guitarist, this festival offered you the chance to hear some of the most prominent guitarists in the scene today: Warren Haynes, Derek Trucks, Jimmy Herring, and John Scofield.  If you're a bassist then it's hard not to notice that Phil Lesh, Mike Gordon, and Dave Schools were all on the lineup.  Beyond that even; the talent as a whole present in the acts this weekend was much better than I had anticipated.
The weekend at All Good starts early, usually on Thursday.  I left my Washington, DC apartment at 8:30 am on Thursday, for the three and a half hour drive.  I was rather surprised to find out that although the music did not start until later that evening the line of cars to get in was substantial.  With a bit of help from a friend I was able to dodge that line and set up my tent in a prime central location for the rest of the weekend.  As I sat up on the hill from my vista I couldn't help but be amazed at the city slowly building beneath me, I knew I was in for an enjoyable weekend.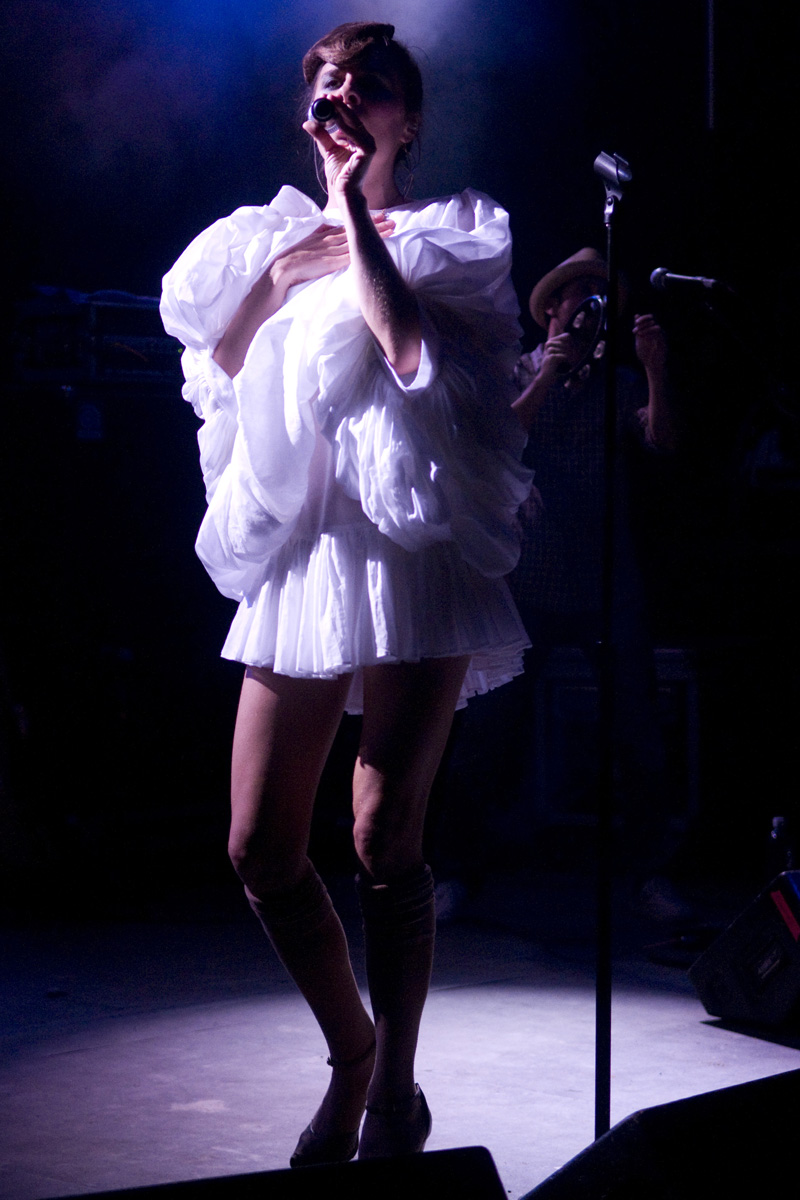 That evening as the sun set, the show was opened by a Pittsburgh band that had won the Sonic Bids contest, Jazzam.  I'd be lying if I didn't admit that this band was one of my absolute favorites for the weekend; and many people I spoke to agreed that they were outstanding.  They're funky, jazzy, jam sound is distinct, complex, and extraordinarily well executed.  It's my sincere hope that I see these guys return next year.  Following Jazzam was Perpetual Groove.  The consummate Jam Band they worked through their set drawing larger crowds into the area.  While they've never been one of my favorite groups, the addition of John Hruby on keyboards was a fantastic move and I found myself enjoying their music as I had not before.  The Brazilian Girls were next after Perpetual Groove.  A band I had discovered at Bonnaroo, I find myself being drawn to singer Sabina Sciubba's sultry voice and the dance/house beat of the keys and drums in the background.  At one point Sciubba climbed down into the photo pit and brought members of the audience over the barrier to dance with her.  It would be an understatement to say that this group knows how to captivate the audience like few others do.  For a band whose sound might be a little different for the target crowd of this festival they were received extremely well and I look forward to seeing them again soon.
The second major highlight of the weekend came with the closing act for the night, the Join.  I have to state that I've never been a huge fan of the Benevento Russo Duo or the New Deal, but the format of two keyboardists and two drummers playing high energy jazz and jamming was something I am eager to hear again.  The join consists of the Benevento Russo Duo and Shields and Shearer from the New Deal, and I'd have to say that it would be a perfect match.  The interplay between the respective instruments was clearly enjoyable to both the musicians and the fans, while the dual drumming playing variations off of each other created a fantastic beat which kept even the most timid in the crowd dancing.  The Join's set was one of those sets that seemed to be over before it started, it was just that enjoyable.  I couldn't think of a better lineup to kick off a festival.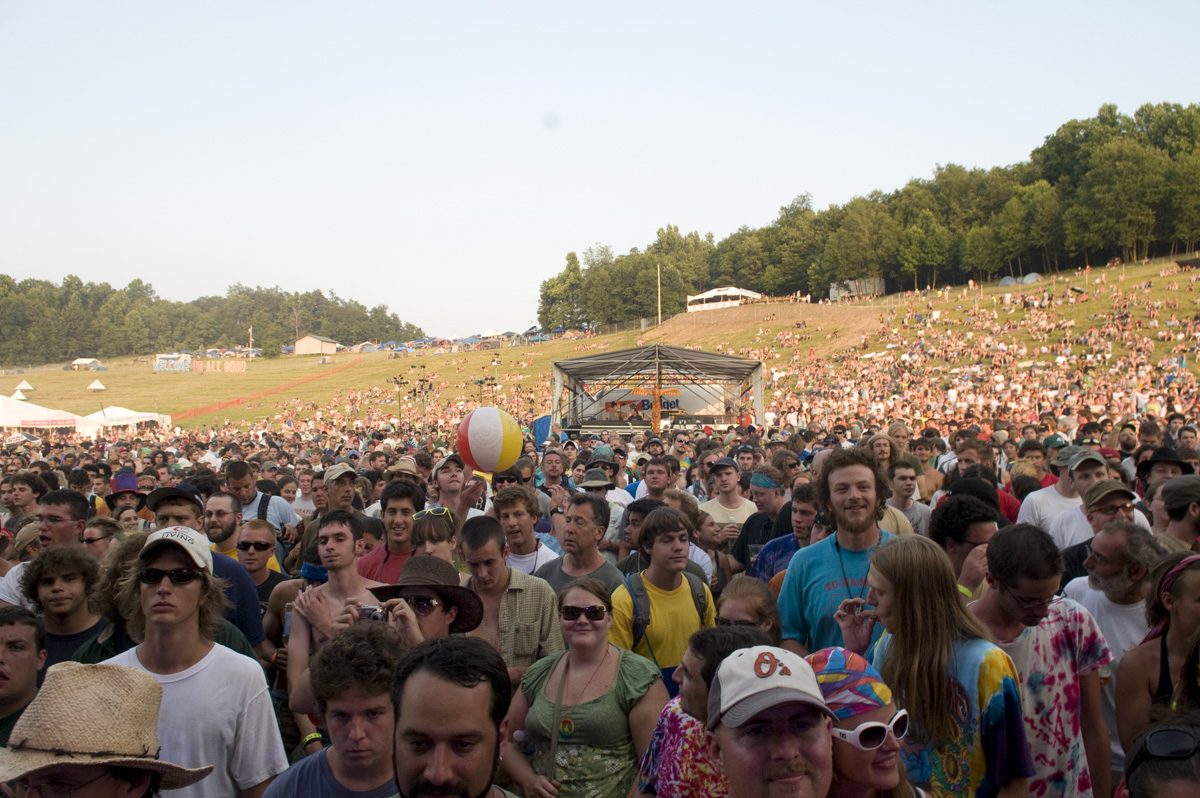 The worst thing about festivals, and everyone who has attended one can attest to this, is that while the music may go until 5 am, the sun waits for nobody.  The night before it was frigid as I crawled into my sleeping bag, but by 8:15 in the morning I awoke overheated and dehydrated, my tent had turned into a greenhouse.  Realizing that sleep was not going to happen I decided to introduce myself to my neighbors.  A very friendly group of guys (and one girl) from Waynesboro, Virginia they kindly welcomed me into their screen tent and welcomed my friend and I in as one of their group.  It's that kind of friendliness, which while fading from other festivals, seems to still exist at All Good.
Friday was when the festival started officially, and the lineup was perfect.  The first act of the day was the highly talented Wood Brothers.  Chris Wood from Medeski, Martin, and Wood and his brother Oliver Wood played their folk tinged music for the crowd as they ambled into the festival.  Oliver whose voice is reminiscent of British singer songwriter David Gray showed that he can bring just as much talent to the stage as his better-known brother.  After what seemed to be a too short set, the MJ Project took a short 20-minute set while the main stage prepared for RAQ.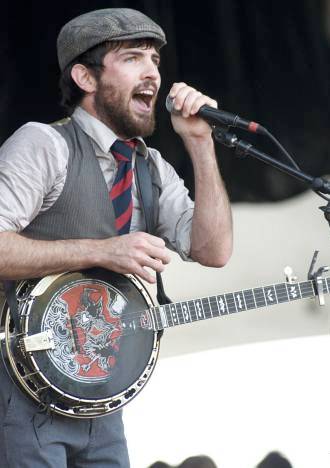 Crowd favorites RAQ went through a powerful set of old favorites and some newer songs, showing off the engaging stage presence that they are well known for.  The afternoon heat kept rising but as soon as the Avett Brothers took the stage any discomfort the crowd had seemed to dissipate.  The highly energetic, constantly dancing Avett Brothers kept the crowd entertained, closing with their popular song, Will You Return.  This was my first time seeing the Avett Brothers and I was very impressed with their songwriting as well as performance.
Following a band with such engaging stage presence would be difficult for any band, but Rev. Peyton's Big Damn Band did it with a unique songwriting style as well as a look that just has to be described as unique.  High energy, the band consists of Rev. Peyton on a flat top Gibson guitar, rusted to perfection, Breezy Peyton on a washboard with an attitude, and Jayme Payton on Drums.  Their sound can best be described as Southern Rock and Blues with the attitude of a mean dog.  I highly recommend catching them the next time they travel into your town.
Following this was something a bit sweeter but with just as much attitude.  Rising festival favorites Grace Potter and the Nocturnals brought their blues/rock/soul sounds to the All Good Festival.  While many in the crowd were at first focused on lead singer Grace Potter's undeniably good looks, those quickly become secondary to the musical talent and energy this band emanates.  Going through such catchy songs as Ah Mary, and Stop the Bus, The Nocturnals jammed out and left the crowd asking for more.  Without a doubt they were one of the highlights of this weekend.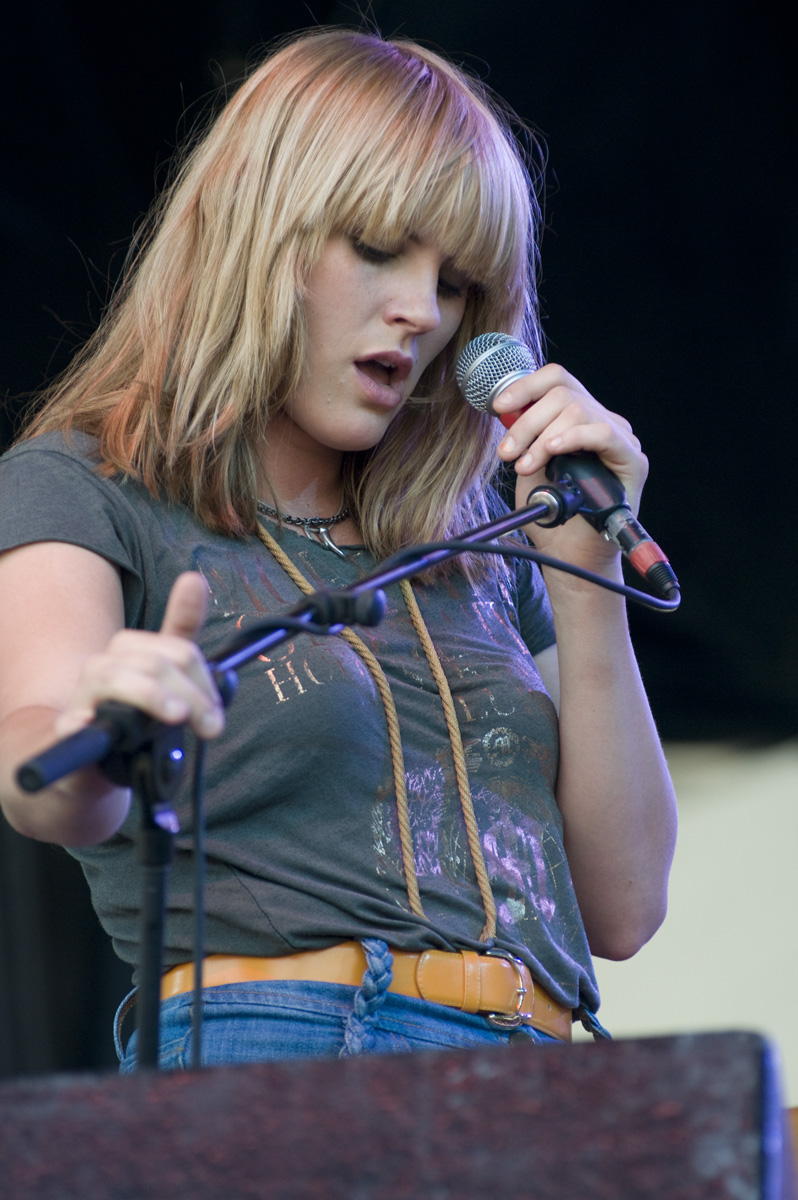 Medeski, Scofield, Martin, and Wood brought the speed of the day down a bit as they started out with slower and more complex jazz based pieces.  Slowly though they opened up the throttle and the crowd got to see guitarist John Scofield at his best.  Each time I see them play I am not only amazed by the complexity of songs they play, but the ease and perfection with which they work through each one.  These guys are a musical treasure and are a notch above most anything out there today.
Phil Lesh and Friends was the group I was looking forward to the most this whole weekend.  Rumors were buzzing about who might guest with them.  At one point, I turned around to see Mike Gordon behind me at the side of the stage, so that led me to hope we'd have Mike and Phil trading licks.  Alas those hopes did not come to pass.  There were no guests, however Phil and his Friends certainly were able to impress nonetheless.  Guitarist Larry Campbell, who now works with Levon Helm's new band, was the multi-talented centerpiece of the evening.  Phil and Friends never disappoints, but I didn't enjoy this group of friends as much as the last time I saw him where he had John Scofield on guitar and Chris Robinson on vocals.  It's a shame that John Scofield played only an hour before him and they couldn't play together.
Despite the persistent technical difficulties frustrating both the band and crew, Gov't Mule started up around 2:30 am and played until the sun was about to rise.  A fantastic set with covers of No Quarter by Led Zeppelin and a perfect rendition of Creep by Radiohead, those who chose to stay up long enough were rewarded with probably one of the best Mule sets I've seen in years.  It was a perfect way to end the evening.
Once again on Saturday morning the sun awaked me at an ungodly hour of the morning.  With maybe 3 hours of sleep I went to find some showers.  The one complaint I might have about the weekend is that it seemed that utilities were lacking compared to other festivals of this size.  There was a marked shortage of porta-johns and the showers had a line about 40 deep all morning.  I was able to procure the use of a Sun shower and was therefore granted a new batch of energy to face the day with.  The weather had gotten hot by this point so I laid low in camp listening from a distance to Eric Lindell and Outformation.  Hot Buttered Rum, one of my favorite bands which I'd first seen earlier at Merlefest, was a must see.
The five members of Hot Buttered Rum seem to enjoy playing together so much and their unique form of bluegrass appeals to all types.  They seem to honestly enjoy playing and it shows to through their songs and the jokes being traded on stage.  Hot Buttered Rum was followed by another San Francisco area band, Tea Leaf Green.  The entertaining band fronted by charismatic Trevor Garrod went through some of their newer and older songs, keeping the crowd entertained an engaged.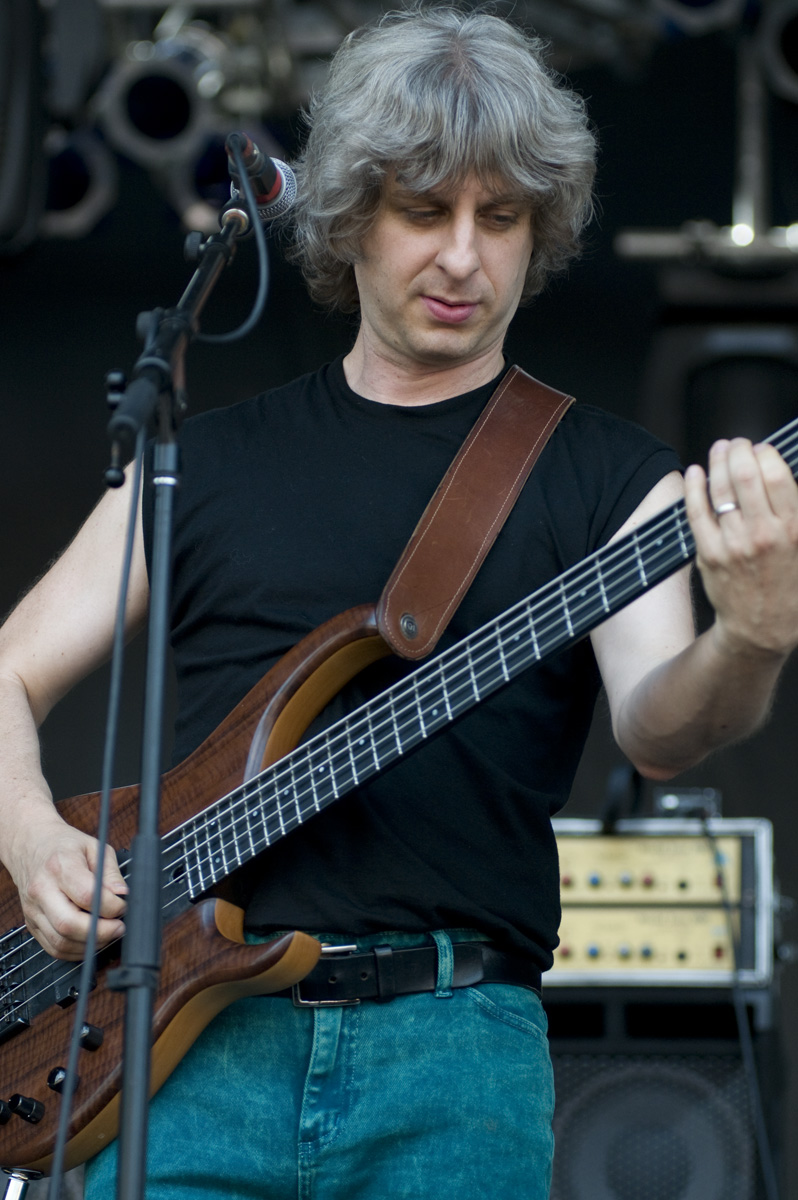 Mike Gordon was up next.  His new band that included Scott Murawski from Max Creek tried out some new songs as well as a couple Phish favorites.  Since Rothbury with speculation about a Phish reunion there was no hint of Trey or any mention of a reunion, disappointing many and keeping the puzzle going.
Another highlight of the weekend was undoubtedly Derek Trucks & Susan Tedeschi's Soul Stew Review.  Having never heard this husband and wife team play together I didn't know what to expect, however being familiar the Derek Trucks Band as well as Susan Tedeschi's work I expected it to be nothing short of fantastic, and it was.  Working through a variety of songs with a fantastic band, this was the one set that I feel stole the show for the weekend.  I think if this group becomes a regular touring act they have a future as bright as the Allman Brothers ahead of them.
At this point I needed to take a break and sample some of the food available to festival-goers.  I did make it back in time however for the start of Bassnectar and more importantly Widespread Panic.  For most people this was the reason for their attendance this weekend.  While I've always been lukewarm to Widespread Panic, I think that Jimmy Herring has made me much more interested in the band.  What happens though when you add Derek Trucks to Widespread Panic though?  The answer: the best band out there.  When Derek and Susan joined panic for a few songs early in their set it completely transformed and the group into a southern rock powerhouse.  Panic played their entire set without a break and it was a fantastic performance.  For someone who wasn't too into Panic before, I left much more enthused about their music.
Following Panic was the Dark Star Orchestra.  Each time I hear this group I am amazed and somewhat terrified by the eerie similarity to the Dead, in everything from their voices to the perfection in which they replicate the famous Dead sets.  Unfortunately I could only stay awake for a few songs and had to retire to my tent, but by all accounts they were fantastic.
Sunday brought the festival to a close.  As people slowly streamed out, the music played on.  Starting the day was a band I hadn't heard much about, Bonerama.  A band known for their large trombone section and covers of famous rock songs, they jolted all in attendance awake.  Formed by members of Harry Connick Jr's Big Band, the New Orleans based Funk Rock band started the day with a lot of hot air.  Their songs, including a Zeppelin cover, were a unique fresh take on New Orleans music and a great start to the day.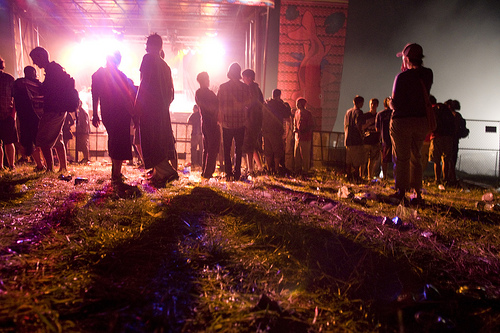 Later perennial favorite Railroad Earth brought their bluegrass/roots sound to the main stage.  Starting out with some of their newer stuff, they also brought out some old favorites and were a nice mellow sound to the afternoon.  The last act I saw at All Good this year was DeSol.  I have rarely seen a band with such an entertaining persona to them.  Their percussionist at one point found himself crawling on the stage banging on a cowbell.  This was a nice end to the weekend for me and we decided to pack it up and head back down off the mountain back to our jobs and responsibilities.
This was the first time I've experienced All Good, and I'll be sure to return again.  It's one of those festivals where the lineup is constantly fantastic and the majority of the people are always nice.  Combined with the fact it's only three and a half hours from home, it's a perfect situation.  See you next year...