Grounded by the pandemic, it had been a long time since I took to the air when I departed out of Philly for Labor Day weekend. Destination? Atlanta. Reason? A homecoming/reunion concert featuring Atlanta sons, brothers Chris and Rich Robinson and their band, the Black Crowes. To be honest, I had some reservations about my plans – the Delta variant, the usual fatigue of the work week, and the nagging little existential questions I had started to ask during the long, dark COVID winter - Will live music ever come back? Will I be too old and jaded for rock-n-roll if it does? Plus, I had never spent any time in Atlanta. I wasn't sure the trip would be worth the trouble.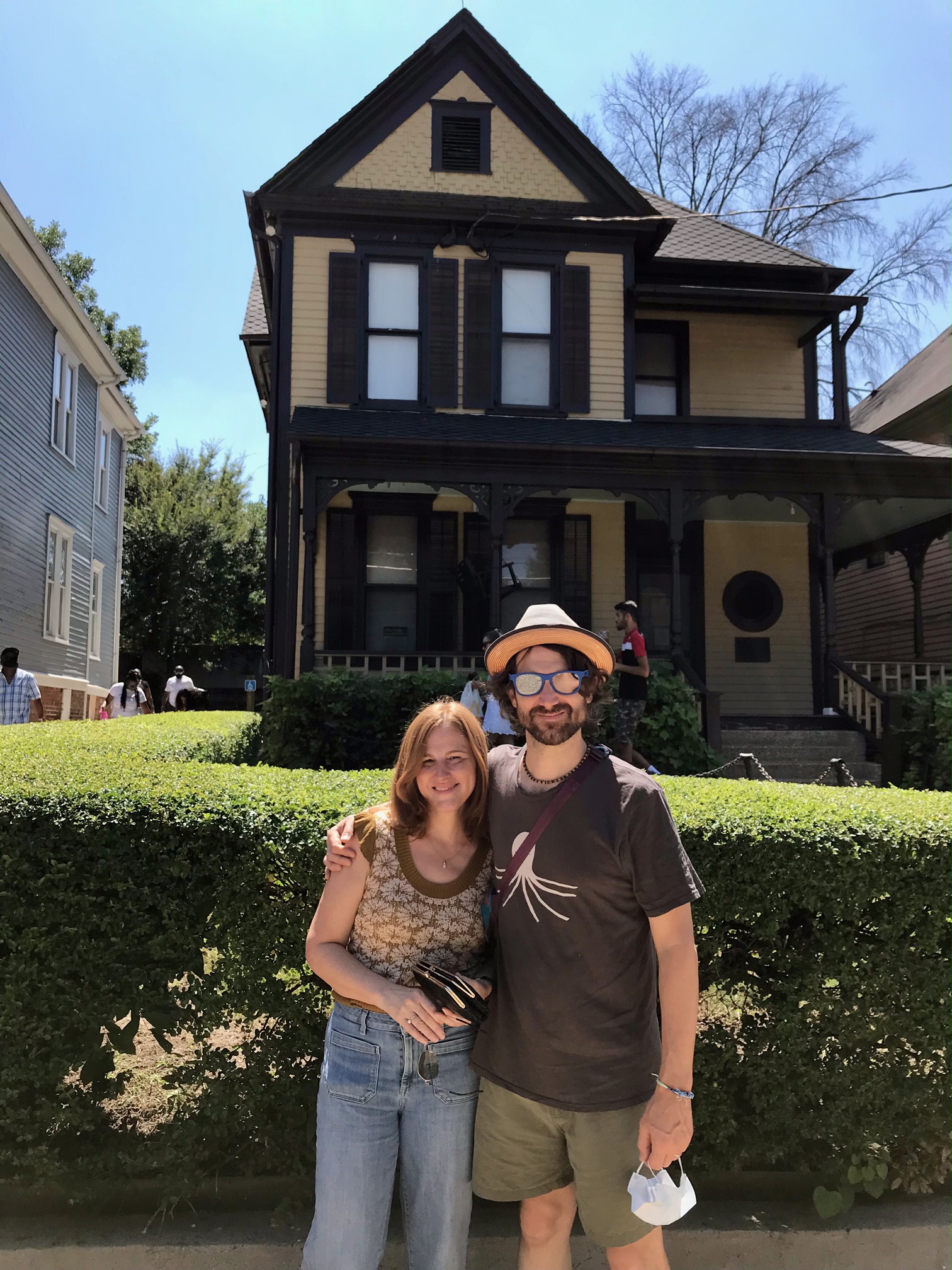 But Atlanta, your Southern charm is real! In less than two hours I landed in your hilly green arms, wrapped up in rich history and culture, and put at ease by open hospitality. My brother organized the itinerary for our crew. First stop - Martin Luther King National Historical Park and the soul of the neighborhood, Ebenezer Baptist Church, where King Jr. and Sr. were both pastors. Then just steps up the street to the family home, where Martin was born exactly forty-three years before me. (I am honored to share a birthday with Dr. King.) With fellow pilgrims of all shades, we waited patiently in the hot sun to take our turn walking in his footsteps, up onto the cool welcoming shade of the home's big wraparound porch. We continued on a walk around the neighborhood and stumbled across a sobering reminder of the present, a giant mural George Floyd. Another mural just up the road featured an eye-catching portrayal of Stacey Abrams on the corner of Sister Louisa's Church of the Living Room and Ping Pong Emporium, painted alongside the invitation, "Come on in, precious!"
Disclaimer: I am a Black Crowes superfan. Still, believe me when I tell you, the show was amazing. Chris Robinson stomped all over that stage, soul singing his heart out for his hometown, track by track through their debut album, Shake Your Money Maker. Paying respect, Chris graciously acknowledged the great Otis Redding – it was his Hard to Handle that gave the Crowes their breakout hit single and launched the band to superstardom. As the lights dimmed and Rich Robinson played the so-beautiful-your-heart-might-break opening strains of She Talks to Angels, I realized it was the first time the song didn't make me feel sad. I smiled and thought about all of the angels I had found in Atlanta and wondered how I could ever have questioned if the trip would be worth my while.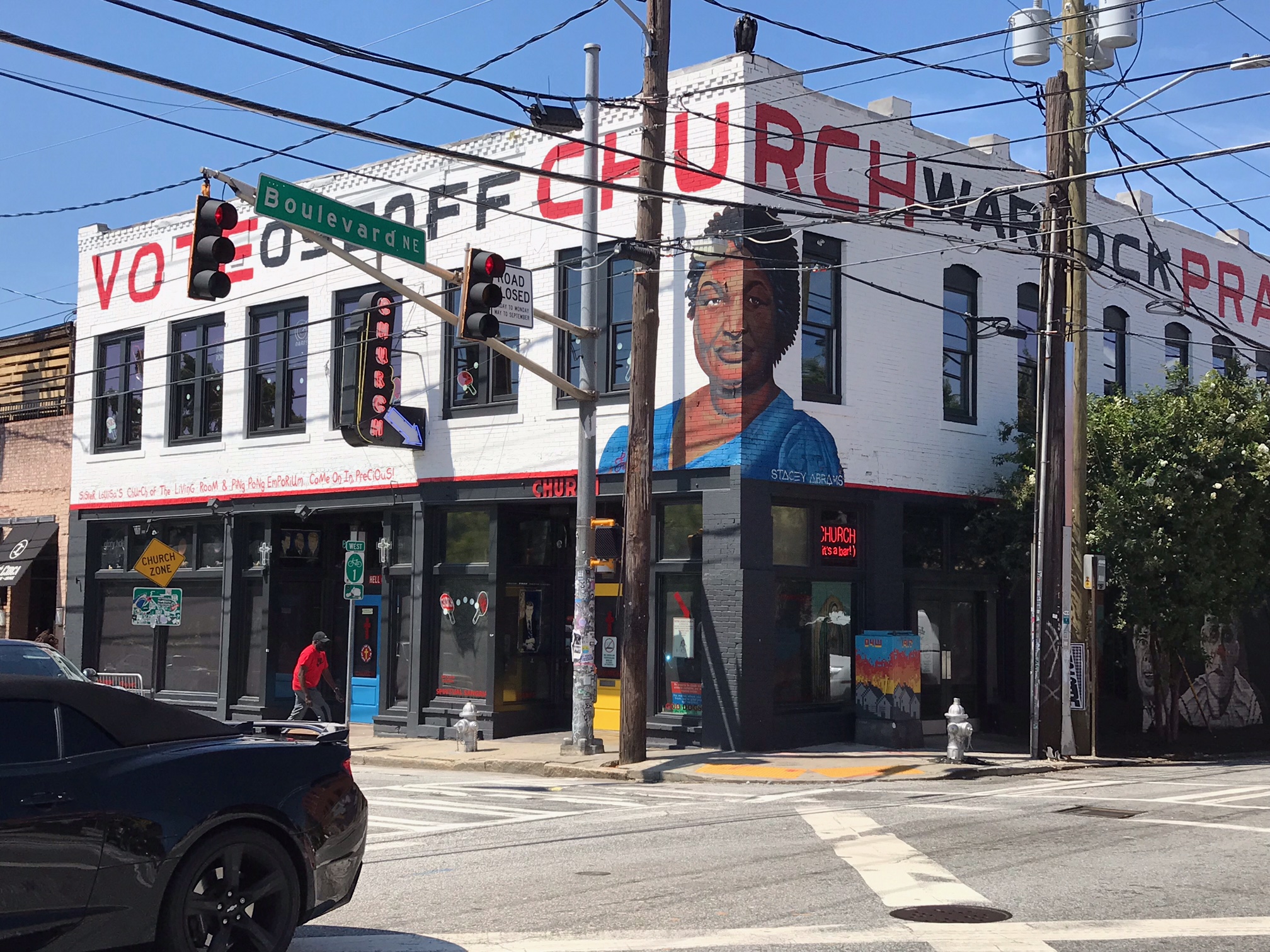 After the show, we all sat in the hotel courtyard reviewing the day's highlights. As for the concert, without a doubt, it was when Chris walked out on stage during the encore in a black muscle t-shirt, emblazoned with big white words – BLACK LIVES MATTER – clearing things up for anyone who may have been confused by what this particular "Southern rock" band from Atlanta stands for. I know it is just a t-shirt, and that Chris Robinson is no perfect poster child for the movement, but still, it made me feel proud of my favorite band. Sadly, some people actually walked out, but the vast majority of us stayed, and roared our support as they launched into No Speak, No Slave, a rebel song about the necessity of backtalk, with lyrics as relevant today as when written close to thirty years ago. Policemen who break the law, Politicians they rise and fall…A doctor laughs in the face of disease, I never once heard a preacher say please...
I thought about MLK Jr., a preacher's kid who grew up to be a preacher in the nice house on Auburn Street. I'm pretty sure he was raised to say please, but he also insisted on speaking truth to power - "The day we see the truth and cease to speak is the day we begin to die." He was a preacher who led us to "our better angels". Turns out, you can find a lot of those angels in Atlanta, even at a Black Crowes show.