We are arriving and departing all at the same time.
- David Bowie
I wasn't sure I should even go to this show anymore. In April, when I bought the tickets, it was billed as a celebration for the release of the Chris Robinson Brotherhood's latest album, Servants of the Sun. Then out of the blue in May, the band announced they were taking an indefinite hiatus, and ever since, I had already been painfully proceeding through the various stages of grief. It might not be a good idea to start the whole cycle over again by seeing them live. I know to expect post-show withdrawal but have never experienced it without another show on the horizon. Forgive me; I know I sound dramatic. It's just the last time Chris Robinson was involved in a hiatus, a few months later there was a big break-up of his other band – on my birthday no less! A girl can only take so much.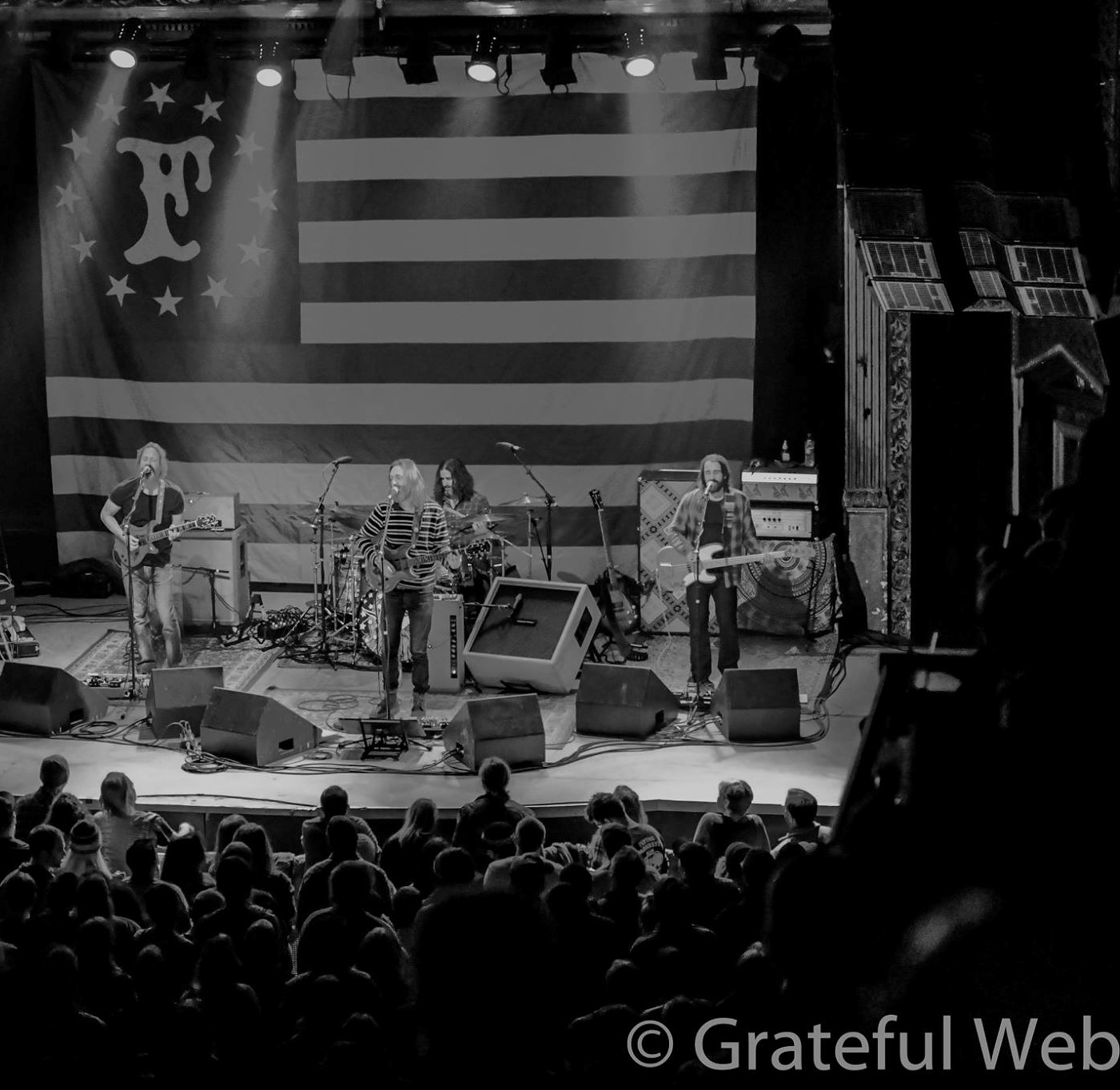 I shouldn't have been so caught off guard by the news. By all accounts, it has been no easy ride of a year for the band. There were cracks and signs, culminating in the loss of an original founding trio member. Surely, they must need a break. Eight years, with studio and/or live albums to mark every one of them, all the while maintaining a true-blue road warrior attitude to touring. I had come to rely on them, believe that they would be there for me, like the seasons. Raucous Southern shows in spring, the summer Stone Pony shows in New Jersey. The band would reliably swing up through Woodstock, New York, right before September, offering a perfect excuse to get up into the mountains and experience the change in the weather. There was that epic New Year's Eve show in Denver, a marathon of merriment and madness, topped with a cover of White Rabbit at midnight. Feed your head became my mantra that year. And always, in the dead of winter, there was talk about going to California.
I was a little surprised when Brooklyn was selected as the location for the Servants of the Sun release party, since this is a band that celebrates California so much, and Brooklyn isn't exactly known for its sunshine, especially in the tiny cave of a room that holds Baby's stage. But as an East Coast fan, I was super thankful for a local show, and knew it would be intimate - a great kickoff for a big fall tour. Or so I thought at the time. A CRB album is, after all, a launch pad - a collection of music that really takes off on the road. Little did I know my heart was about to break over just how much I was not going to be hearing a new track like The Stars Fell on California get its land legs and grow into the fullness of its live potential. Trust me; Neal was just getting started with that one.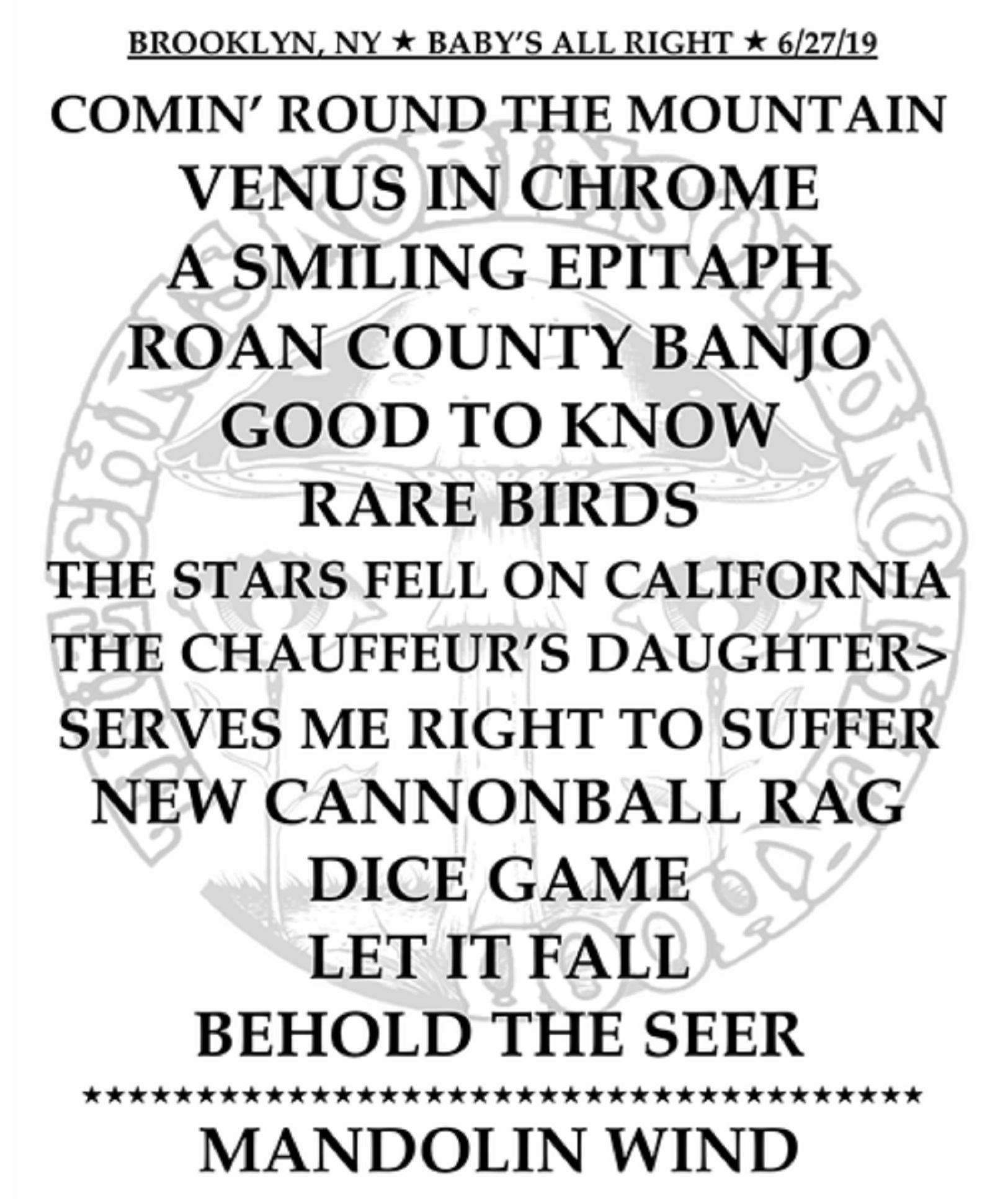 The show at Baby's was perfect, but I cannot remember a thing about it. The set list is attached below for your reference. I was in a strange state of anticipation and nostalgia, fully present, but lost in all of the other moments I had experienced with the CRB. How we had all gone, in caravan, kids in tow, to Big Sur to see the birth of the band under the California redwoods; how big those same kids had become; how some in our caravan had drifted apart since then, or become enemies, while others only got closer; there is even a wedding approaching soon for one happy couple in my freak family. It might have been a Thursday night in Brooklyn, but I was lost in space and time.
My mother always joked about the CRB, that we were secretly running off with some kind of cult, and in a way, I guess she was right. Servants of the Sun is a reminder of what it is that we follow. The album's cover art features the letters CRB in pixilated shifting sands, a reminder that nothing is permanent - so take a spoonful every time. All around the shifting sands are pyramids and the sun – the mystery and the light - which is really what the band at their best was always in pursuit of – vibration, light, and love. The CRB burns bright. They have been turned on almost constantly to serve as our Sun. The need for recharge was inevitable.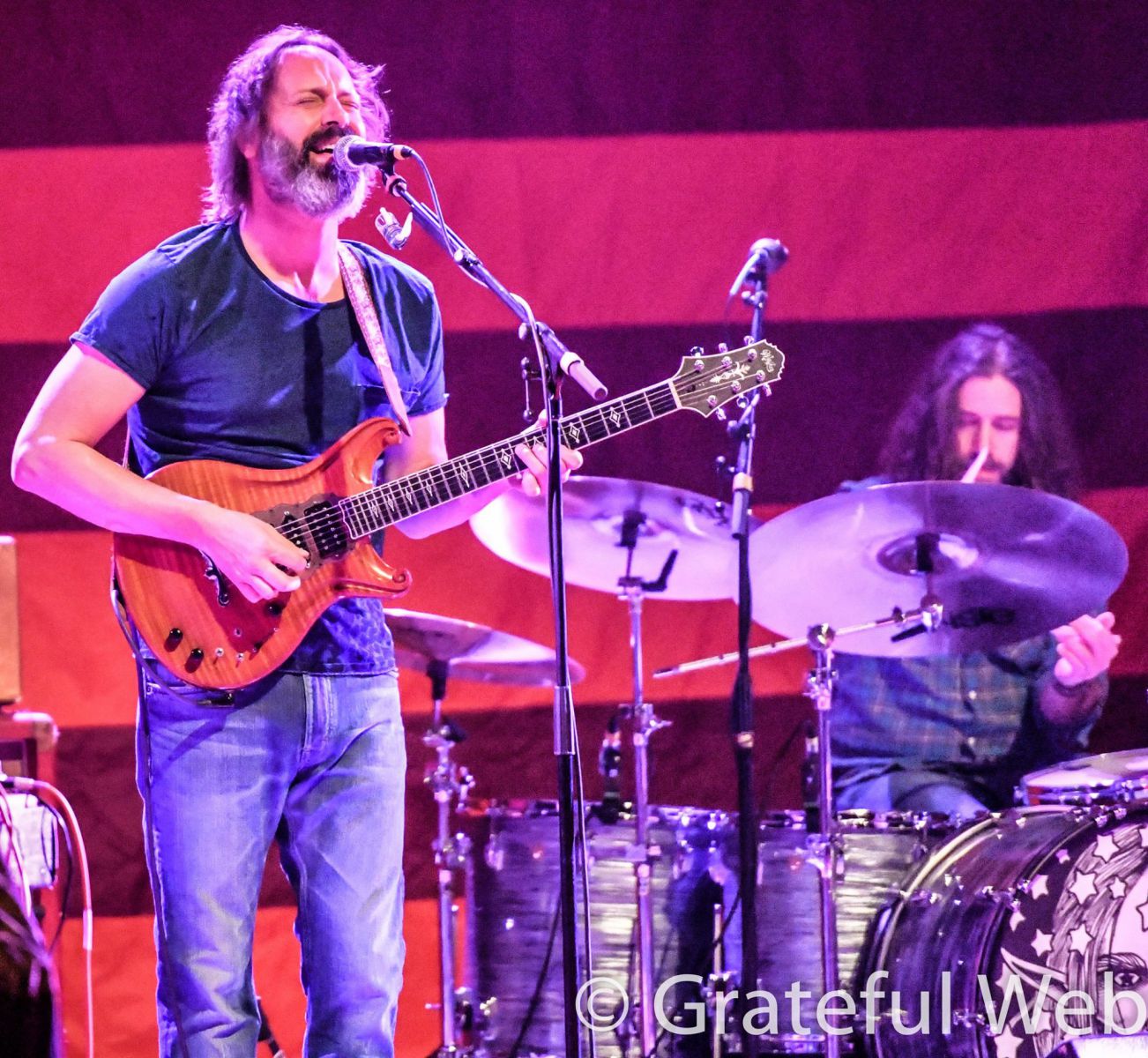 Still, I'm not yet sure how I am going to live with the uncertainty of whether or not I will get to hear Neal play his guitar solos again on 100 Days of Rain. And I am left with a deep, unfulfilled need to hear Barefoot by the Cherry Tree live, just one more time, please! See, there I go bargaining again. In a way, the set list at Baby's was just as much about the songs that were not on it as those that were. But I wouldn't have missed it for anything, and I am grateful for the new album. Every time I spin Servants of the Sun, I get a little perspective and reassurance from Chris when he sings – The songs still get sung, what's done is done, you can call it good clean fun…
In the press for Servants of the Sun, before all the hiatus drama ensued, Chris Robinson said about Servants of the Sun, "I let my head go to a Saturday night at the Fillmore, and said, 'What's the best set we could play? The record was conceived from that starting point. With our last couple of albums, we made songs we knew we probably weren't going to play live. This time around every one of these songs will fall into the live repertoire."
Let's all just hope Chris Robinson keeps letting his head go to that Saturday night show at the Fillmore. Go buy the album now, so you're ready! As sure as the Sun's gonna shine, we'll be there.