Marshall Blonstein, president of Audio Fidelity, has announced March 13 for the release of 24-Karat Gold CD reissues of James Taylor's 1971 album MUD SLIDE SLIM AND THE BLUE HORIZON and Stevie Wonder's 1973 INNERVISIONS. Both recordings will be available as limited, numbered editions that will be sold through online and brick-and-mortar retailers alike; however, Wonder's groundbreaking INNERVISIONS will be limited to a run of 3000 units due to contractual restrictions, rather than the company's usual run of 5000 units.
MUD SLIDE SLIM AND THE BLUE HORIZON was Taylor's third album, following his 1986 Apple Records debut and the 1970 Warner Bros. LP, SWEET BABY JAMES, which was his commercial breakthrough and the record that, with Carole King's TAPESTRY, ignited the singer-songwriter movement. The LP proved as popular as its predecessor, ascending to No.2 on Billboard's chart, where it remained for four weeks (its overall chart stay was just under a year). Taylor took home a Grammy® in 1972 for Best Male Vocal Performance for MUD SLIDE SLIM's chart-topping single, his rendition of Carole King's "You've Got a Friend," which was also named Song of the Year.  Also included were the To -40 hit "Long Ago and Far Away" (which features King on piano), the country lament "Hey Mister, That's Me Up on the Jukebox" and the ballad "You Can Close Your Eyes," which has been covered by, among others, Linda Ronstadt, Sheryl Crow and Richie Havens.
MUD SLIDE SLIM AND THE BLUE HORIZON found James Taylor in good company. Among the supporting musicians were Carole King, Joni Mitchell (backing vocals), John Hartford (banjo), Richard Greene (fiddle) and Andrew Love and Wayne Jackson of Stax Records stalwarts the Memphis Horns. Peter Asher, who had helmed Taylor's previous albums, also produced MUD SLIDE SLIM AND THE BLUE HORIZON.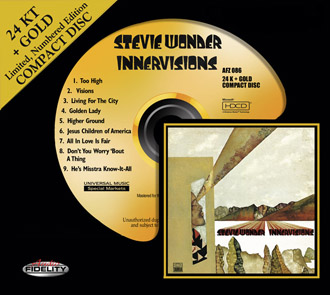 In contrast to Taylor's guest-laden album, Stevie Wonder's INNERVISIONS is revered in part for its being virtually a one-man operation. Though the record features accompanists, Wonder composed, arranged and produced-and played piano, bass, drums, synthesizer, clavinet and harmonica on it. In fact, Wonder is the sole musician on INNERVISIONS' two Top-10 hits, "Higher Ground" and "Living for the City," and handled most of the instrumentation on the Top 20 single "Don't You Worry 'Bout a Thing."
INNERVISIONS was Wonder's 14th album.  Along with TALKING BOOK, it inaugurated the most fruitful artistic and commercial era of his career, which included the subsequent LPs FULLFILLINGNESS' FIRST FINALE and SONGS IN THE KEY OF LIFE.  All three of those CDs plus MUSIC OF MY MIND were previously reissued by Audio Fidelity in 24 Karat Gold format.
Wonder's achievements were underscored by four wins in the 1974 Grammy competition:  Best Album, Best Engineered Non-Classical Recording, and Best Male R&B Performance and Best R&B Song (both for "Superstition," from TALKING BOOK). INNERVISIONS rose to No. 4 during its 89-week tenure on Billboard's Top Albums chart, garnered widespread critical acclaim ("a record that makes you believe in faith"-Village Voice) and has routinely placed high in various publications' and websites' best-of-all-time lists.  The inspirational "Higher Ground" has been recorded by Etta James, Missy Elliott, Michael McDonald, the Red Hot Chili Peppers and numerous gospel groups.