Marshall Blonstein, president of Audio Fidelity, has announced May 22 as the release date for the reissue of a trio of legendary rock recordings. Elvis Presley's 1957 JAILHOUSE ROCK EP and Jeff Beck's 1972 album THE JEFF BECK GROUP will be issued in 12-inch vinyl editions, and Jane's Addiction's 1988 debut, NOTHING'S SHOCKING, will arrive as a numbered, limited edition 24-Karat Gold CD. All will be sold through online and brick-and-mortar retailers alike.
The King of Rock and Roll gets the royal treatment with a dual-speed reissue of his JAILHOUSE ROCK EP, which features performances of five songs from his second feature film of the same name. Side One of the disc offers the tunes at 33 1/3 rpm while Side Two plays them at 45 rpm.  The selections include three Leiber-Stoller classics-the title track (Presley's ninth No. 1 single in just over a year), the ballad "I Want to Be Free" and the full-tilt rocker "(You're So Square) Baby I Don't Care"-as well as "Don't Leave Me Now" and "Young and Beautiful," both penned by veteran Presley scribe Aaron Schroeder ("Big Hunk O' Love," "It's Now Or Never"). Issued in November of 1957, the 45 rpm EP hit No. 1 on Billboard's EP chart and ultimately sold more than five million copies; the title-track single held the survey's top slot for seven weeks and entered the U.K. charts at No. 1.
Among the many artists who've covered "Jailhouse Rock" was Jeff Beck (on his second solo set, Beck-Ola). THE JEFF BECK GROUP was the fourth and last album by the band, which then found the super-guitarist supported by vocalist Bobby Tench, drummer Cozy Powell, bassist Clive Chapman and keyboardist Max Middleton.  Recorded in Memphis with Booker T. & the MG's guitarist Steve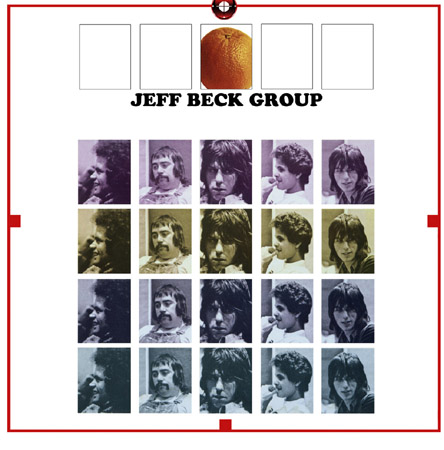 Cropper producing, THE JEFF BECK GROUP enjoyed extensive FM airplay and a 26-week stay on the Billboard chart. Beck's considerable talent and imagination are prominently displayed on a wide array of material, from Bob Dylan's "Tonight I'll Be Staying Here with You" and Stevie Wonder's "I Gotta Have a Song" to Carl Perkins' rockabilly classic "Glad All Over" and a blazing cover of bluesman Freddy King's "Going Down."  Beck himself penned the opening "Ice Cream Cakes," "Sugar Cane" (with Steve Cropper), "Highways" and the soulful instrumental "Definitely Maybe."  THE JEFF BECK GROUP will be issued as part of Audio Fidelity's "nicely priced" vinyl Target Series.
Los Angeles' Jane's Addiction made one of the more formidable debuts of the 1980s with NOTHING'S SHOCKING.  The group, comprised of vocalist Perry Farrell, guitarist Dave Navarro, bassist Eric Avery and drummer Stephen Perkins, generated combustible-and eventually widely popular-mix of punk-rock energy and arena-rock ambition on this 1988 album, which boasted the alternative-rock hit "Jane Says" (No. 6 on Billboard's Modern Rock Tracks chart).  Produced by Dave Jerden, who had engineered albums by the Rolling Stones, Talking Heads and others, NOTHING'S SHOCKING also features two additional singles, the Zeppelin-esque "Ocean Size" and the more raucous and metallic "Mountain Song."  The latter, like the album's front cover design, engendered controversy upon release, with MTV refusing to air the song's video clip as it contained nudity.  The expansive, psychedelic "Summertime Rolls" and the swinging jazz interlude "Thank You Boys" revealed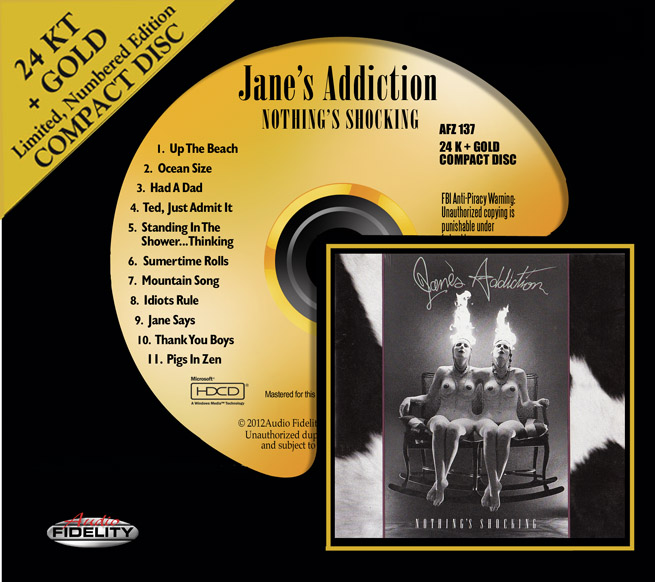 additional dimensions to the band, many that would be explored in subsequent albums like NOTHING'S SHOCKING's successor, RITUAL DE LO HABITUAL, and 2003's STRAYS.
Founded in 2002 by entertainment industry executive Marshall Blonstein, Audio Fidelity specializes in deluxe reissues of classic popular-music recordings for the audiophile and collector markets. The Camarillo, California-based label is best known for its 24-Karat Gold CDs and its virgin-vinyl album editions, though it also releases DVD titles.  In 2011, Audio Fidelity launched the Target Series of CD and LP reissues as a means of broadening its audience beyond its loyal audiophile base.
Audio Fidelity emerged out of the pioneering DCC Compact Classics label that Blonstein started in 1986, following stints as president of Island Records and co-founder of Ode Records (where he helped make Carole King's Tapestry one of the best-selling albums of all time and built the cult-film franchises The Rocky Horror Picture Show and Cheech & Chong's Up in Smoke).