The Band of Heathens, whose new album One Foot in the Ether the webzine AmericanaRoots.com ponders as "the best record of 2009," will appear on PBS' Austin City Limits on November 7 on a bill headlined by Elvis Costello. On the program, the band performs five songs: "Jackson Station," "L.A. County Blues," "Shine a Light," "Golden Calf" and "You're Gonna Miss Me When I'm Gone."
Austin City Limits celebrates its 35th season this year and is the longest running music series in American TV history -- the show was recently named a landmark by the Rock and Roll Hall of Fame and Museum. Other artists on tap this season include Kenny Chesney, Dave Matthews, Pearl Jam, Ben Harper, M. Ward, Asleep at the Wheel, Andrew Bird and Steve Earle.
Although both the Band of Heathens and the producers of Austin City Limits are based in Austin, ACL executive producer Terry Lickona first saw the band while in Nashville for the 2008 Americana Music Festival and Conference.
According to the Band of Heathens' Gordy Quist, "Playing the Austin City Limits show was the highlight of my career so far. To play the same iconic stage that I watched so many music legends play while I was growing up is staggering."
Bandmate Ed Jurdi echoed, "The opportunity to perform on Austin City Limits on a stage where ghosts and contemporaries alike have poured their heart and soul into some of the greatest performances ever recorded, was a pure musical experience. The vibe and mojo of ACL is undeniable."
With "tremendously gritty vocals and scything guitars" (Maverick Magazine), Austin's own Band of Heathens have created their own style of Americana music that is bringing them praise from across the nation. These purveyors of smart Southern/country rock are making their Austin City Limits debut.
The band began to form in 2006, when the three principal songwriters, Colin Brooks, Ed Jurdi and Gordy Quist, were sharing the bill every Wednesday night at Austin's Momo's club. Originally, each performed his own set. But in a short time they started sharing the stage equally and collaborating on each other's songs. Largely improvised and unrehearsed, the shows quickly gained in popularity. "We thought of it as a side project for a long time," Quist said. "Eventually, it got to a point where the chemistry was undeniable."
The Band of Heathens' first CD and DVD releases were live recordings that captured the media's attention. "Not many acts can pull off having three frontmen and three songwriters, but each band member's talent and style meld together seamlessly," wrote Lone Star Music Magazine.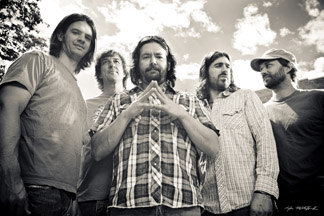 In 2008, the band released their first studio recording. The self-titled CD is a "real treat to country rock and roots rock connoisseurs with its blend of rich vocals, ballad and upbeat sides, and rootsy rhythms propelled by good musicians" (Jupiter Index). Vintage Guitar Magazine wrote with equal parts southern rock, '50s R&B, and Louisiana swamp-rock with a punkish swagger, they conjure a post-modern roots rock." In September 2009, the band followed up its studio debut album with One Foot in the Ether.
Of the new album, Maverick wrote, "I could carry on raving about every track on the album, but instead I will just highly recommend that you go out and buy this fantastic album. Also make sure you try and get to see these guys in concert as soon as you can." Added the Chicago Sun-Times, "What makes these Heathens so refreshingly different is the overall musicianship and seamless blending of alt-rockers, folk tales, gutbucket blues and heartland anthems."
SonicBoomers puts it into perspective: "The historical line here stretches back to Buffalo Springfield, Little Feat, the Subdudes and a bunch of other amazing American combos, all sharing the common characteristic of mixing their roots with inspiration from the outer limits. Which, really, is the whole point: how to start from scratch and eventually get into the ether, even if it's one foot at a time." "This one will certainly stand the test of time," sums up AmericanaRoots.com, "and so will the Band of Heathens.