Wow! What a long, strange trip it's been. Here I am at the beginning of a beautiful New England fall, basking in the glowing memories of the best end-of-summer musical celebration Martha's Vineyard has to offer: Beach Road Weekend Music Festival (BRW). The whole experience reminds me of how lucky we are to have these opportunities to witness such historical once-in-a-lifetime music in the making. If you don't know what magical music in the making I speak of, let's turn to the team responsible for curating the line-up for this annual 3-day fun-stravaganza fest! BRW has always had its finger on the pulse of what music lovers are listening to. If you were fortunate enough to be on the island of Martha's Vineyard (MVY) kickin' it at Veteran's Memorial Park in Vineyard Haven on August 25-27th, 2023 *inhale*, you were undoubtedly witness to the manifestation of musical magic from a plethora of incredible acts performing on each of the festival's two massive side-by-side stages!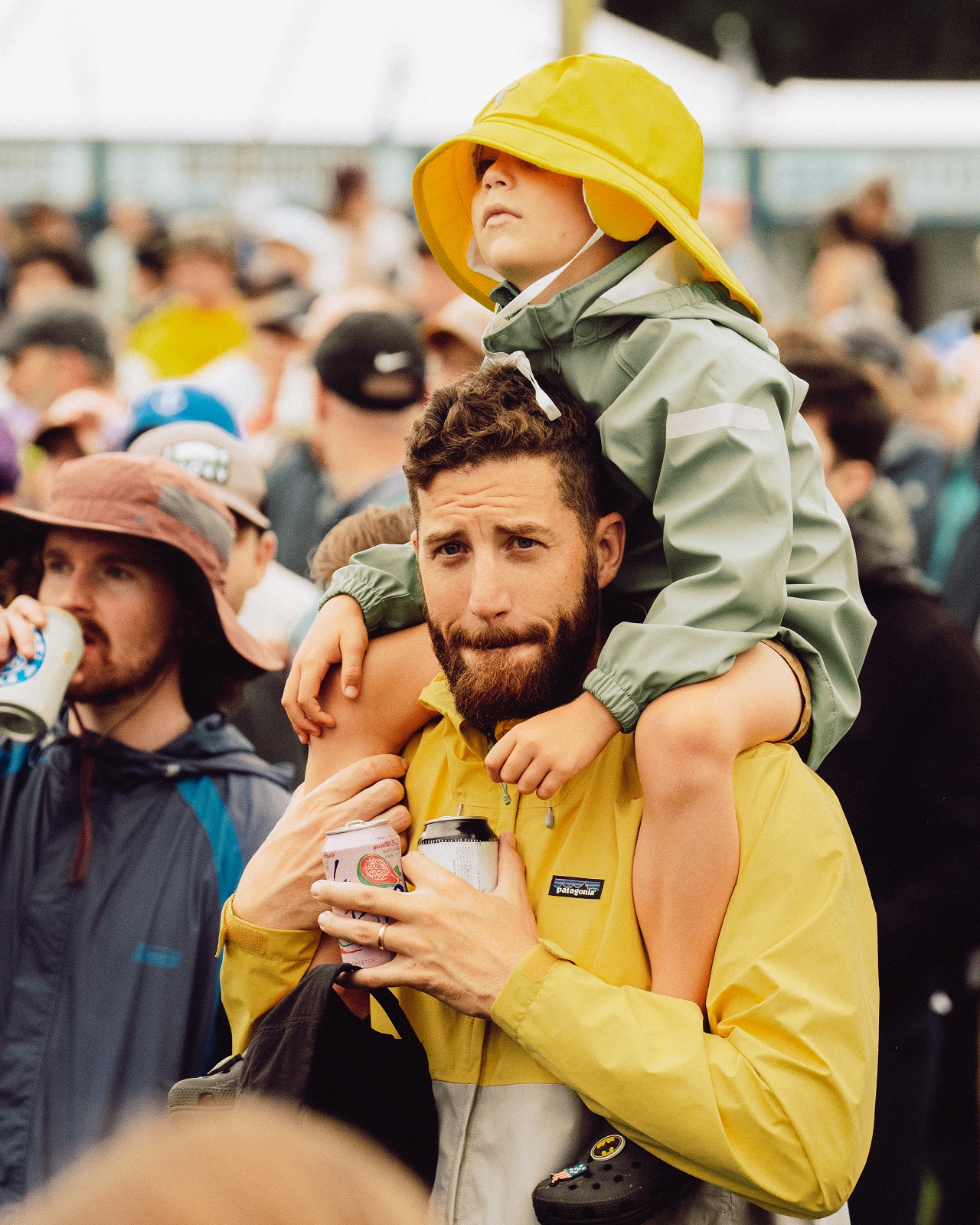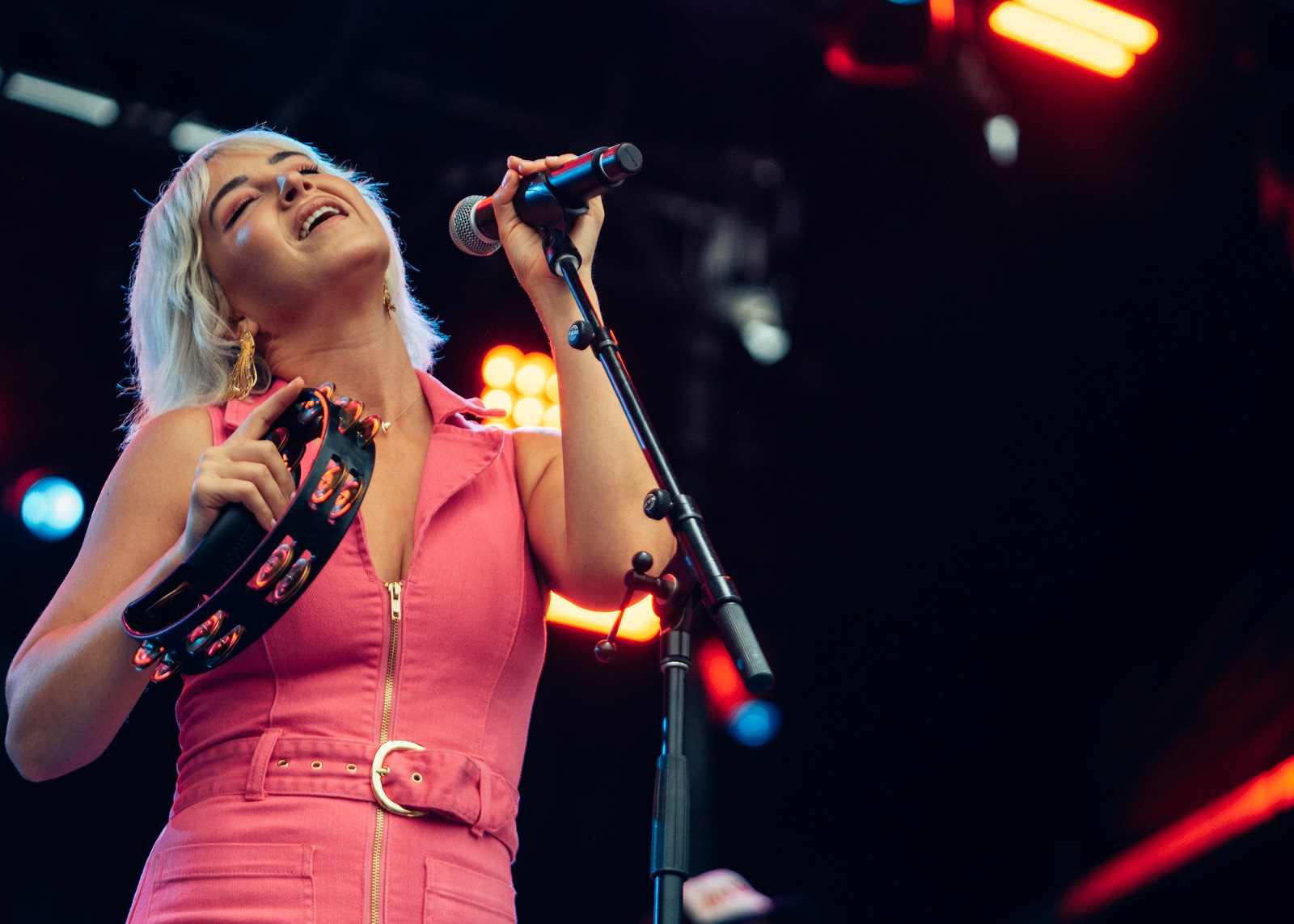 In the past, this festival has featured legendary artists such as John Fogerty, Phil Lesh & Friends, Emmylou Harris, Beck, Wilco, The Avett Brothers, Tedeschi Trucks Band, Billy Strings, moe., and many MANY mo'. This year's lineup lived up to festivals past right out of (and right through) the gate with a stunning performance by rising-star Maggie Rose on the MVY Radio Stage. Bloomin big', Rose showed us what she's made of (a nod to her song "Do It") warming up the stage that Bon Iver would be closing later that evening! Following Rose, singer-songwriter Kevin Morby serenaded the wave of growing festival attendees on the Vineyard Wind Stage; the same stage Patti Smith and Her Band would close out later in the day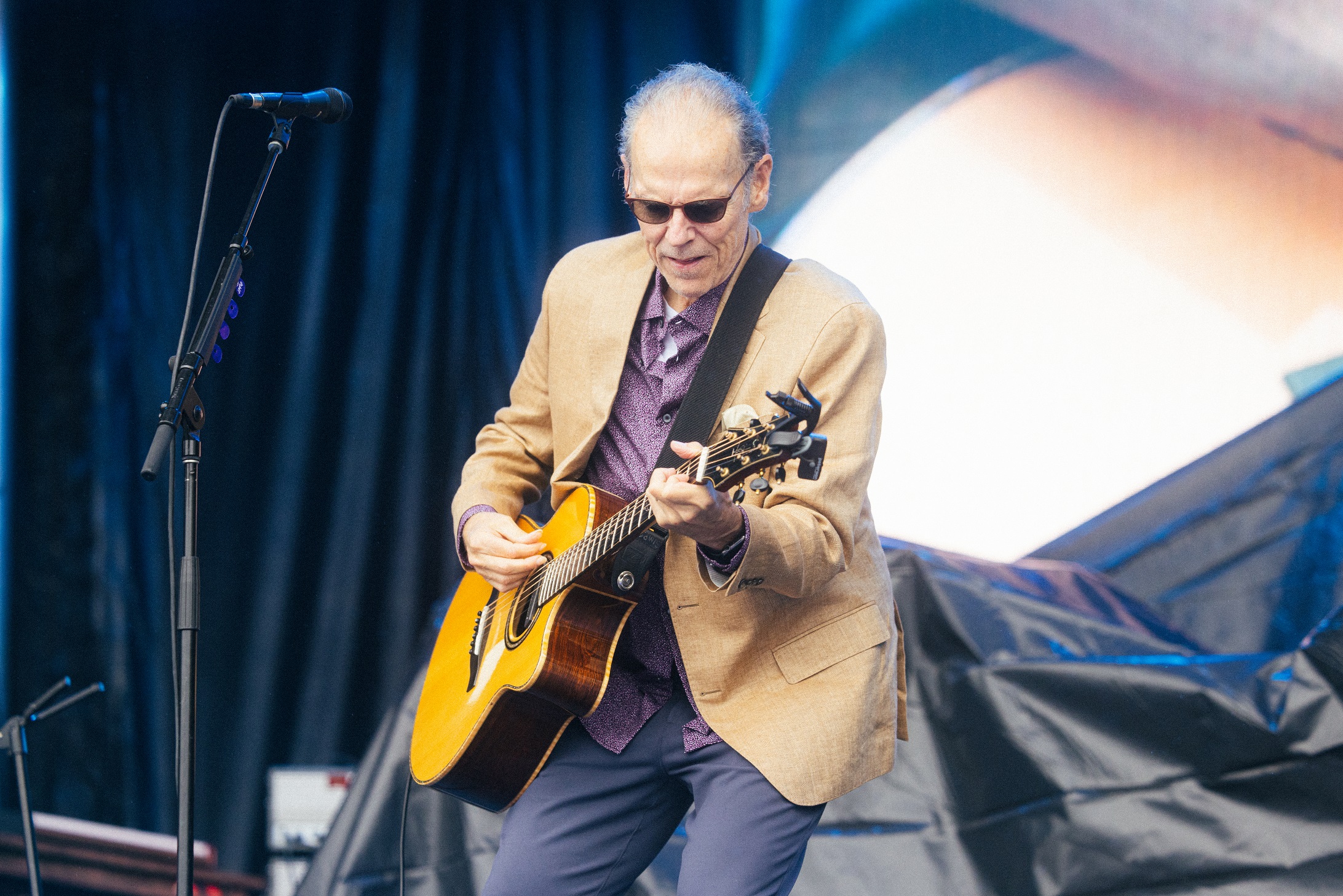 John Hiatt, singer-songwriter from the 70s who was recognized for his songwriting talent at 16-years-old, started his set out by singin' 5 consecutive southern-themed tunes: "Memphis in the Meantime" > "Tennessee Plates" > "Train to Birmingham" > "Drive South" > "Crossing Muddy Waters." Haitt finished his 9-song set with 4 love songs: "Cry Love" > "Feels Like Rain" > "Thing Called Love" > "Have a Little Faith In Me." I was previously familiar with Bonnie Rait's version of, "Thing Called Love," and was blown away to learn how many prominent artists cover John Hiatt originals. Folks swayed and sang along to Hiatt's closing song, "Have a Little Faith in Me," and though the weather was a bit wet throughout Friday's funtimes, the rain couldn't put a damper on this sea of love!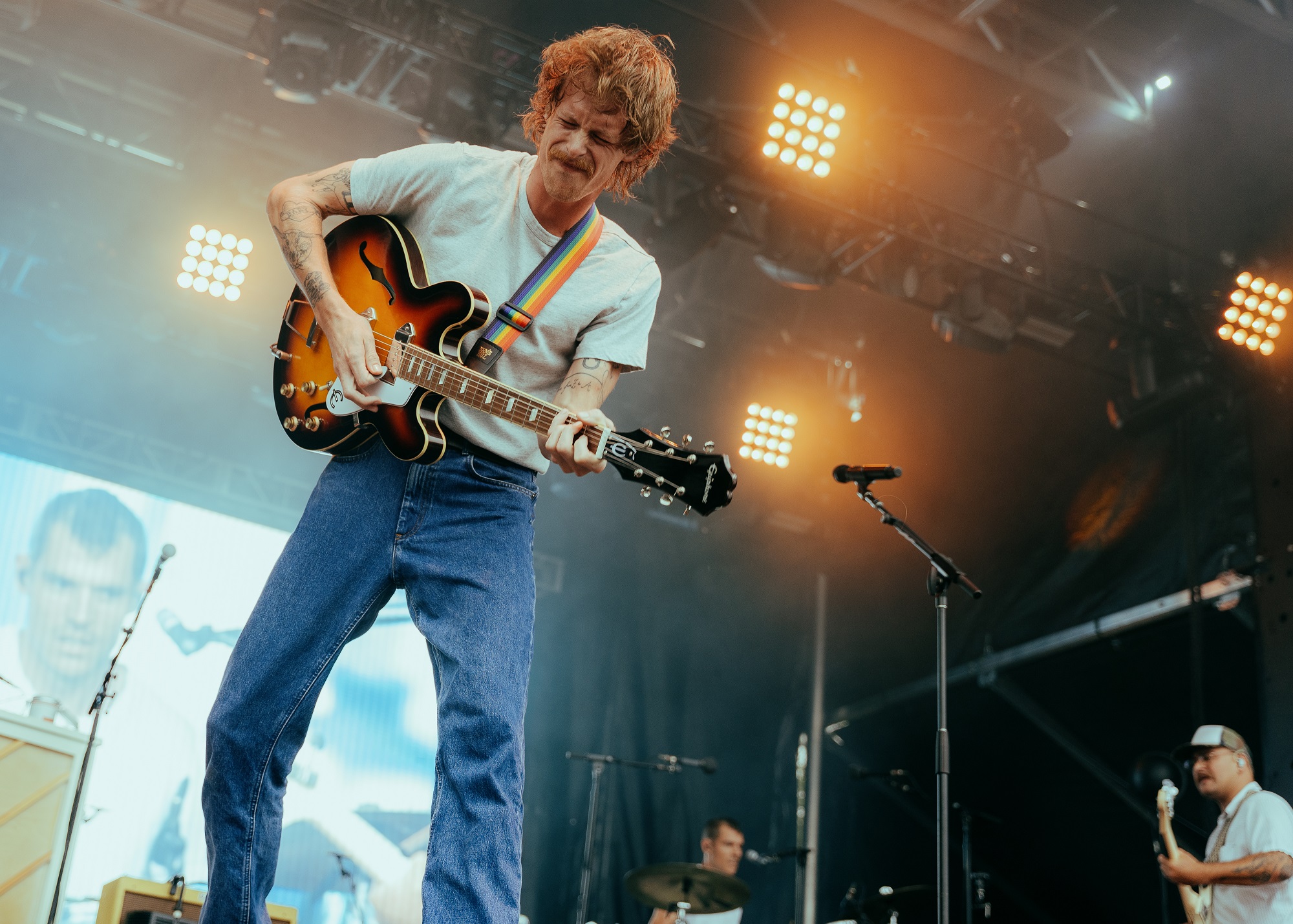 Smiles spread throughout the park as festival attendees turned their attention to Caamp, one of the few returning bands from last year's lineup. Captivating the audience from the very first note of "Huckleberry Love," Caamp played 6 original tunes before treating the crowd to a fun-loving version of "Everybody Knows This Is Nowhere," by Neil Young & Crazy Horse. If festival goers were unaware how awesome Caamp was beforehand, they most certainly know now. Up next, The Head and the Heart was equally adored by the Beach Road audience, filling the air with mesmerizing vocals, harmonies, and beats that produced some serious dance moves/head bobs. They ended their epic 13-song set with "Rivers and Roads," one of their most iconic and crowd-pleasing songs from their debut self-titled album in 2011. This reminds me of the many rivers and roads (and part of an ocean!) that folks had to cross just to get to BRW!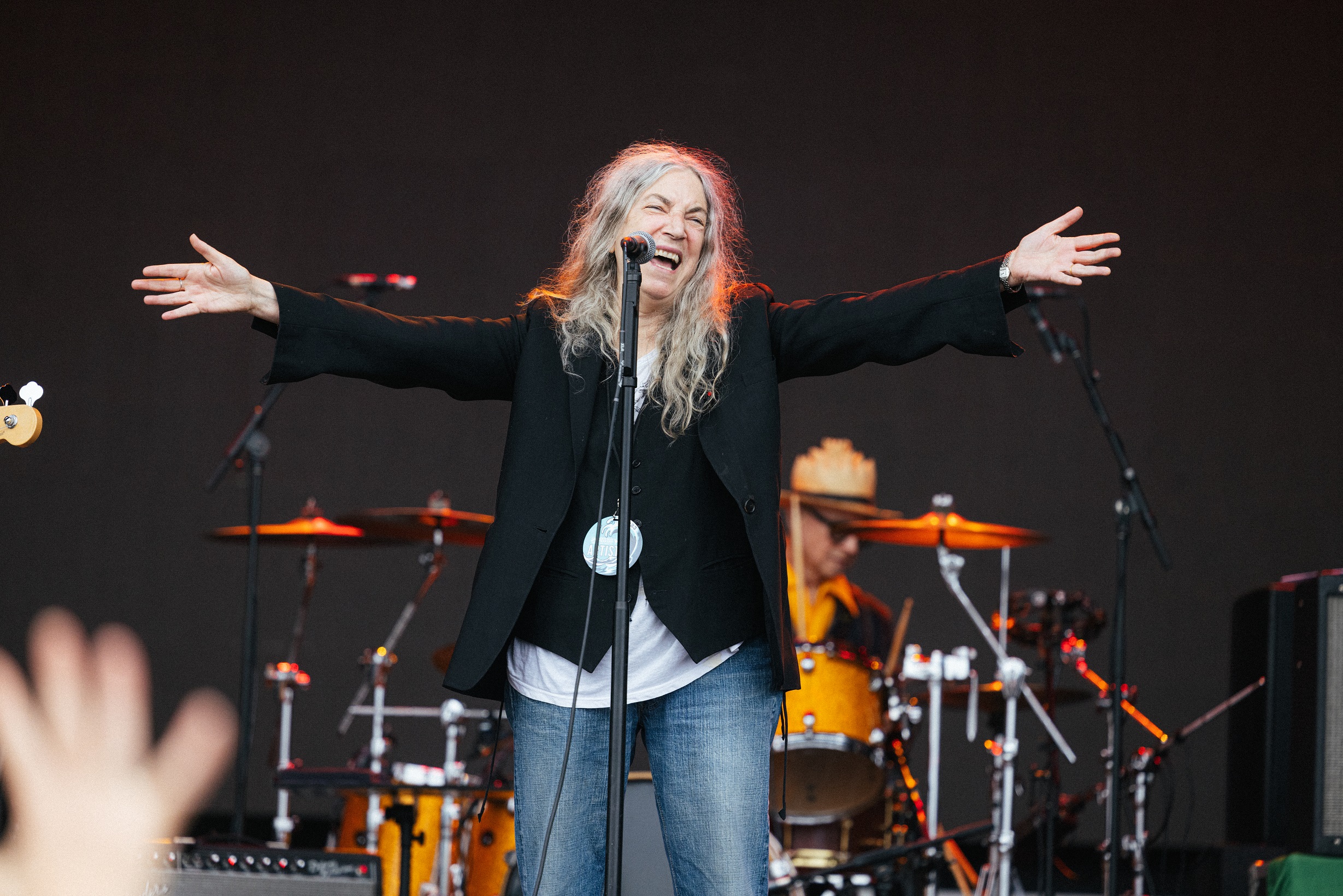 Patti Smith and Her Band made giant ripples with an eclectic and electric 11-song set. Smith kicked off with one of her most iconic songs, "People Have the Power," which gave all the people goosebumps. Tears filled the eyes of audience members who were visibly moved by what Patti was preaching; a message still ringing true 35 years later. Aside from her timeless originals, Smith covered an Allen Ginsberg poem, "Footnote to Howl," and dedicated her next original song, "Waiting Underground," to him sharing with the audience the love and respect she had/has for this anti-war activist/poet/teacher; "someone who continued to put himself on the line over and over for human rights," she said facing the crowd.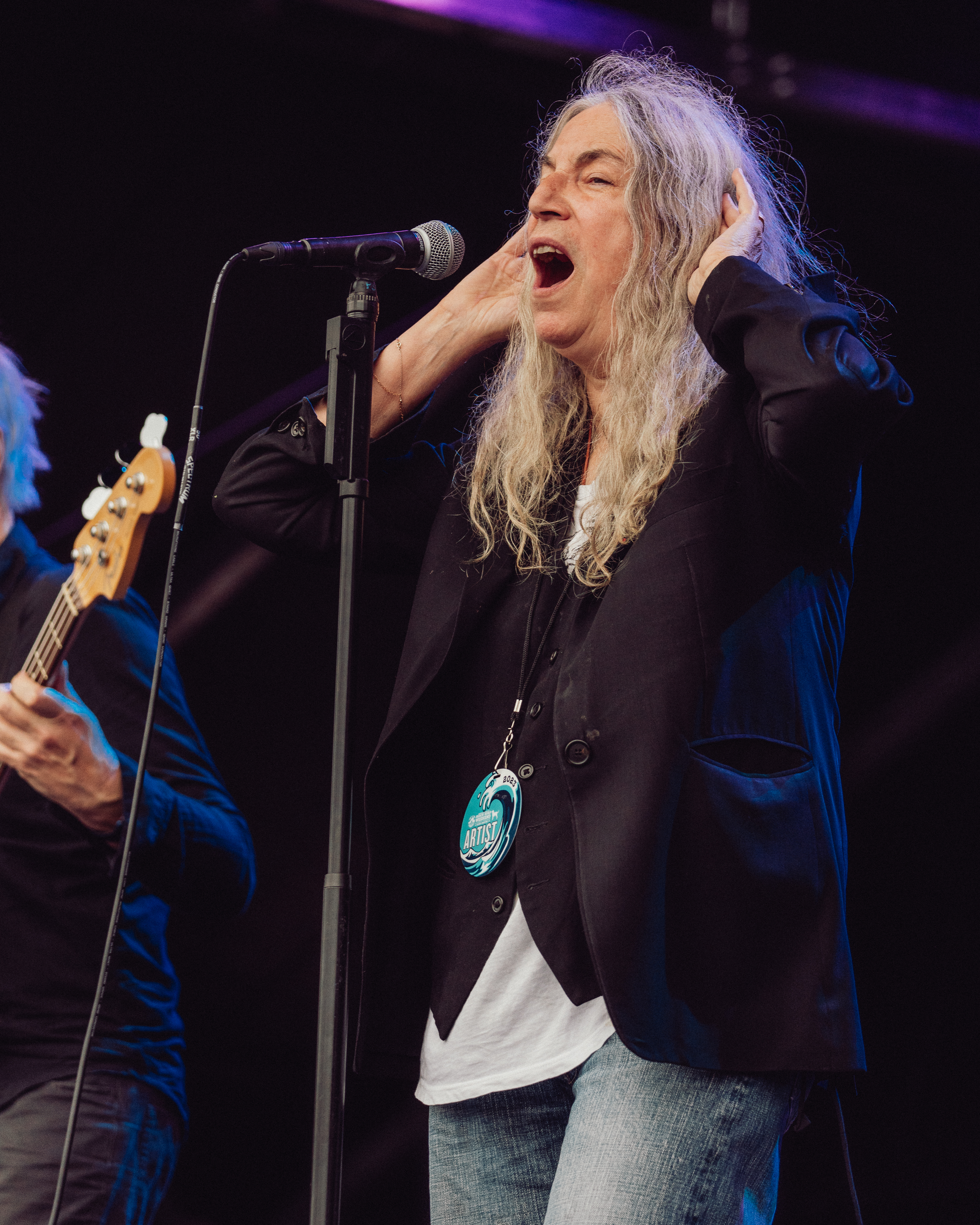 Perhaps there was some good ol' Acapulco gold inspiration circulating around 4:20 in the afternoon Friday because Patti Smith and Her Band's version of Neil Young and Crazy Horse "After the Gold Rush" never sounded so good; fittingly changing the lyrics to, "Look at Mother Nature on the run in the 21st century." The last song of their set was another stellar cover - G…L…O…R…IIIIIII G-L-O-R-I-A - "Gloria" by the band Them. Patti left the stage in all her glory, continuing to stoke the flame of activism with another verbal reminder to the crowd why it's so important to get involved. "We are the future, and the future is now", she exclaimed. "Feel your power…"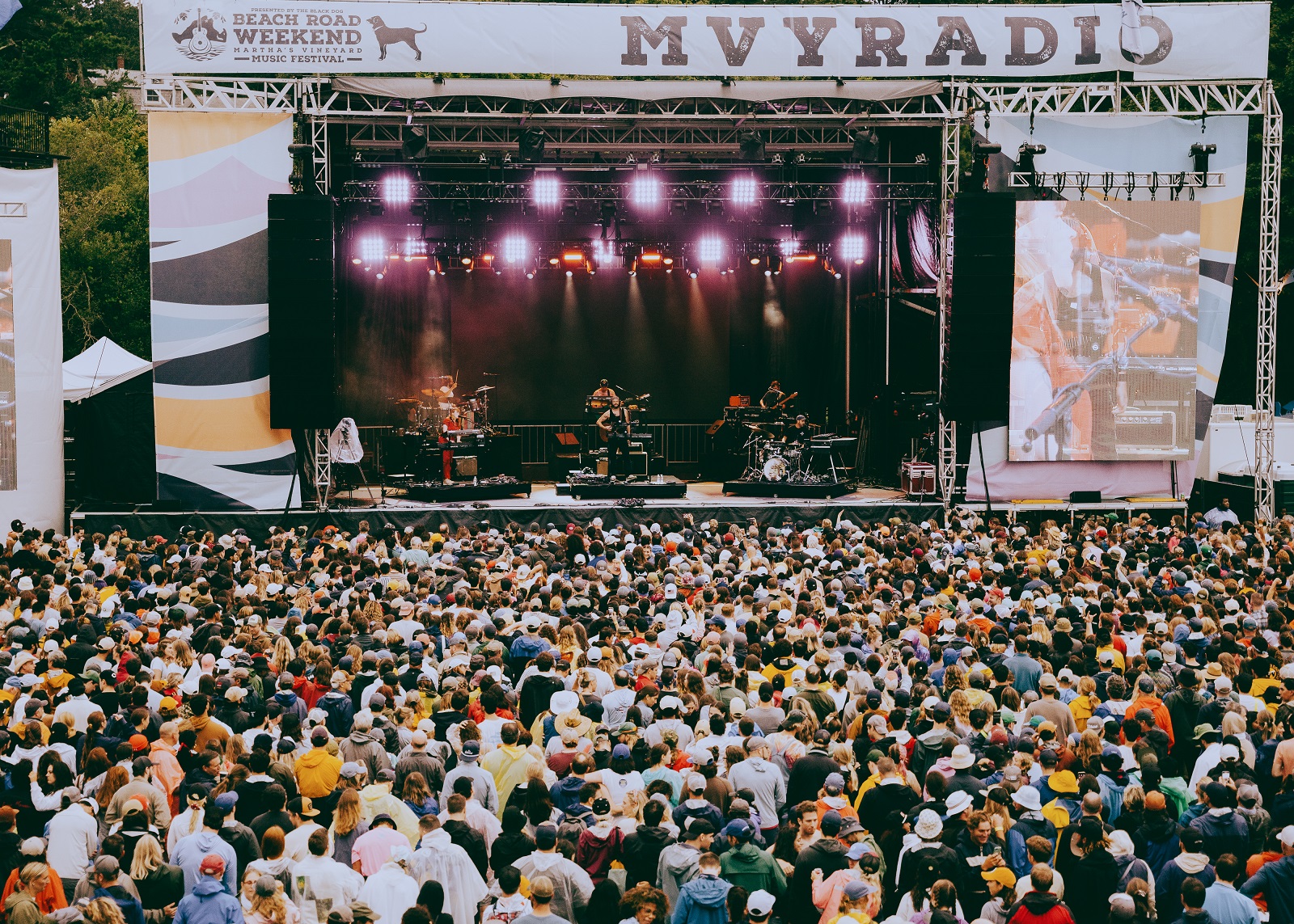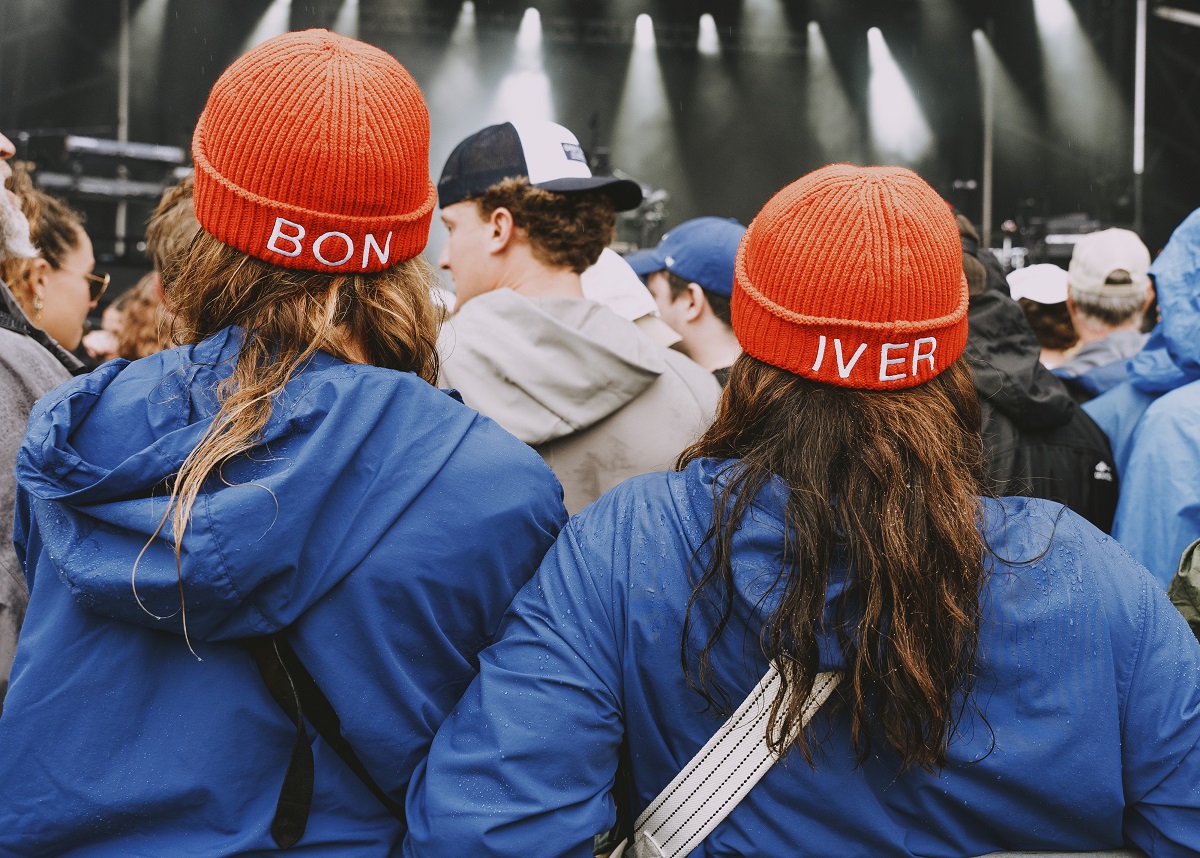 Bon Iver closed out the end of the day with a poetically profound performance. It was like getting a soft hug with a strong and soothing heartbeat for 18 songs; a beautiful way to end a bit of a wet, yet cup half-full, kind of day. Bon Iver gifted the audience (and the neighbors within ear range) with the most beautiful harmonies that continued to echo well into the night as festival attendees drifted off to their next destination.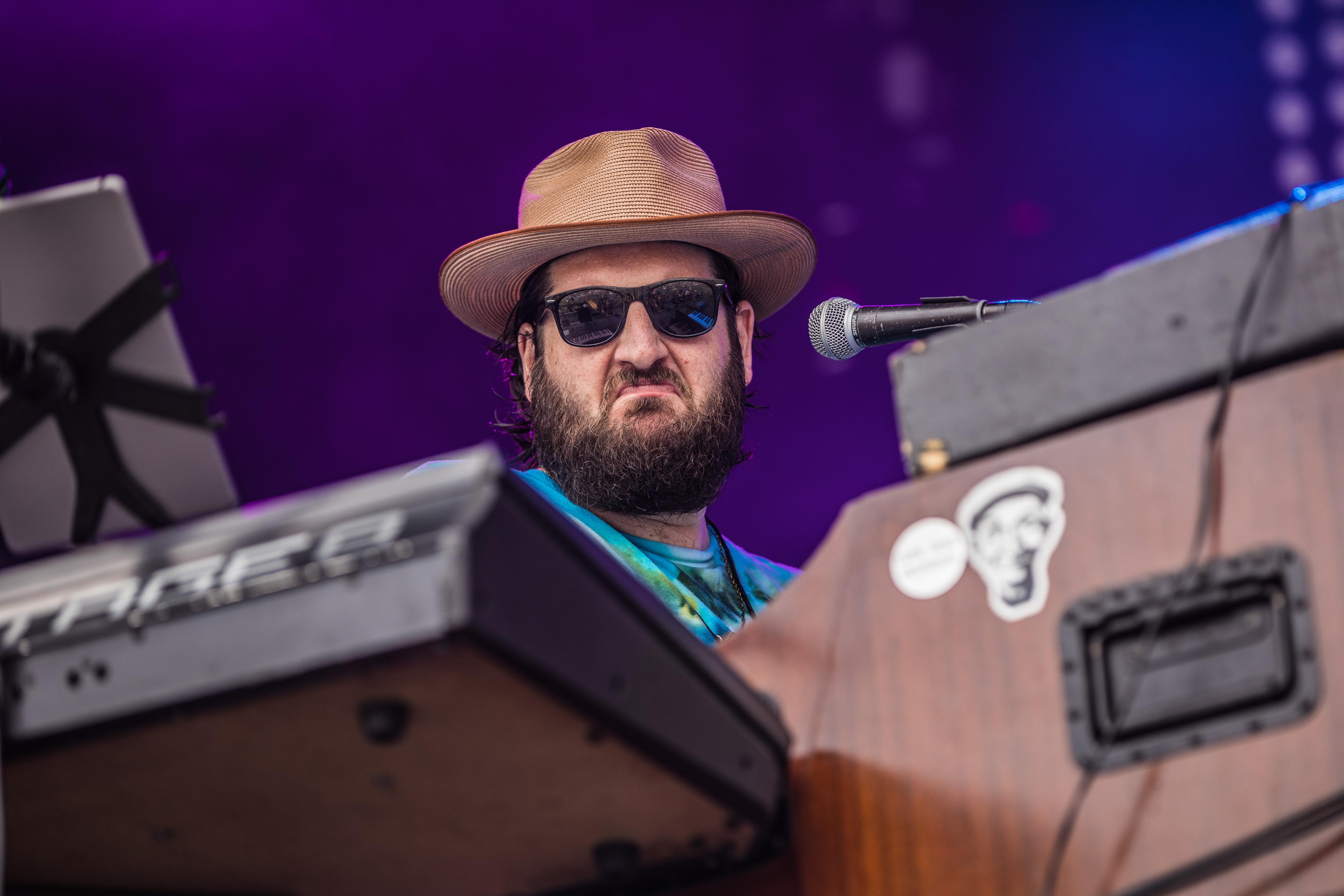 Saturday started the best possible way it could; with the band Neighbor! My fav. I could listen to this band morning, noon, and night. I am not exaggerating when I say this four-piece has some of the most talented musicians to come out of the Boston music scene, and there's a reason they're growing so fast. Richard James on (keys, vocals) takes his love for prog rock and fuses it with his love of southern rock and blues taking me to my beloved New Orleans in my mind. James writes these tunes, gives them heart, and plays his own heart out on those black and white lines.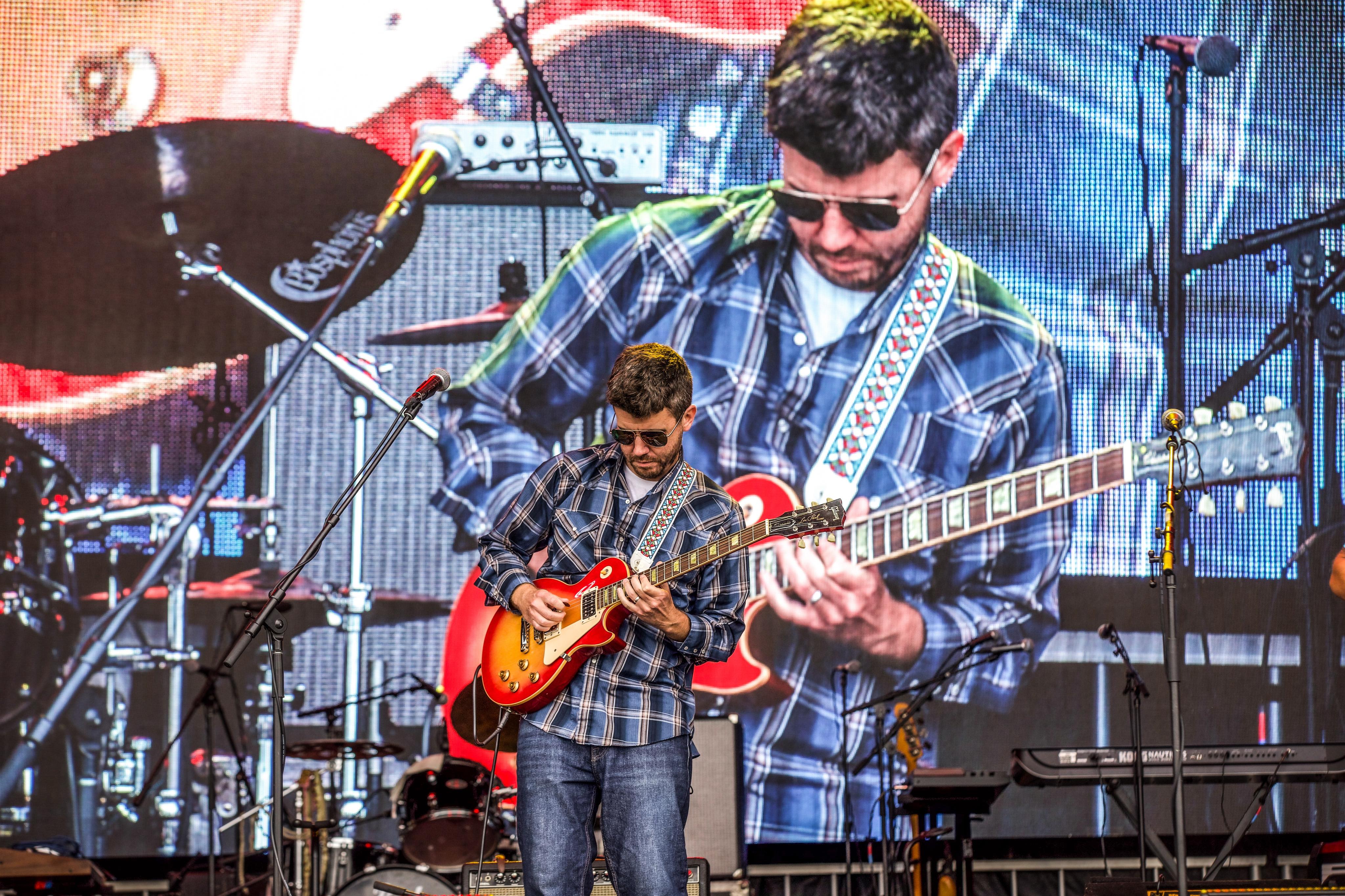 The amount of enthusiasm emanating from the stage from the first song was undeniable. When Lyle Brewer (Neighbor's virtuoso guitar player) takes flight, I suggest you grab on because this is the kind of ride you don't want to miss. Brewer's guitar playing is the kind of rockin' roller coaster ride that naturally makes you want to lean over to your chatty neighbor and kindly point out what they're missin'! Brewer has been a tour de force on the six-string within the beautiful, saturated music scene in Boston for years, and somehow keeps getting better - young Jedi. Without hesitation, I place Lyle in the same category as David Gilmore of Pink Floyd, Trey Anastasio of Phish, Jimmy Herring of Widespread Panic, and Rick Mitarotonda of Goose. I know, I know, I can always augment the list, but there aren't many more who have that specific sound that'll catch 'n' hook me as quickly as these fellahs do.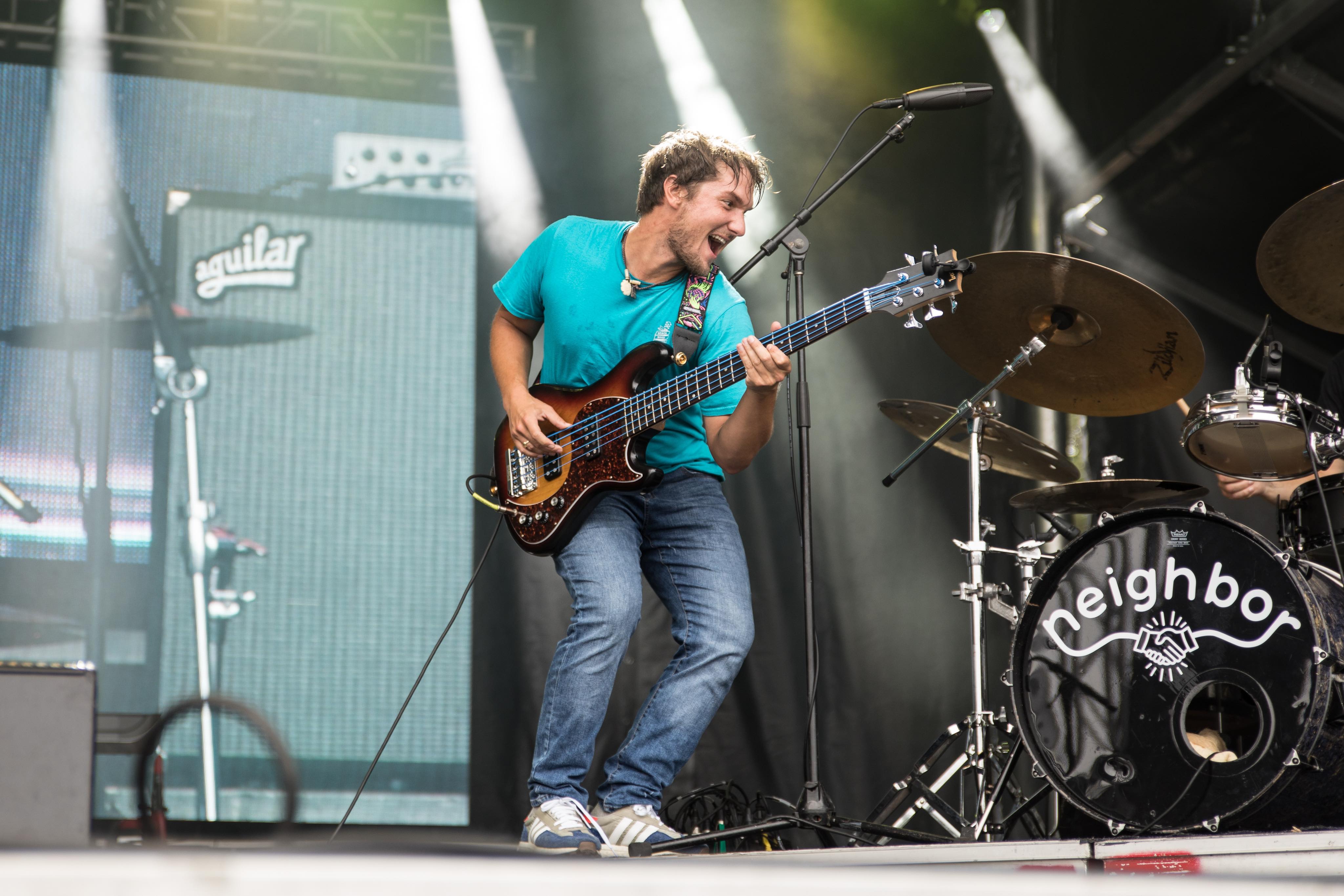 Bassist Dan Kelly also has some serious chops on that 5-string Gibson and vocal harmonies to boot. His energetic stage presence and groovy licks are a perfect balance of power and joy. When you lock into Kelly's high five-string vibes, you may experience the sudden urge to move your body while wearing a bass face of your very own!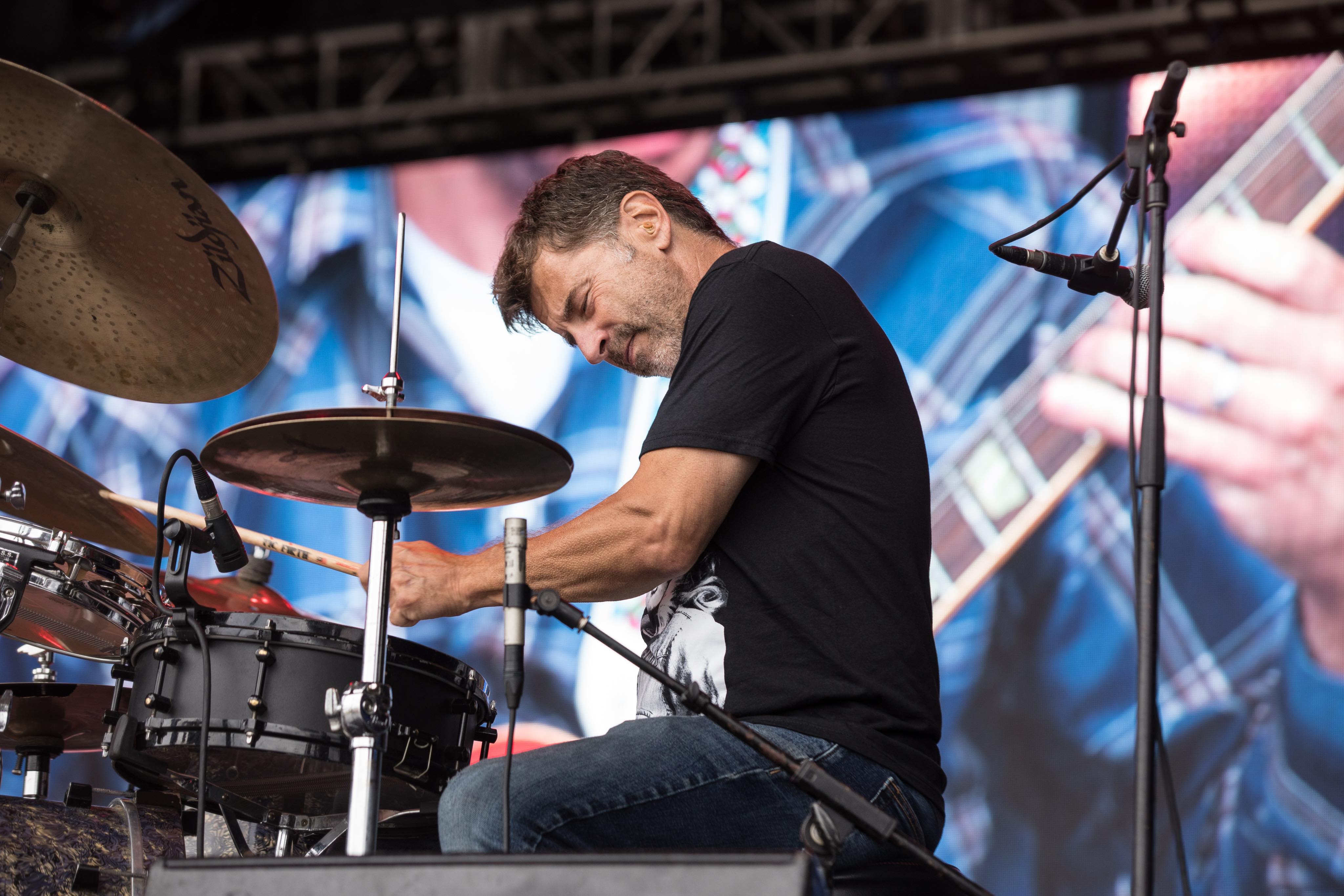 Holdin' his own on the kit, Drummer Dean "Dux" Johnston is a magician and a special treat to watch in Neighbor. If you've seen him do his thing with Club D'elf (a totally different vibe albeit INCREDIBLE), watching him rock out with Neighbor adds a whole new level of awesome to Johnston's already impressive repertoire. These guys are all masters of their craft and note-by-note they take the audience to new, yet familiar, musical spaces. Neighbor has the chops and finesse to keep this friendly train rollin' on up the tracks! Choo-choo-cha-boogie, y'all! Be sure to spin those tracks from their recently-released debut self-titled album and go see them live, which we did later that night!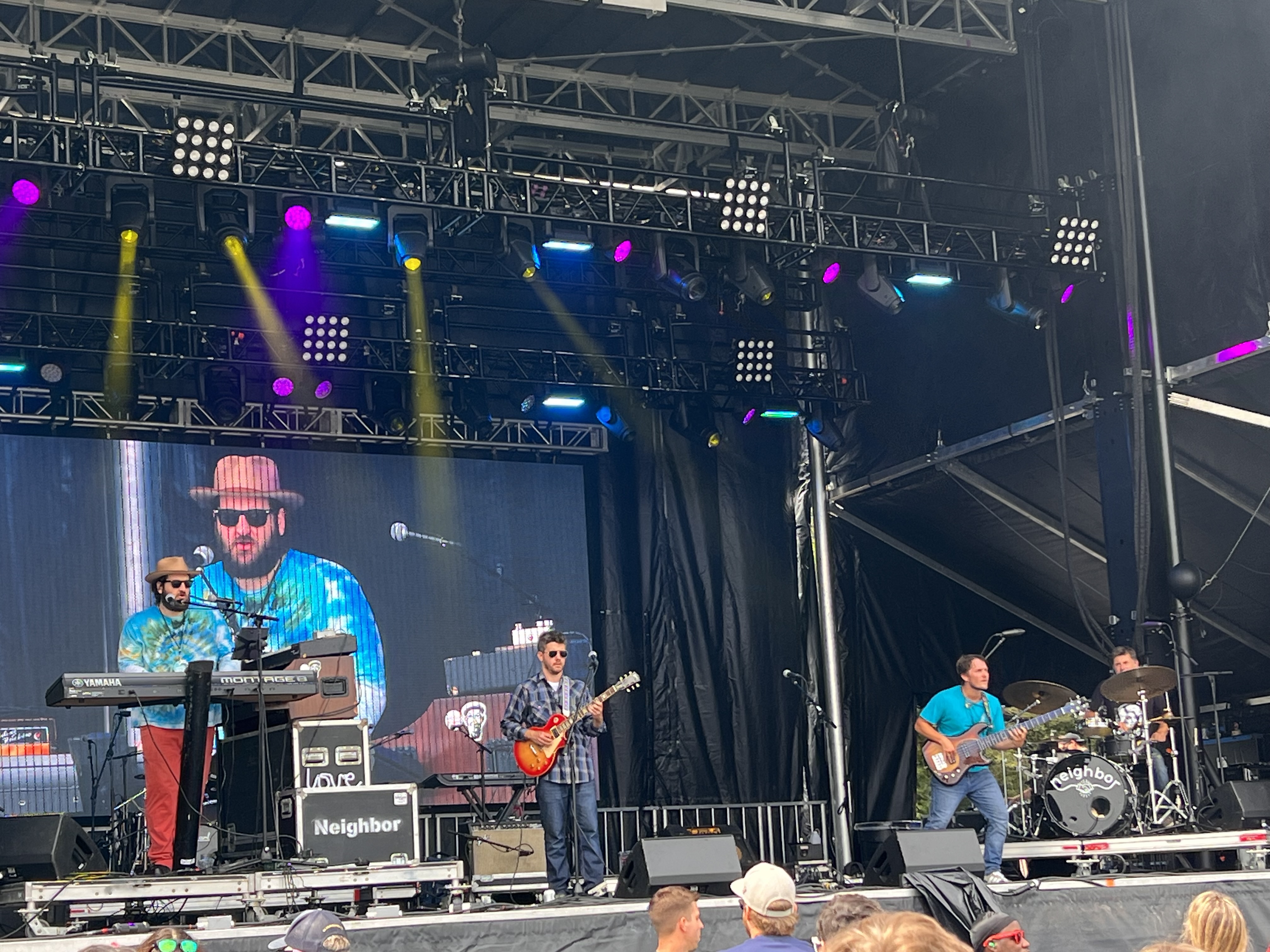 It would be very remiss of me not to mention The Loft, a music club that hosts the festival's official after-parties on Friday and Saturday night in neighboring Oak Bluffs. It's the place to go if you need more of that sweet sweet music after BRW has closed their gates. St. Paul and the Broken Bones played the after-party on Friday night and I hear it was MAGIC! I made my way to OB on Saturday night for the after-party with Neighbor. I was grateful they added a late night show; because you're guaranteed a longer show than a typical festival slot allows for.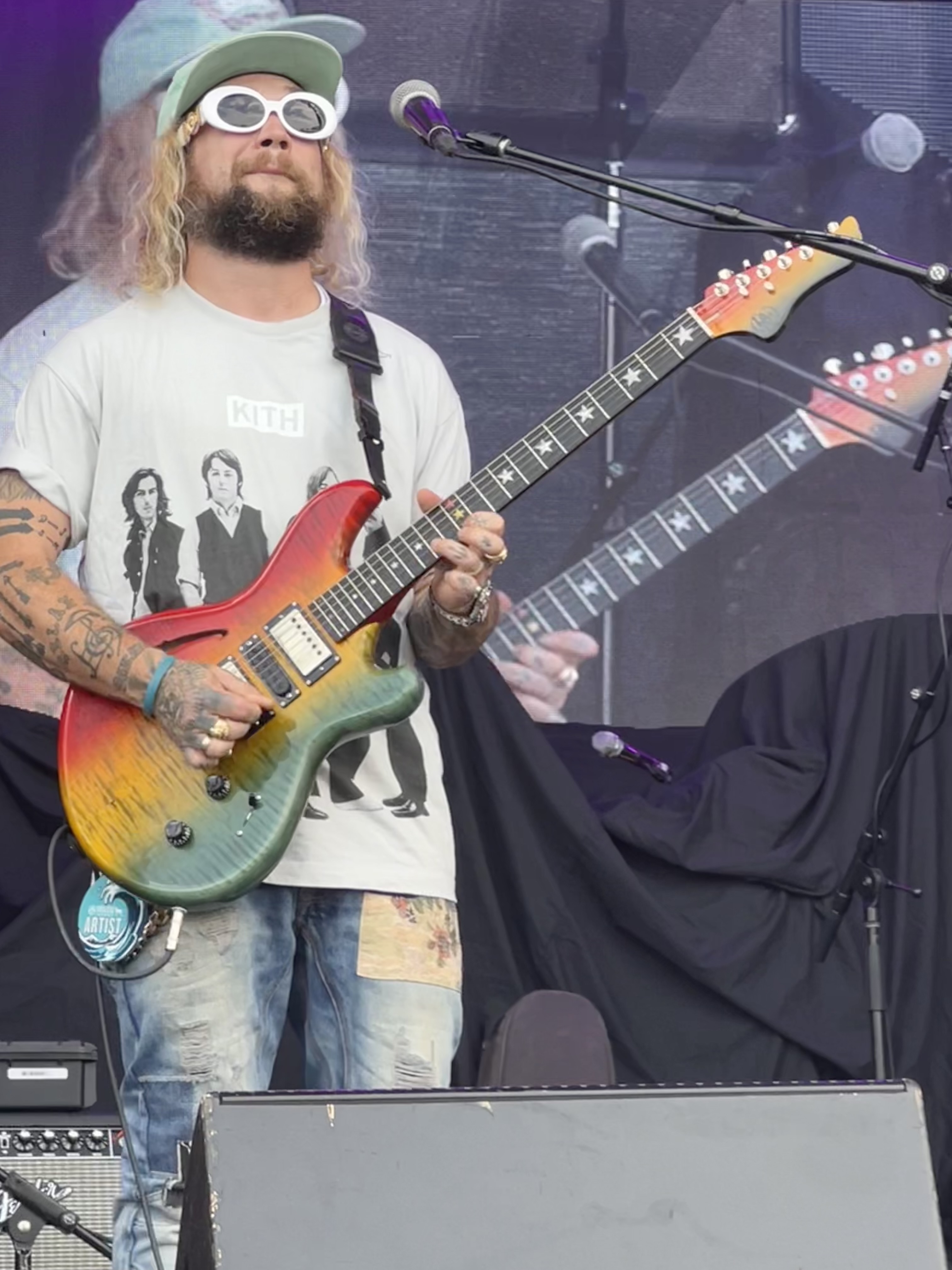 Following Neighbor, the band Twiddle played beloved originals that will be sorely missed once their 2023 tour comes to a close and their indefinite hiatus begins. It was a moment to be cherished. The news of their inevitable hiatus did not prevent everyone from having a GREAT time. Cory Wong took the stage following Twiddle with the most infectiously joyful energy and a smile so contagious your face might be hurting after smiling so hard along with him! Wong is a force of nature, a wiz on the guitar, and is worth seeing live. He is well known for his "high-speed improvisational skills, fun-loving performance spirit, and a flexible right wrist," according to Apple Music. I've seen this man in action when I caught Vulfpeck a couple of times over the years, but this dude is on another level of awesome as band leader! The band comes equipped with several horns, high energy, and a helluva tight 'n' seamless band seeming to have lots of fun up there on the stage! Sammy Rae, who would be playing with her own band a few sets later, sat in with Cory Wong and absolutely crushed it!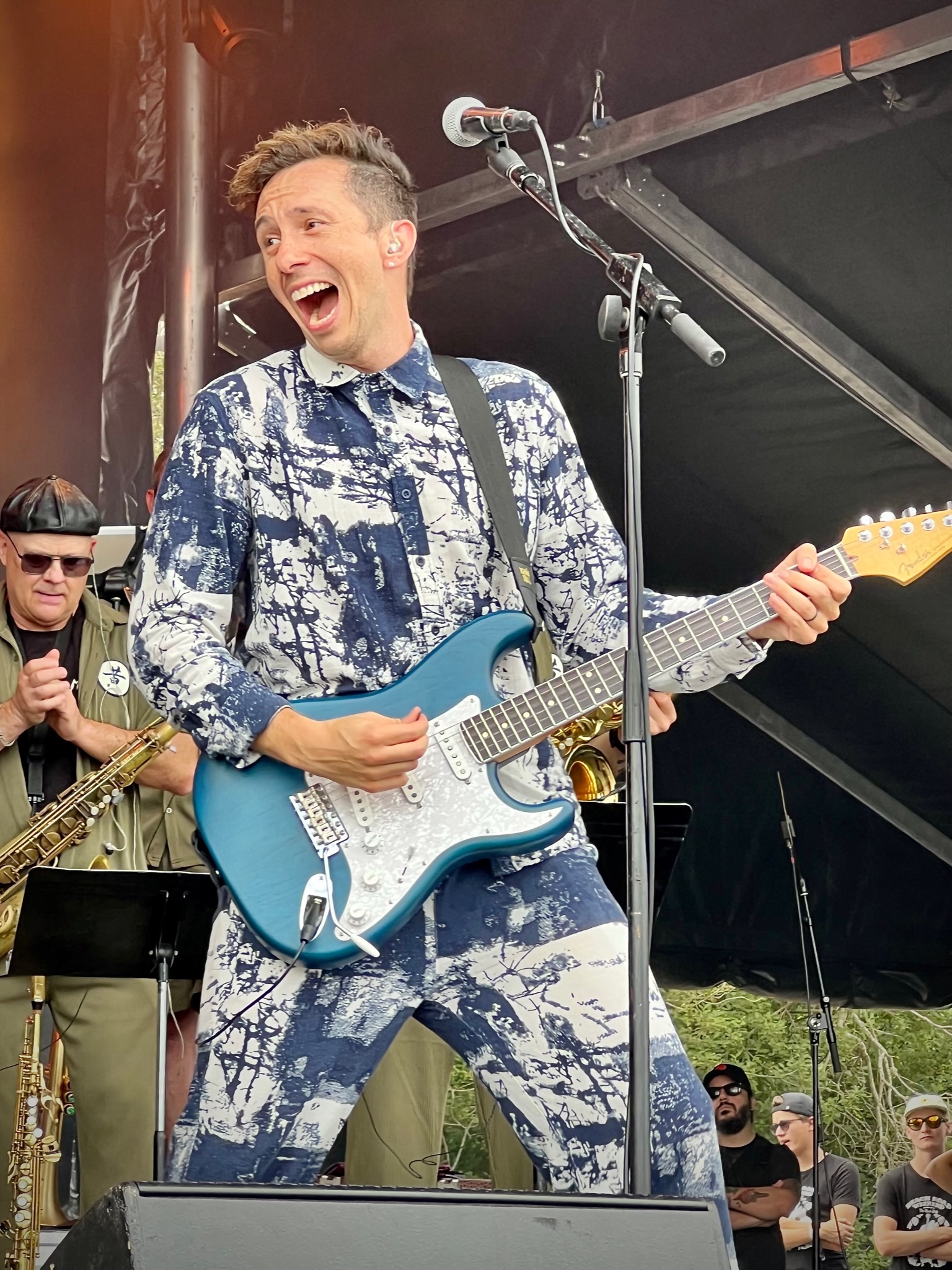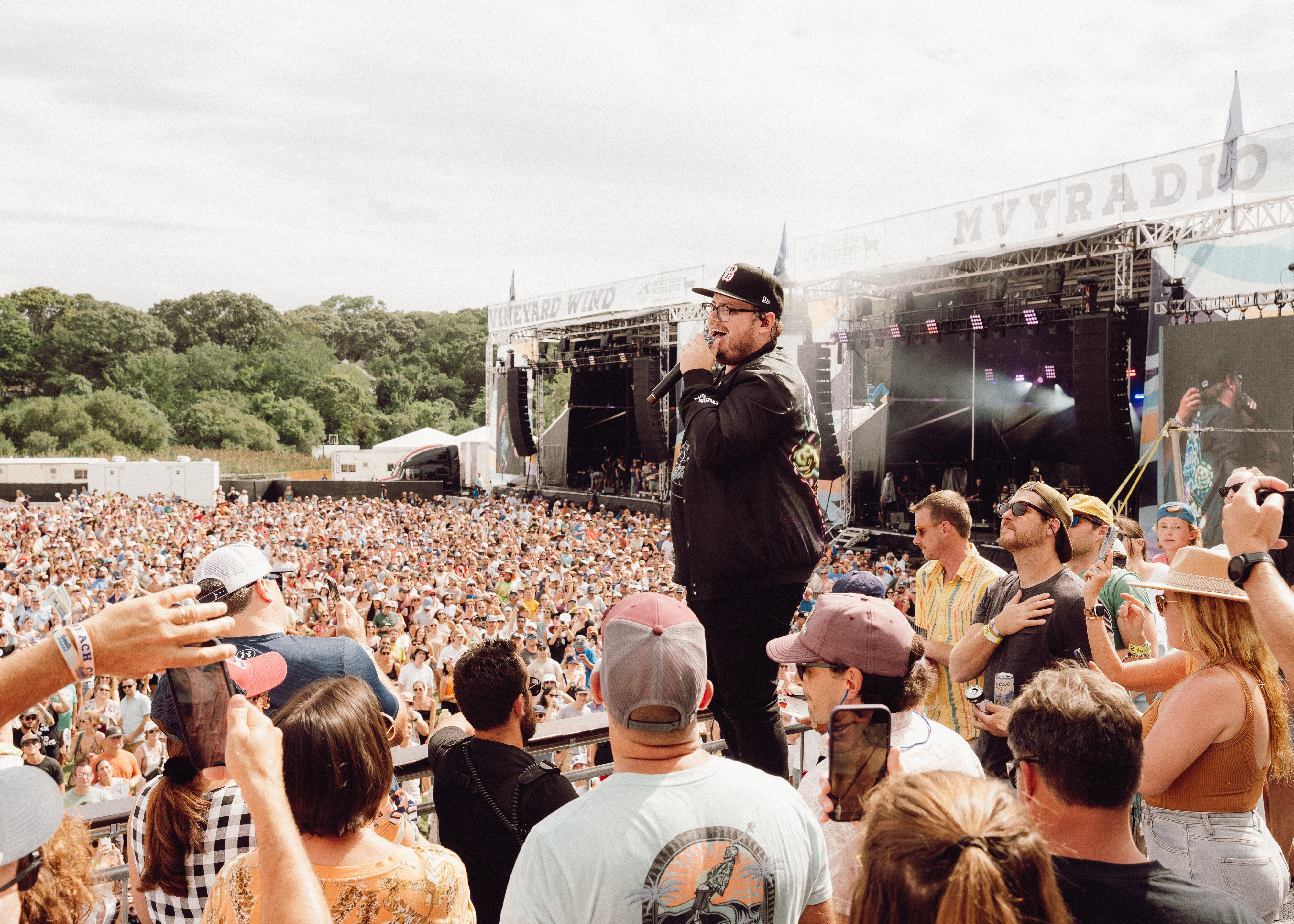 St. Paul & The Broken Bones brought the heat on this wicked hot Saturday afternoon! Since 2012, frontman Paul Janeway has had a way of capturing audience's attention with his sweet dance moves and highly energetic 'n' sensual stage performance, leaving some attendees rosy-cheeked either from blushing and/or dancing hard keeping up with the band! The stage was steamin' from the start and within the first three songs I noted to myself, "not sure what kind of flavor that microphone is, but Janeway seems to be lovin' lickin' that thang!" It didn't matter what flavor. The fans were eating out of his hands. I quickly grabbed my camera to capture the true essence of the moment, and couldn't help but blush. Later in the set, Janeway climbed to the top of the Super VIP deck to share his soulful songs at another level looking down on the crowd over 20' below. As I looked up, I thought, "THIS is rock 'n' roll, baby. Rock 'n' roll! This is Beach Road Weekend."
Out of the handful of bands I hadn't seen prior to BRW, Sammy Rae & The Friends was among my top new favorites. The energy was high, the vibrato was vibin', and the sound + style comin' from the band was flippin' FANTASTIC and wicked FUNKY! Early in the set I noted, 'I want what they're havin'," as Sammy Rae sang with perfect pitch into their mic from the bottom of their soul as they stretched their arm towards the sky holding a blue bubble machine in the shape of a shark's head! Slowly arching backwards blowing billions of bubbles into the air, Sammy Rae held her backbend and her note as her heart pointed upward towards the sunny sky above!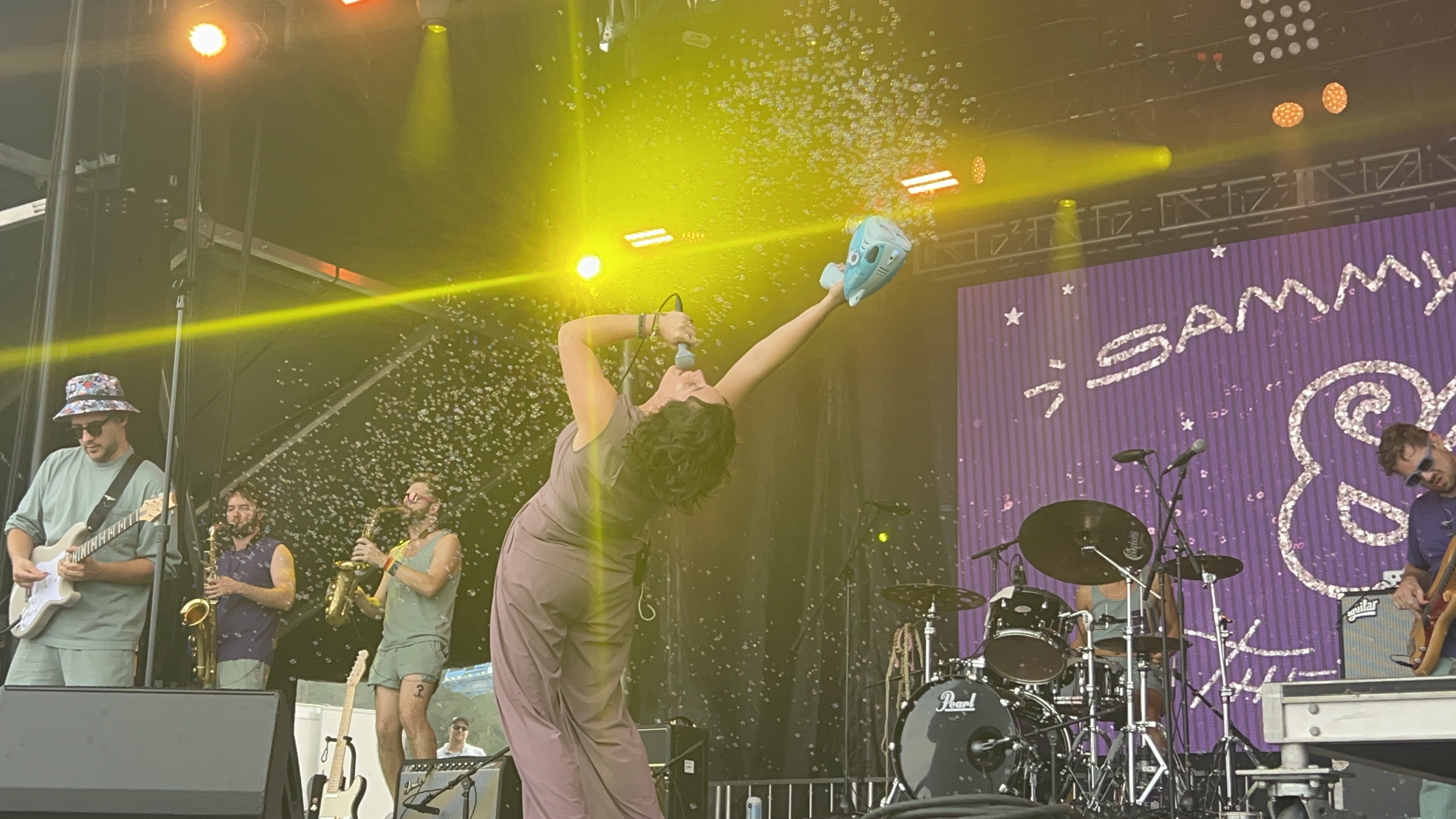 I looked around to see if everyone was seeing what I was seeing. Yep! Everyone was feelin' it. The beautiful sea of smiles was growing wider. SR&TF's original songs were fun, clever, and relatable! Her song about the "Denim Jacket" made this denim jacket sportin' & flower crown wearin' earthling laugh as I reached for my own even though it was over 80 degrees that day! The band also covered super sing-a-longs, "Long Train Runnin'" by The Doobie Brothers AND "Everybody Wants to Rule the World" by Tears for Fears. Believe me, Sammy Rae & The Friends did these covers justice and their performance somehow made the sun shine brighter on this blue sky sunny Saturday.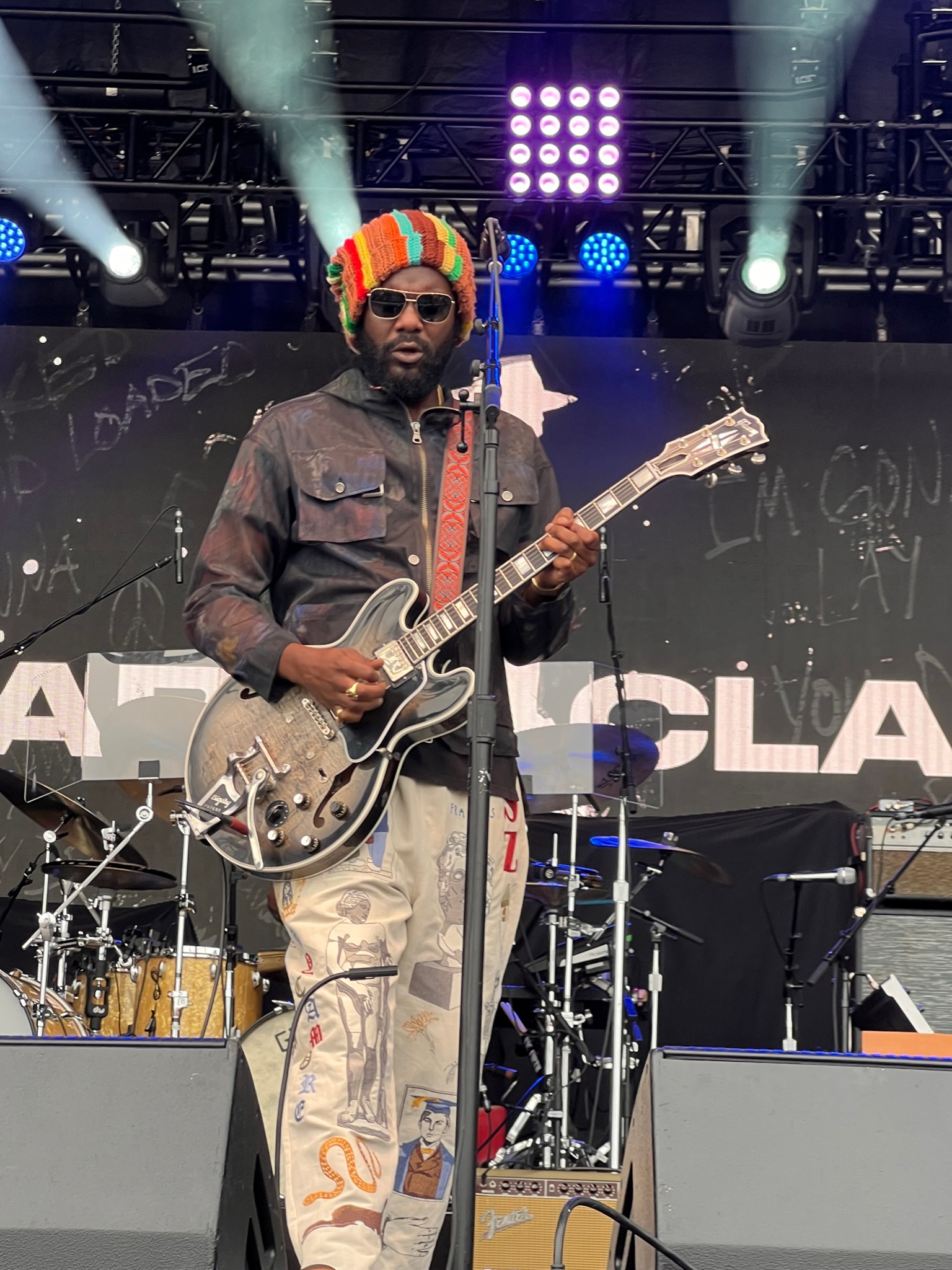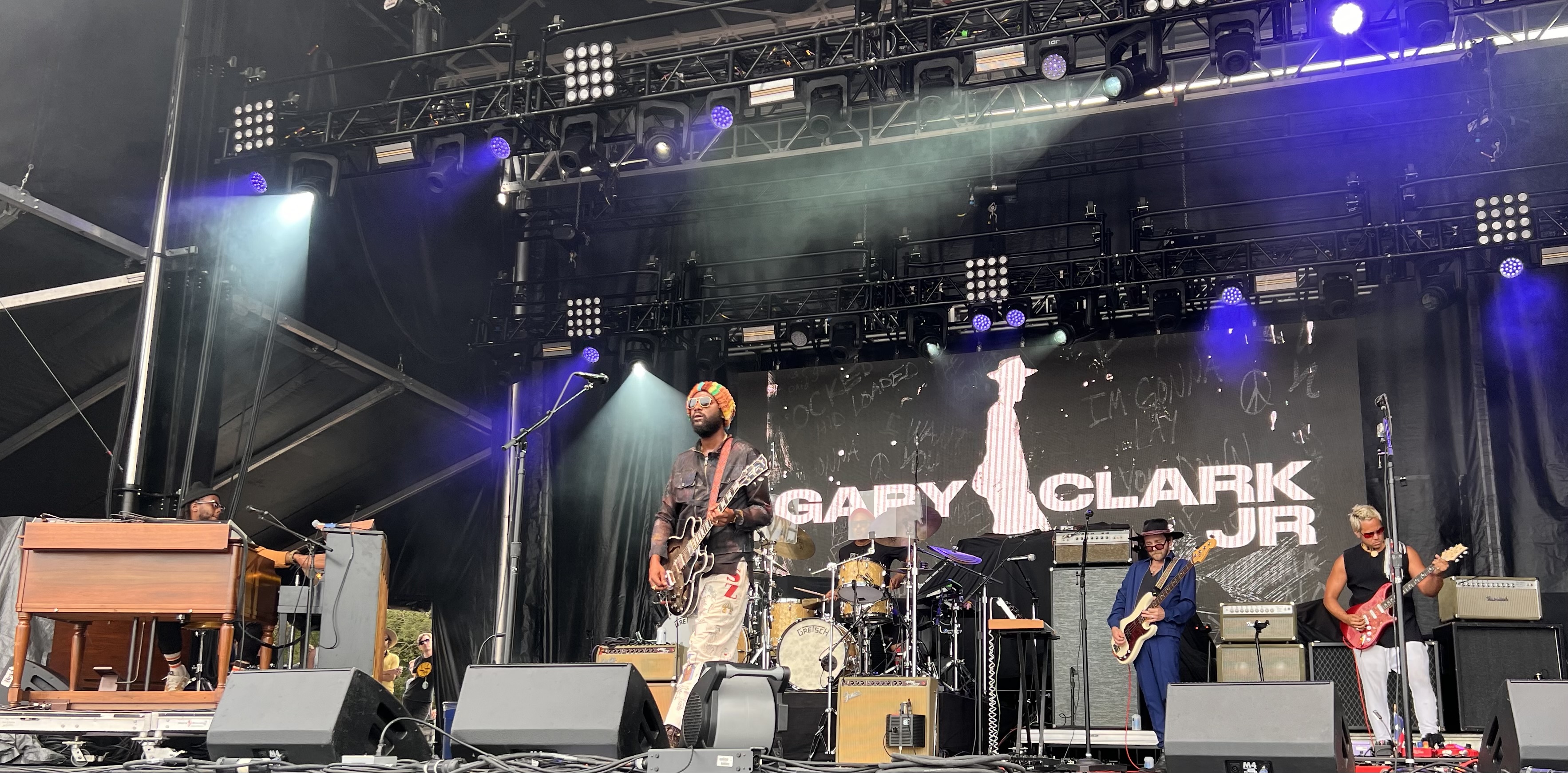 Gary Clark Jr. started his set at 4:15 on this wicked hot summer afternoon and, though the day was cooling down, the temperature rose when he walked out on stage… or was that just in my head? No. This tends to happen when Gary Clark Jr. starts playing. The only prescription for this rise in temperature is more Gary Clark Jr. His sound is so raw, soulful, and seriously rockin' to the core. When the music hits, you feel no pain, but you might find your mouth agape because, WOW, Gary and his band are so darn good. Do yourself a favor, when Gary Clark Jr. comes through your city/town, be sure to clear your schedule and anticipate filling up your cup at his show. His band is always rockin' and his style - mind, body, & spirit - is worth seeing in the flesh, if not only to be inspired & witness a part of rock history.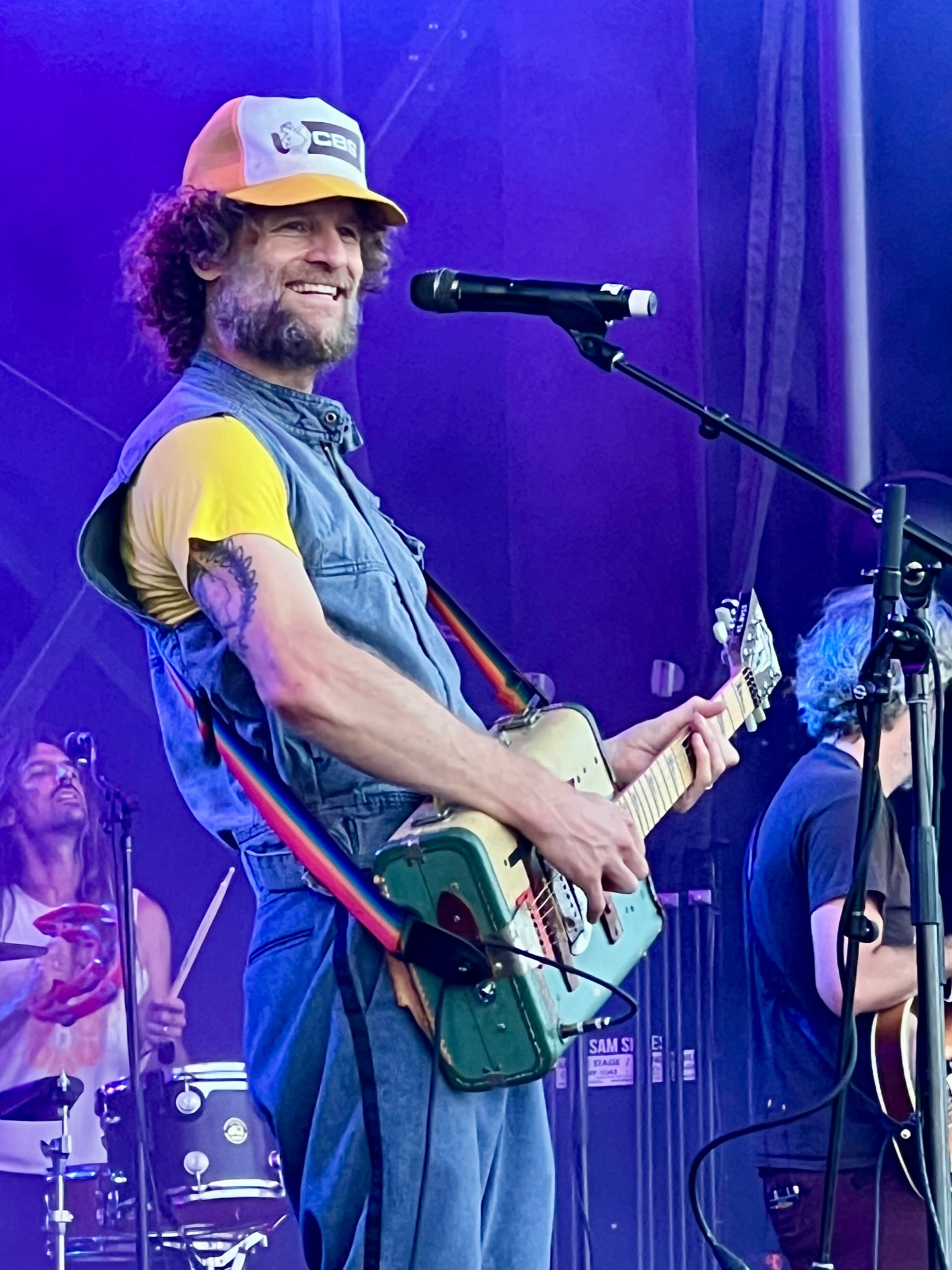 Dispatch finally returned home to Beach Road Weekend and exceeded the expectations of this highly anticipated reunion. With roots on the Vineyard, there was a little something extra special about the band playing their songs in the island air surrounded by friends and family. Lead singer Chadwick Stokes greeted the crowd in kindness saying, "Good to see all you beautiful people," as they transitioned to a land acknowledgment - the Wôpanâak (Wampanoag) people, who settled this land (Noëpe) at least 12,000 years ago and still celebrate it as home today. Dispatch's catchy tunes, comfort and chemistry on stage, and overall free-spiritedness are what people love about them so much. It was especially fun to watch these musical geniuses switch instruments mid-set; showing us that music runs through their every cell. They invited two guest percussionists later in the set bringing the energy even higher a party/celebration of sorts on stage!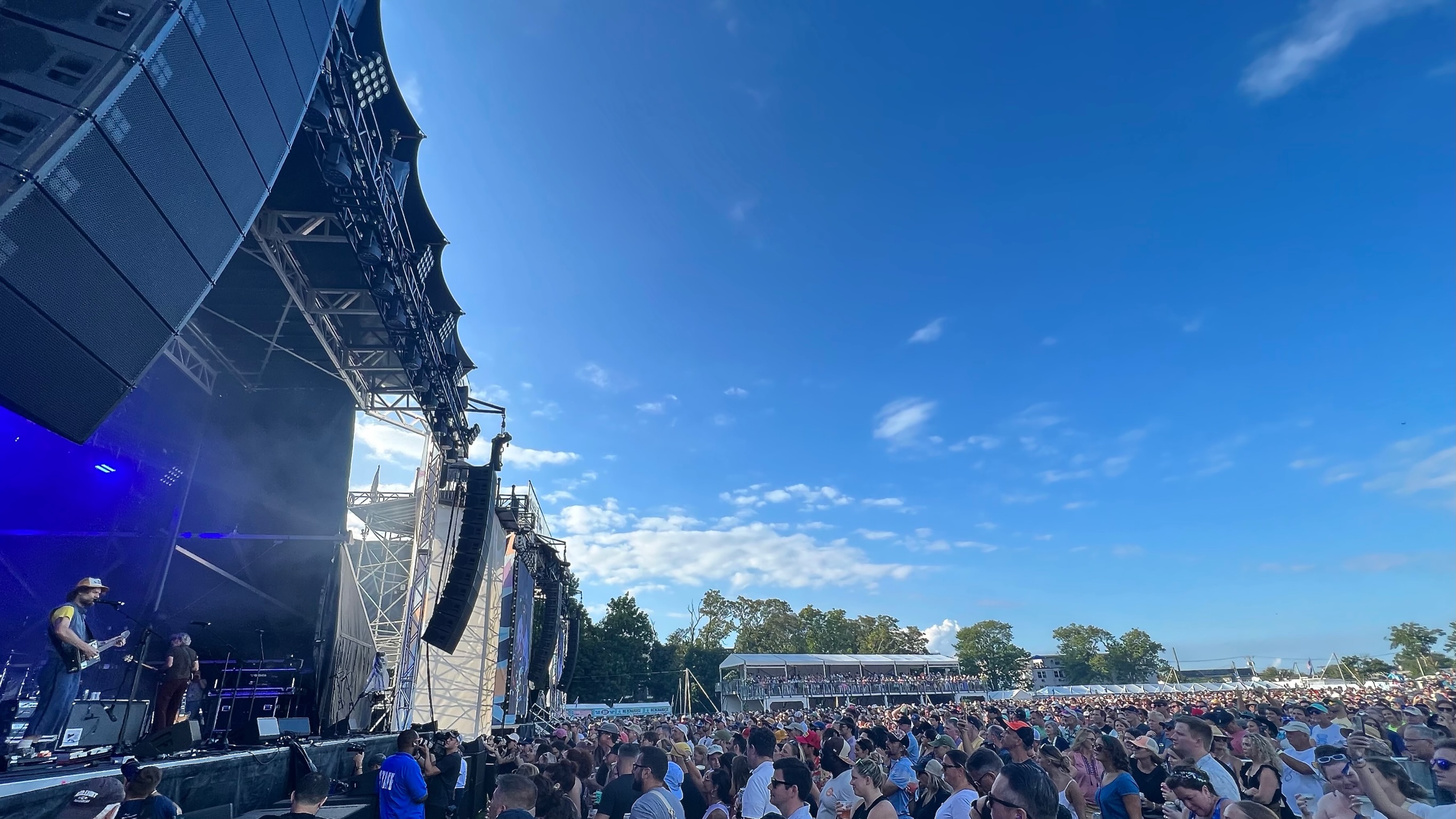 Friends told me to listen for the song about "The Flying Horses," the oldest working carousel in America residing on MVY in Oak Bluffs since the 1880's. They did perform this well-loved song acoustic and those who knew the words sang it loud and proud! Near the end of the show, Stokes lovingly gave a shout-out to Camp Jabberwocky, a sleepaway camp founded in the early 50's for people with disabilities. Chadwick worked as a counselor at Jabberwocky and still remains connected to this beautifully supportive and artistic camp. Stokes told the crowd to be sure and say 'hello' to any Jabberwockyians they might see around the fest! This gesture put a huge smile on my face as the feeling of inclusion felt so palpable in that moment. The show was amazing and the vibe was pure goodness!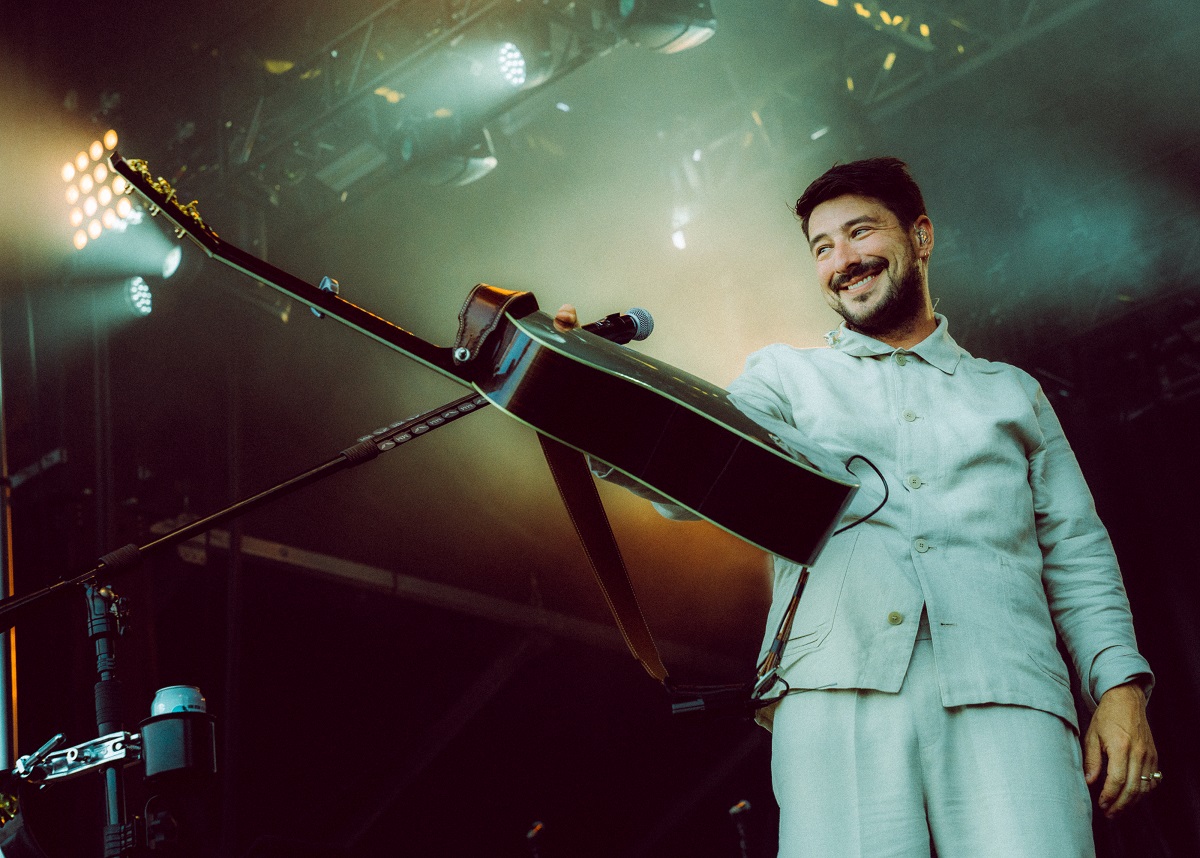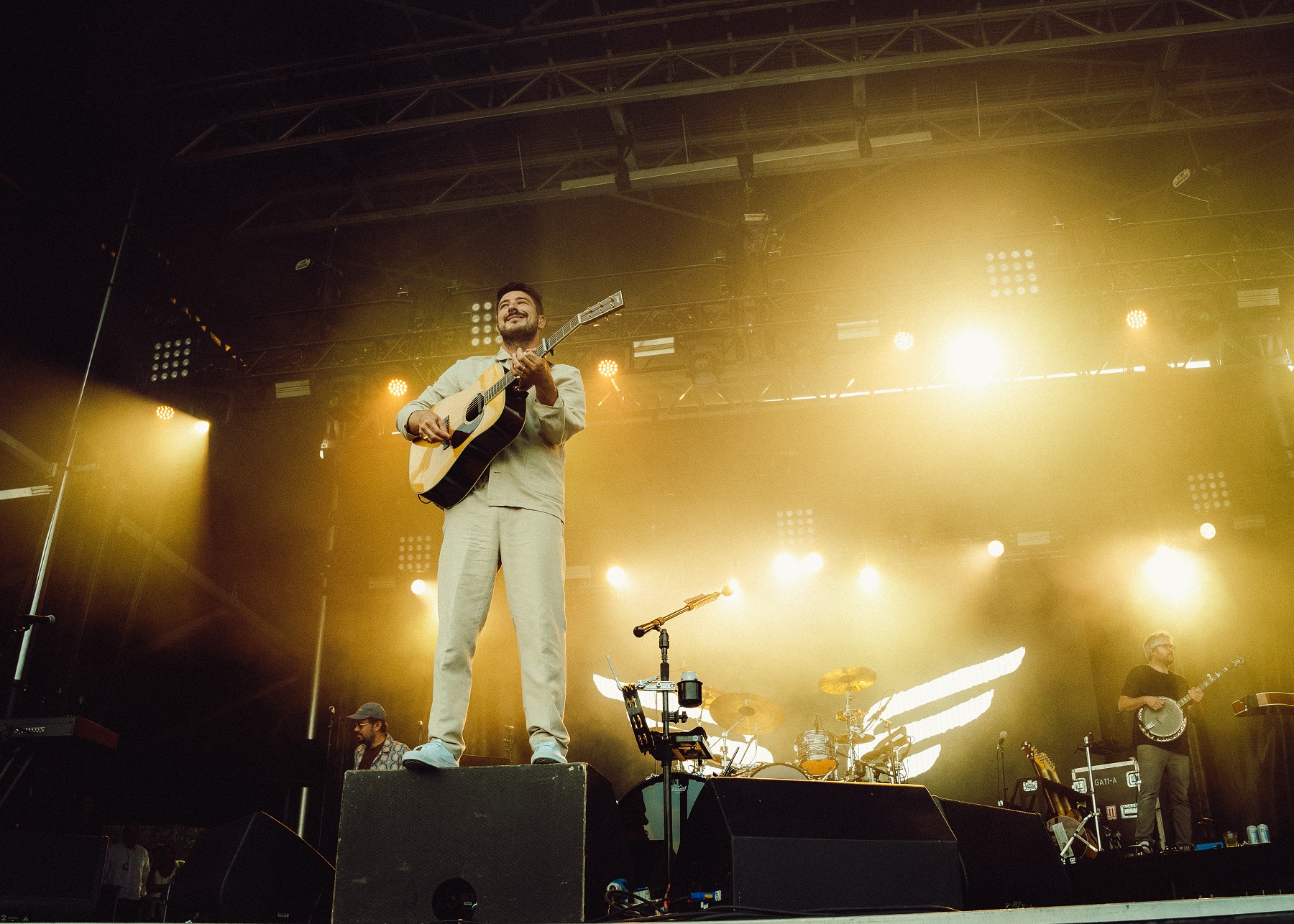 Closing out day 2 of the festival, Mumford & Sons ended with a heart-thumping set that rippled into the night. Etched in my brain forever will be the image of Marcus Mumford standing on a monitor center stage looking out at the sea of smiles; his blindingly beautiful smile shining brighter the longer he stood. M&S started with crowd favorites, "Babel" > "Little Lion Man" > "Roll Away Your Stone". Seasoned Mumford & Sons fans (Mumf Heads?) and new fans alike were way into the show! For their encore, they debuted a new live song, "Maybe," singing it acoustic all around one mic. M&S ended with a crowd favorite "I Will Wait" and evoked some serious feels and lots of singing along. Hopefully, we don't have to wait that long before they come back for another tour in the US! However, we will have to wait for Mumford & Sons to play us the Ted Lasso Theme Song, because that did not happen like I had hoped - "Heaven knows I tried!"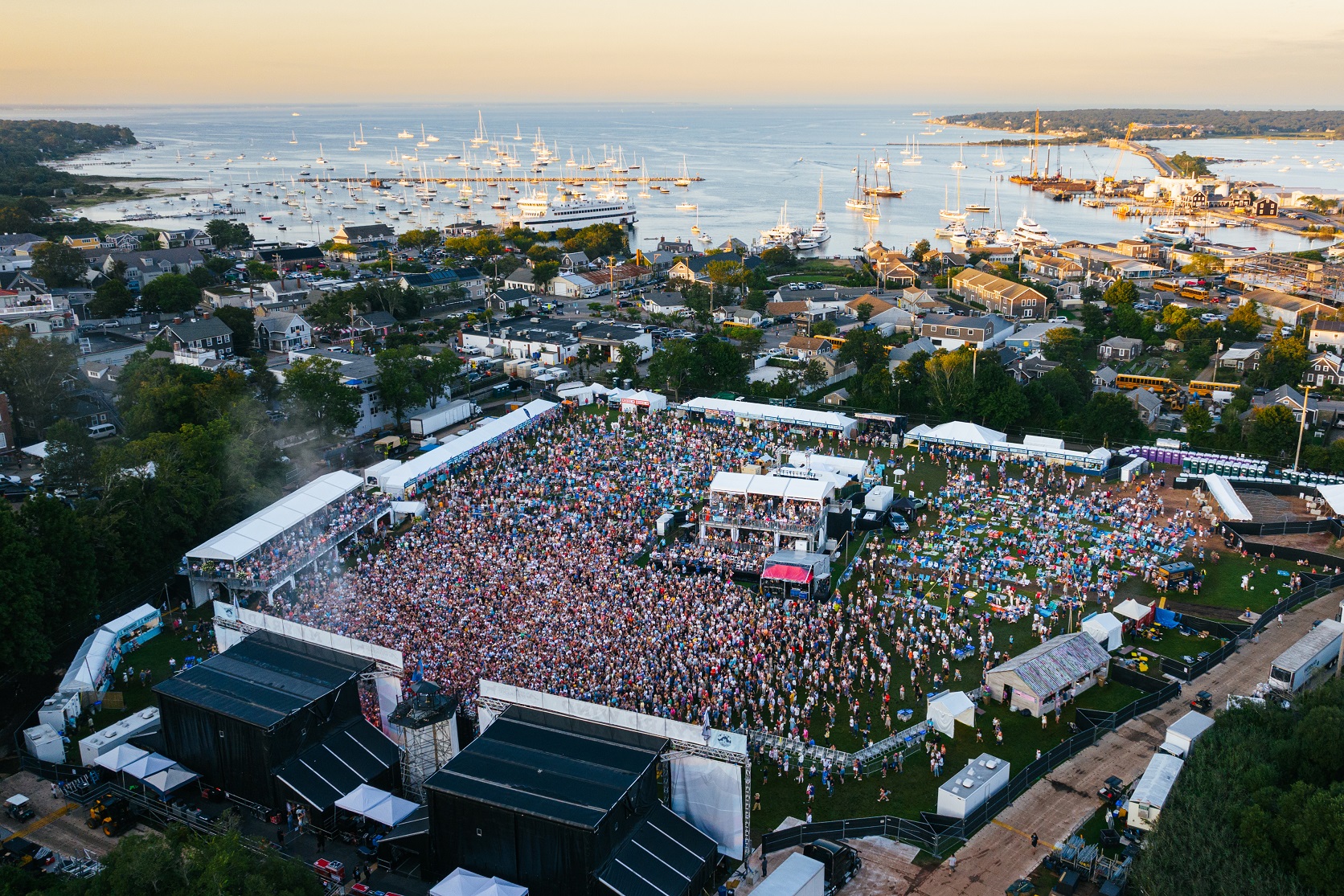 If you have to catch a ferry back to the mainland, the word in town is that it's easy peasy. The boat is less than a 10-minute walk from the festival gate and then just a 45-minute ferry ride to Woods Hole. The headliner ends at 8PM, so even if you're not staying on the island, you and your Beach Road crew have ample time to boogie with some MVY bands on the local stage AND still catch the last ferry at 9:30 PM. Make sure you're punctual for that ferry though, and don't forget to bring your yacht rock smooth sailin' attitude! When that ferry horn blows and the ocean wind hits you, you'll feel like singin' "Summer Breeze" at the top of your lungs, maybe a little Christopher Cross - who knows! No judgments here!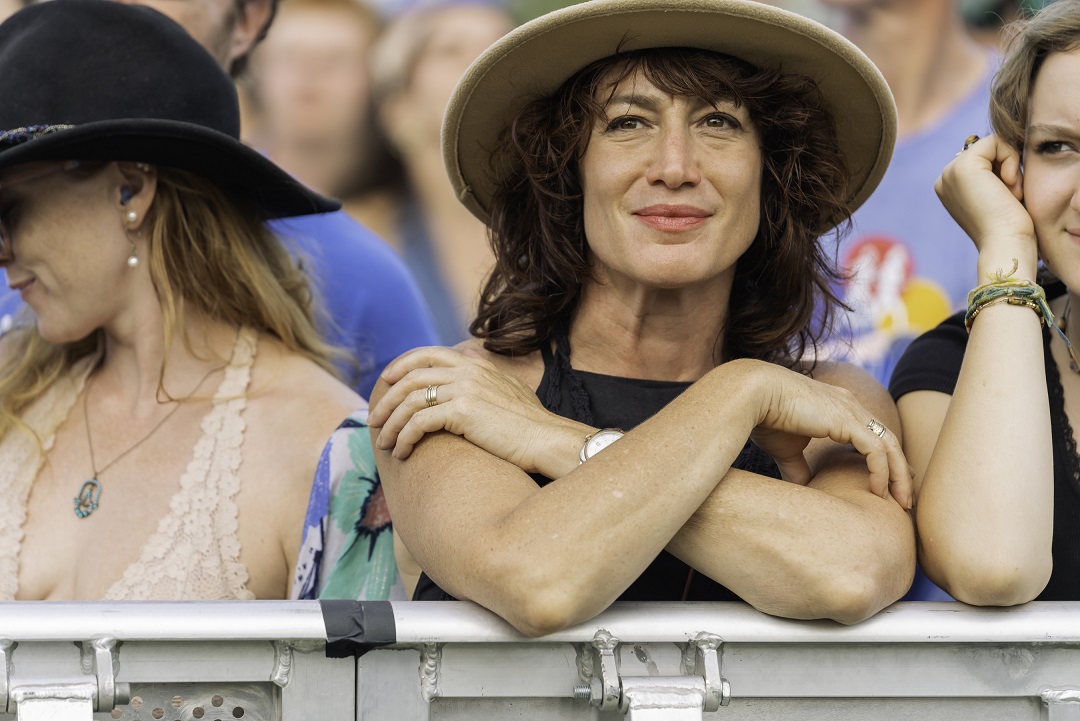 Sunday! Sunday! Sunday was an anticipated funday! Falmouth-based band Crooked Coast started off day three with high-energy rockin' tunes fused with reggae beats, punk, a touch of hip hop, and pop! Pop! Next, Gregory Porter took the crowd to "church," so to speak. His smooth and heart-felt voice turned so many listeners into putty in his hands, molding us into whatever shape he was fixin' to sculpt. Definitely a crowd favorite, Porter is another artist I was unfamiliar with prior to BRW and am grateful to now know.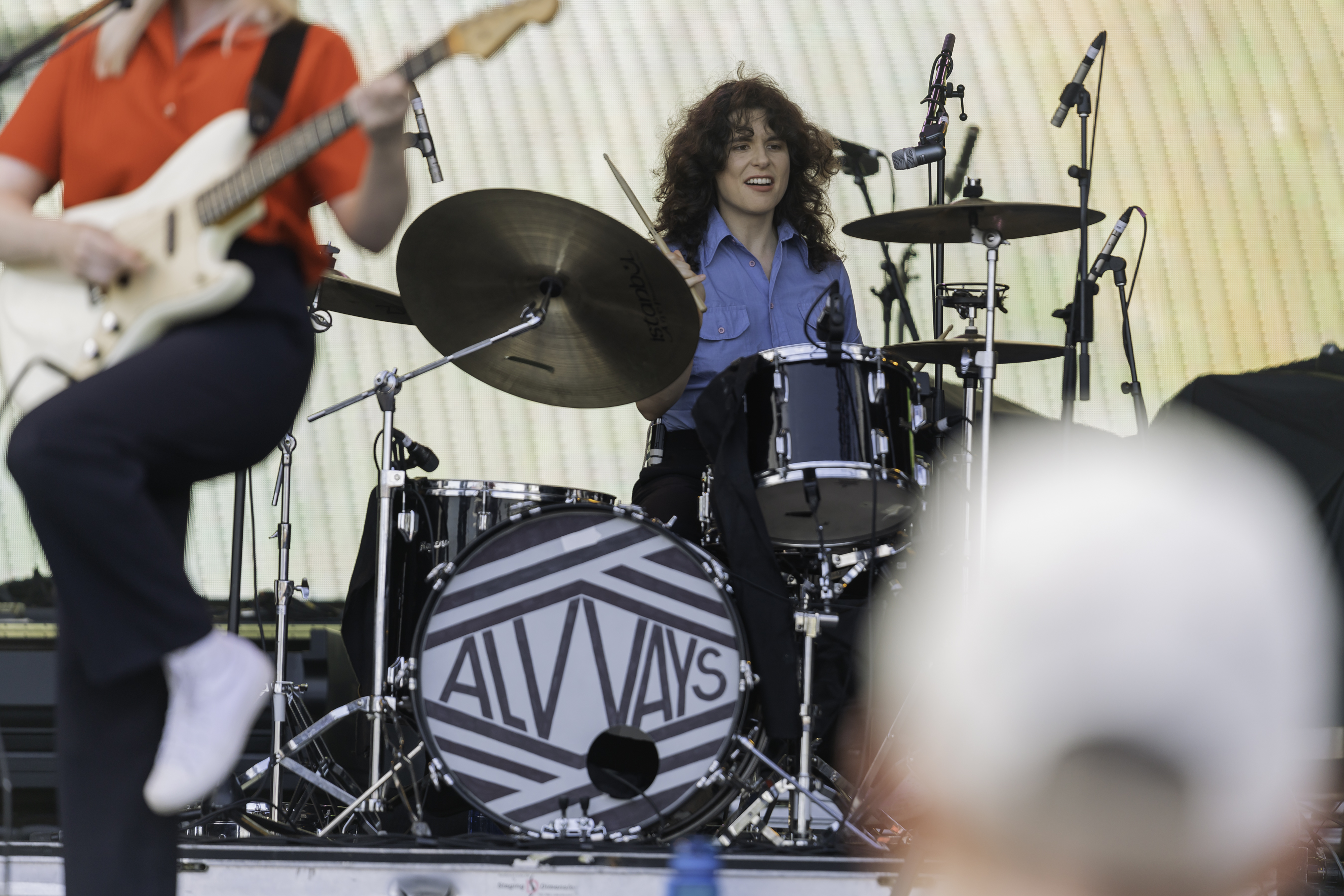 This female-led indie band Alvaays brought an energetic wave of rock to the swelling Sunday afternoon festival audience. I'm going to assume Alvaays always walks away from a performance having just gained legions of new fans because they ROCK THE HOUSE! From Prince Edward Island, Canada to the island of Martha's Vineyard, Alvaays have what it takes to keep on rockin' around the globe, taking their audience for a dip in the sea of jangle pop 'n' rock and leaving folks feeling cleansed, refreshed, and Alvaays wanting more!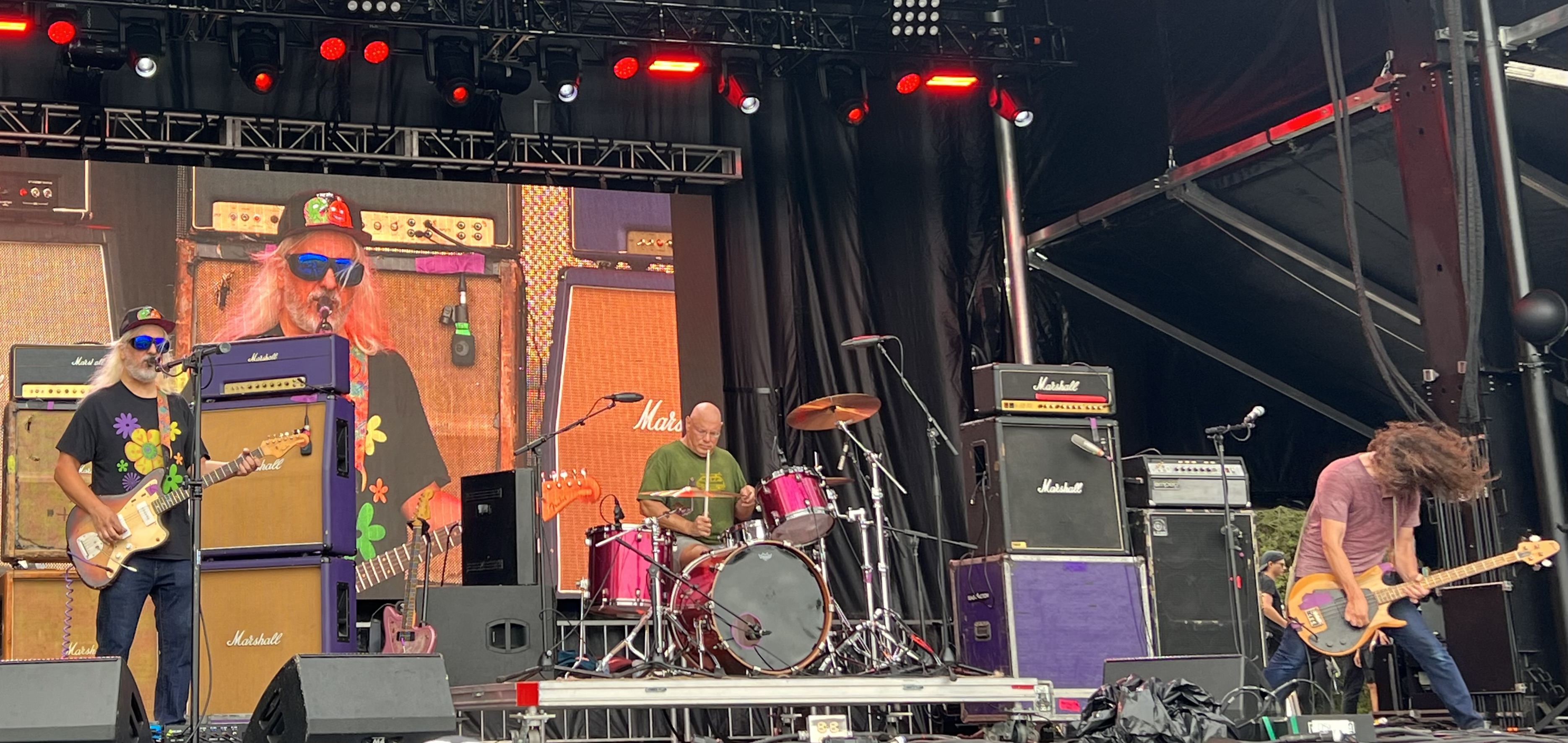 Celebrating nearly 4 decades as one of the most influential bands in alternative-rock history, Dinosaur Jr. took the next stage with some serious distortion and stacked speakers blowing through 12 original tunes, adding one cover, "Just Like Heaven" by The Cure. Seriously, Dinosaur Jr. is still shredding after all these years and gaining new fans young and old…er by the minute. They remain legends and it's clear why when you see them live.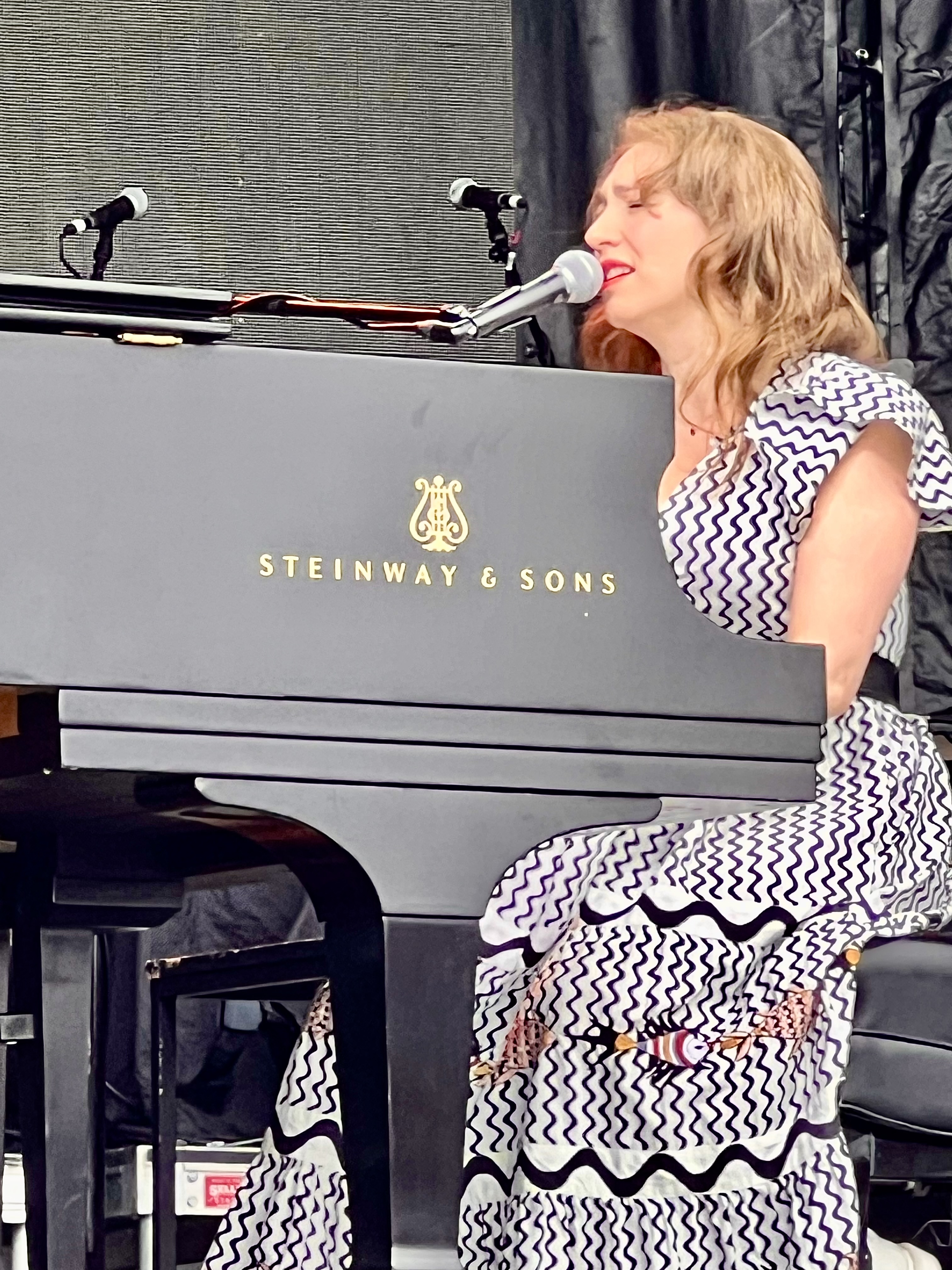 Regina Spektor. I have never experienced so many people moved to tears by the very nature of her presence and voice. Her lyrics are so poignant, powerful, and clever. She sings in absolutely perfect pitch while compassion and fire emanate from the beacon of light on stage that is Regina Spektor. With impeccable writing and wisdom beyond her years; Spektor takes relatable yet weighty topics and eloquently weaves complex emotions into a song, making you laugh and simultaneously cry. She's a truly unique and captivating star that defies simple description. I was told by a die-hard Regina fan that she sang the same old songs she always sang at BRW, but with "different melodies." The randomness and childlike nature of Regina is another thing to love about her. "The smell of fried fish has now been replaced with cinnamon fried dough," she said sitting at the piano. Suddenly there was a collective acknowledgment from those who could smell that sweet cinnamon with smiles, nods, and "Mmmmmm's"! I remember the moment and it made me start thinking about dinner!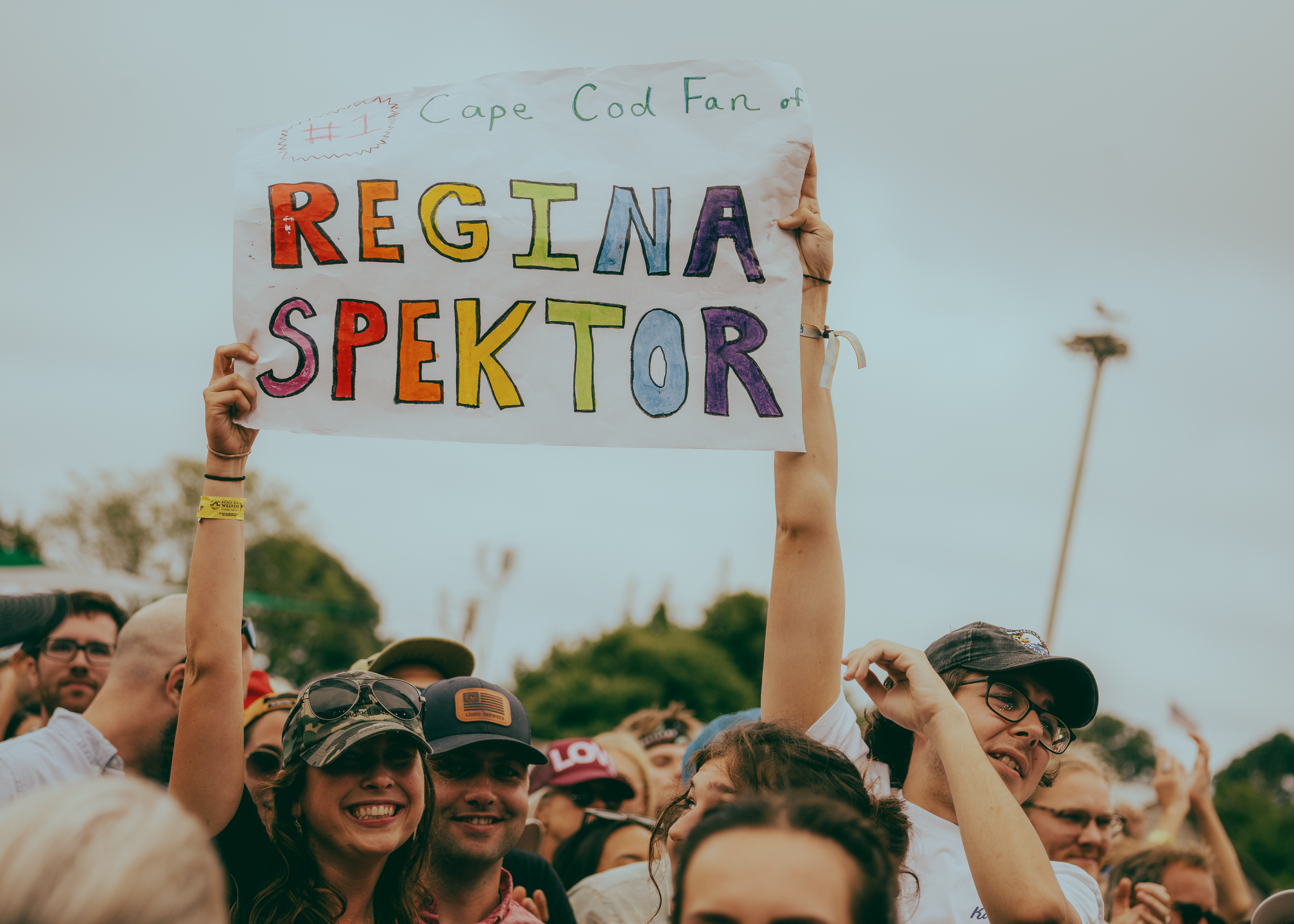 Fueling up with a variety of local vineyard eats inside the festival is not a difficult task. Venders offer smoothies, noods, Indian food, fresh umami bites, and of course the infamous Mad Martha's ice cream (though I do believe you have to walk into town to the Mad Martha's shop if you want a "Pig's Delight" - and this next part is no joke - don't forget to "Oink!" to order that sundae)! Needless to say, there is something for everyone at BRW without having to leave the festival grounds. However, if you do need to leave the grounds, you're less than a ten-minute walk into town.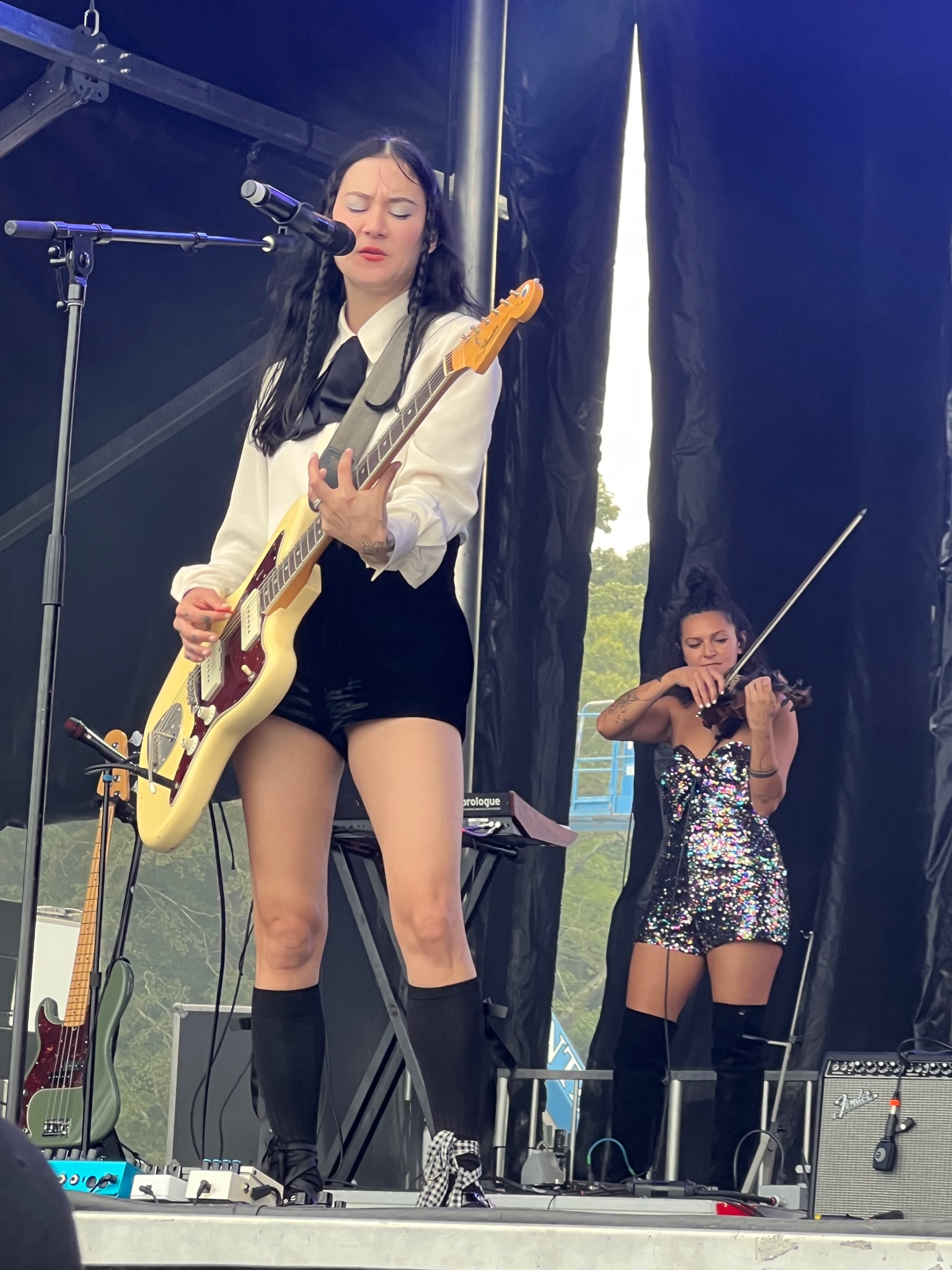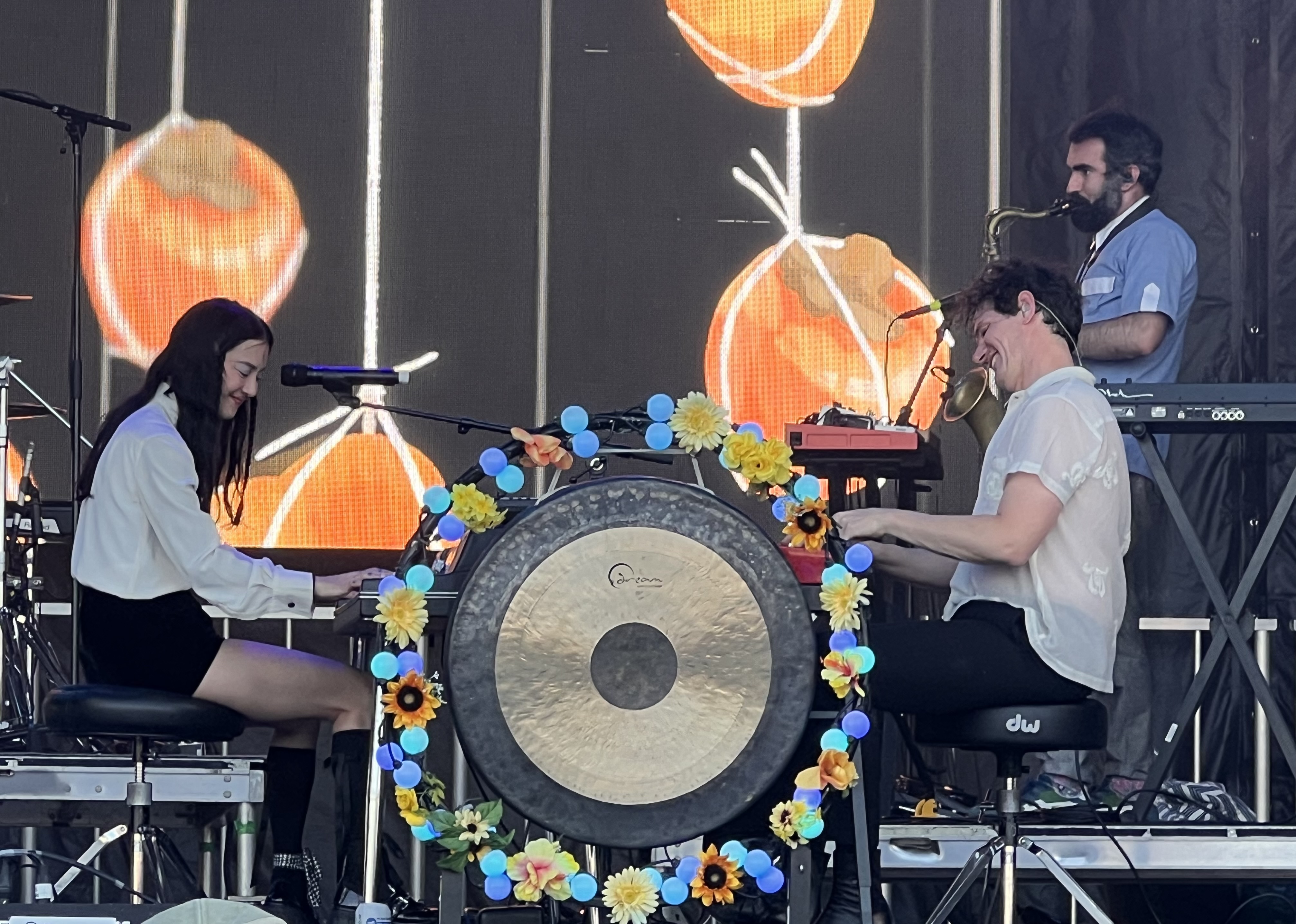 Japanese Breakfast came out hot with an energetic performance and outstanding video/stage production. Images of lead singer Michelle Zauner's childhood projected the video screen behind the band as they launched into songs that told a deeper story. Later, Zauner shared the story of how she and her husband, guitarist Peter Bradley, got engaged - over the phone while he was on a boat to Martha's Vineyard. "I proposed to him. That was before I told him to propose to me. This next song has nothing to do with that," she shared as she, her husband, and the crowd shared a laugh. Japanese Breakfast has such a killer sound & stage presence, they don't need more than that BEAUTIFUL GONG adorned with colorful flowers Zauner bangs on throughout the set, but they give more. The eye-capturing images portrayed behind the band proves there is no limit to their artistry. With the band as the soundtrack, I watched as this apocalyptic dystopian Star Wars-esque land full of beauty unfolds on the screen, wrapping me completely up in the story. Needless to say, see them if you haven't!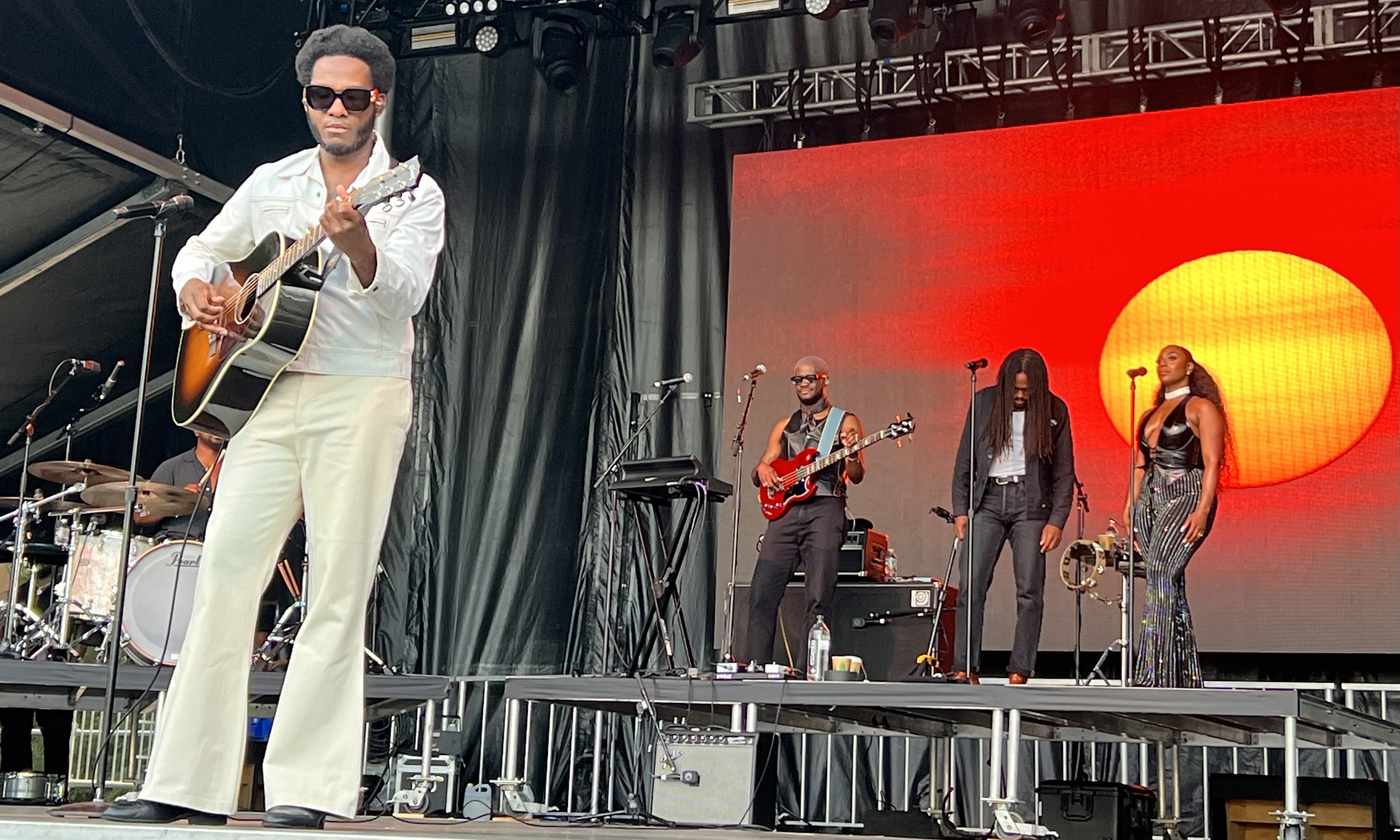 Last, but certainly not least, Leon Bridges tied the whole festival together and cooked up a set that made the crowd salivate. "Oh, baby, you're so gorgeous," he spoke/sang somehow looking into the soul of every gawking human he made eye contact with behind those stylish sunglasses of his, segueing into "Texas Sun" (sans Khruangbian). His mere existence and the ability to write the most profound love songs, even about his Mama, is a gift to all who are lucky enough to hear him and to the world. I left Beach Road Weekend Music Festival with a deeper love for Bridges' music! His performance felt like it went by the fastest, likely because I didn't want any of it to end. No one ever does.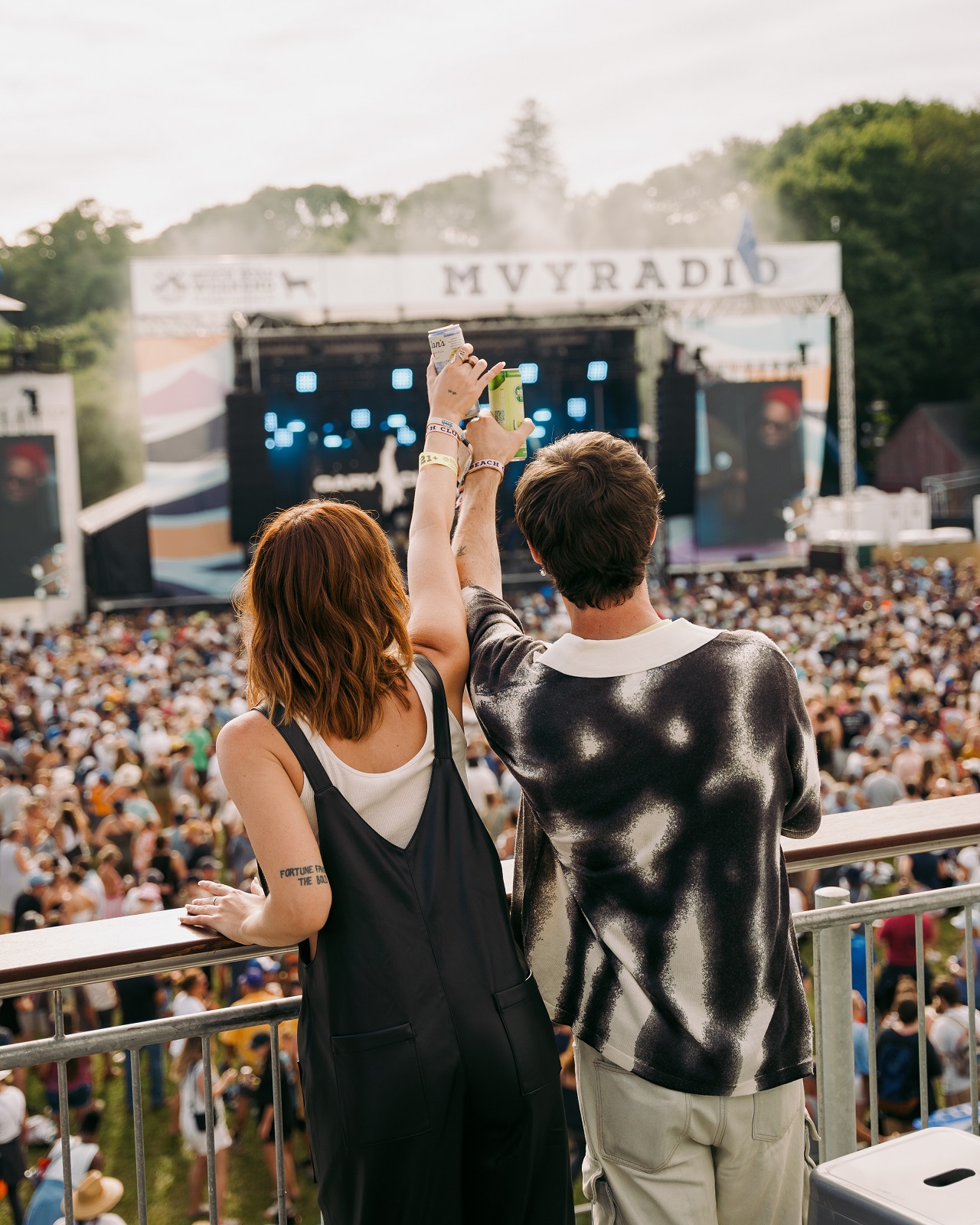 Leaving MVY is always hard (maybe even getting there is, too) but the sound waves left lingering ripples in my music-loving head and heart. We're coming up on two months since the start of this year's BRW, though somehow it feels like it happened last week. Keep your eyes peeled for 2024's lineup announcement come the new year. I know I will! Word has it the small yet mighty 87.48 square-mile island of MVY can't wait to have us back, and I can't wait to set sail!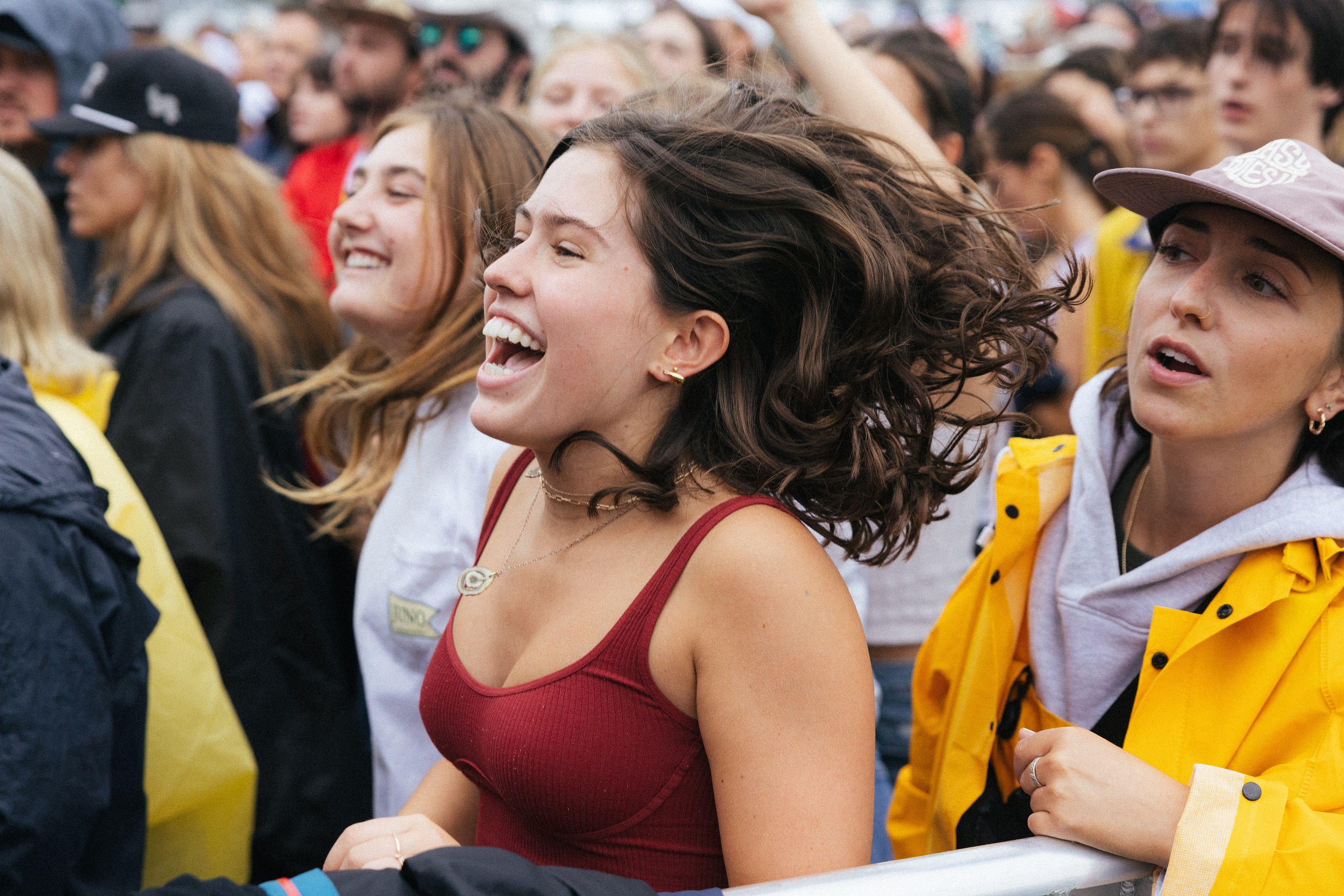 If you're stoked on seeing more photos of the festival, they are easy to find on the web (@beachroadweekend) and via local publications, blogs, social media, etc. I met so many wonderful photographers in the pit over the course of the weekend, all aiming for the perfect shot, unique to their own style, and capturing the ones that make us "Ooooo" and "ahhhhhh." I respect the craft of concert photography so much that I thought I'd give a public nod to these artists showing up and capturing these once-in-a-lifetime moments. Cheers to Beach Road Weekend for doing a fantastic job promoting and capturing the true essence of this festival and a special thanks to CK Communications & the outstanding camera crew at BRW. Rockstars