The only hikes I've been going on lately are price hikes. Seasonal work has me dealing with feast or famine and unfortunately, the feast is just enough to cover the famine. Then the celestial bodies align and the American dream comes into focus. Believing in your dreams like the constellations in the night sky will lead you back home again on Labor Day weekend to Camp Shaw in Manteno, IL to Shoe Fest. The carefree spirit that allows families and their dogs to attend and feel safe is the pinnacle of comfort. Extended hands of mercy, grace, courage, and forgiveness are epitomized at Shoe Fest.
Shoe Fest hikes are a gathering of kindred spirits down by the river. It's a celebration of growth, both personal and collective. There is something so special about crossing the bridge over Rock Creek. Shoe Fest falls on my birthday, 9/2. It's magnificent, really. This year was so great I wanted to give something back for all I was given in what culminated as the BEST BIRTHDAY EVER. Here is an ode to all my wonderful Shoe Fest friends walking hand in hand with the land, a humble token of my heart-felt appreciation. Here are your Shoe Fest horoscopes from me to all of you beautiful humans.
Virgo (August 23 - September 22) This one is dedicated to Frances (9/12/1981 – 8/15/2012). You, dear Virgo, are the peaceful dove, the common grey partridge finding harmony in the music at Shoe Fest. I want to love ya, and treat you right. This weekend of music spoke to your soul because you appreciated the artistry and, at times, the imprecise precision of the performances. As an earth sign, you sometimes forget to play and let loose. Not everything has to be practical or ambitious. But for integrity's sake, it's important to always carry those who are no longer with us along for the journey.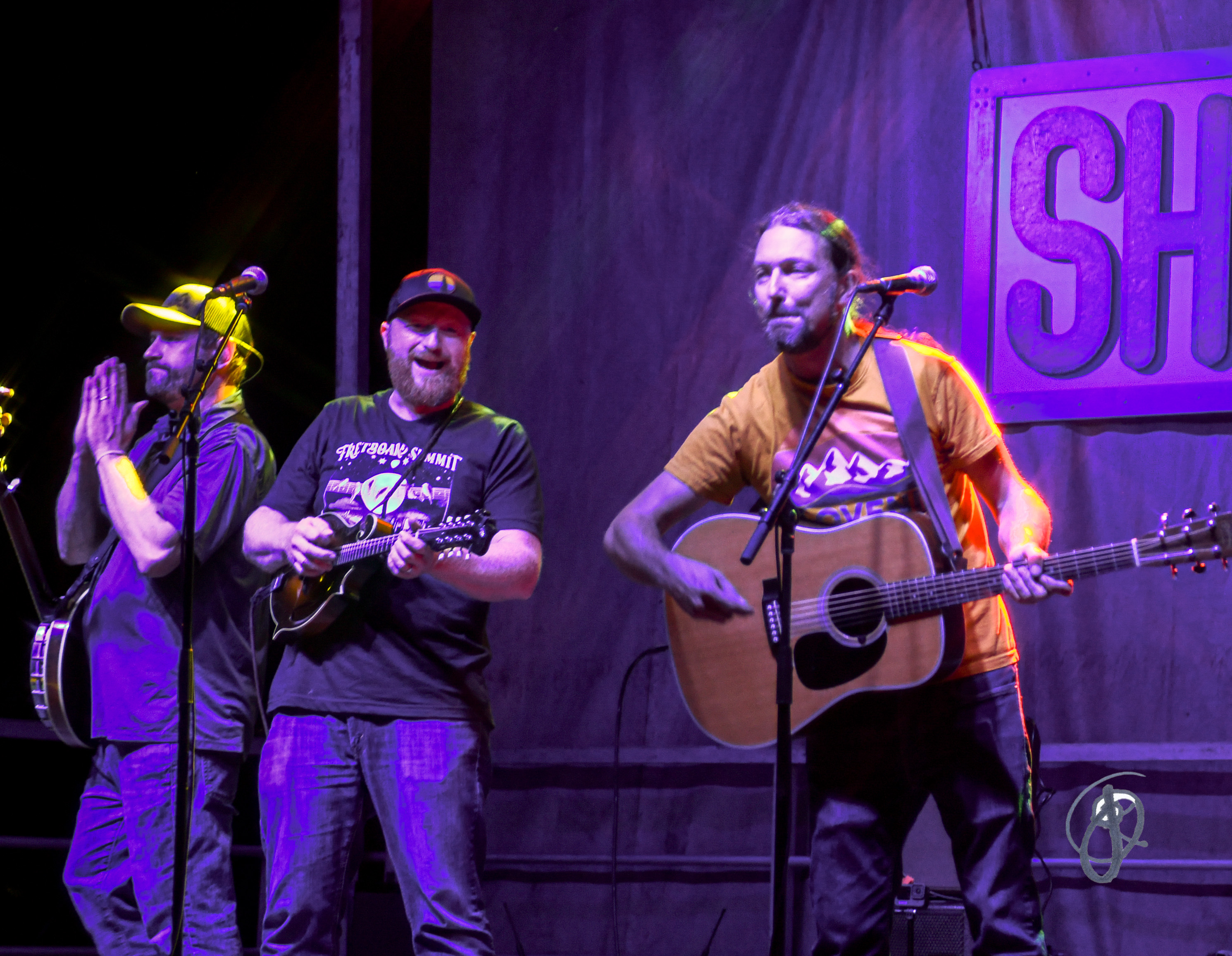 Being at Shoe Fest and witnessing the Grateful String Band play "Midnight Moonlight" with Wavy Dave & Allie Kral nearby was bittersweet. Watching Kris Nowak, the Goat, perform "Terrapin Station" on a Friday night at Shoe Fest was the kind of frolic you truly deserved. It was a moment that reminded you of the importance of letting go and enjoying the music. It's painful to remember the good times of the past that cannot be repeated. However, seeing the Mayor of Frankfort, Illinois, Steven Haberichter, performing with Pete Simth and Garrett Degnan that night felt like a beacon of hope for the world. It's moments like these that remind us of the power of music and community. A Shakedown beer at Work Force Brewing will always taste like bittersweet tears, whether they are shed for Jim Boukas or in this case, in memory of Frances. Does the music sound better because it sounds like memories of you, or are there songs to fill the air because you were here?
Virgo is on a quest to find out. I hope you keep asking that soul-searching question throughout your entire life. Friday night at Shoe Fest, the Grateful String Band embodied every sentimental emotion, a true rock 'n roll newgrass band. The crickets and cicadas sang, "If it's the end or beginning," in both controlled and unleashed fury. It was a moment of perfect synchronicity among all those present and those lovingly departed from moments of swinging to seriousness to serene contemplation. Walking along the watery creek line, Shoe Fest offered a moment to simply be content.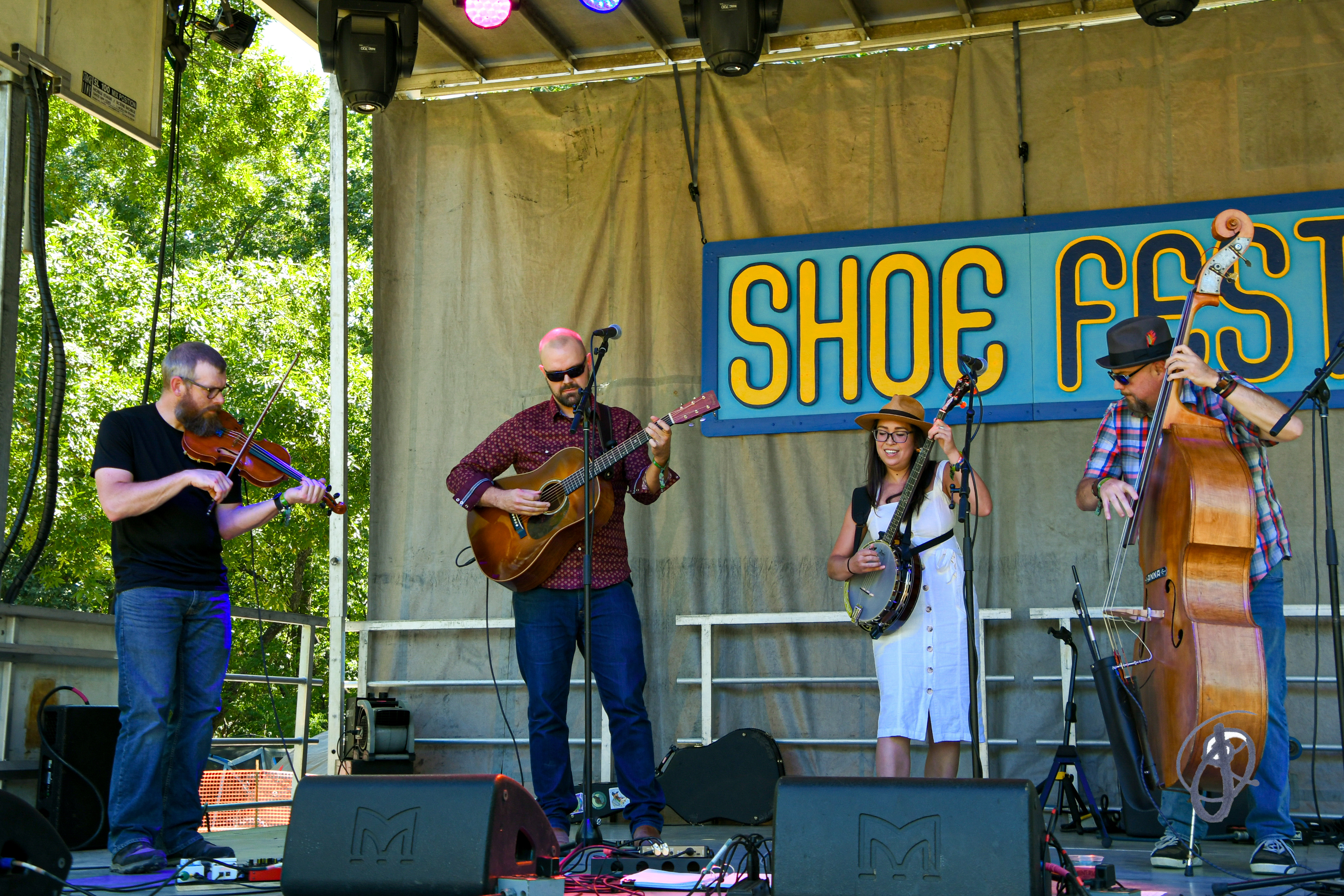 Libra (September 23 - October 22) At Shoe Fest, your inner unifier takes flight, much like the graceful Swan of Camp Shaw. With effortless grace and beauty, you dance through the festival grounds, uniting all who cross your path. Wheels North was the perfect set for you, a classic and colorful journey that resonated with your sense of balance and harmony. As Hayley Hasegawa-Skreens added her playful vocal pops to Mark Frystack's rendition of "On the Road Again," it was like the bubbling of morning coffee, awakening your spirit.
For you, Shoe Fest is not just about the music; it's about embracing the entire circle of life in perfect harmony. When Wheels North covered Pink Floyd's "Time," the sunshine emerged, warming the land and filling you with joy. The whole world seemed to smile alongside you. They say that no one works harder than a Libra because they will do anything to reach the good part, swiftly. But at Camp Shaw on a Saturday morning, you exemplify the art of relaxation, much like a swan gliding gracefully on the water.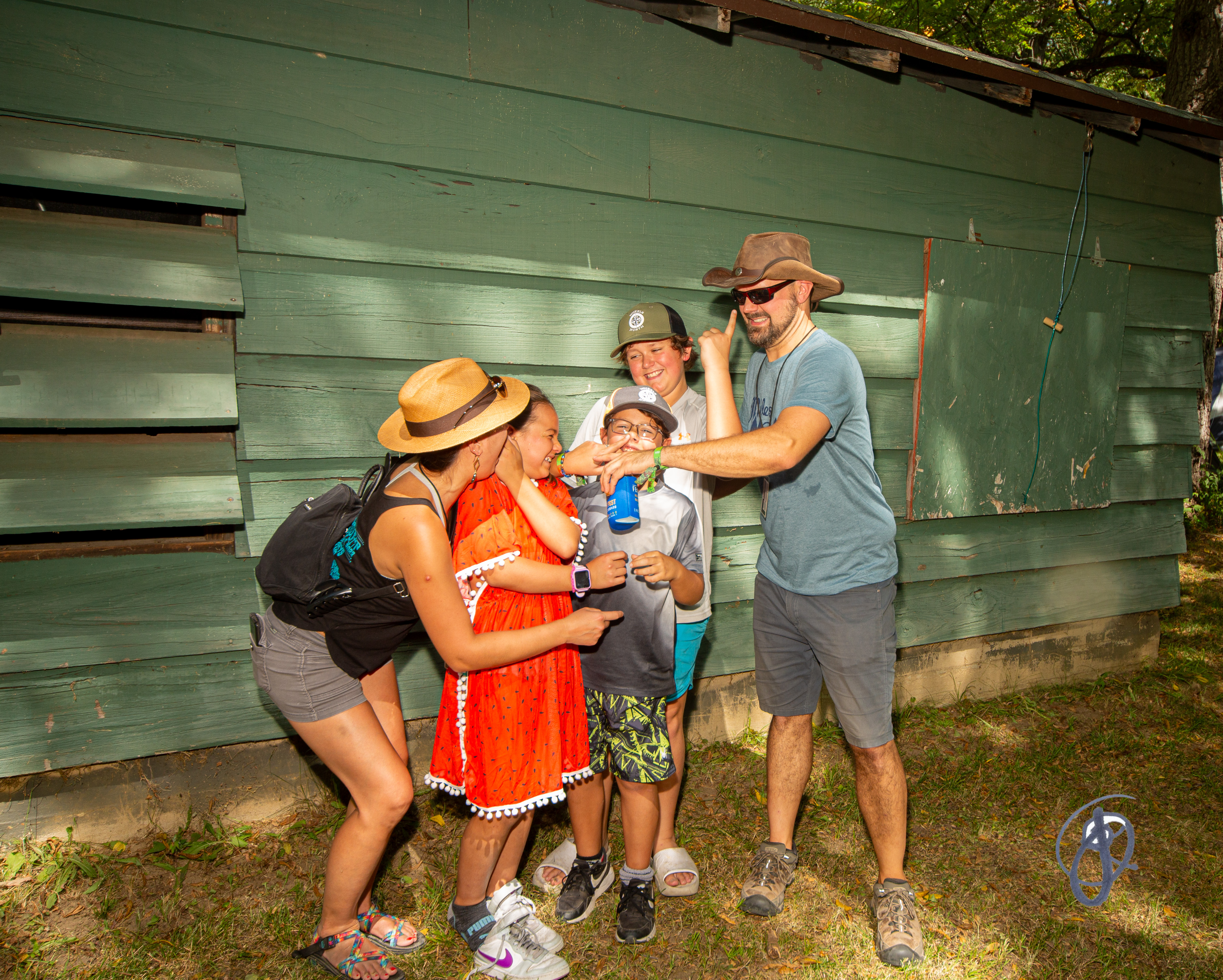 As Carrie Sue and the Woodburners took the stage after that set on the Uncommon Stage, you floated between the Civil Engineers, Joyful Bubbles, and the soulful melodies of lady love on the mic. Saturday at Shoe Fest found you carefree, your inner scales perfectly balanced in the festival's vibrant atmosphere.
Scorpio (October 23 - November 21) Shoe Fest offers you the opportunity to savor the rich local flavors you crave. You possess the curiosity of an elusive pheasant, always eager to uncover hidden depths. On Sunday night, during the second-to-last performance, you likely found what you were seeking with the Krasno Moore Project. There was ample space for you to get up close to the action while still allowing room to breathe. "That's What Love Will Make You Do" stirred memories of past Shoe Fest moments with Melvin Seals gracing the same stage. It exuded sensuality and uniqueness, grounding you as the music flowed through your soul.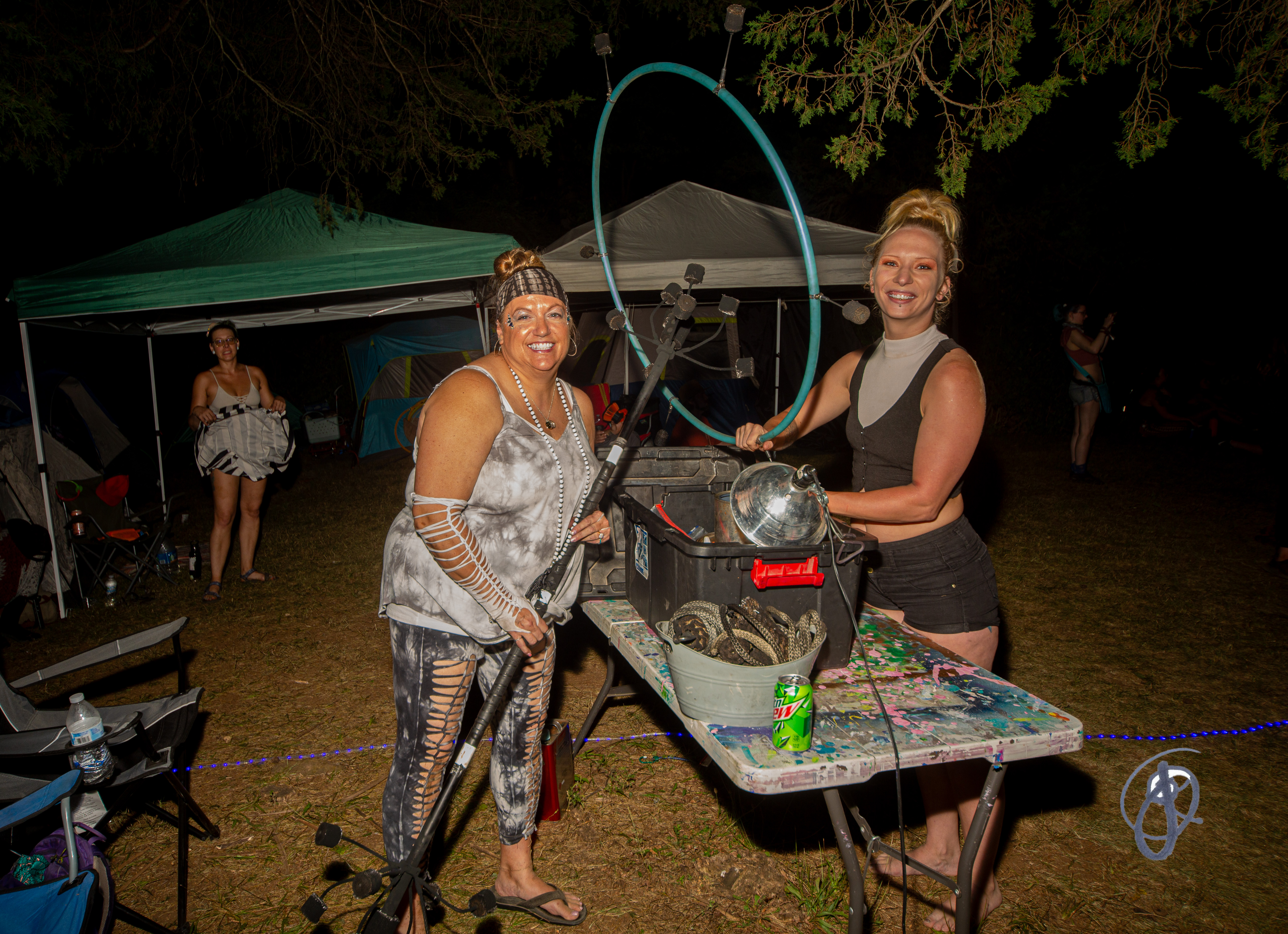 When the band launched into Jimi Hendrix's "Fire," you couldn't help but be drawn to the enticing and sweaty energy of the crowd. The weather was perfect, fostering a sense of freedom. Stanton Moore's dynamic drumming upfront allowed you to fully appreciate the rhythm on full display. The Krasno Moore Project, combining elements of Soulive, Galactic, and Lettuce, provided just the right twist to get you grooving, Scorpio.
Sagittarius (November 22- December 21) This year at Camp Shaw, you experienced a musical journey at Shoe Fest that exceeded your expectations. You are the official red-tailed hawk of Shoe Fest because this event allowed your spirit to freely explore a wide range of musical styles. You were energized right from the opening set by Here Nor There on Friday, but your heart truly resonated with the spirited storytelling of Chicago Farmer on Sunday afternoon. From Jaik Willis kicking off the day's festivities to Mr. Blotto's performance on the Bent River Stage, you were on cloud nine all weekend.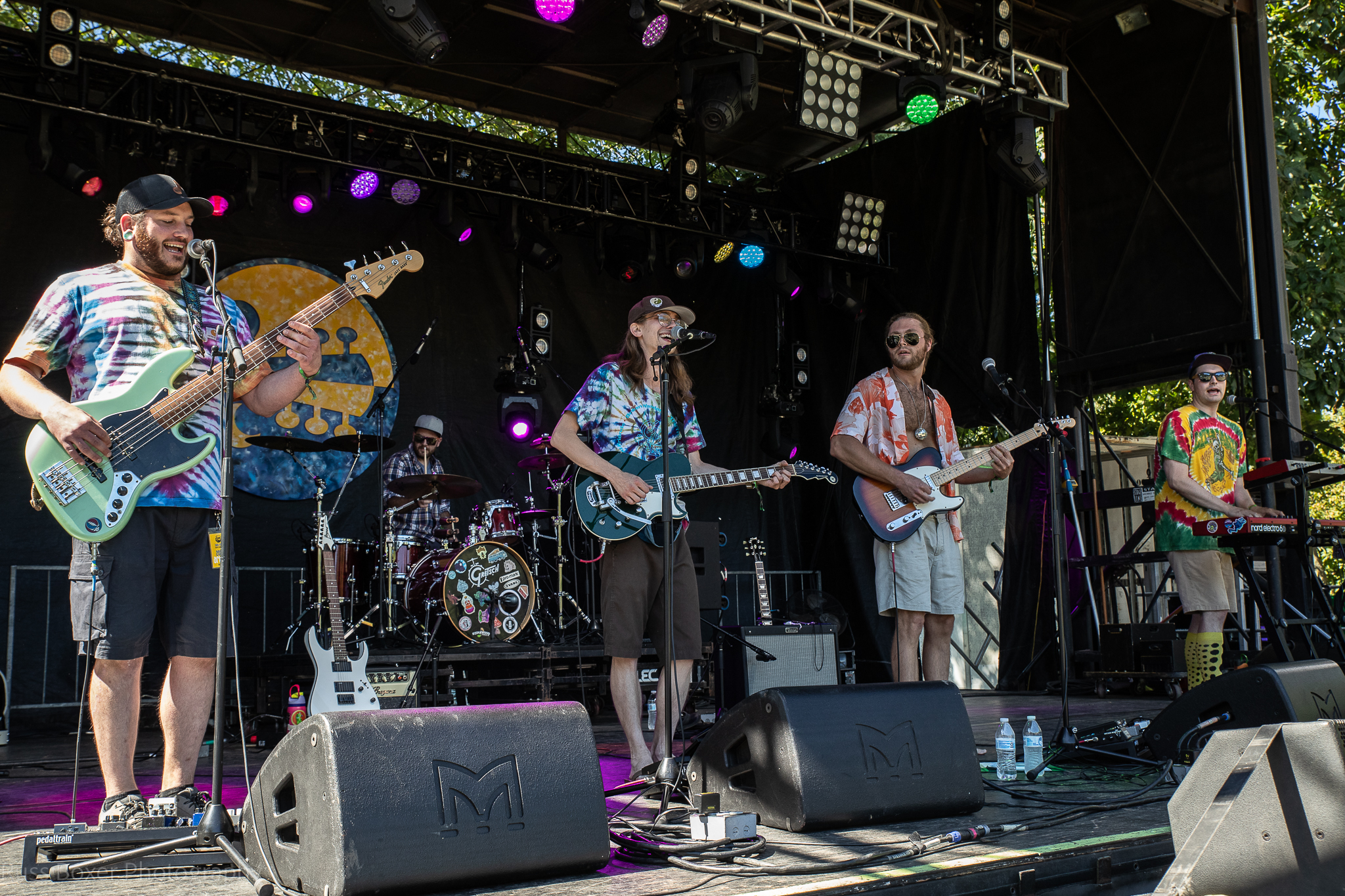 The combination of enjoying music while the kids created art with Jon Griffin generated an electrifying atmosphere that brought you closer to the action. Typically, you prefer observing from above, but Shoe Fest had you swooping down to the creek and up behind the stage to catch "Deer in the Sky." It appears that in Illinois, spending time by the roadside is a common pastime.
The 38-minute rendition of "13 Dollar Beers" would have been absolutely perfect for you. Chicago Farmer is a man of the people, just like you.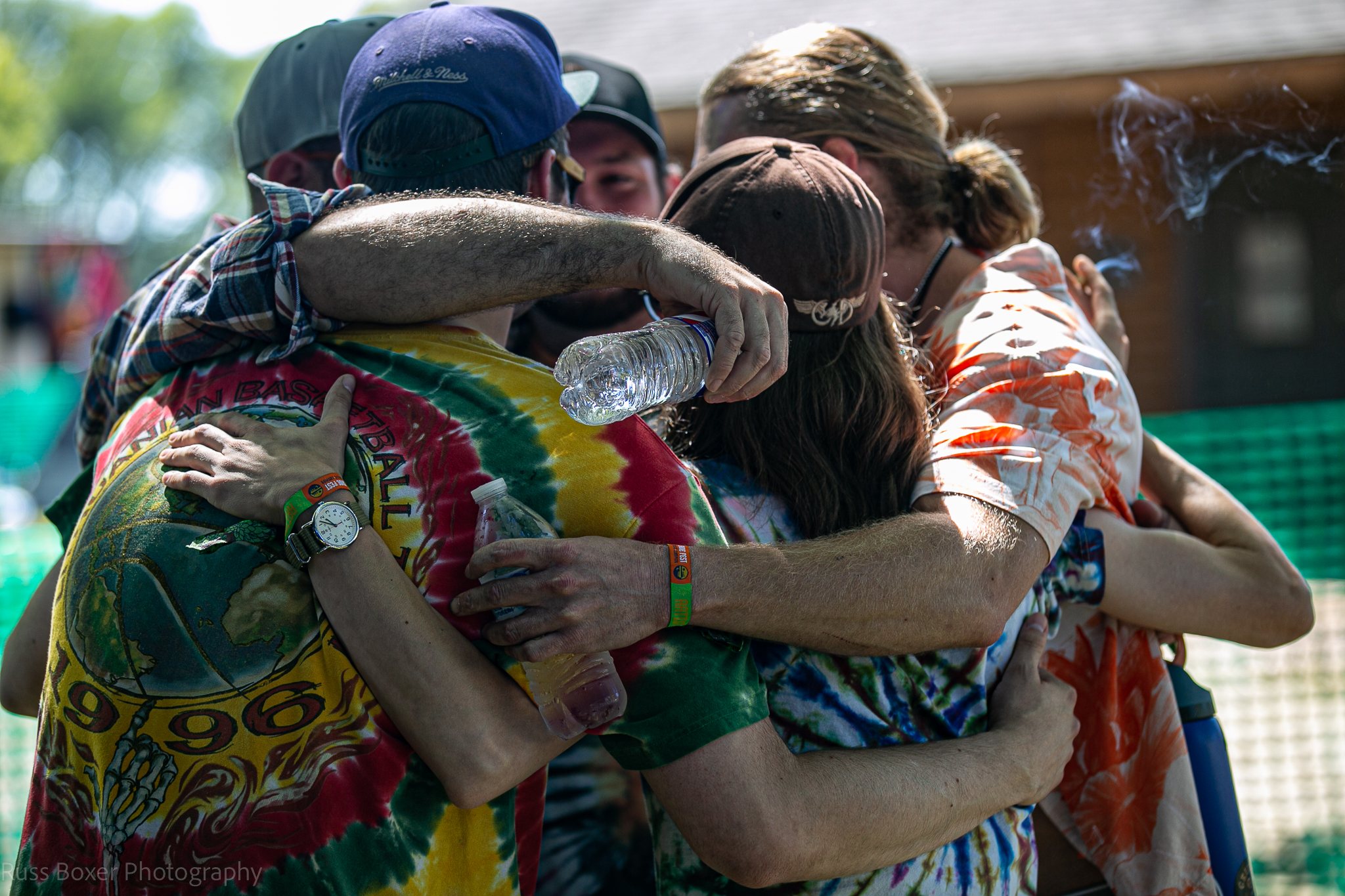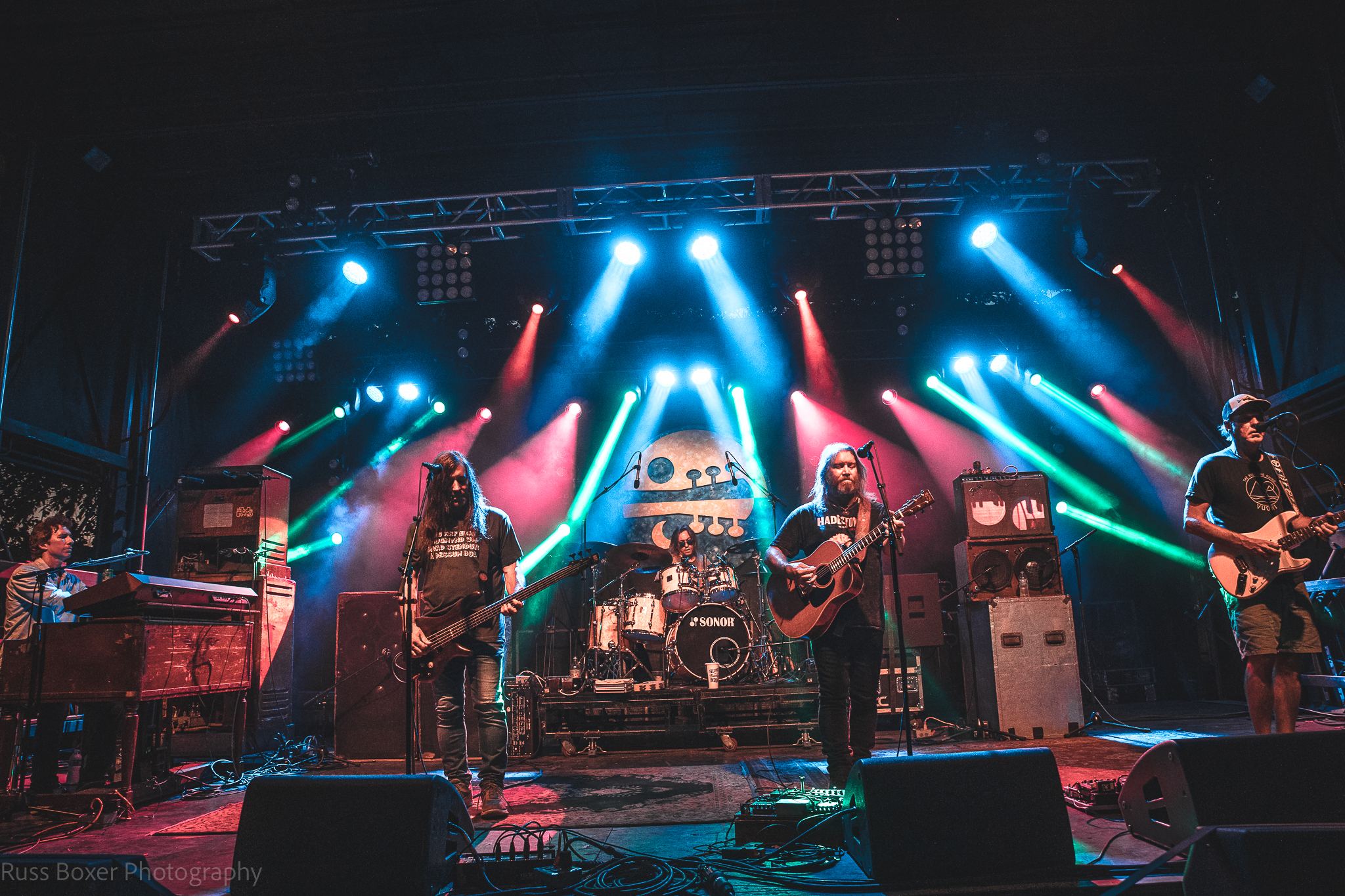 Capricorn (December 22 - January 19) Capricorn, your astute observation skills make you a wise owl when you take in the surroundings at Camp Shaw. You greatly value the profound sense of community that Shoe Fest offers. Your refined taste led you to Sierra Hull's Saturday performance, and her rendition of "How Long" resonated with you, particularly the lyric, "Can you see the lighthouse shining on you right now?" Your appreciation for Del McCoury made her cover song a comforting experience, offering a fresh perspective on a familiar tune.
When technical issues arose during the event, you, like everyone else, found solace in the idea of being "Beautifully Out of Place." The energetic performance by Bel Affleck and recreated by Sierra Hull stirred your soul, despite the initial volume. Eventually, you found a comfortable spot towards the back where you could fully enjoy the grooves. Later on, you moved closer to catch the performance of the soft-spoken Goddess of the Strings, understanding more than most that life's imperfections hold their own unique beauty. The infusion of jazz and the unexpected electric riff in the "Middle of the Woods" made this experience feel comfortable like an Old Shoe. Your wise owl instincts allowed you to see through the darkness, Out of my Blues, and appreciate the magic of the moment.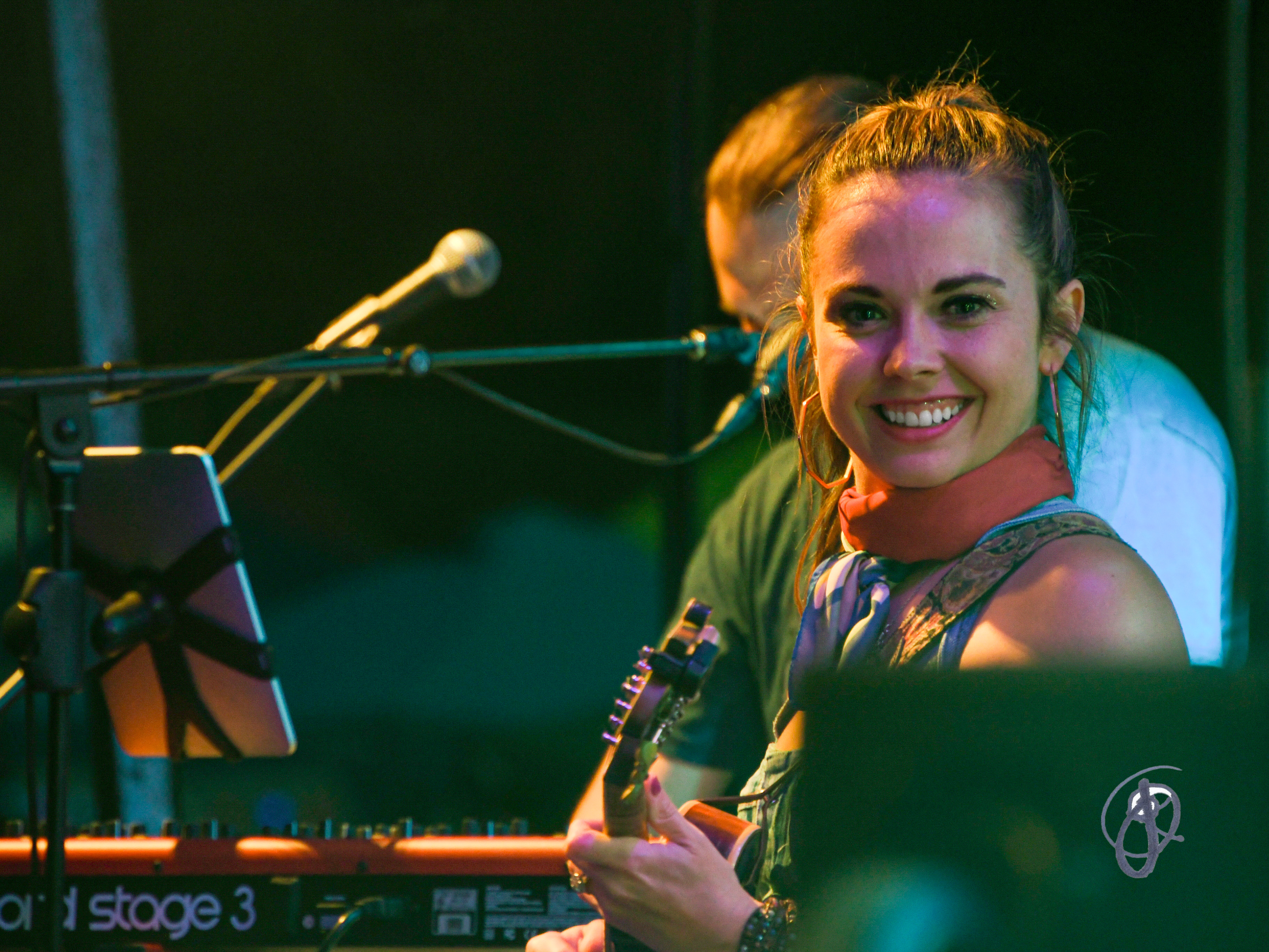 Aquarius (January 20 - February 18) At Shoe Fest, we celebrate the unique rhythms of every attendee, cherishing each person's individuality. You, my friend, are akin to the woodpecker of Camp Shaw, enthusiastically tapping into the vibrant revival of Backyard Tire Fire. It was evident that this performance was going to be explosive, even blowing the roof off the sky. Backyard Tire Fire, a long-standing band, seemed to have hit their stride during this string of 2023 shows, and you were likely not only present for their Shoe Fest performance but also for other dates.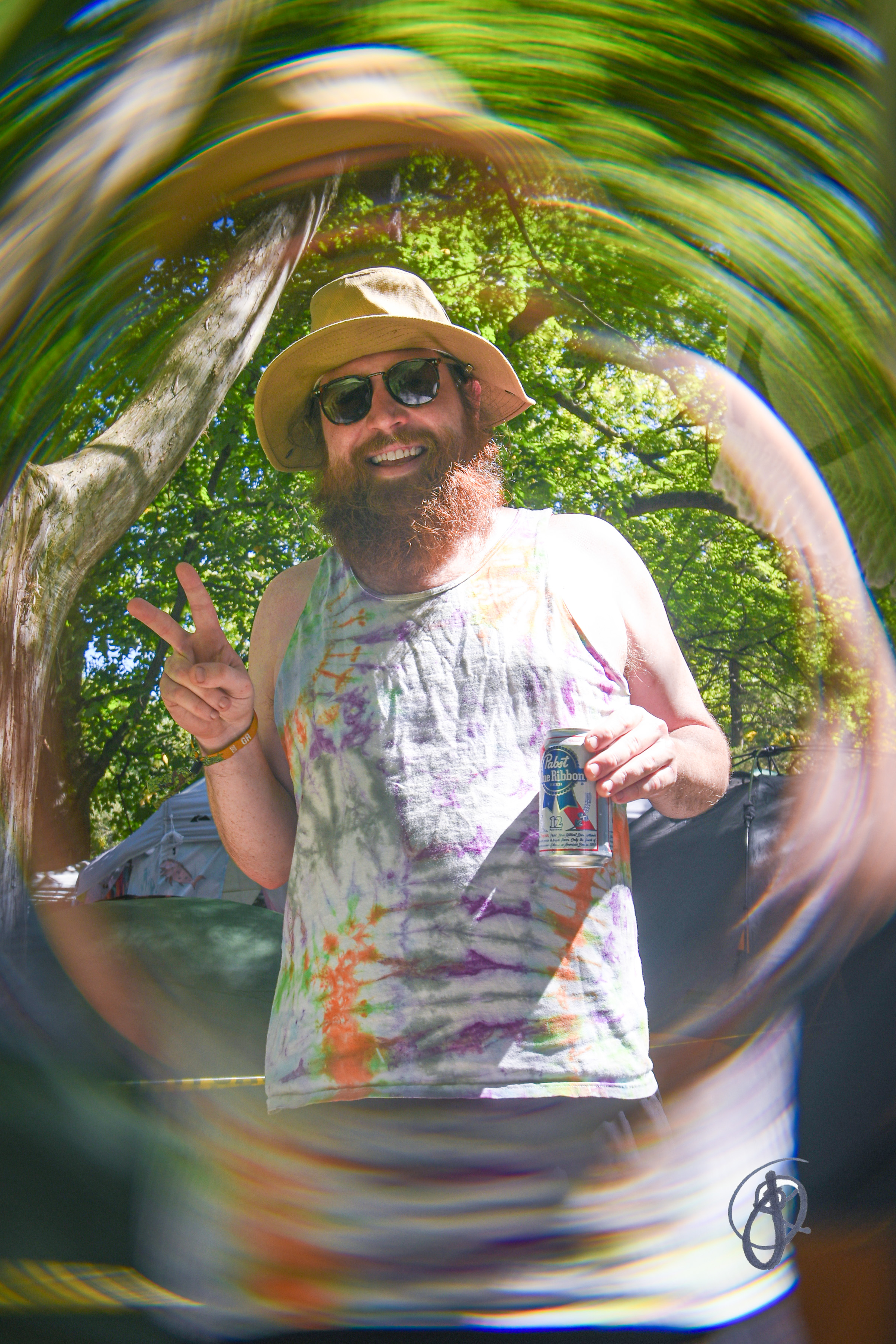 Dancing alongside Hippie Stew, you found yourself in the company of a crowd you're proud to be associated with. The 2010 hit "Road Song #39" brought innovation with Allie Kral's electrifying performance as the Shoe Fest Artist at Large. The lyric, "The rich keep getting richer while the poor stay poor," resonates with you as an anthem, reflecting your disinterest in money as a primary focus. Your philosophy seems to be spending it all and starting anew each day, embracing the essence of what makes life worth living.
"I'm Bad. I'm Nationwide!" captures the spirit of witnessing Ed Anderson and Scott Tipping performing together, prompting your heavy-grunge-loving soul to sing along. While some may be wood pickers, you are more like a Wood Pecker, rhythmically thumping along to the powerful sounds of the music.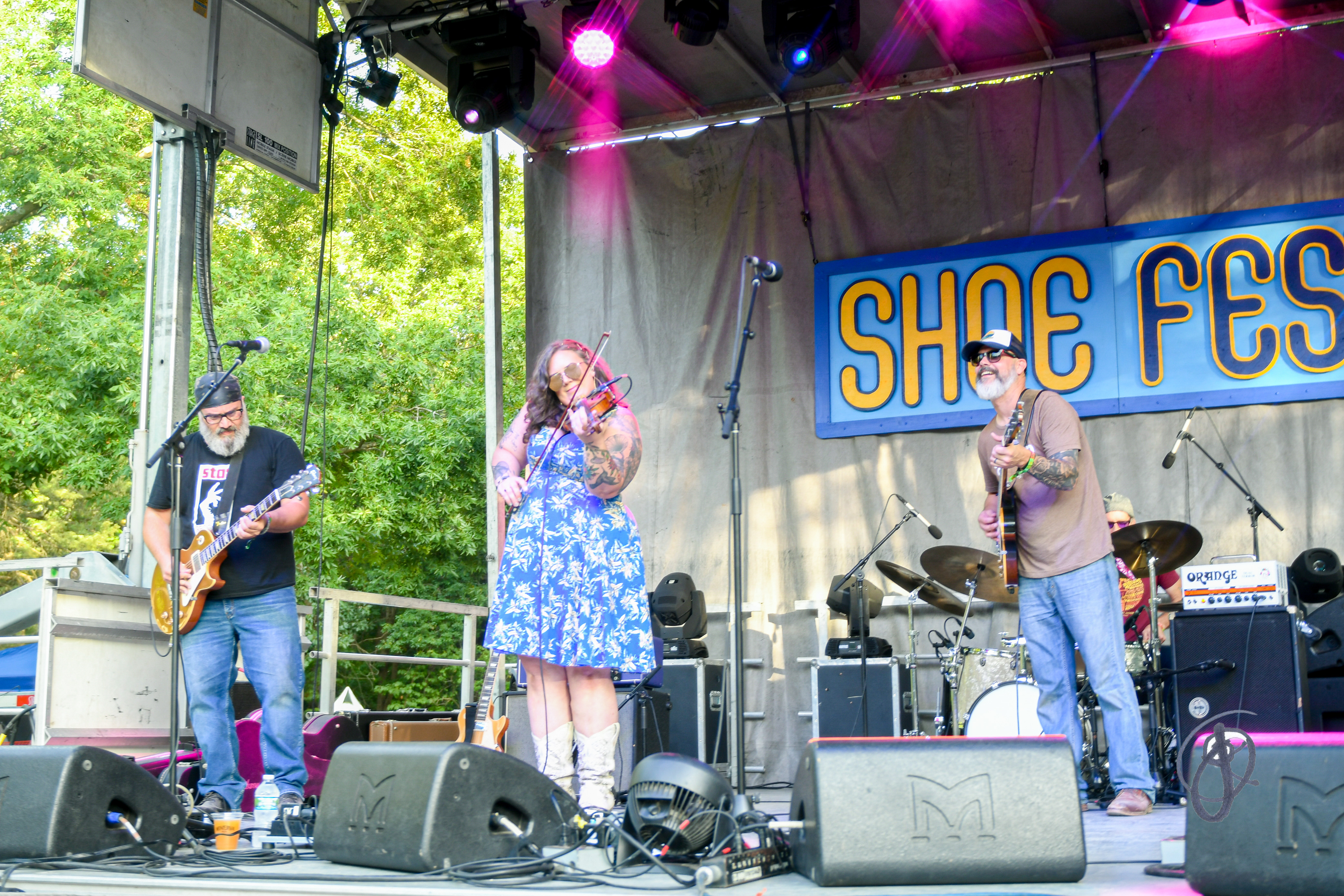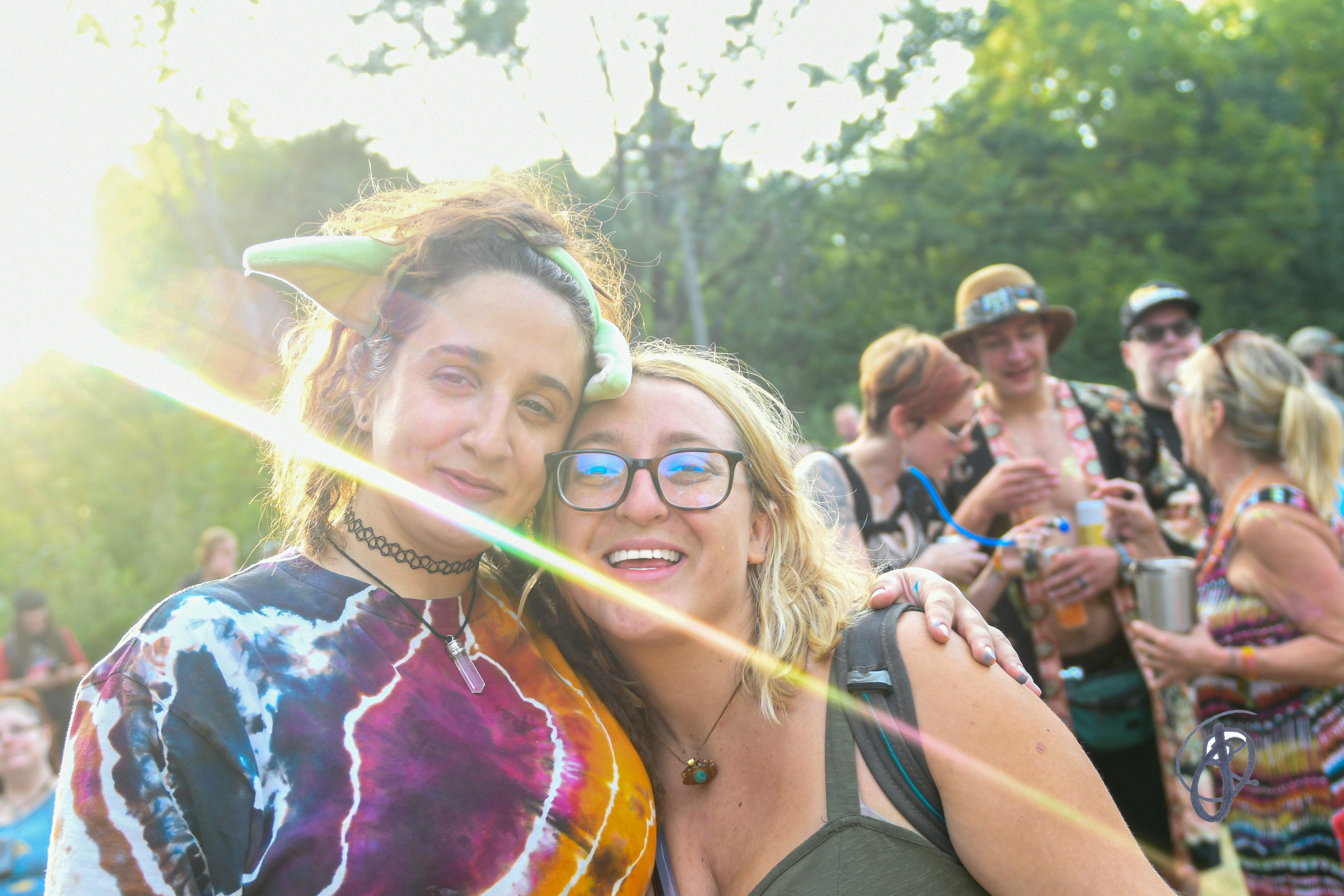 Pisces (February 19 - March 20) While you had initially anticipated Chicago Farmer and the Fieldnotes as your favorites, you stumbled upon Dead Horses, and it was a revelation for you. As the prairie chicken of Camp Shaw, this performance made your vibrant orange plumes stand out even more. Bassist Dan Wolff's skillful bow work added a groove you thoroughly enjoyed.
The song "Family Tapes" spoke to your inner self, with its lyrics touching on memories of yesterday and those small moments that hold a special place in your heart. During this set, the supermoon was just beginning to appear as the sun set on the western horizon. In that moment, you caught a glimpse of the cosmic dance and the profound connection that links your soul's journey to this earthly existence. Everything felt perfectly aligned in your world, dear Pisces prairie chicken. Sarah Voss sang your soul to evolution, to infinity and beyond!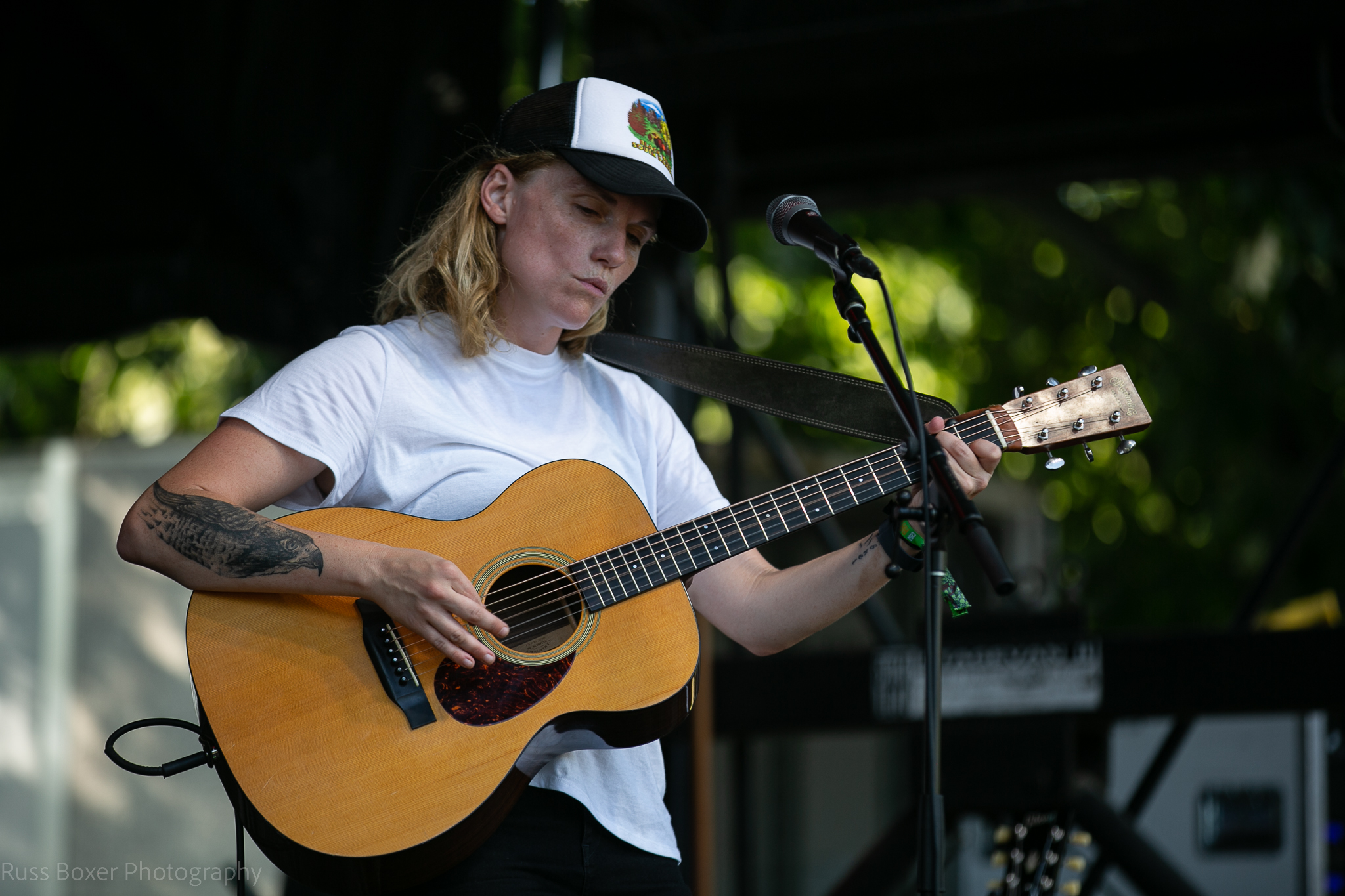 Aries (March 21 - April 19) You are like the bugle heralding the sunrise, a symbol of victory and new beginnings. Winning is something you cherish, and there's no better representation of victory than the fresh start of a new day filled with endless possibilities. At Camp Shaw, you're the canary, singing your own cheerful tune and always eager to assist those you meet. While your helpful nature is well-known, your love for winning is equally significant. Your standout moment at Shoe Fest was undoubtedly the Friday night Old Shoe cover album performance because you had a strong hunch about it. You had been gathering clues and were quite confident it would feature reggae music. When they launched into "Trenchtown Rock," you felt a profound connection with the big blue supermoon and radiated for all to see. Winning!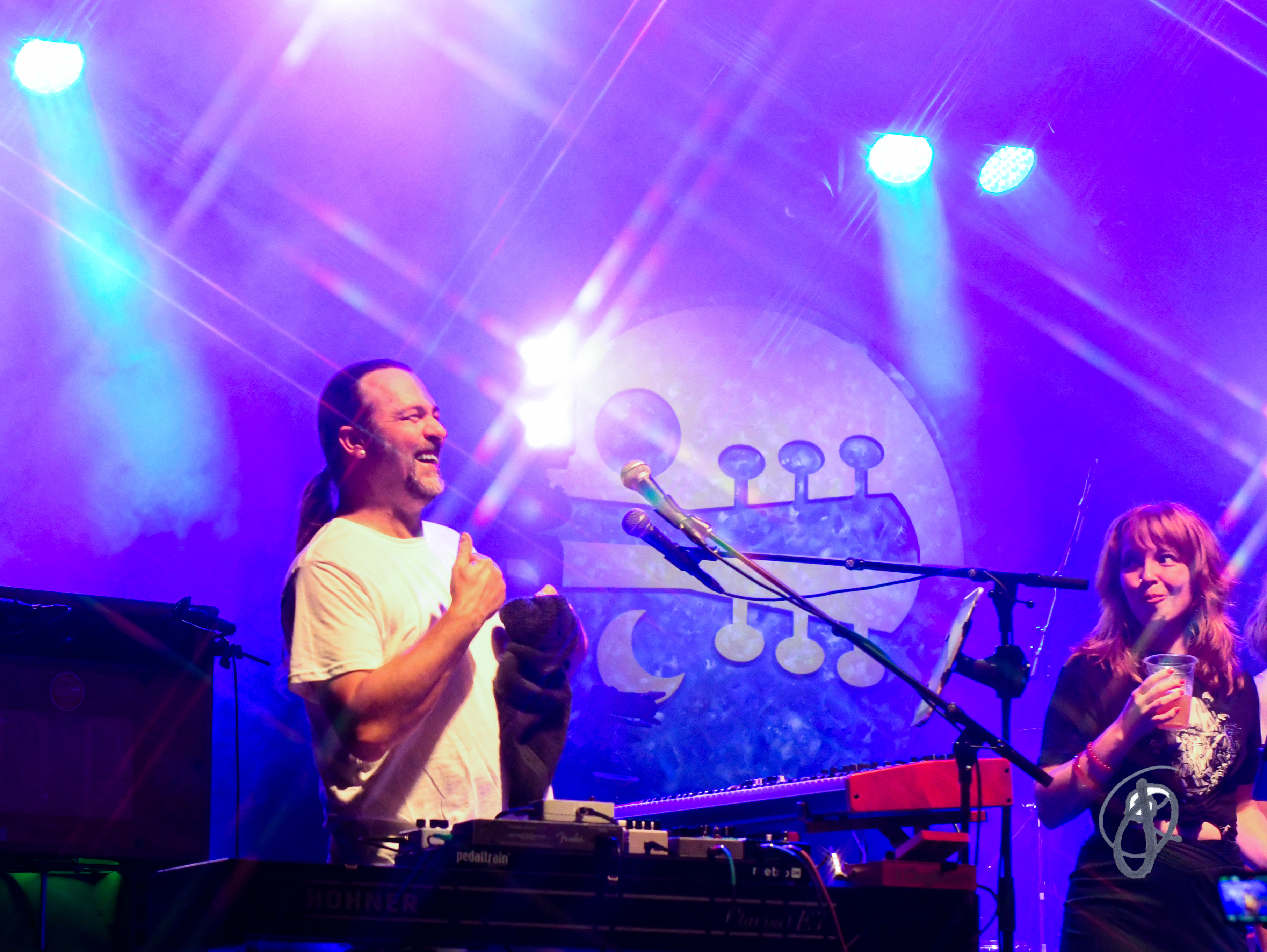 Your charming and adaptable demeanor allows you to navigate various situations seamlessly, and you were attentive to the conversations around you, always striving to connect the dots. Did you happen to guess the specific Bob Marley album they were covering? The 1975 release Live was an excellent choice, as it got everyone irie, which is always your goal of spreading joy and positivity. "Them Belly Full (But We Hungry)" seems to mirror your everyday life outside this wonderful festival. Enjoy the persona you can fully embrace today because Monday mornings often bring out a different side of you.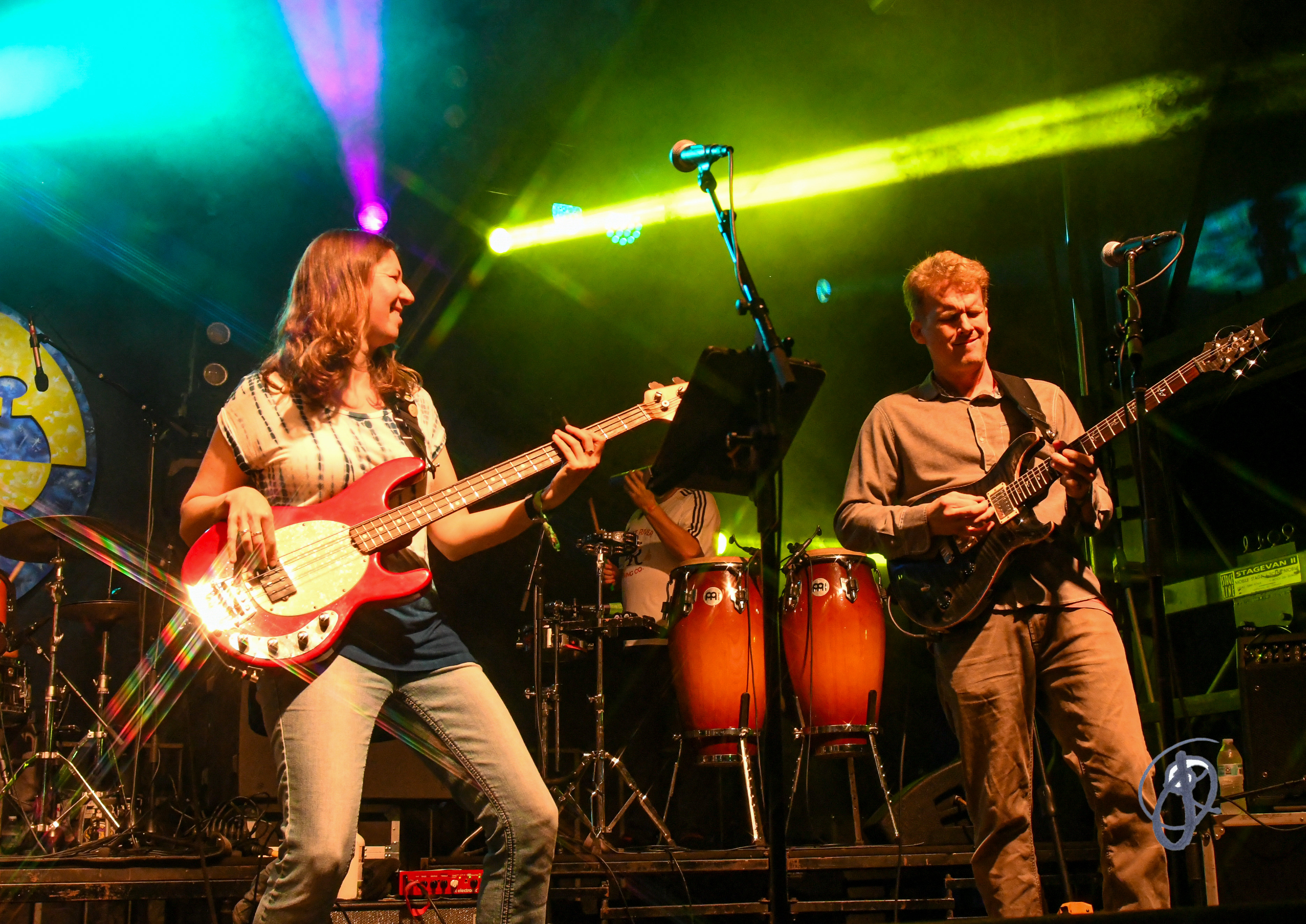 Taurus (April 20 - May 20) At Shoe Fest, you embarked on a new chapter in your life. Historically, you've had an insatiable appetite for opportunities and have been drawn to the remnants of the past, which is why we affectionately call you the turkey vulture at Camp Shaw. You've always been a reliable and steady presence, but Shoe Fest encouraged you to break away from your usual routine. Take a break, stop picking on dead stuff, and start seeing the joy that surrounds you.
Did you take some time to relax by Rock Creek, perhaps lounging in a hammock? Did Jaik Willis set the stage for a delightful Sunday, allowing you to take a rare Labor Day break? I certainly hope so. When I saw you on Sunday night at the Shoe String all star set, it seemed unlikely that you'd be up and ready for work the next day. But wait, you managed to wake up at 6:30 a.m.? You greeted fellow festival-goers as if it were your duty.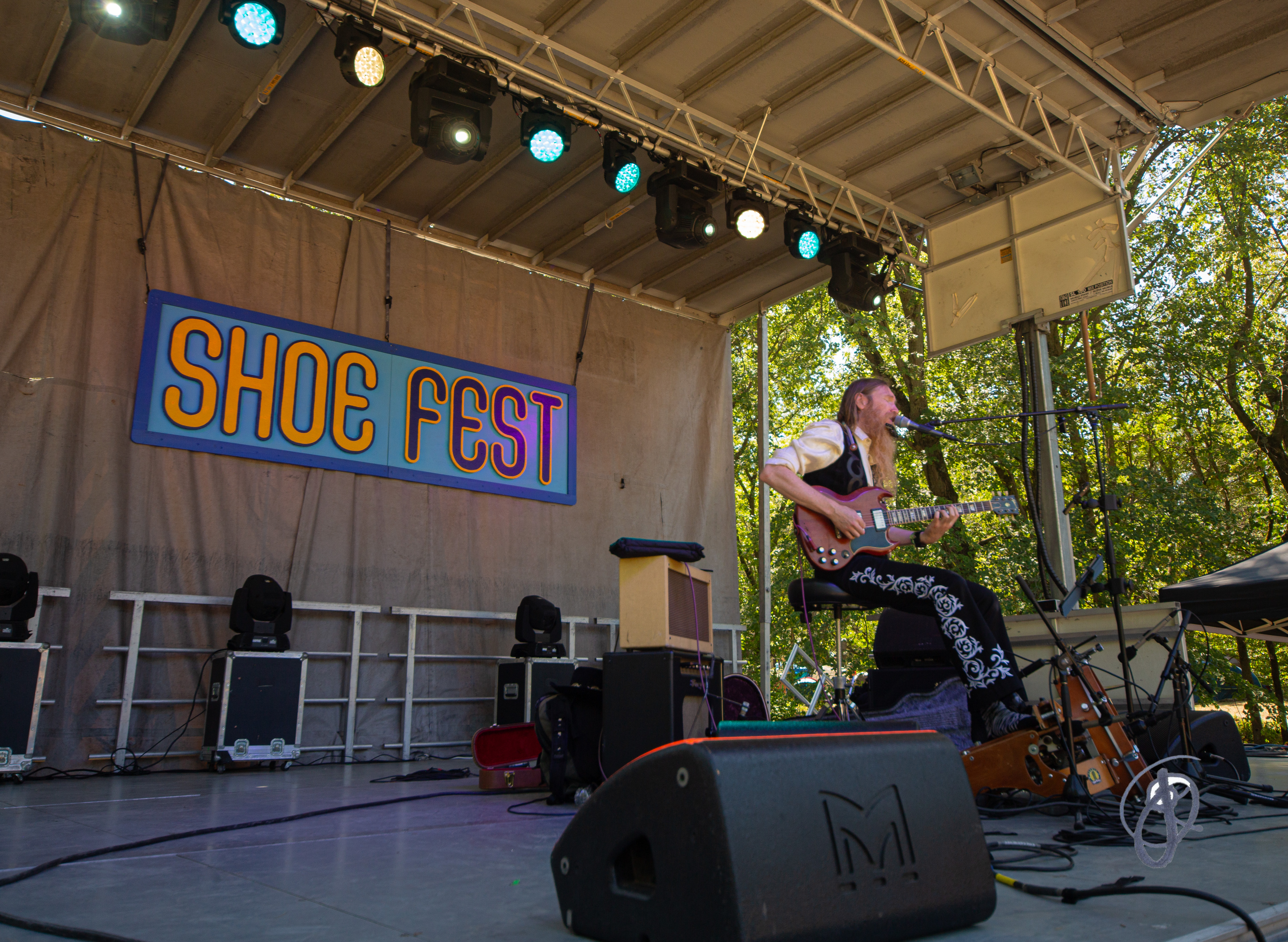 Jaik Willis is the kind of artist who teaches you how to embrace fun with utmost seriousness. Despite the scorching heat, you mustered the energy to enjoy his stories about his journey, the acquisition of his guitar, his humble beginnings, and his unwavering determination to persevere. Who needs a girlfriend when you have a guitar? The idea that "Anything is Possible" isn't just a Jaik song; it's your personal philosophy. Now, what possibilities are you exploring, dear turkey vulture? What do you truly desire? It's time to dig deep and discover more than survival—you might find yourself thriving. As Jaik suggested, throw yourself into the fire and see what ignites within you. Avoid the Spoiled Start. Don't believe everything that you hear. Everything is gonna be alright!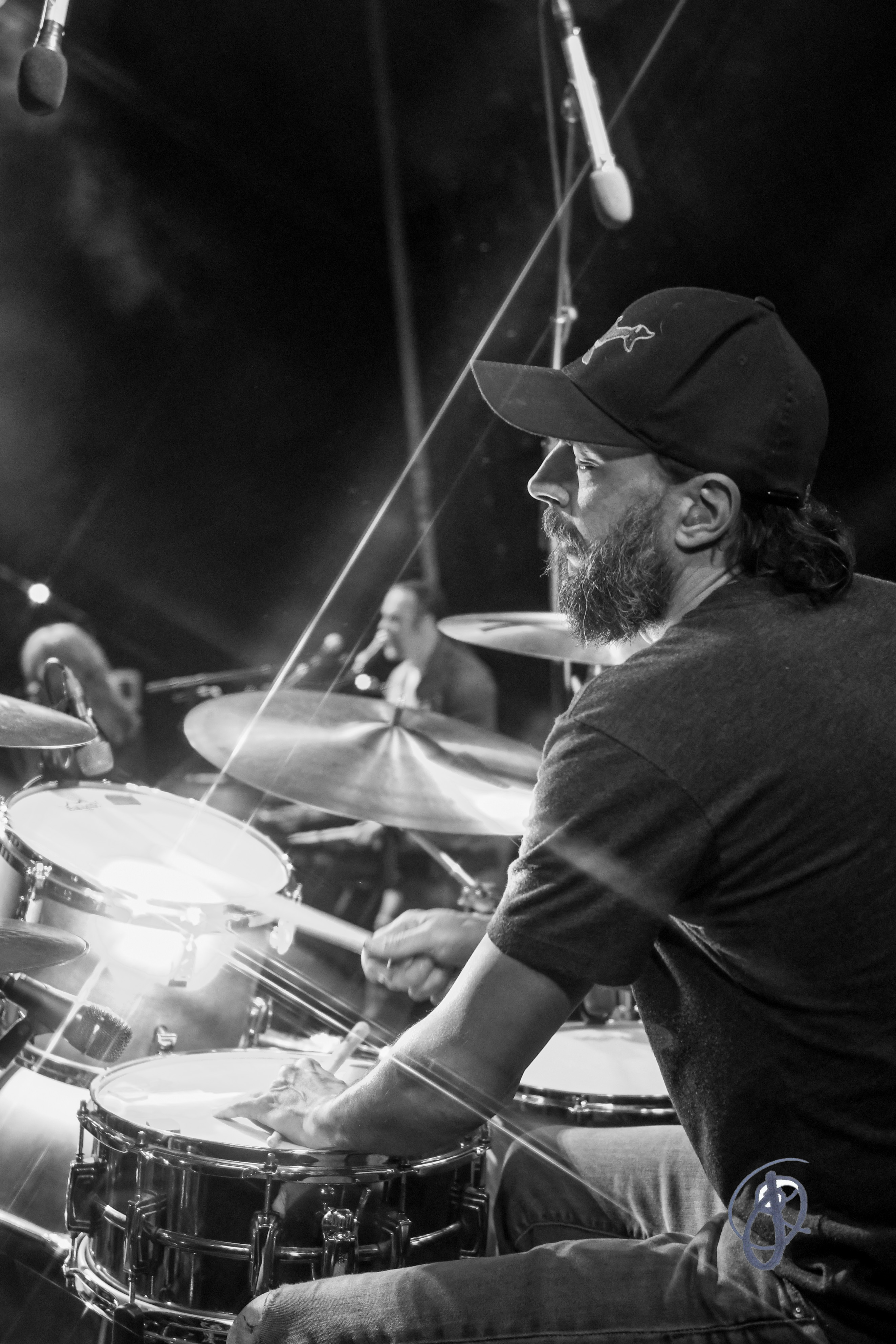 Gemini (May 21 - June 20) You're like the ostrich of Camp Shaw, finding yourself in a completely different environment. In a unique way, Shoe Fest allows you to venture into new territories as you search for the 50 different eggs you've hidden in various places. While you might typically be drawn to larger festivals, Shoe Fest holds a special place because it's where your friends are.
During the Kitchen Dwellers' set on Saturday night, you discovered at least 10 of your hidden eggs. The band's Galaxy Grass was peaking, especially when they covered Funkadelic's "Can You Get to That." This fusion of music styles seamlessly blended both your personalities into one joyful, groove-filled machine. It was a challenge not to join the stage and contribute your otherworldly backup vocals. Did you feel as if you were floating? Without your infamous companions, you may have become a new vocalist with Kitchen Dwellers. These Old Shoes came to get you! Whatever you do, Gemini - you know this one - Don't forget your shoes!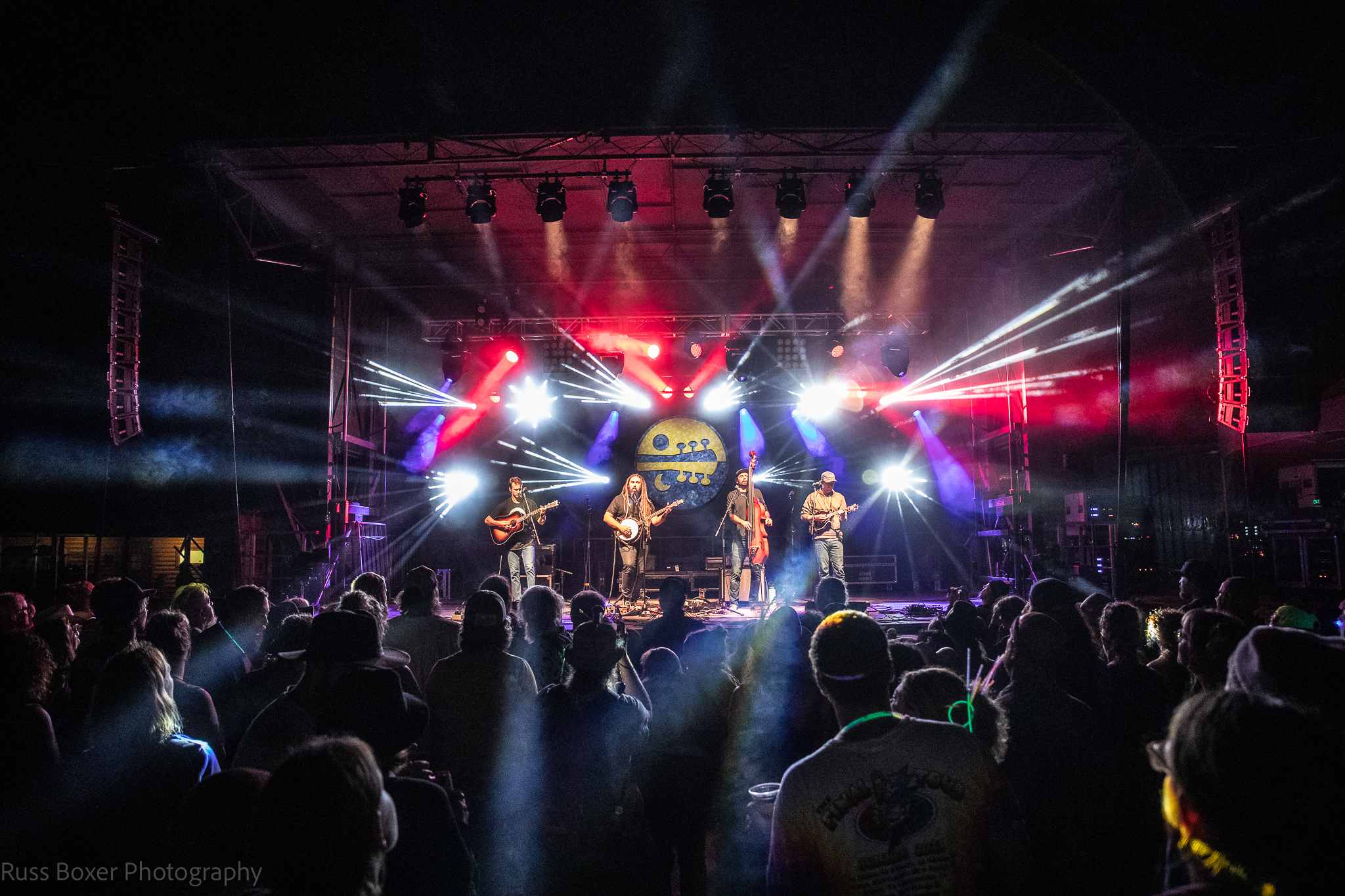 The music's deep bass and disco banjo captured the essence of your bipolar tendencies, providing a source of celebration for all aspects of your personality, even during manic and depressive episodes. Thanks to an attitude adjustment seemingly sent straight to you by the supermoon above, the Kitchen Dwellers entertained you as you, in turn, entertained everyone else. Camp Shaw Ostrich, you made Shoe Fest even more vibrant and exciting as did the Kitchen Dwellers version of June Apple with artist at large Allie Kral. Hawt Set! Oh ya betcha.
Cancer (June 21 - July 22) You are known for your generous nature, and Shoe Fest reciprocated with offerings of bird seed and shiny objects, which are perfect for a crow like you. Your entire group, or "murder," was in full attendance for the reunited Strange Arrangement set on Sunday night. There's nothing you value more than a sense of home, and this particular moment and place felt like it was created just for you.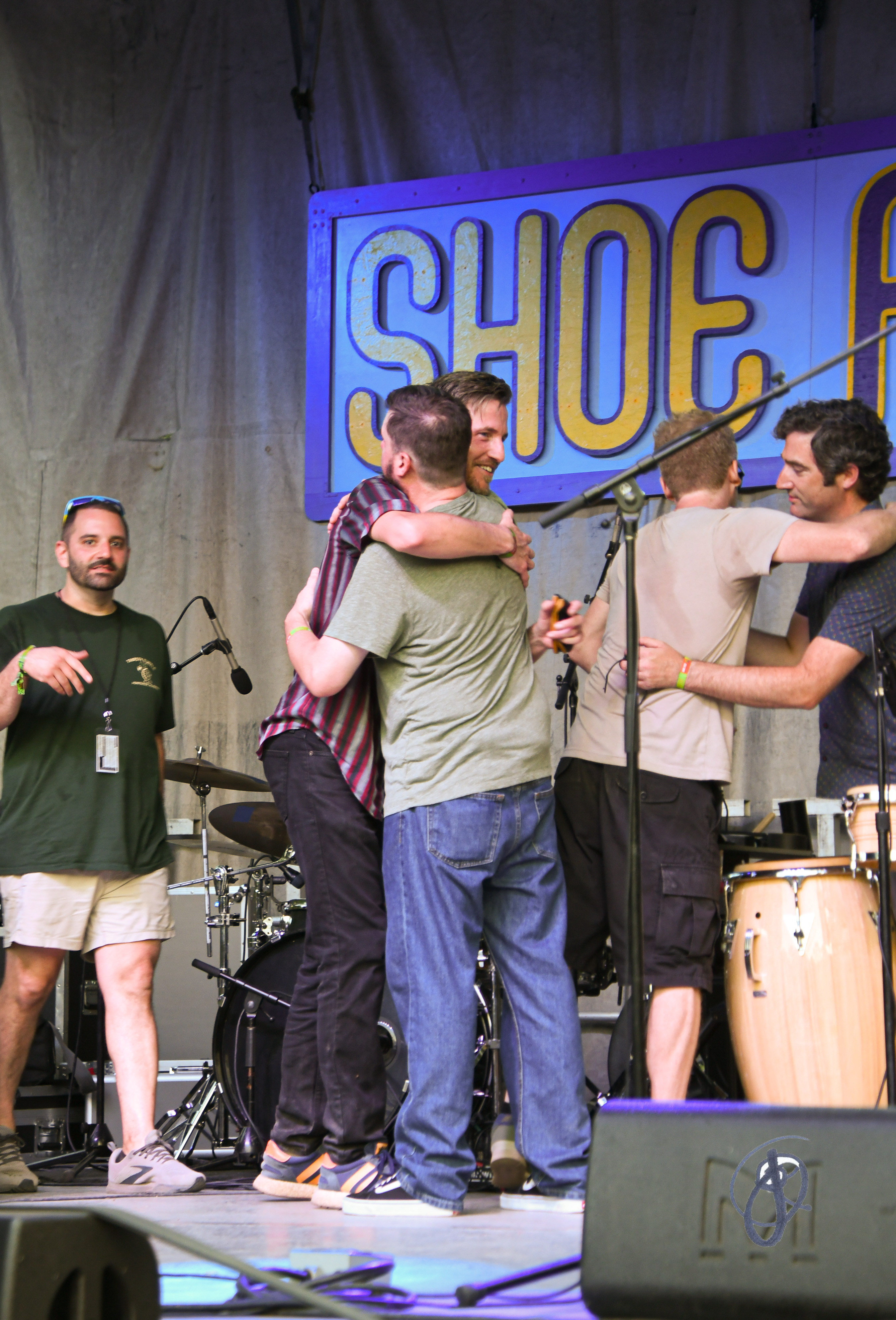 The opening song "Polygraph" with its distinctive beep boop beep beep had the twirlers spinning their hippie twirls right out the gate. It was a welcome homecoming for you, and you and your fellow crows truly thrived this weekend. Strange Arrangement is known for its unexpected musical and timing shifts, and you never know when a Strange Arrangement set might occur. The last time this band played was seven years ago at a now defunct festival called Down on the Farm. Timing is everything!
This reunion felt like a family gathering, especially when Joe Day from Old Shoe joined in to play "Highway." The intrigue and suspense in the music resembled the ringing of church bells, enticing everyone to join in the dance and rock to the rhythm. "Everybody showed up at the drop of a dime," as mentioned in Strange's song "Creston," is your idea of heaven. It's rare to have everyone in the same place at the same time, isn't it, Crow? With the right timing, the right people, and now the right music at Shoe Fest, everything fell into place perfectly. So, grab a "Siete" and enjoy the moment. Just for you, soar high on the wings of Pegasus. This set of music had you ecstatic, didn't it, Crow?
Leo (July 23 - August 22) As the regal Sand Crane, your appearances at Camp Shaw are relatively rare but highly anticipated. You tend to make your grand entrance when the rainy weather has created just the right amount of marshy bogs, and the moon is shining brightly over a gathering of your friends. It's during these moments that you turn up the energy to the maximum, taking it to an eleven.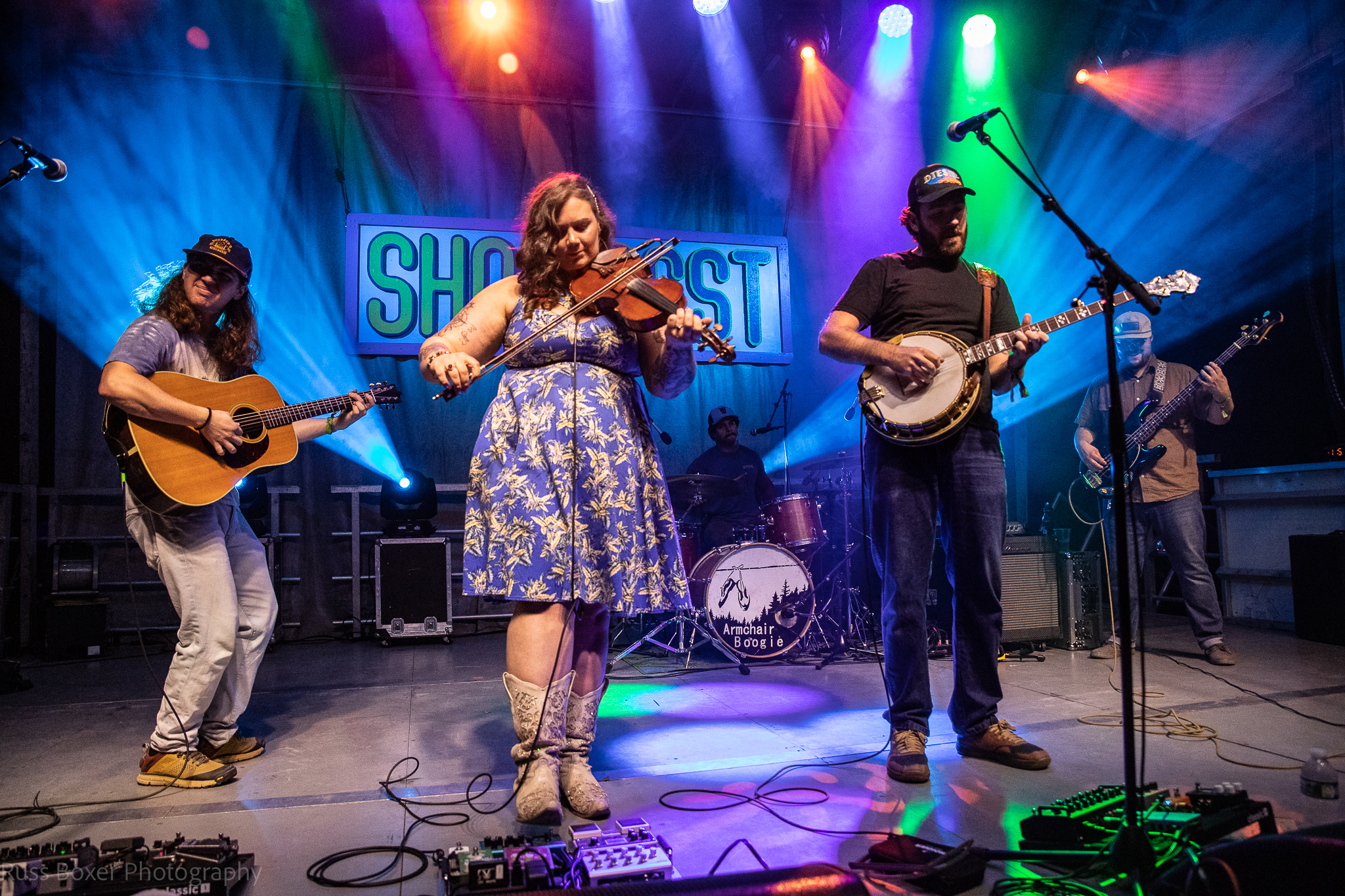 At Shoe Fest, there isn't a specific set that encapsulates your essence because the entire weekend was extraordinary, much like yourself. With acts like Armchair Boogie coming from Wisconsin to join us, MK Ultra's triumphant return from Ben Miller Band to the phoenix reincarnated, Sierra Hull with her red boots and red lipstick, and our ever-gracious hosts Old Shoe, there was an air of benevolent royalty that permeated the entire event. Your passionate spirit was contagious, spreading throughout the festival.
You're like a musical detective, solving mysteries akin to Scooby-Doo and his gang. Your presence is a symbol of love and good fortune, and your sharp intellect keeps everyone engaged and the libations flowing. People gather eagerly to catch a glimpse of the majestic Sand Crane, and you certainly didn't disappoint during this memorable weekend. Thank you for being a true friend.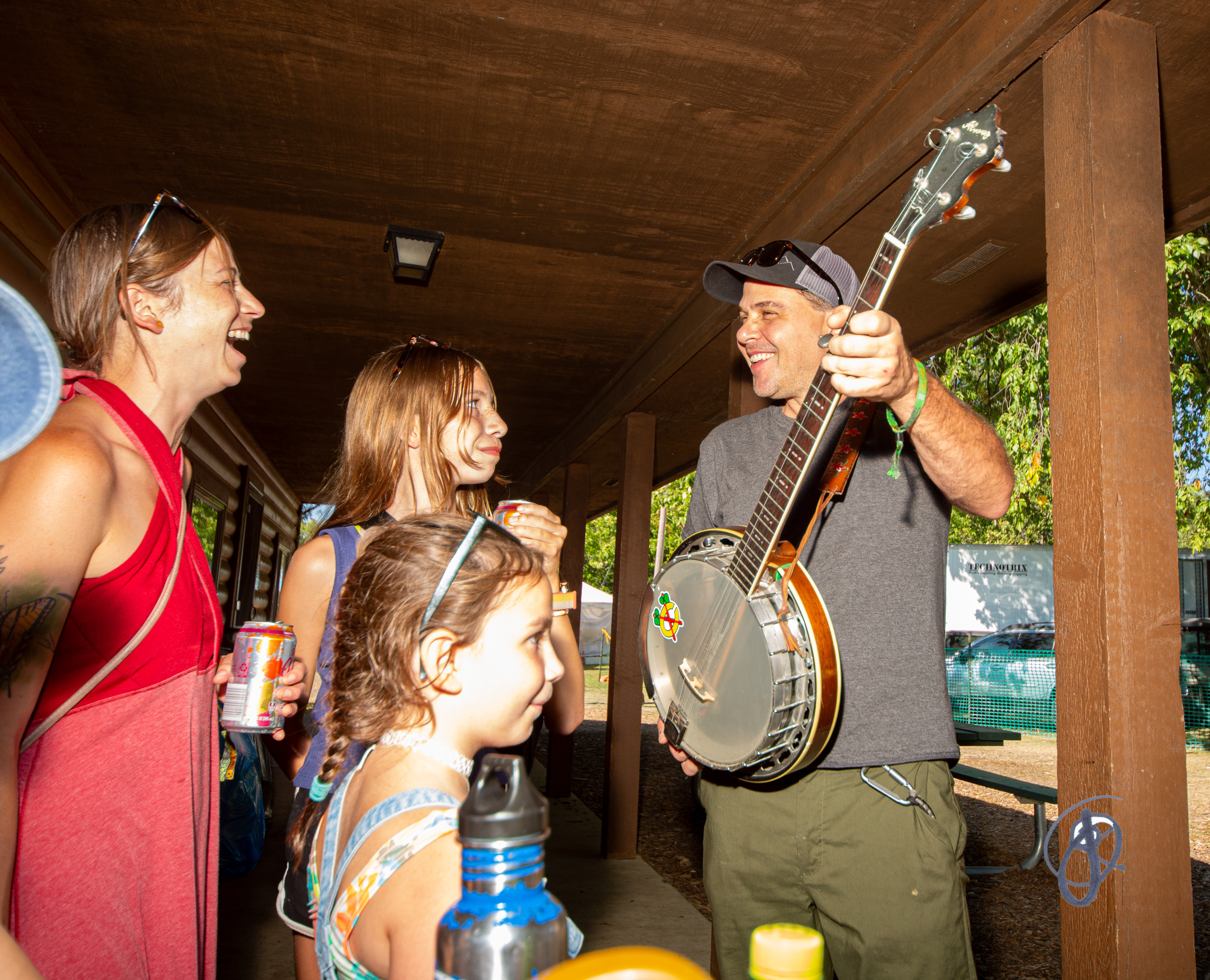 Shoe Fest was a delightful sight and nature herself was orchestrating a charming parade. Under the vast expanse of the open sky encapsulated by poetrees, birds of a feather flock together. They fluttered and swooped, creating a mesmerizing dance of wings and colors. Their unity, as they moved in harmony, was a reminder of the beauty of like-minded souls coming together. It's as if they have heeded the comfortable call of the Old Shoe, drawn together by an invisible thread of kinship. Birds of a feather flocking together is a testament to the bonds that connect kindred spirits, much like these brilliant Shoe Fest birds in elegant formation.
Get out there and enjoy your community, fly with your flock, go forth, and find more great music! Hiking into Camp Shaw makes you feel truly alive and so grateful to be there. The satisfaction comes in modest packages these days. It's a simple equation: spend less to get more.
Check out more PHOTOS from Shoe Fest 2023