Leftover Salmon, the Lil Smokies, and Dead Winter Carpenters provided the bluegrass and Phil Lesh & Friends fueled the "beyond" at the inaugural, one-day Bluegrass and Beyond festival in Stateline, Nevada, at Lake Tahoe. The 10-hour event drew a colorful crowd of Grateful Dead enthusiasts and other purveyors of music and fun, from the Sierra Nevada to the San Francisco Bay Area, and from other locales near and far. Organizers and attendees both were grateful that Phil Lesh was available at all, following a recent mild case of COVID-19 that kept him from performing only five days prior with The String Cheese Incident at Red Rocks Amphitheatre in Colorado.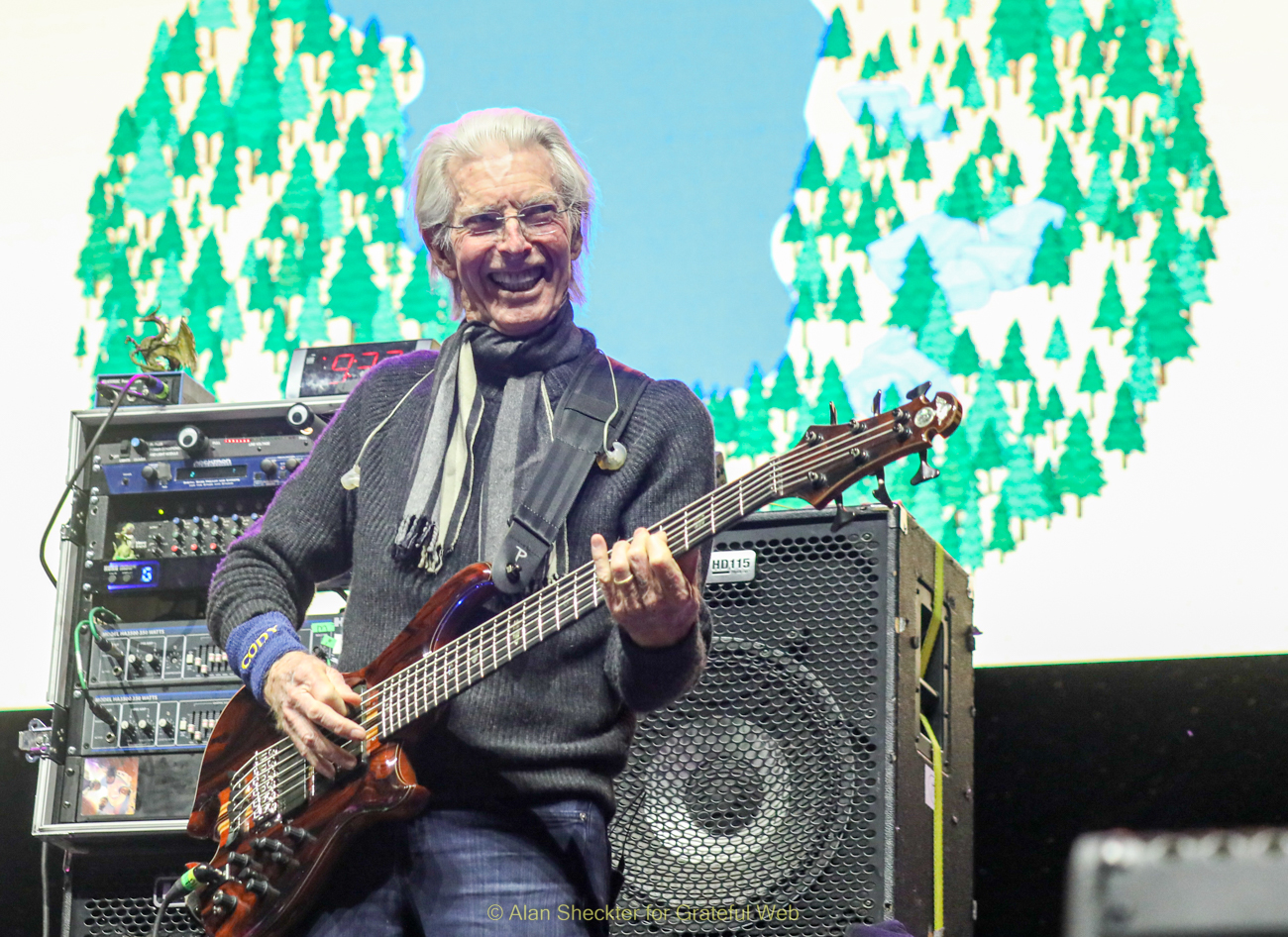 Set on a sprawling piece of acreage ringed with food and product vendors between the Hard Rock Hotel & Casino, which hosted the event, and the neighboring Harvey's Lake Tahoe, and a grand installed field of sod on which to sit or frolic and colorfully canopied shade covers, the event featured two stages, a small art installation and an axe-throwing station. The sound at both stages (Tahoe Stage – large, Sierra Stage – small) was on-point.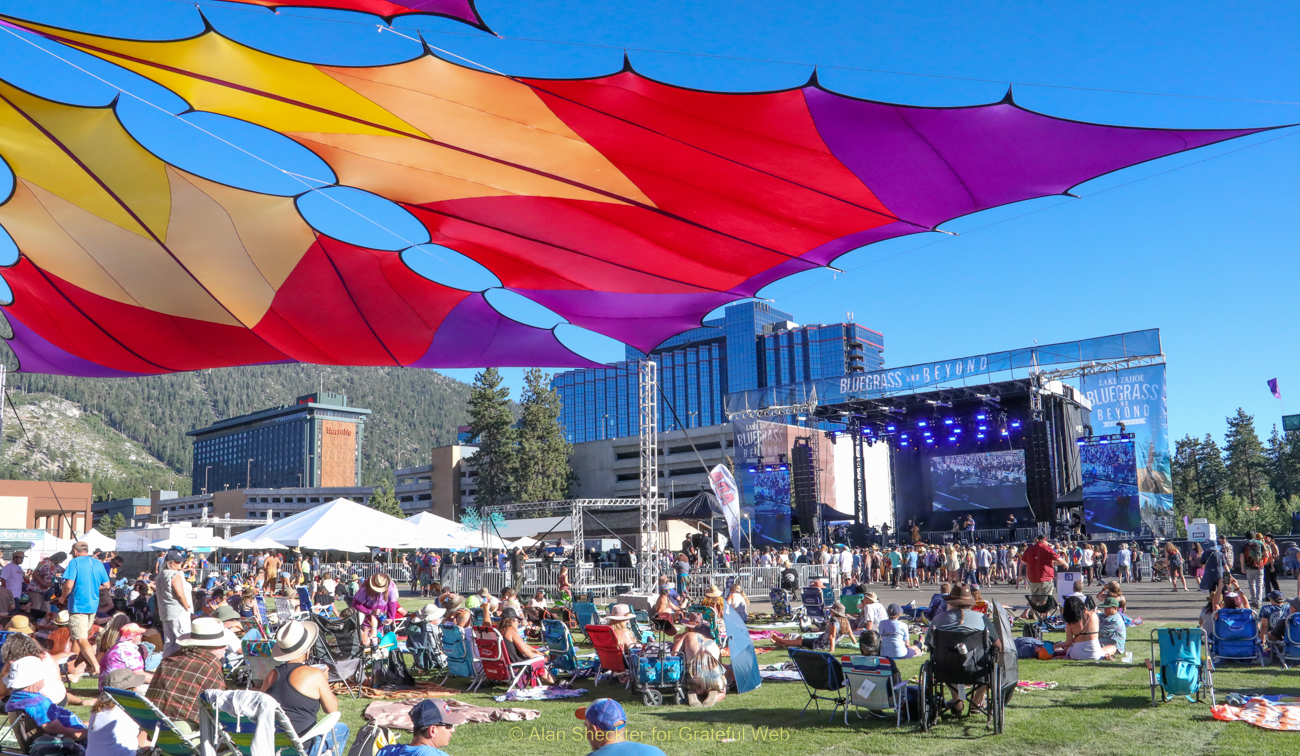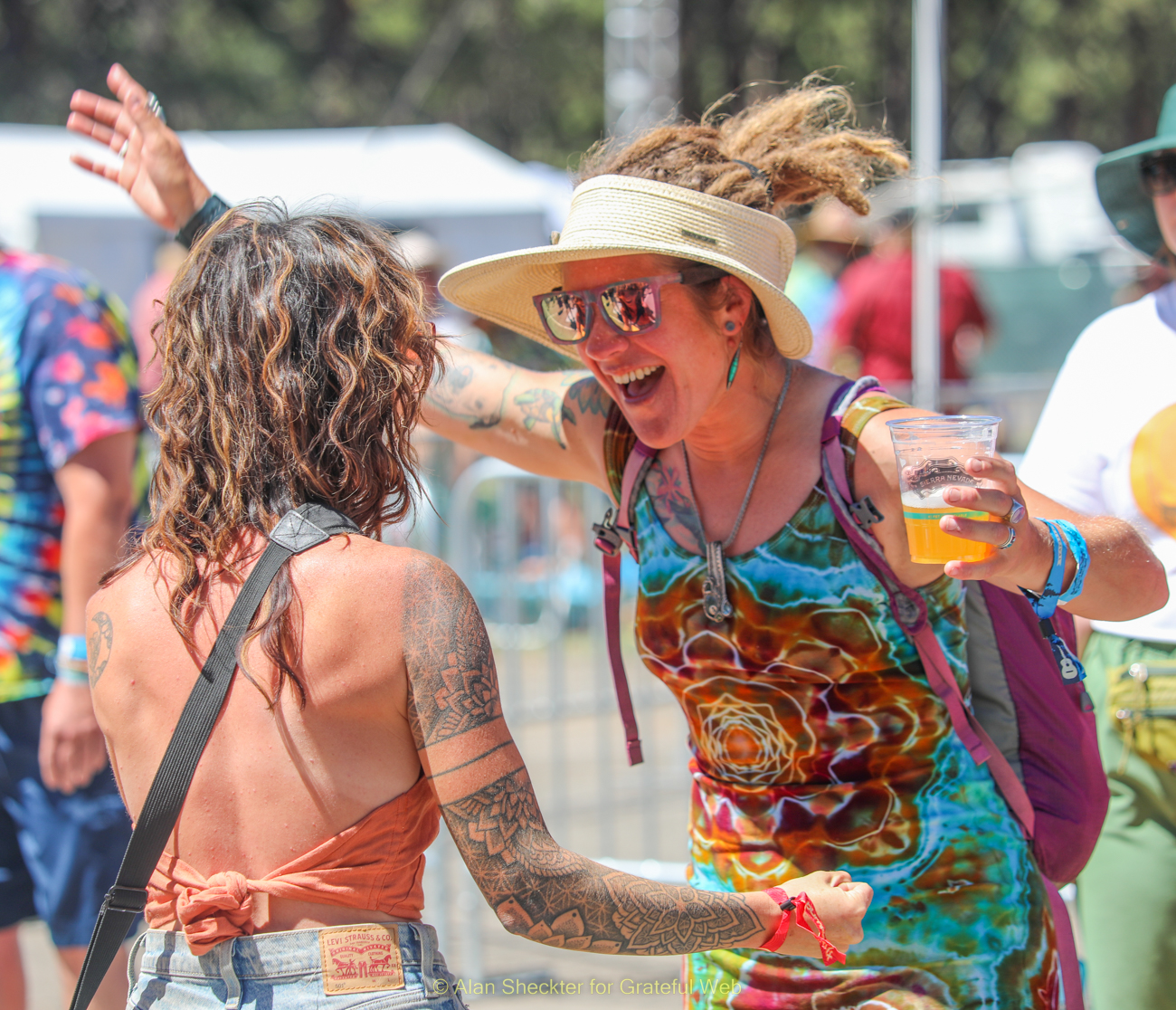 In addition, The Giving Tree Art Car cloaked under a giant fabric-leaved weeping willow was there, provided a pleasing, shady presence at Bluegrass & Beyond. A Burning Man attraction, the art "vehicle" offered hands-on creative fun and enchantment.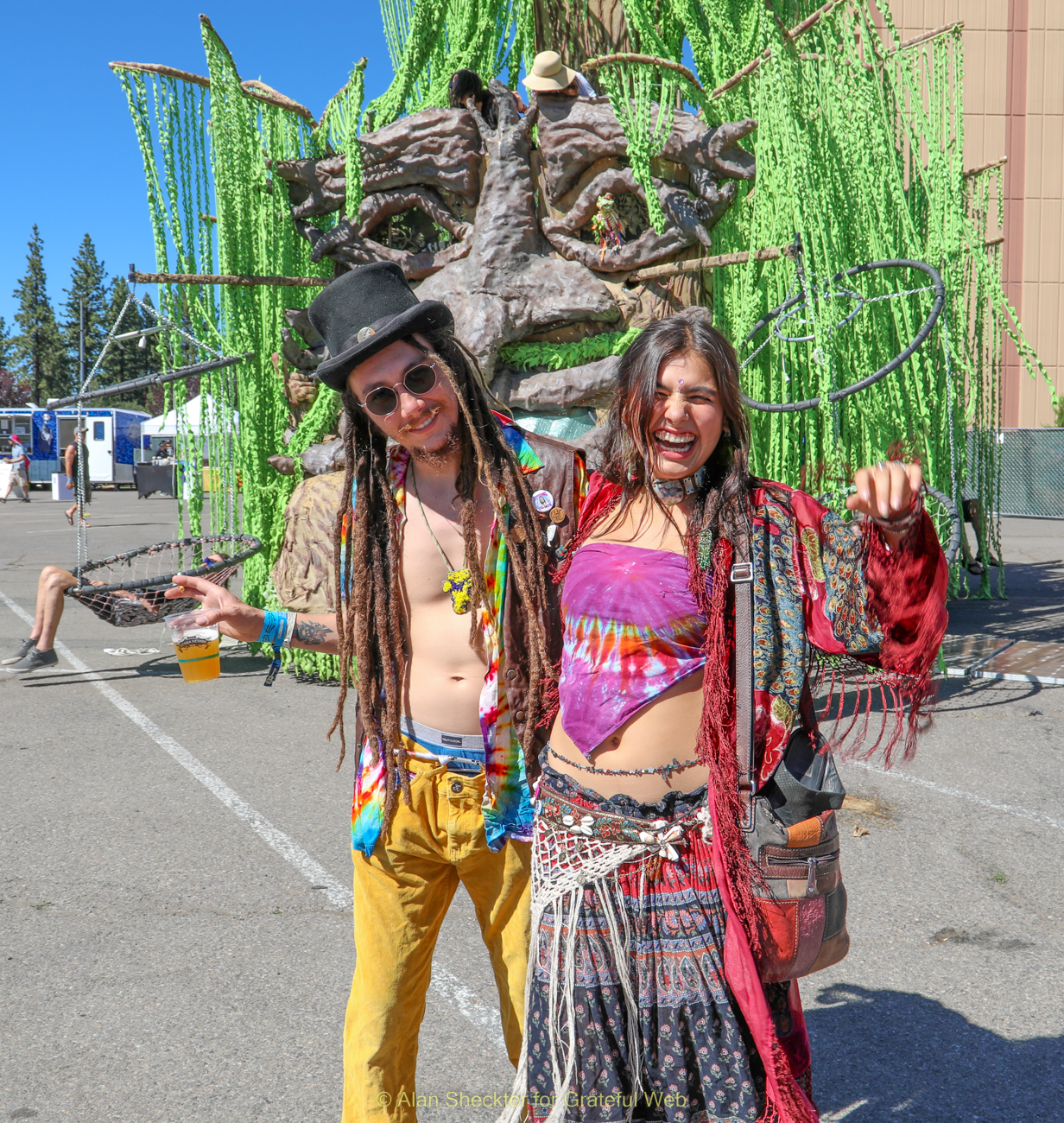 While the "friends" in Phil & Friends are quite fluid from show to show, this particular lineup had a certain "je ne sais quoi" of their own, based in familial familiarity with each other from countless other and different collaborations over the years, shared musical pedigrees, and commitment while playing in the band to hear the other bandmates as well as contributing each's own harmonious elements.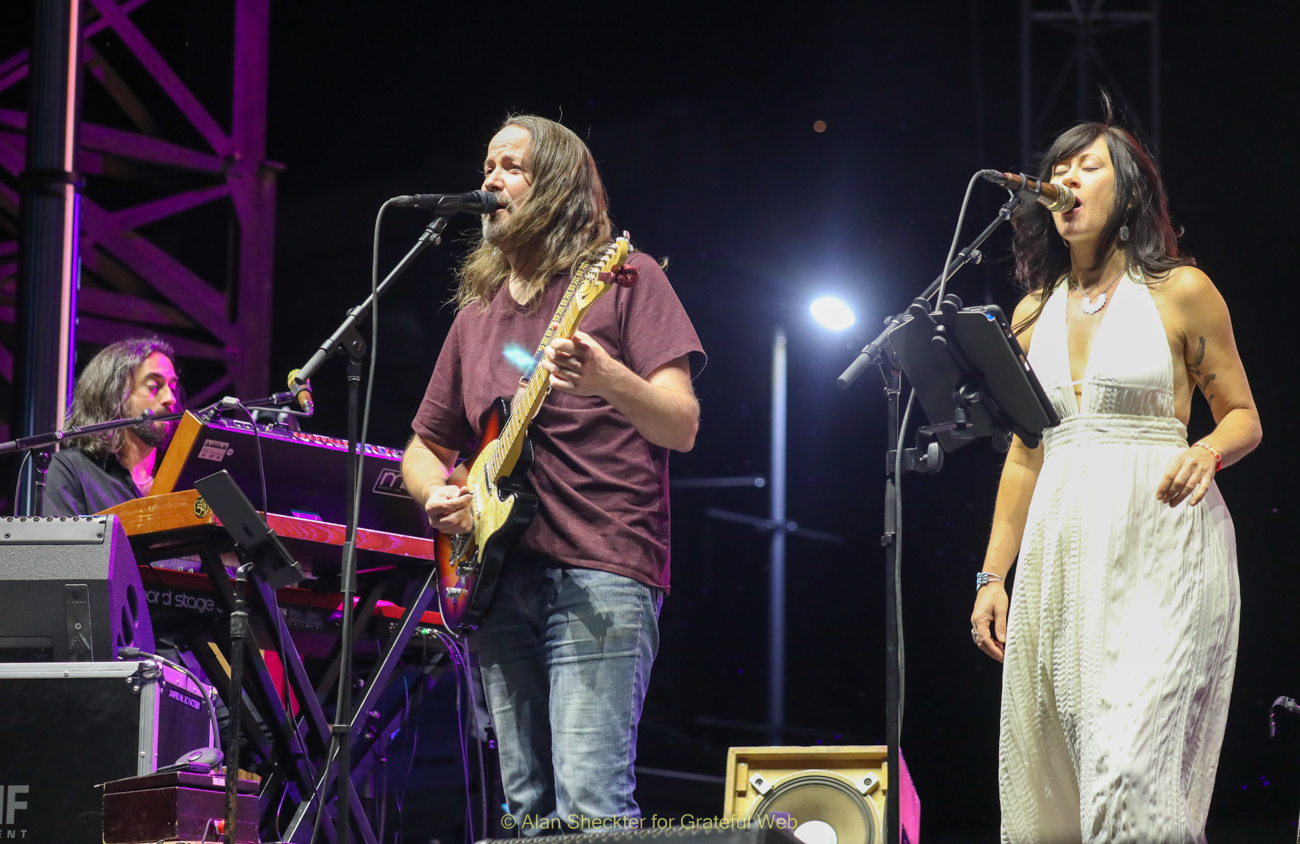 Capping the festivities, Phil & Friends launched a two-hour concluding set of songs and (lots of) jamming with Phil Lesh's signature, "Box of Rain," closing the night. The strong and balanced lineup appearing with the Grateful Dead co-founder – and core influencer to The Dead's contribution to the "Great American Songbook" – who was visibly enjoying his high Sierra recital, included keyboardist Steve Molitz (Particle, and lead composer/music director on the classical/ethereal sounds of the recently released "Evil Dead: The Game"; guitar and vocals by Stu Allen (Phil & Friends, Dark Star Orchestra, Melvin Seals & JGB, Stu Allen and the Mars Hotel); drum-kit master John Molo (Bruce Hornsby and the Range, Moonalice, countless others); guitar and vocals by Elliott Peck (Midnight North, Terrapin Family Band, solo efforts), and additional guitar and vocals by Grahame Lesh (Midnight North, Terrapin Family Band).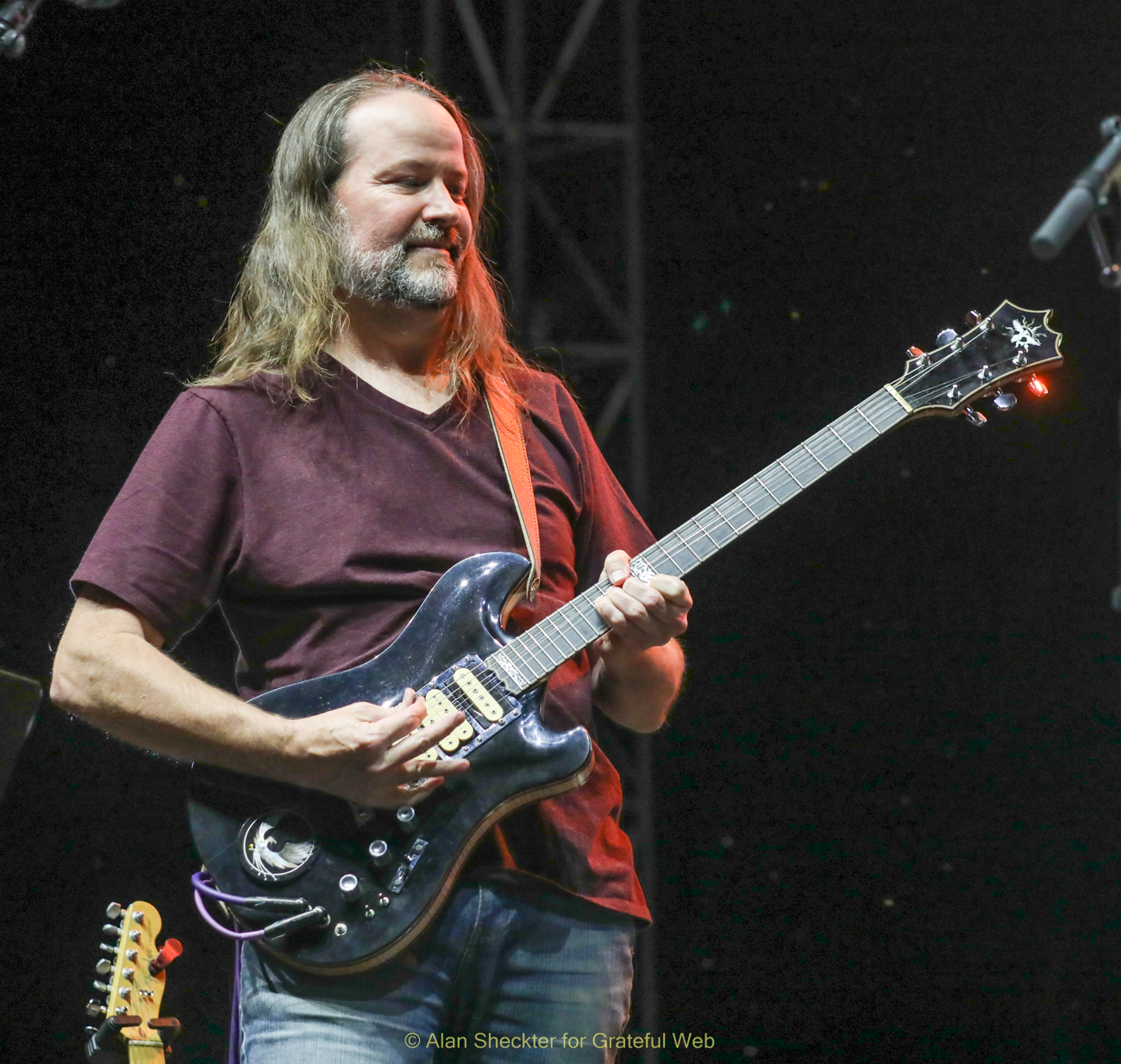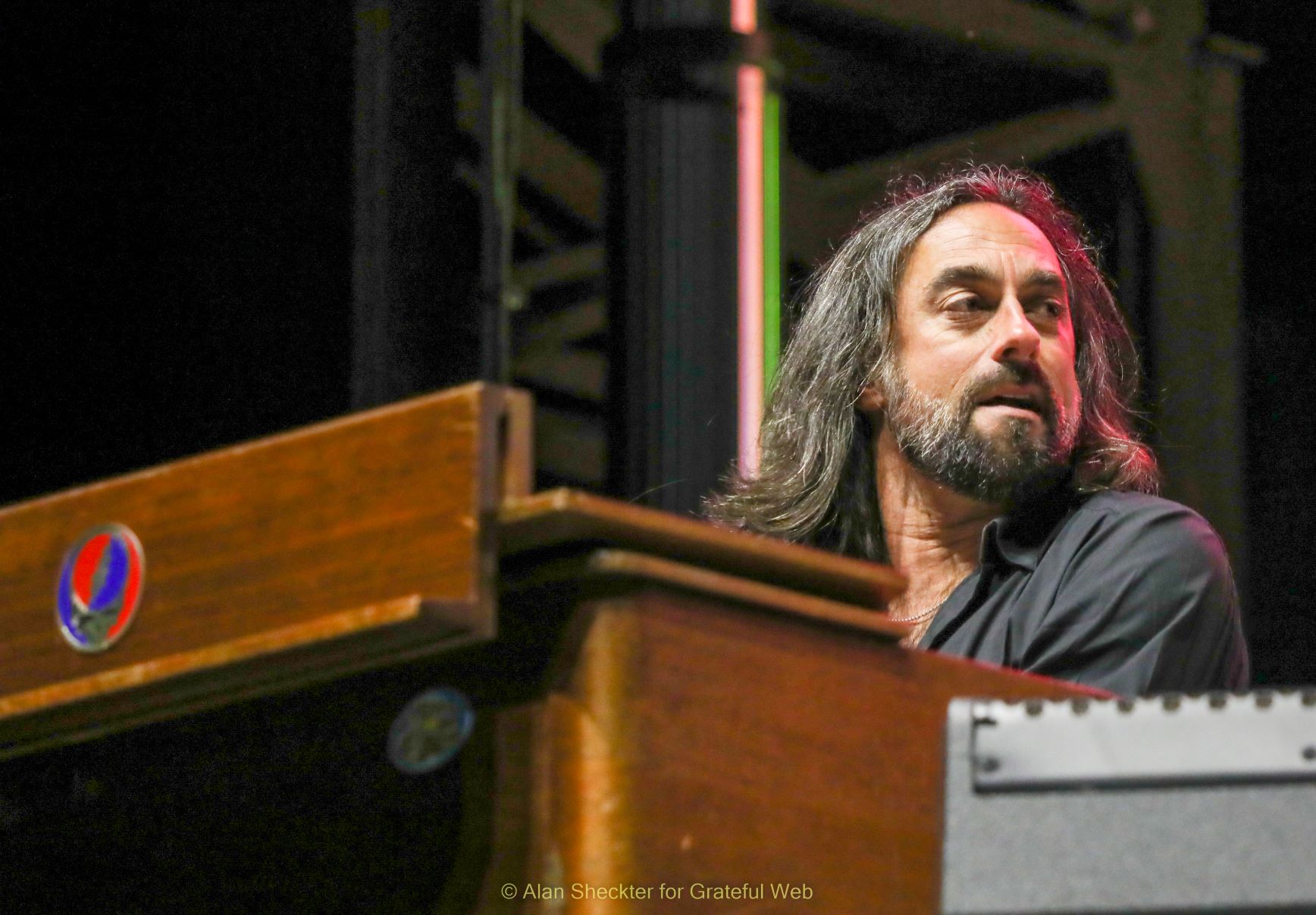 The sextet leapt out of the starting gate with "Masons Children," a Jerry Garcia/Robert Hunter song creation the Grateful Dead played during a brief moment of time in late 1969 and very early 1970. Phil contributed the bulk of that song's vocals, while back-boning the ensemble with his powerful – and unmistakable – bass attack. Following a strong version of "Jackstraw," which combined strident instrumental components with harmonies from Allen, Peck, and Grahame Lesh, the band offered an Allen-led version of "Sitting on Top of the World." Grahame Lesh took the vocal reigns on "Let it Grow," which produced a monster of an epic jam that was followed by the downtempo "Black Peter."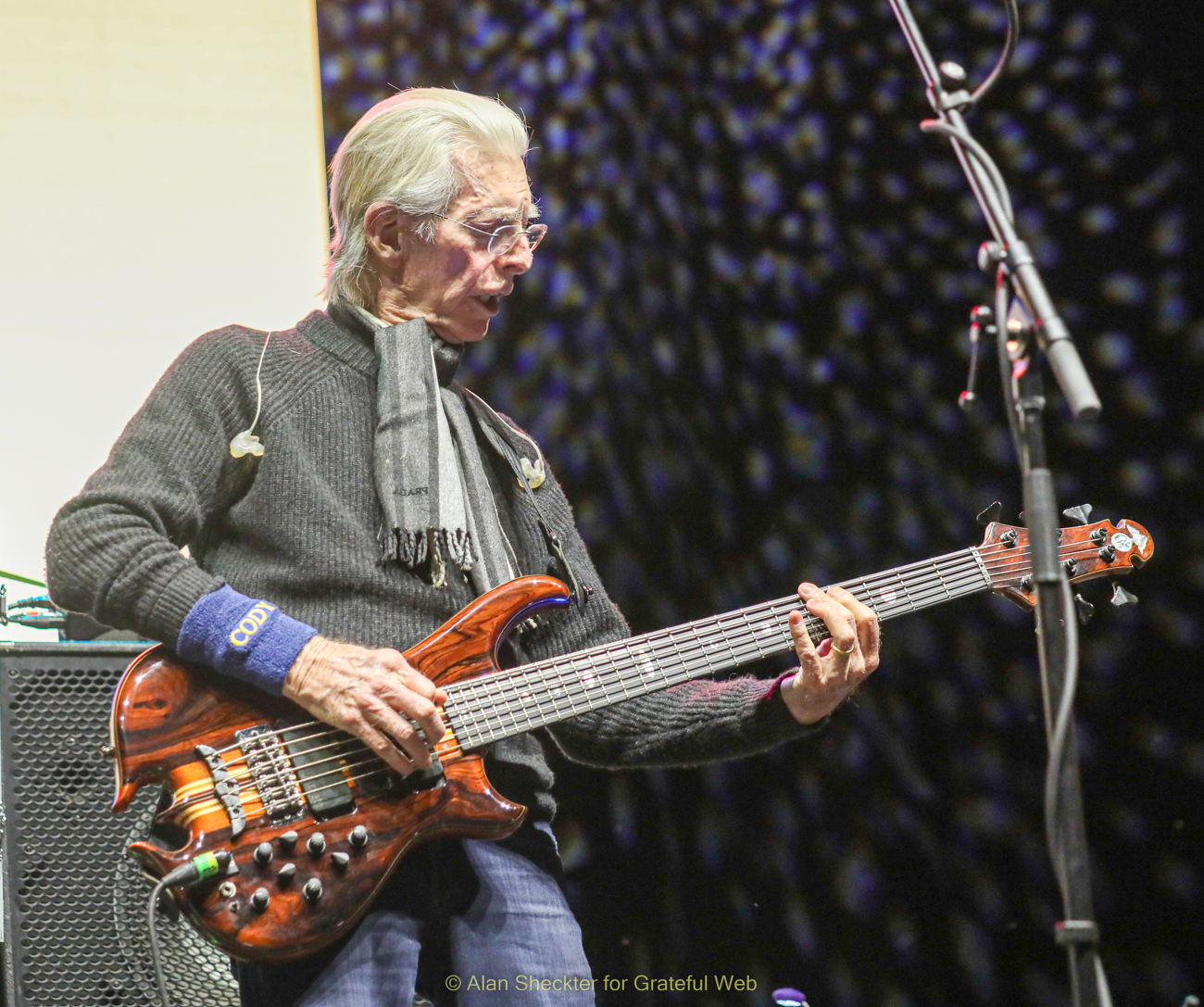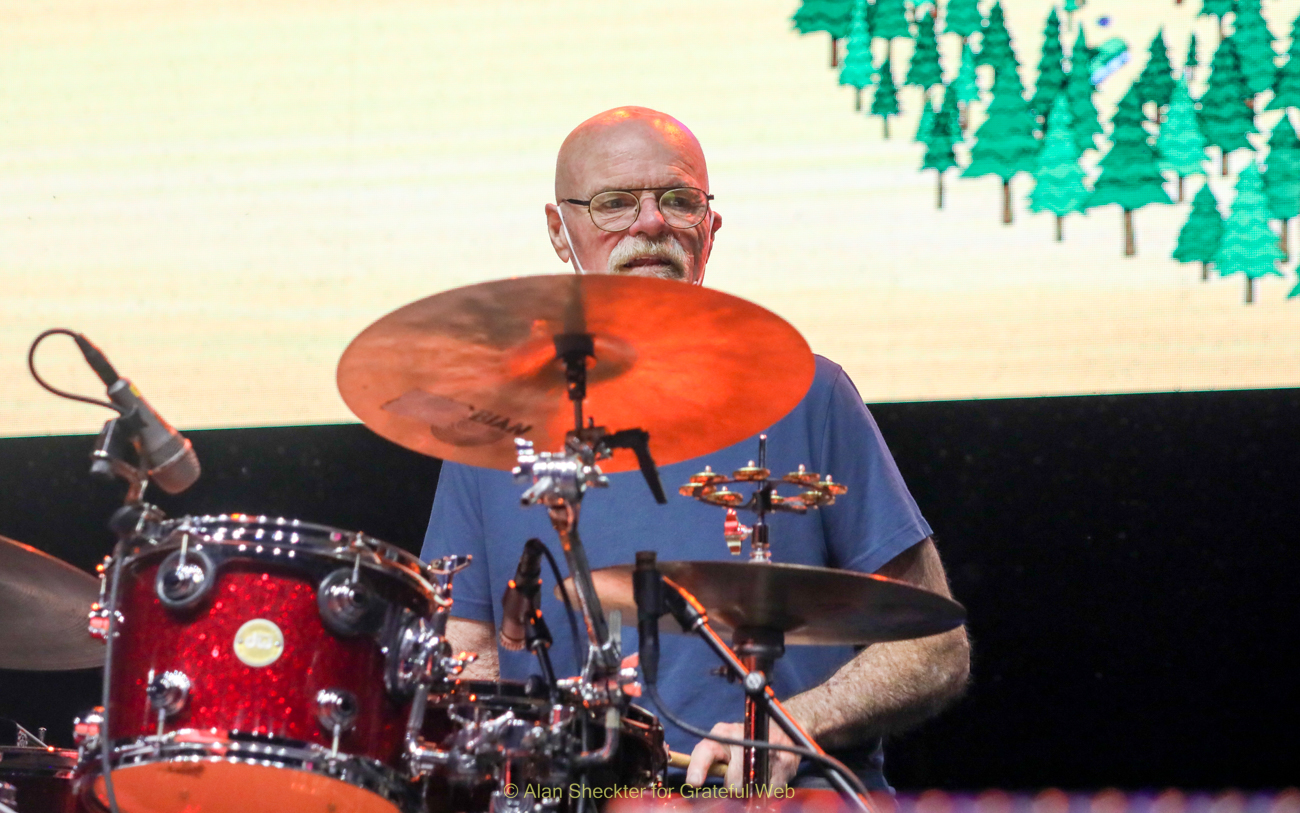 The ever-popular "New Speedway Boogie" then began a rip-snortin' array of a closing sequence that produced a blazing haze of very old Grateful Dead material including "China Cat Sunflower," "The Eleven," and "(Turn on Your) Lovelight," before "Box of Rain" send attendees on their way, many of whom would take advantage of a full weekend getaway at Lake Tahoe.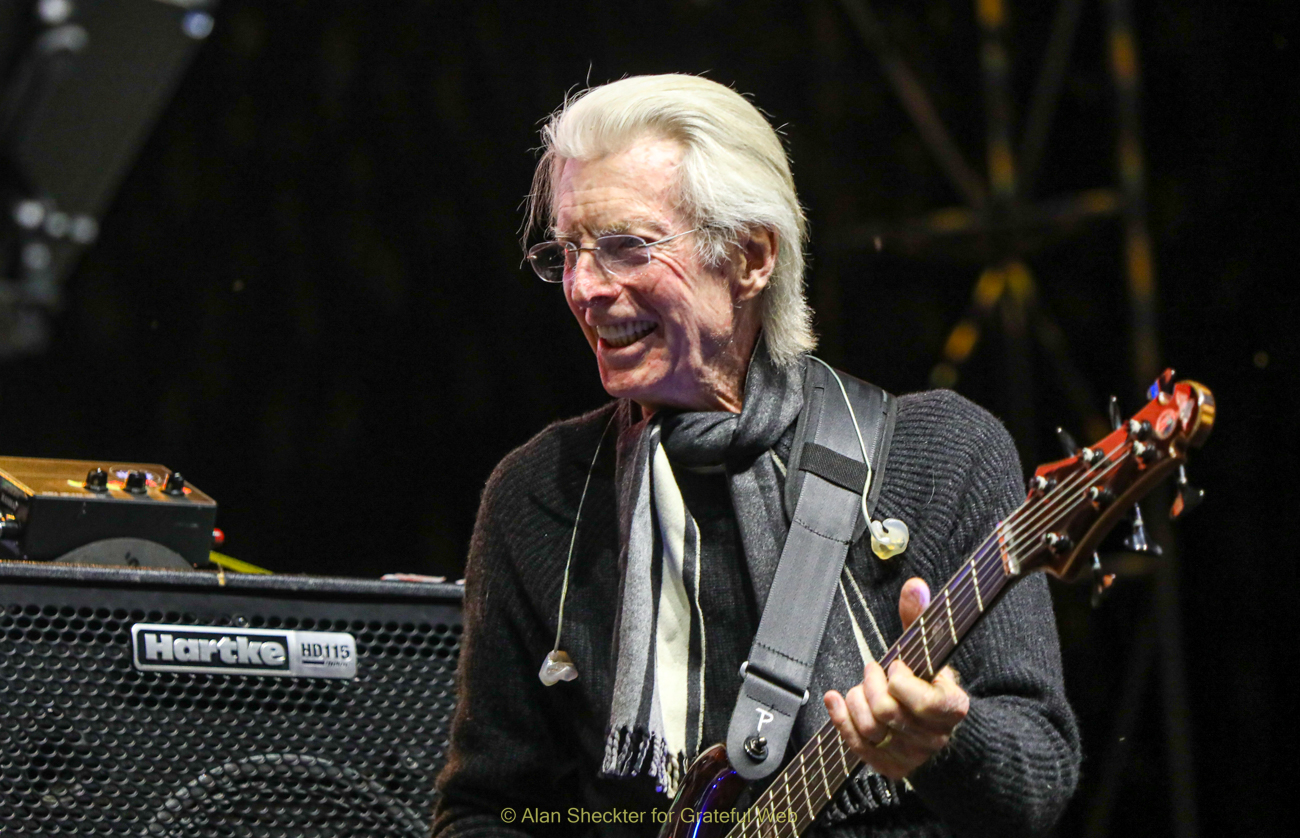 Purveyors of joyous contemporary jamgrass for more than 30 years, Colorado's Leftover Salmon was the evening's penultimate main-stage performer, with founding members Vince Herman (acoustic guitar, vocals) and Drew Emmitt (mandolin, guitar, vocals), as well as Andy Thorn (banjo, vocals), leading the proceedings of a 90-minute foot-stompin' set, backed by Greg Garrison (bass), Alwyn Robinson (drums), and new guy, Jay Starling (keyboards).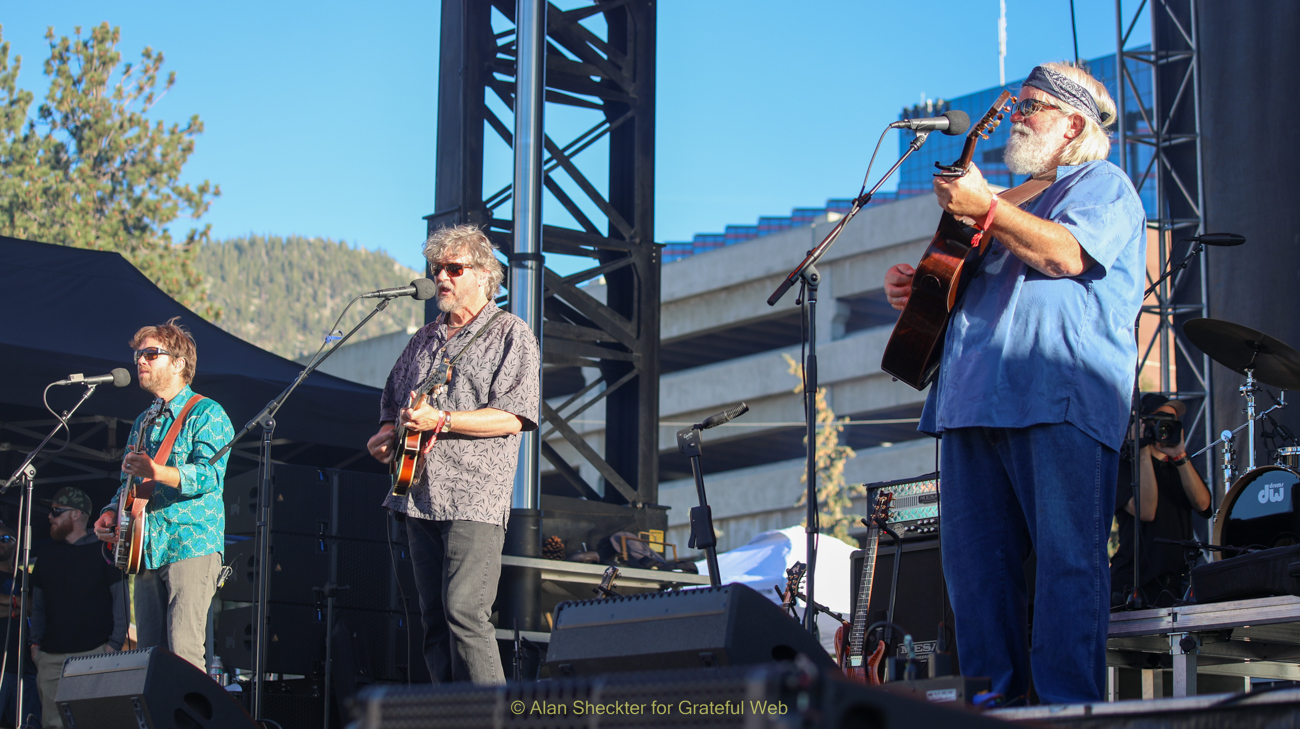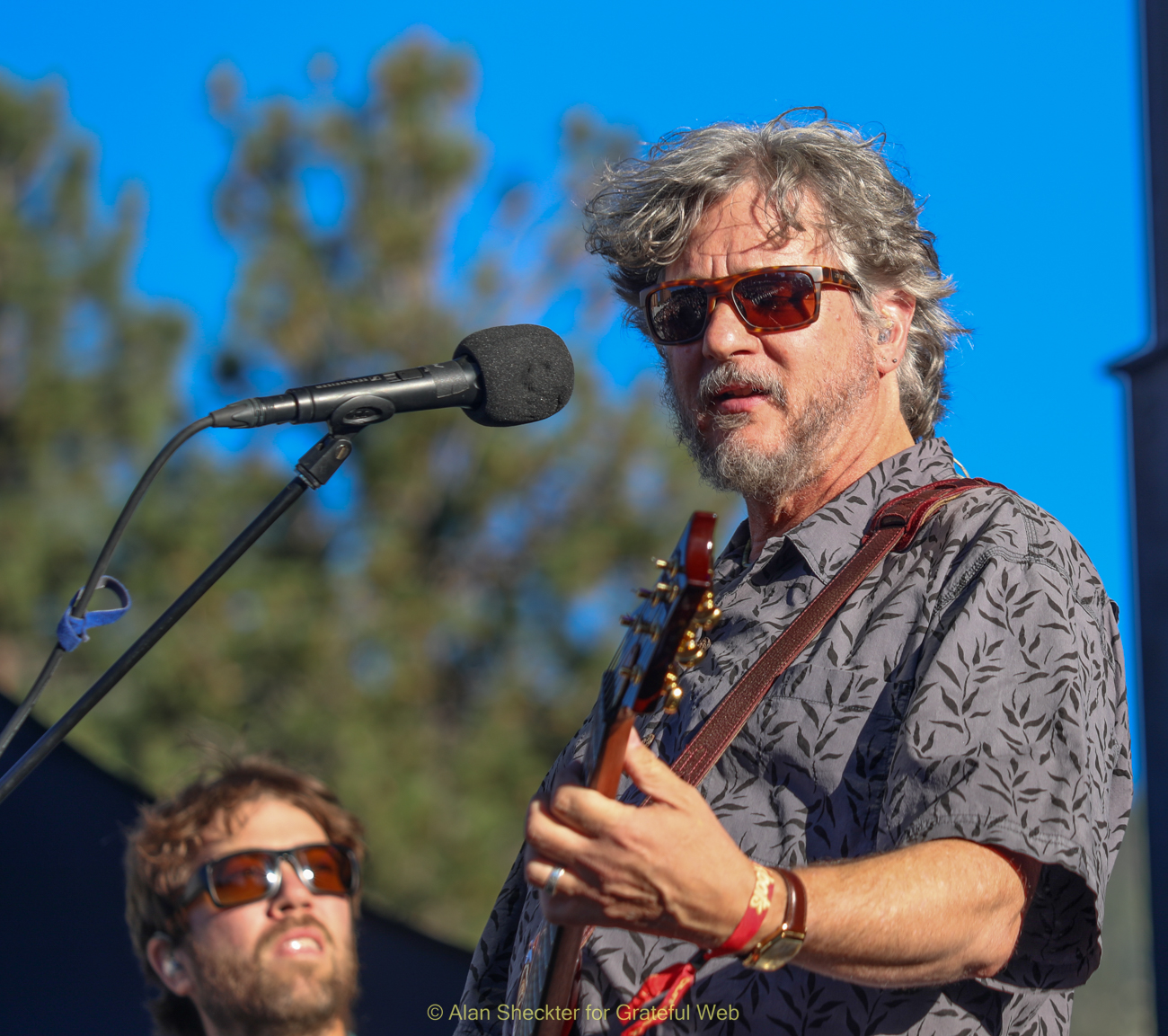 During Leftover Salmon's set, and again during Phil Lesh & Friends, Big Fun Circus's bright and vibrant stilt walkers added another festival dimension, led by the sparkly Meghan O'Brien, the group's "Avatar of JOY."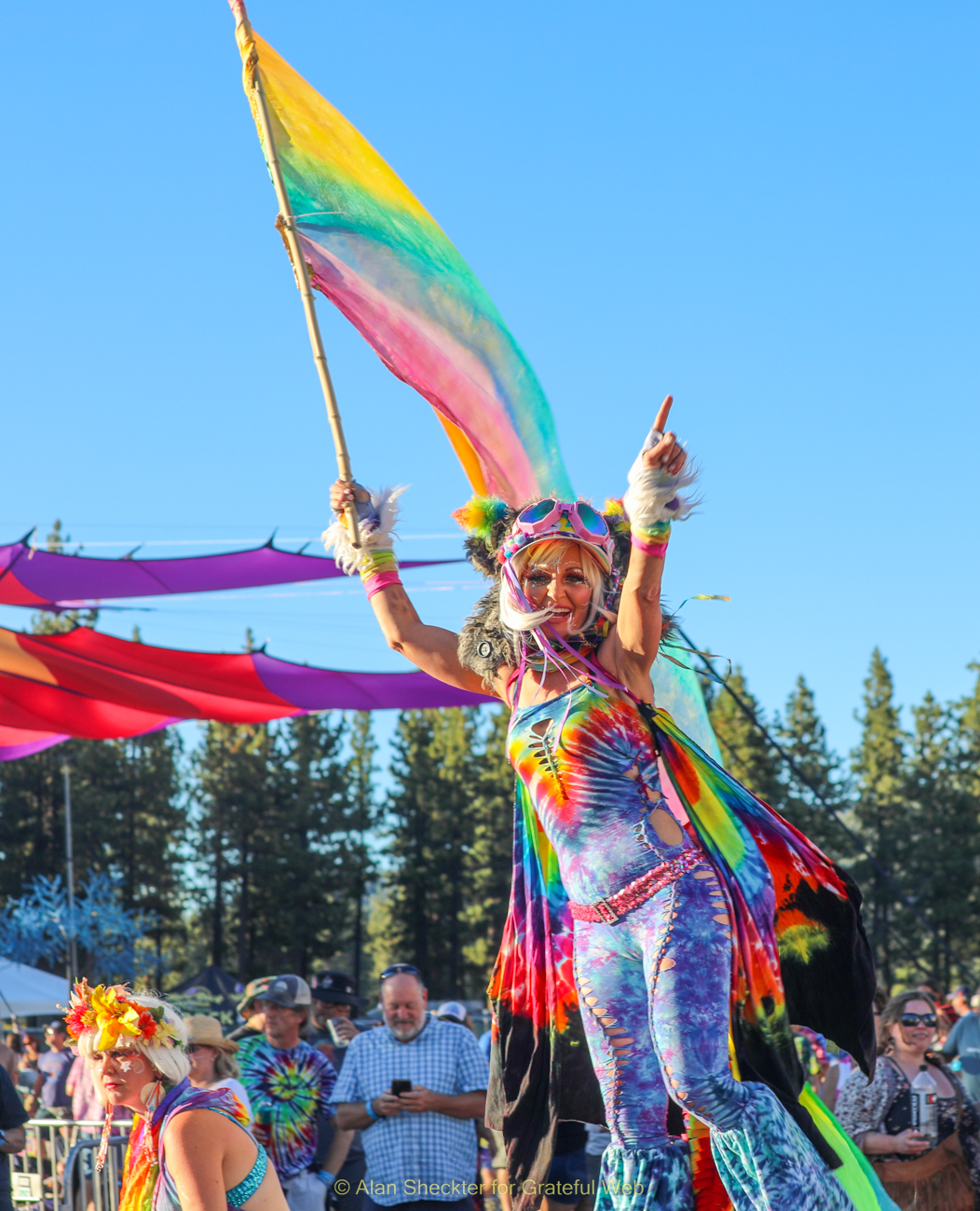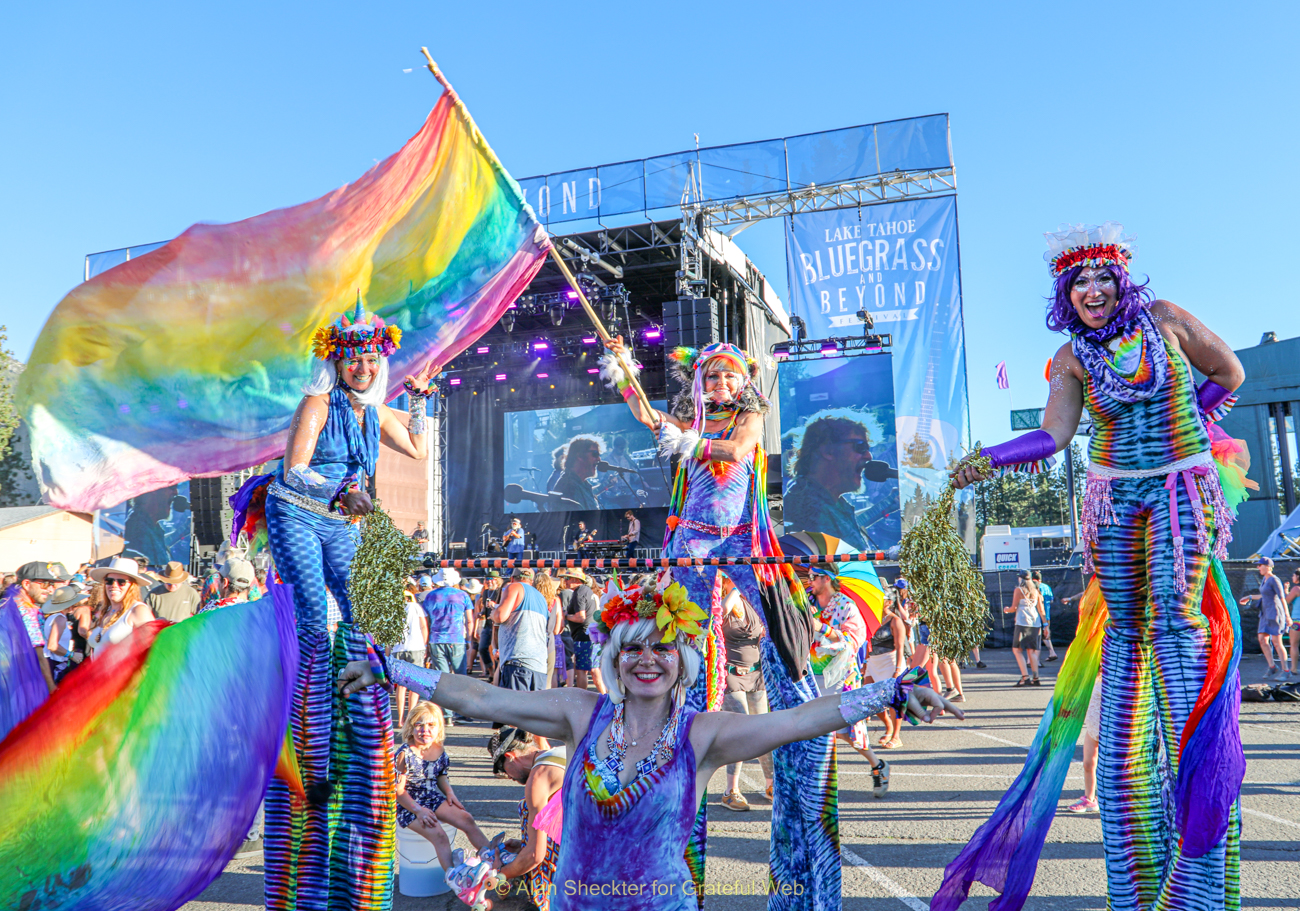 Montana-based progressive bluegrass/Americana outfit Lil Smokies appeared before Leftover Salmon on the main stage, fronted by Andy Dunnigan (dobro), Matt Rieger (guitar), and Jake Simpson (fiddle). During the set, those who already "knew" nodded their approval as did first timers to the band's precision-playing and beguiling sound.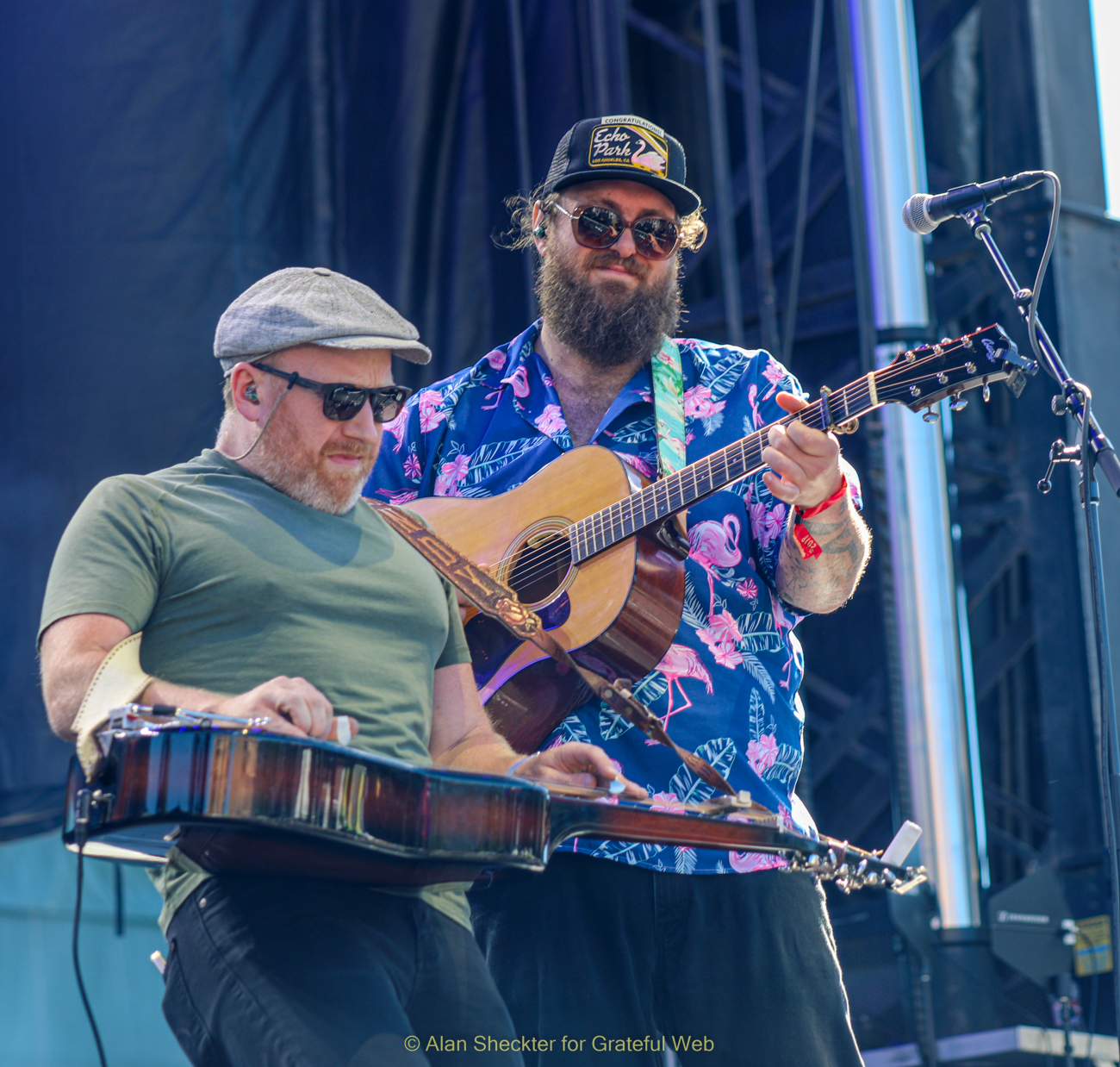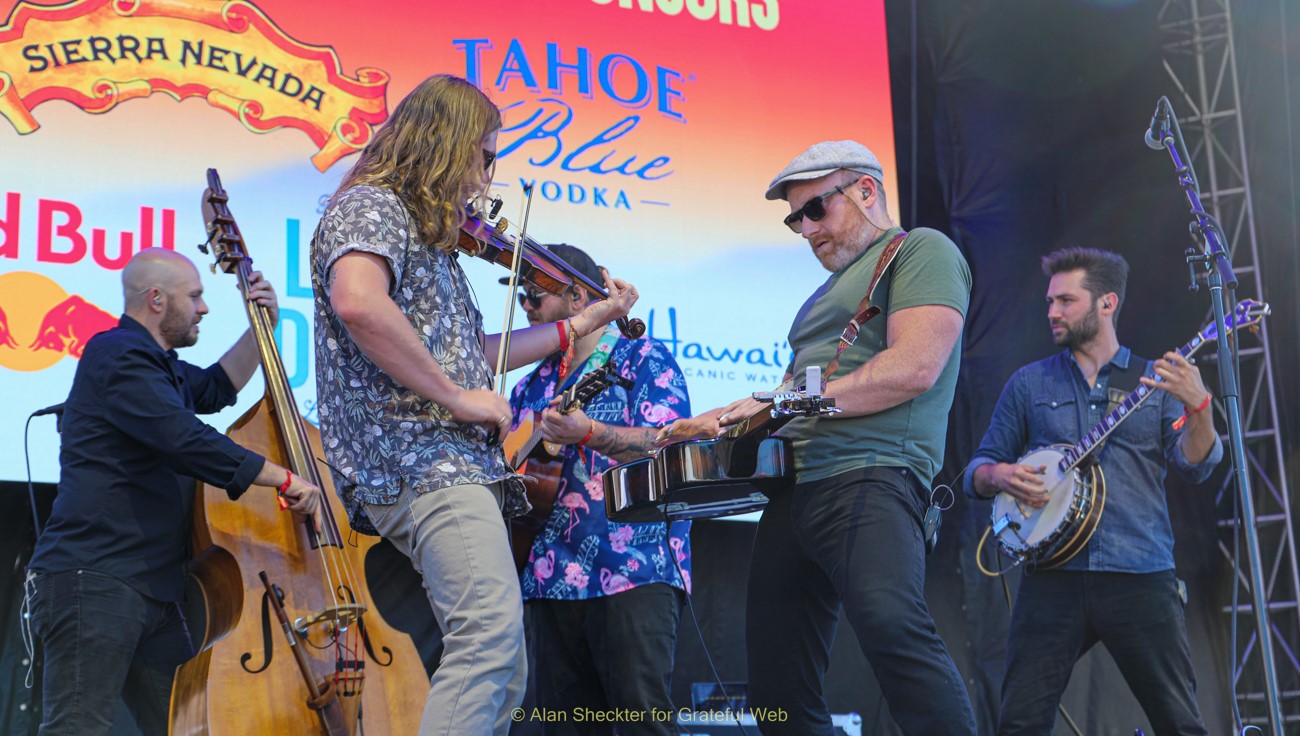 Self-described as "swamptronica," Dirtwire, definitely in the realm of "beyond" rather than "bluegrass," delivered a trippy, bass-heavy- avant-garde 3:30 p.m. set on the main stage. Appearing as a trio led by Evan Fraser (vocals, jaws harp, mini megaphone) and Mark Reveley (guitar), eclectic fiddler Briana Di Mara added a new dimension to the band.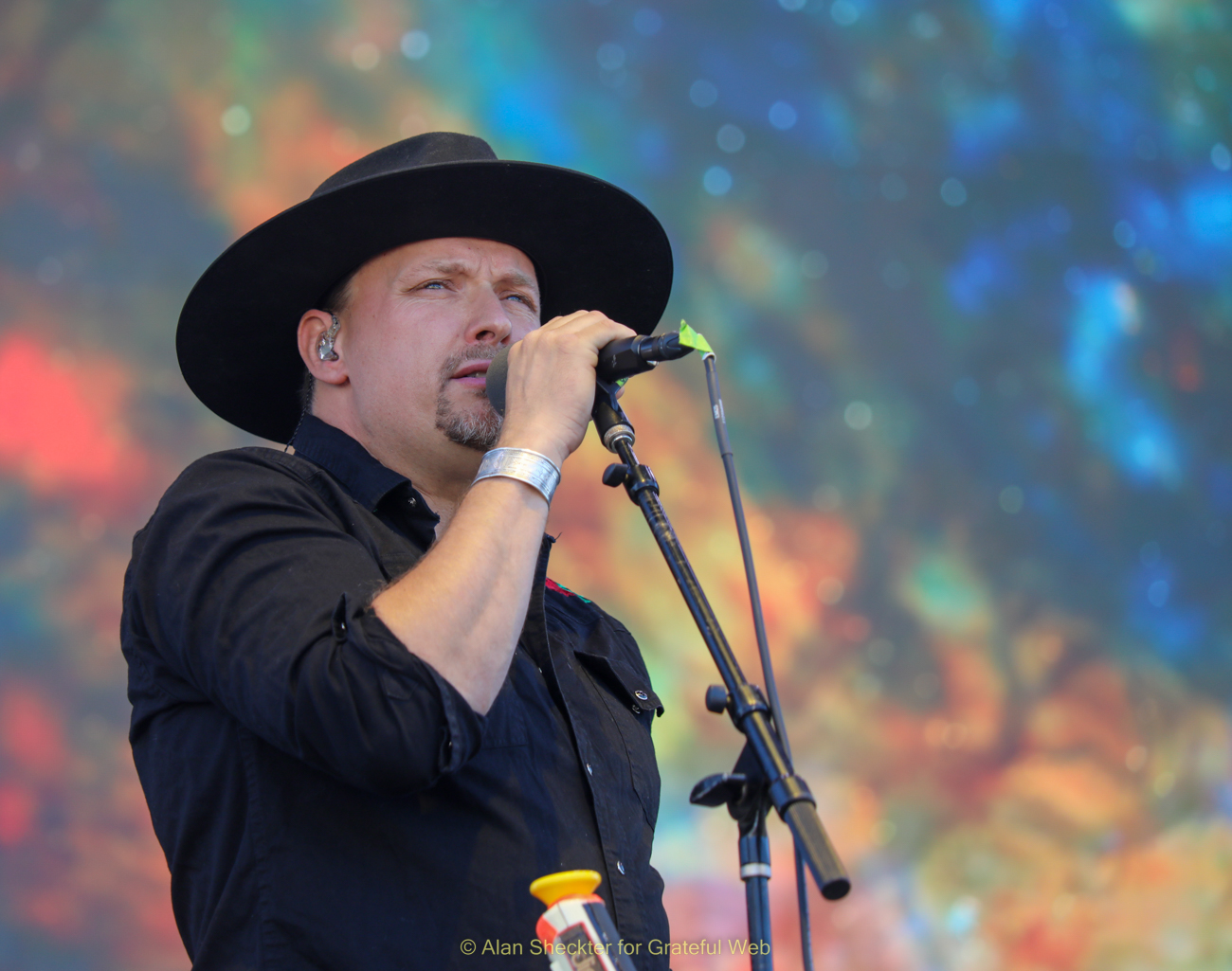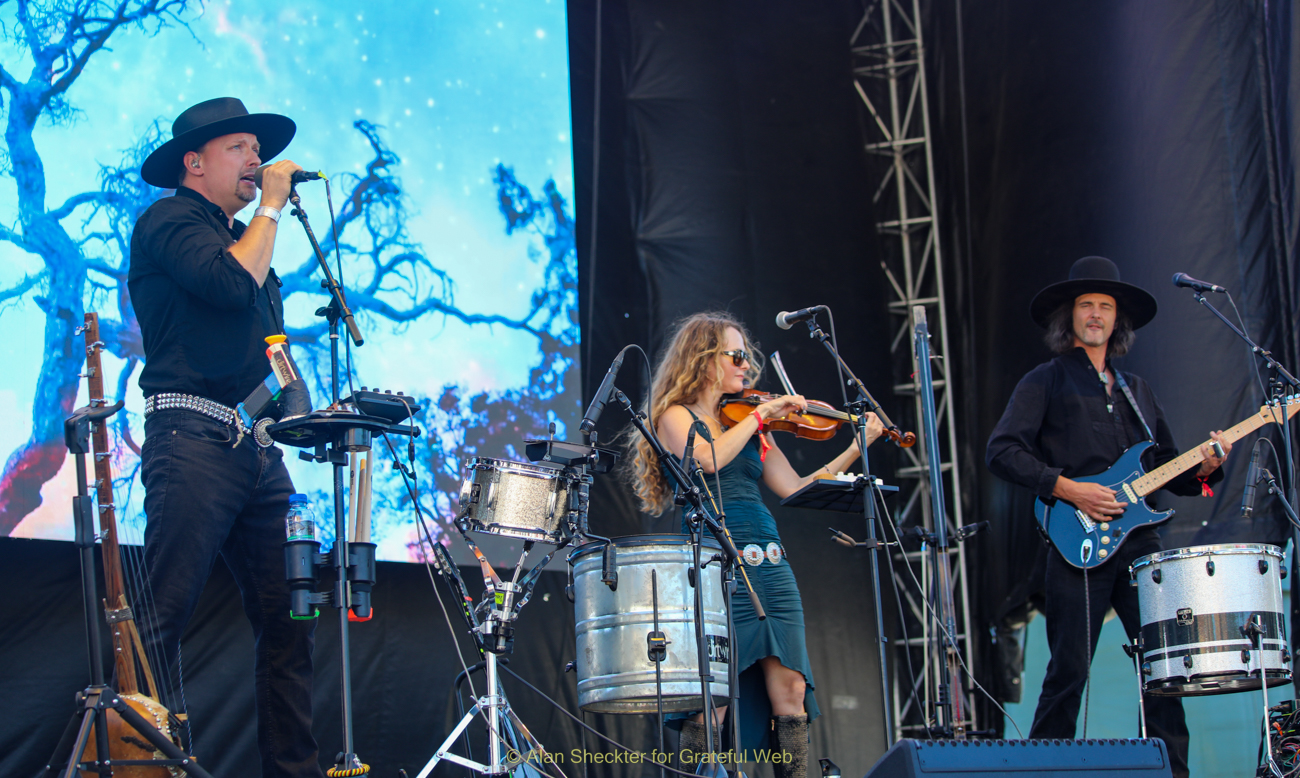 Preceding Dirtwire on the main stage were the Dead Winter Carpenters, a Tahoe/Truckee, Calif.-based band who've earned respect wide and far with their fiddle-infused, twangy amalgamation of bluegrass, classic country, and Americana compositions. Led by Jenni Charles on fiddle, vocals, and smiling-good vibes, and Jesse Dunn, the band's chief songwriter, along with Nick Swimley (lead guitar) and Jeremy Plog (bass, vocals), they were a welcome ingredient to the day's revelry.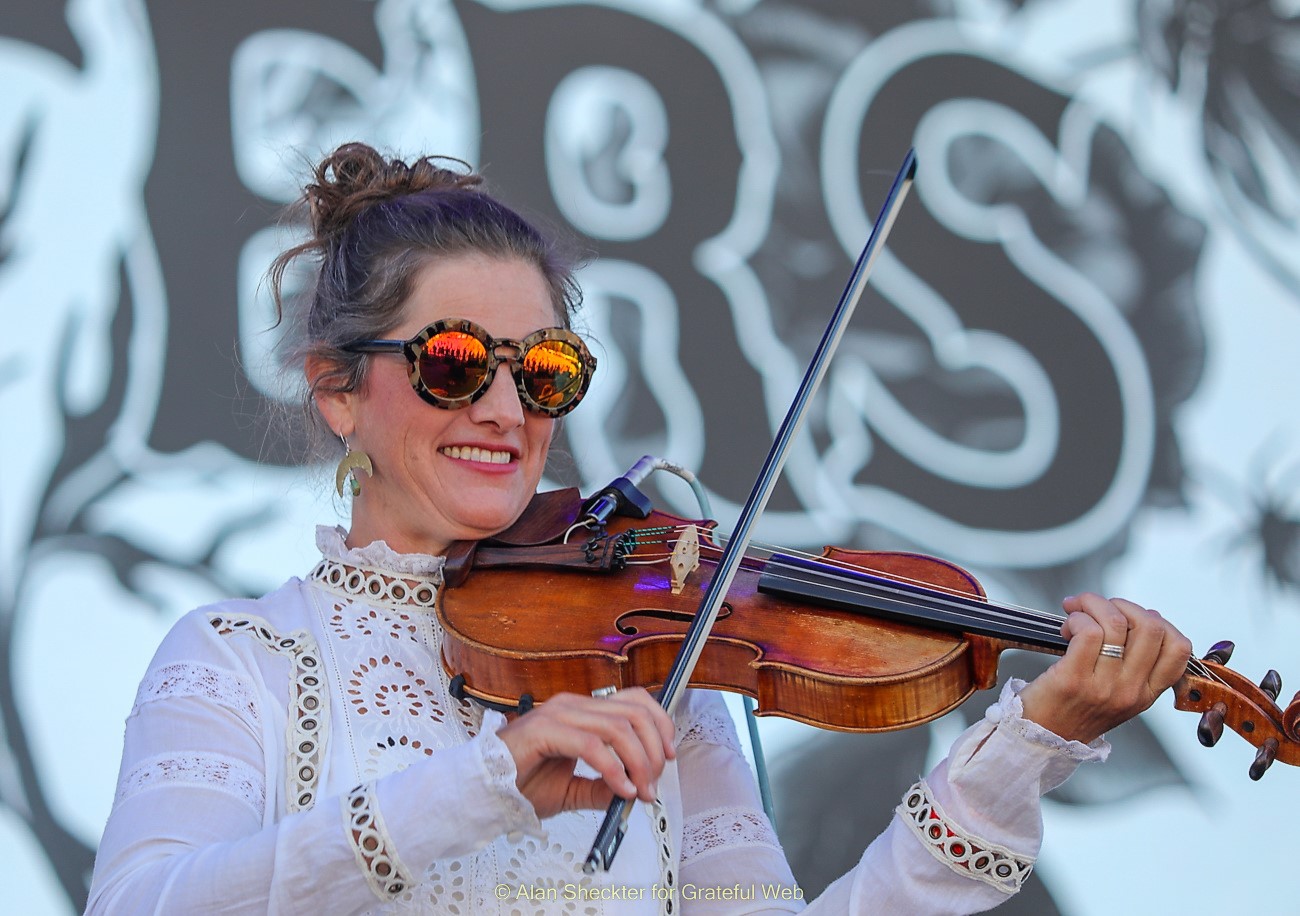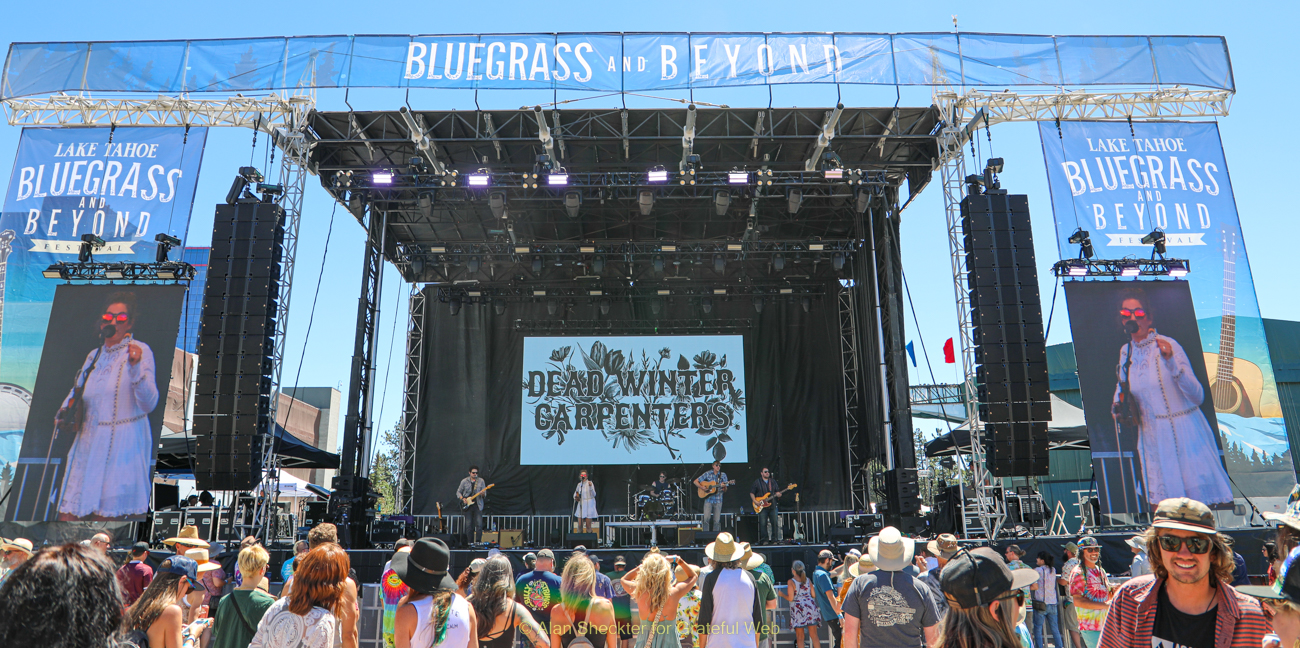 Led by brothers Manny Senchez (drumkit, vocals) and Ronnie Sanchez (bass), along with Kyle Merrill (guitar, vocals) and Alex Mello (keyboards), GrooveSession delivered two well-received sets of high-fueled funk-n-groovin' jams and clever songs on the small stage, before and after Leftover Salmon.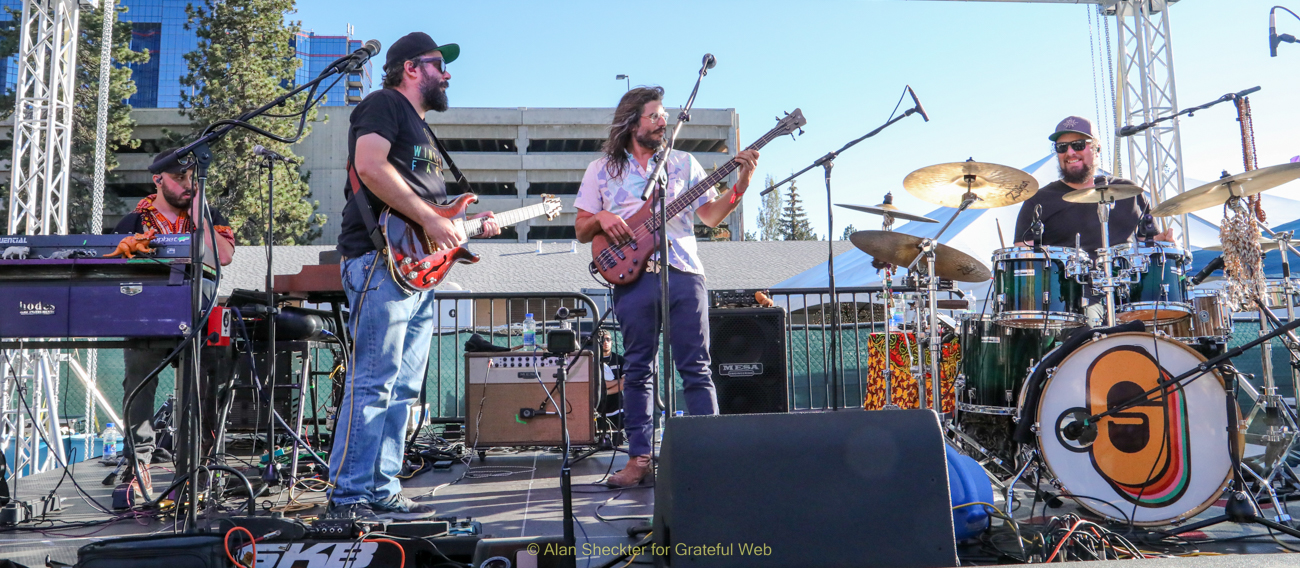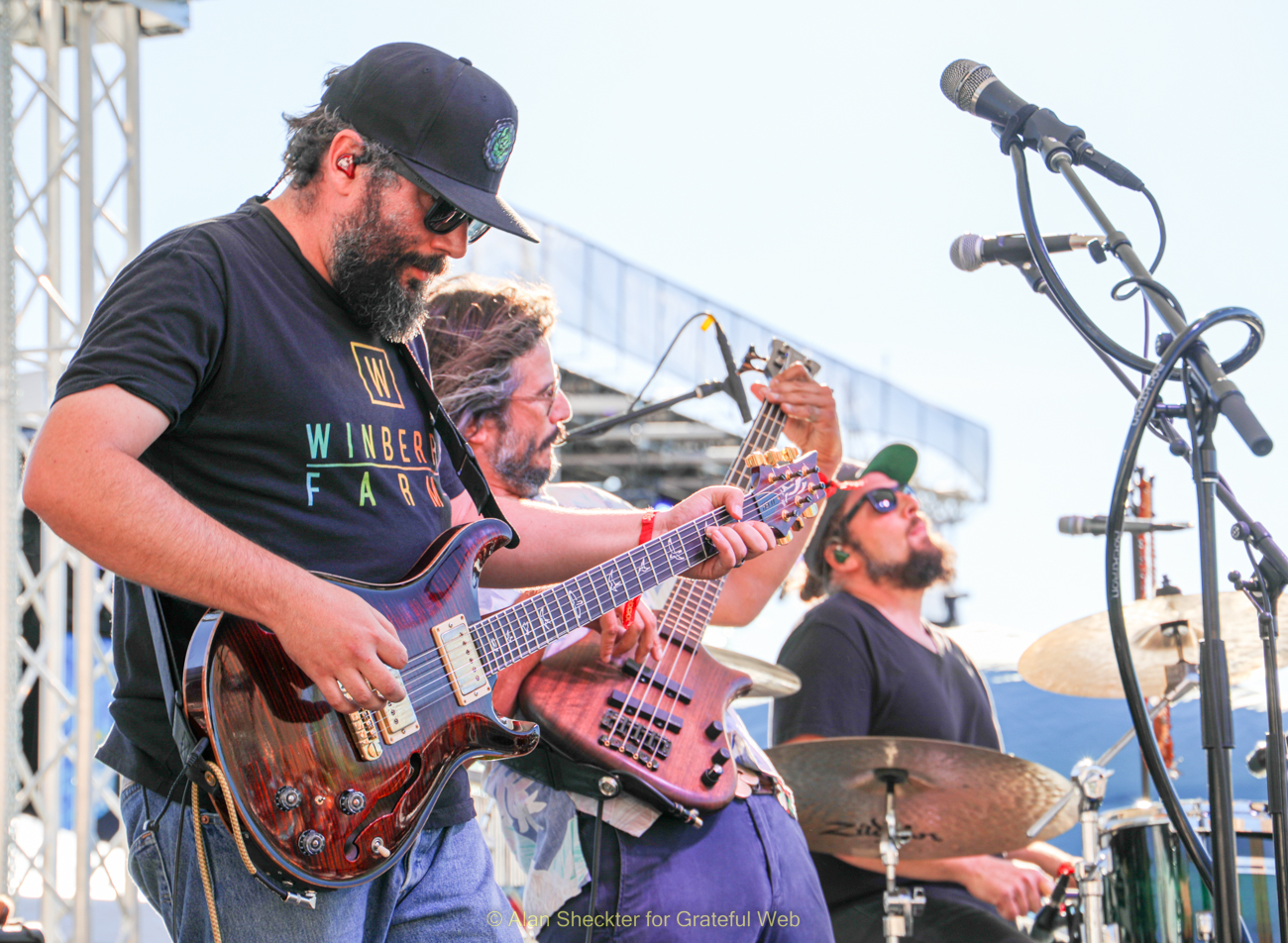 Achilles Wheel also laid out two short dynamic sets on the small, Sierra Stage. Based in nearby Nevada City, Achilles Wheel's sphere of influence has spread far and wide over the past 10 years or so. Leading the improvisational psychedelic rock 'n' blues project are the core three, scintillating players all: Paul Kamm (guitar, vocals, songwriter), Jonny "Mojo" Flores (lead guitar, vocals, songwriter), and Shelby Snow (bass). In addition to the twin-drum attack of Mark McCartney and David Clouse, keyboard-whiz and former Terrapin Crossroads mainstay Scott Guberman guested with the band and perfectly music-and-mind-melded with the band.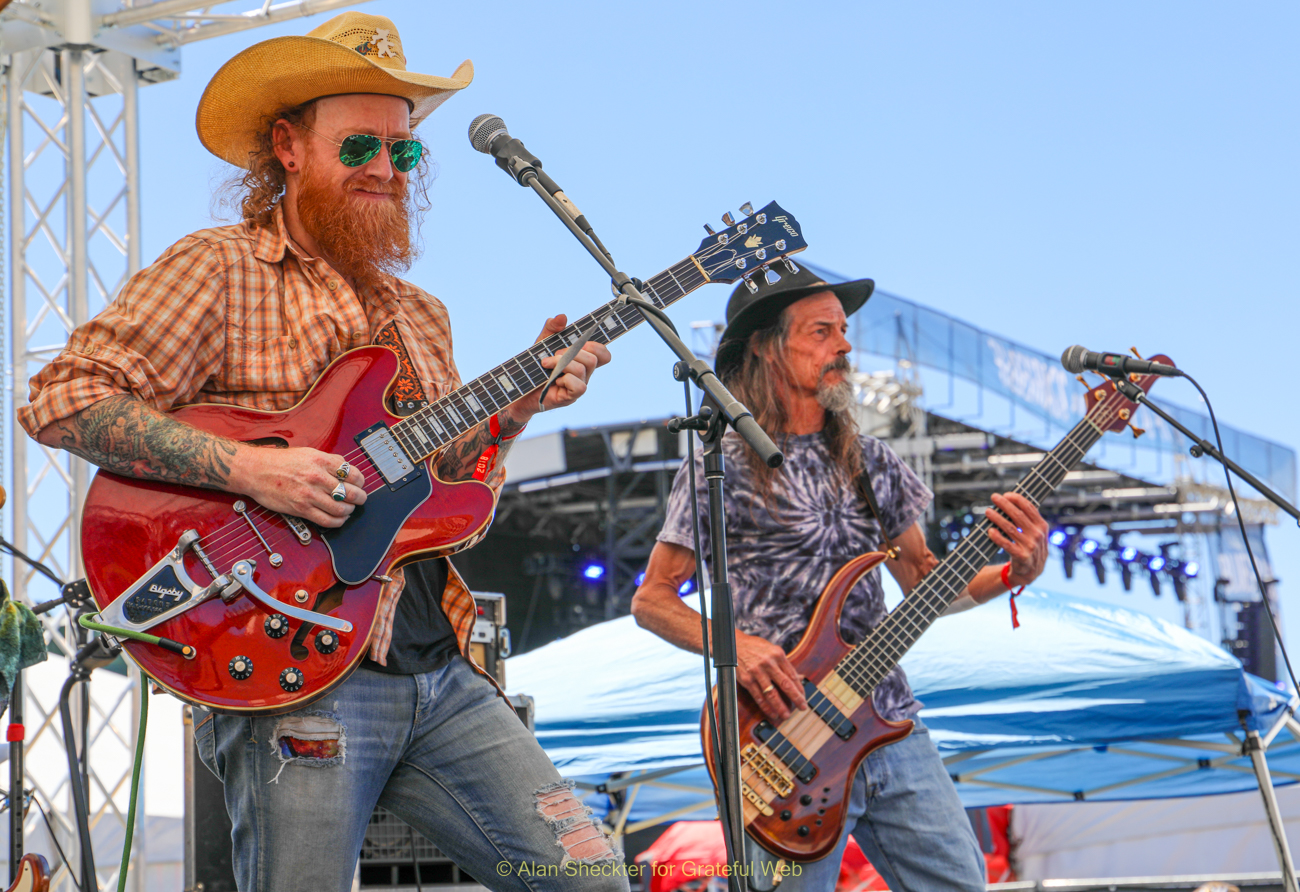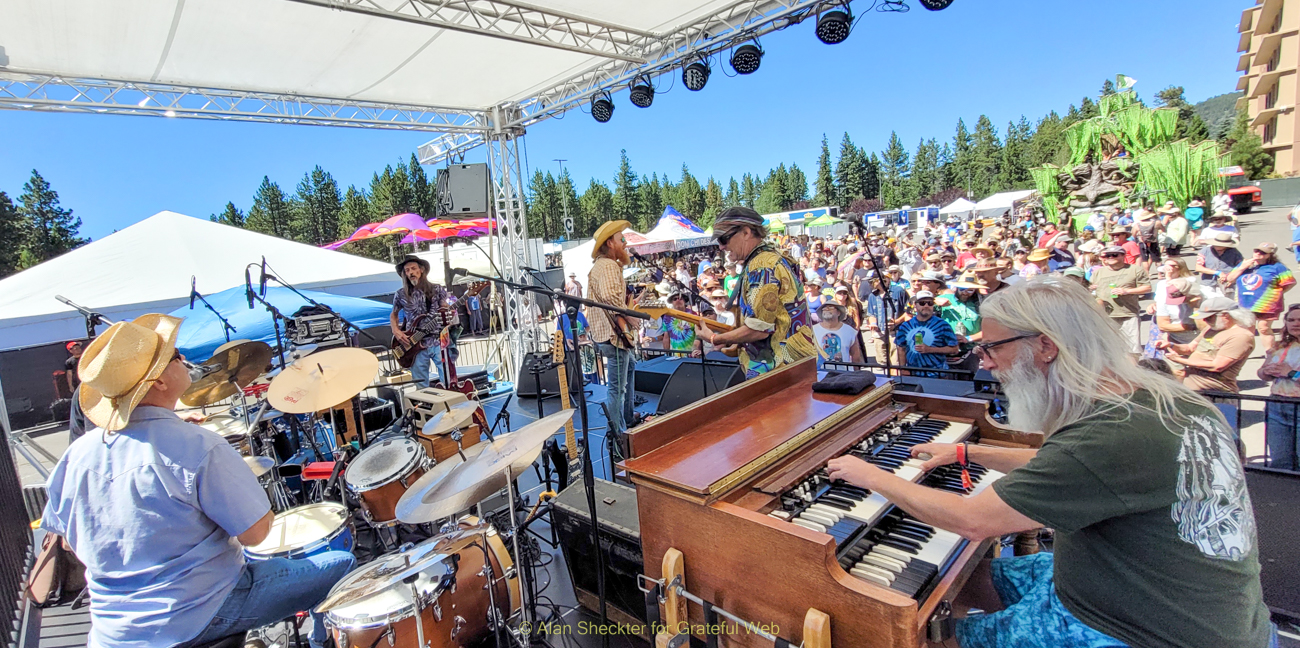 Preceding Achilles Wheel, Boot Juice, a rockin' Americana-with-a-touch-of-bluegrass outfit, injected an early-afternoon everyone-is-invited party ambience. The high-energy seven-piece ensemble, fronted by Jess Stoll (vocals) and Connor Herd (acoustic guitar, vocals), and backed by an electric guitar, saxophone, trumpet, bass, and drums, shined in this setting, certainly due to their fitting sound, but also as a band with a personally rich mountain history – Stoll and Herd met while working at an outdoor leadership program at Feather River College, not far up the Sierra Nevada ridge in Quincy, Calif.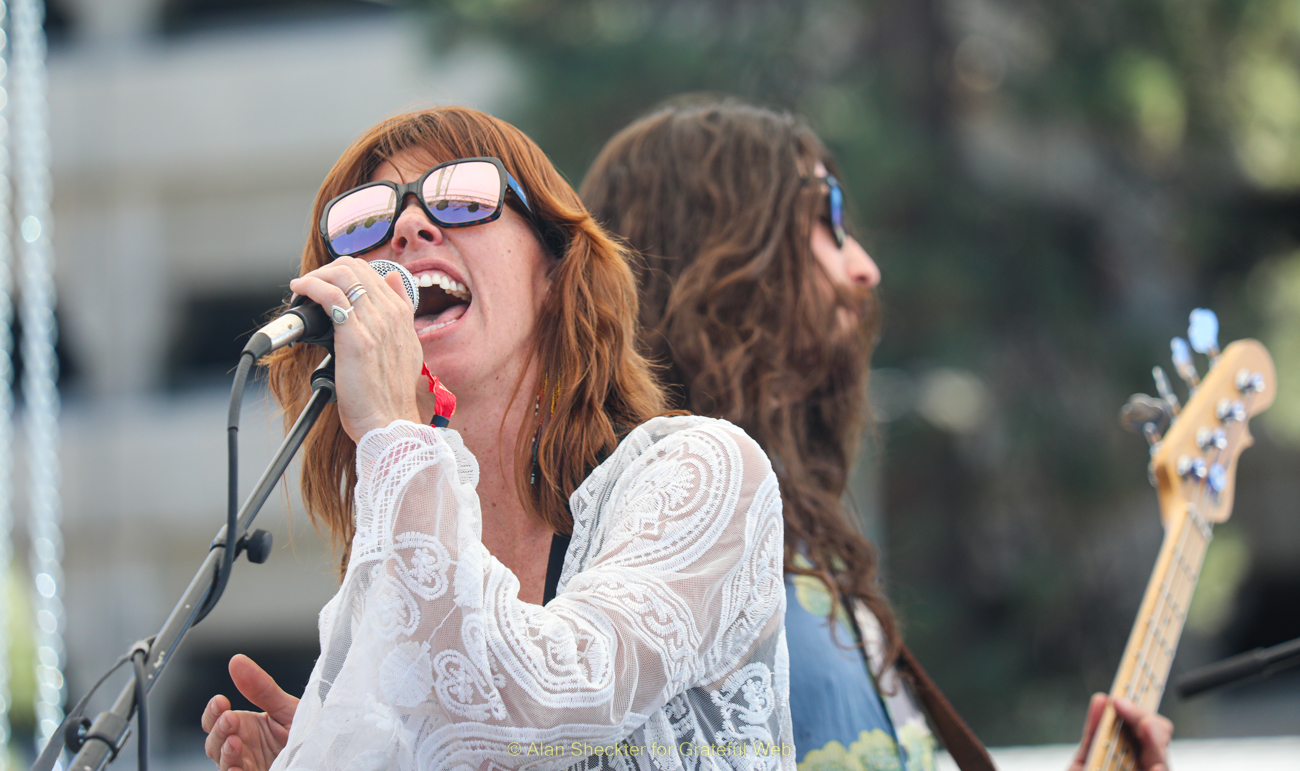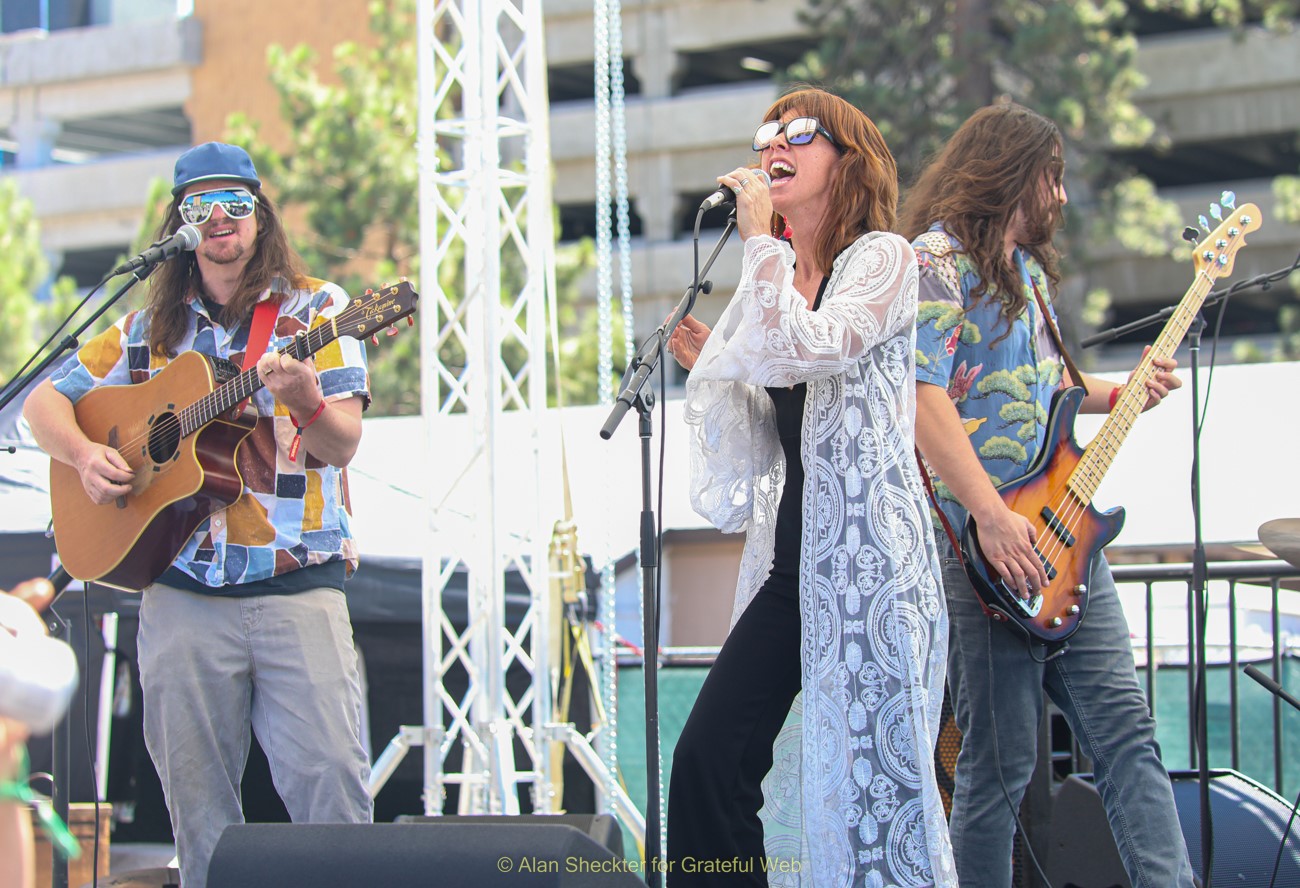 With blazing sunshine, yet a temperature that barely touched 80, many attendees spoke of the welcome relief from the extreme mid-summer heat of their hometowns. Nevertheless, with the humidity running at about 10%, water-hydration was an important component of the day. Thanks to the event producers for providing a free water fill-up station.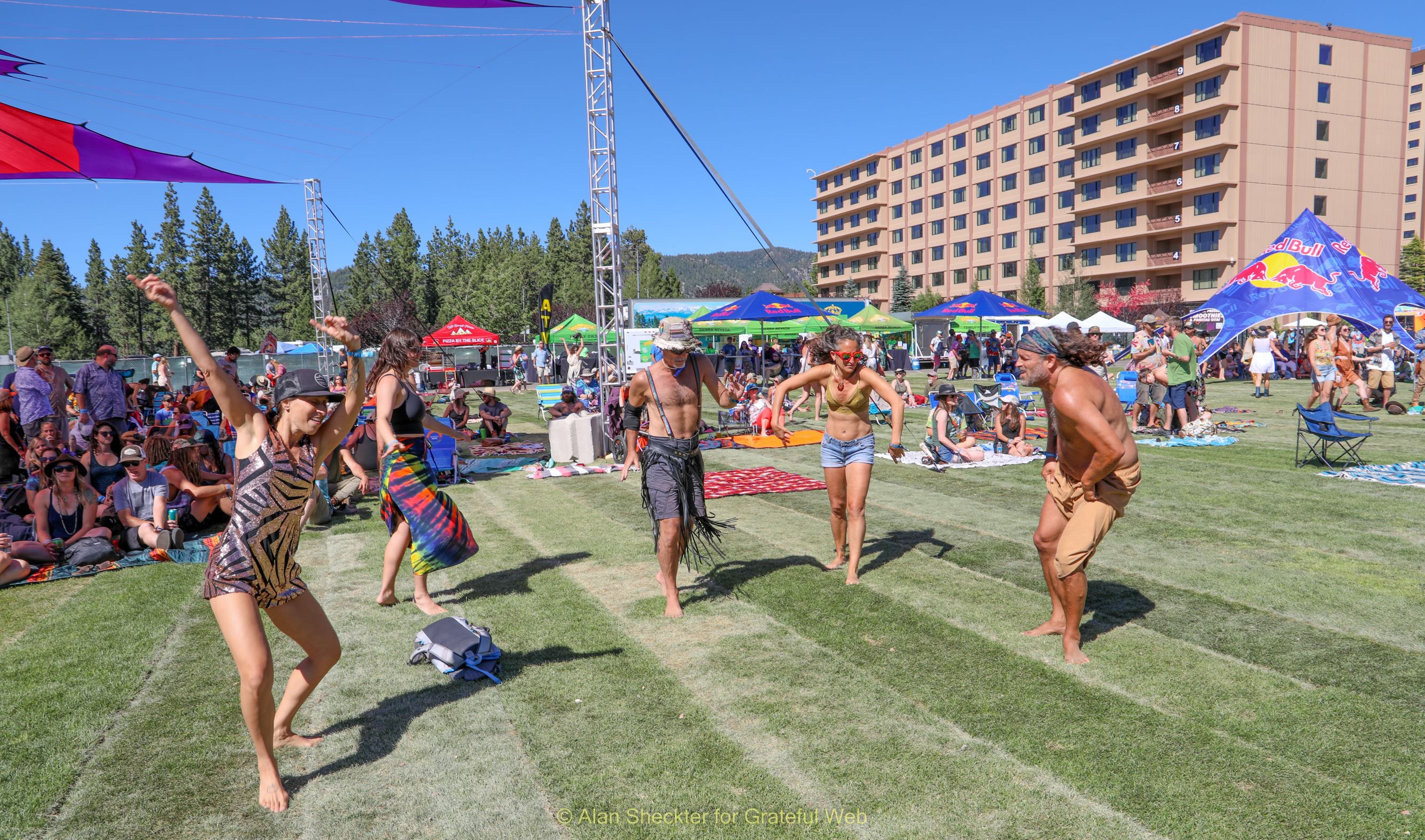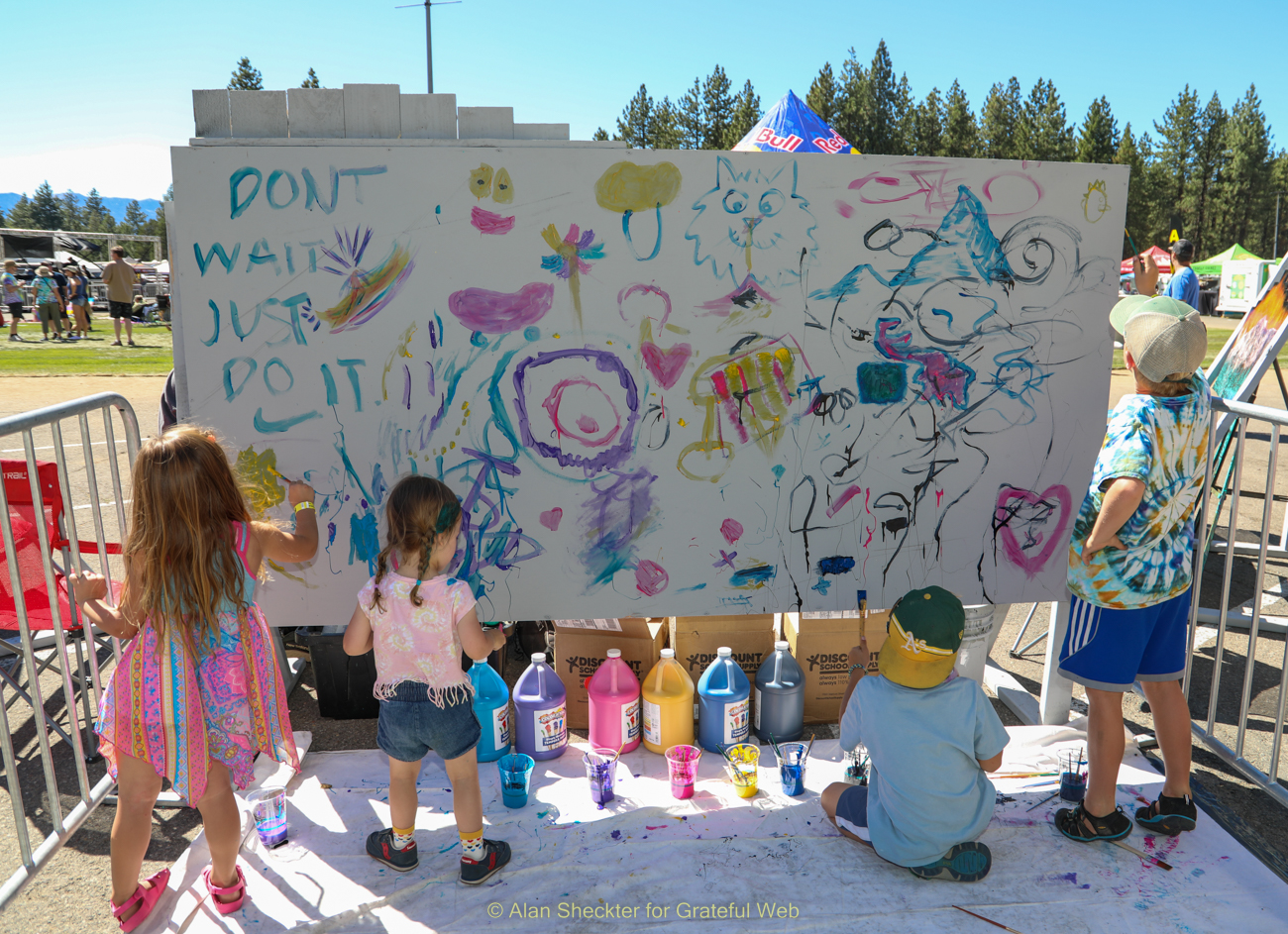 Attendees were lucky not only due to Phil's extremely short bout with COVID-19 that left him OK to play, but Bluegrass & Beyond came and went just one day before the area was to be enveloped by smoke and poor air quality from the Oak Fire, based near Yosemite National Park.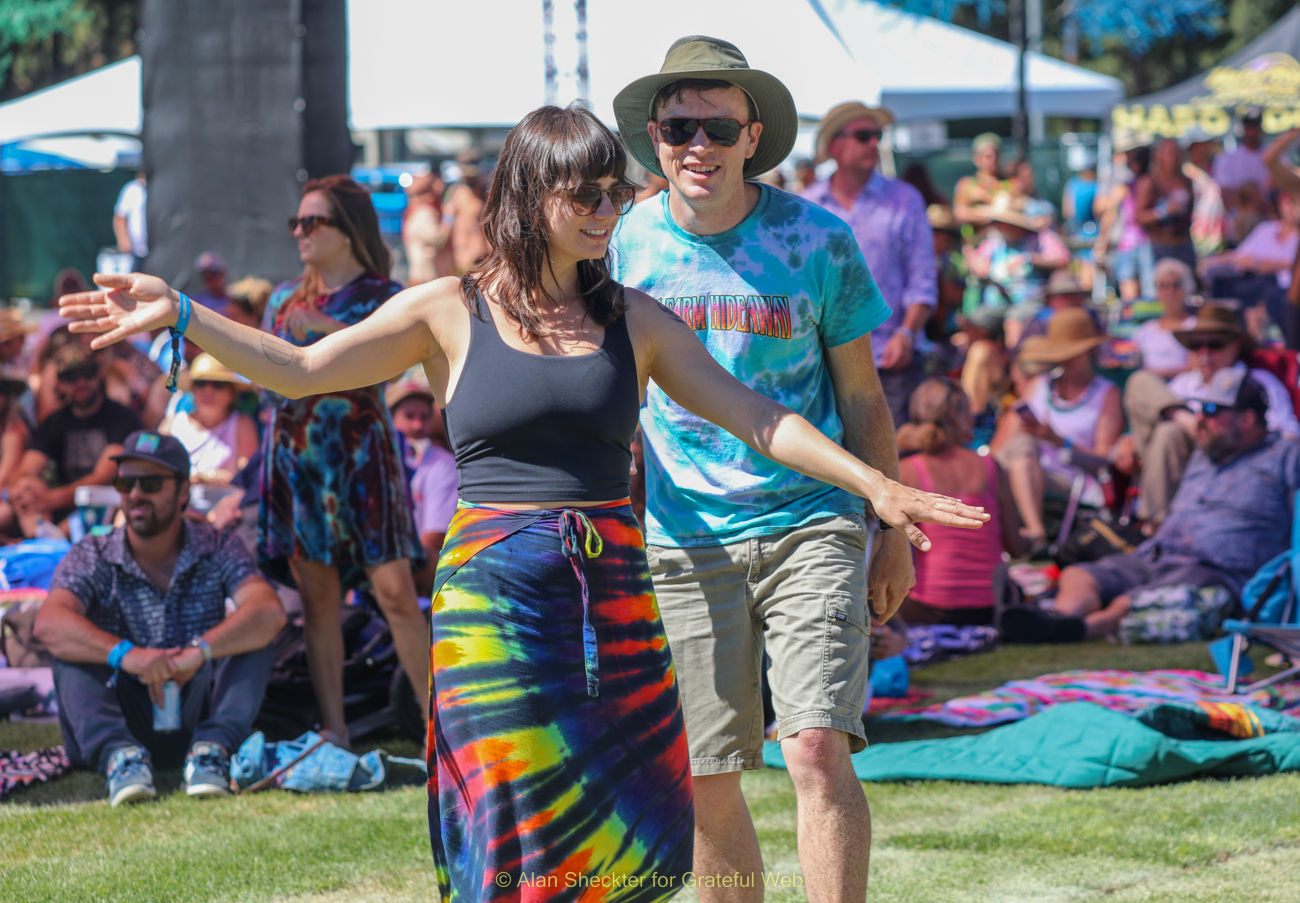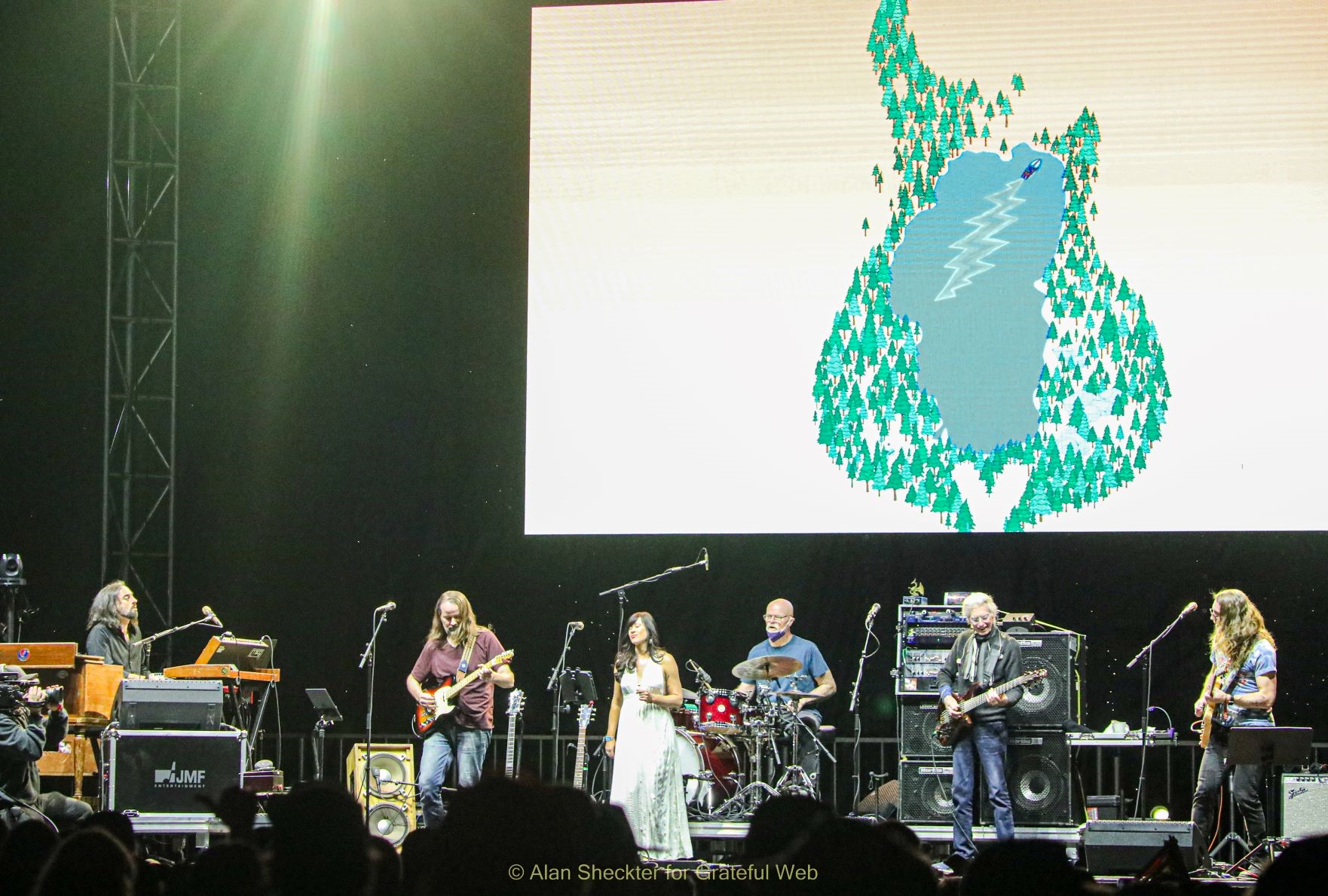 Phil & Friends: Mason's Children, Jack Straw, Sitting on Top of the World, Let it Grow, Black Peter, New Speedway Boogie, China Cat Sunflower, The Eleven, Jessica, Turn On Your Love Light, Box of Rain