Someone turned over a large rock and roll subculture over the past three night run at "The Beacon Theater", as "Deadheads", "hippies", and "throwbacks", have resurfaced to see "Bob Weir and Ratdog". No other band in bluegrass, blues, country, folk, reggae, or rock and roll history, has woven such a distinct counterculture and sense of community, other than "The Grateful Dead", and the bands offshoots. Known to "Deadheads" as "The Dead", the band's inception began in 1965 in San Francisco, California, from a jugband known as "The Warlocks". Original and former band members included frontman, Jerry Garcia, (born August 1, 1942, deceased on August 9, 1995, at 53 years of age), 60 year old guitarist/vocalist, Bob Weir,(born on October 16, 1947), 68 year old Phil Lesh, (born on March 15, 1940), drummer, 61 year old Bill Kreutzmann, (born on May 7, 1946), Ron "Pigpen" McKernan, (born on September 8, 1945-deceased on March 8, 1973 at 27 years old), 64 year old Mickey Hart, (born September 11, 1943), keyboardist, Tom Constanten, Keith and Donna Godchaux, Brent Mydland, and Vince Welnick.
A historical and political timeline over the past 44 years throughout US history has included a presidential chronology consisting of the following: Lyndon B. Johnson, (1963 to 1969), and his goals for "a Great Society" for the American People, extensive legislative programs, and the struggle to prevent Communist infringement in Vietnam, Richard Nixon, (1969 to 1974), who succeeded in ending American fighting in Vietnam, however, resigned due to the Watergate scandal, Gerald Ford, (1974-1977), "an era that troubled our minds and hurt our hearts, an era of rising energy costs, inflation and tension during the Jimmy Carter administration, (1977-1981), Ronald Reagan's attempts to restore growth and optimism", (1981-1989), George H. W. Bush's "moment rich with promise", (1989-1993), William J. Clinton's, "lowest unemployment rate in modern times and the lowest inflation in 30 years", (1993-2001), George W. Bush's WWIII disaster, (2001-2008), and finally, Barack Obama (2008-)!!! :)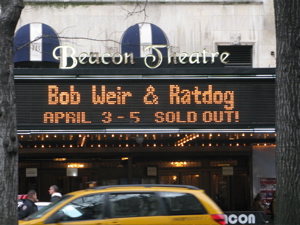 American Culture from the mid 60's, when the average salary was $4743.00 per year until today, were the following: pop artist, Andy Warhol, classic novels including, "To Kill A Mockingbird"-Harper Lee, "Catch-22", "In Cold Blood"-Truman Capote, "Electric Kool-Aid Acid Test"-Tom Wolfe, "The Feminine Mystique"-Betty Friedan, Gloria Steinem, "Where the Wild Things Are", by Maurice Sendak. Go-go boots, bouffant hairstyles, Martin Luther King, Malcom X, Timothy Leary, Alan Shepard, Neil Armstrong, Buzz Aldrin, Woodstock, Jimi Hendrix, The Beatles, Led Zeppelin, psychedelic rock, Audrey Hepburn, the Transamerica building, Sears Tower, Kurt Vonnegut, the floppy disc, "Apollo 17", the Viet Nam war, Roe vs. Wade, The Bee Gees, Disco, "Star Wars", "Sesame Street", Mujahideen vs. USSR, hair bands, War on Drugs, Iran Hostage Crisis, Persian Gulf War, Michael Jordan, grunge, "The Beastie Boys", 9/11/2001, Iraq War.
Last night began and ended very quickly at "Yogi's" dive bar located at 2156 Broadway at 75th and 76th, when you know you are living in post 9/11, post-Guiliani New York City, when the bartender STANDS UP on the bar, turns down the music, turns off the tv, (like a mother about to scream at her children), "LISTEN UP ALL YOU HIPPIES IN THE BACK, IF YOU SMOKE POT IN THE BATHROOM, NO ONE WILL GET SERVED", (as she turns and tells all the other bartenders, "DON'T SERVE ANYONE", I left before all hell could break loose.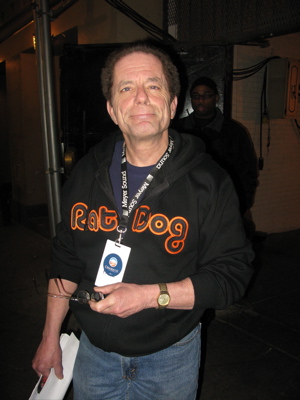 Before the show, I met and spoke with Dennis McNally, the publicist for "The Grateful Dead", who was gracious enough to answer the following questions. 1. Q- "What was your fondest, most magical, or most satisfying memory working with one of history's greatest bands?" A- "It was at "The Endangered Music Project Concert" at "The Library of Congress" with drummer Mickey Hart, in 1991 when many of our political friends were there, and I managed many different groups of people simultaneously, it was like a mathematical equation, and I received a compliment from Jerry, who RARELY gave compliments, he just ASSUMMED you would do a good job, and THAT was my most satisfying moment". 2. Q- "Tell me what you learned from writing "A Long Strange Trip", "Jack Kerouac, Desolate Angel", and "Highway 61", that you did not know before sitting and writing it?" A- "It was just intuitive, I liked the dangerous/suicidal way that Kerouac wrote his own way, publication be damned". "My favorite story in the book is the Patrick Leahy and the Secretary of State" section." Q-" 'The Dead' offered such a sense of community and family and nonjudgmental acceptance to those who may have been considered outcasts by modern social standards. The following of nomadic, entrepreneurial hippies selling tee shirts, bowls, veggie burritos, from town to town to see if they could score a miracle ticket, to see what the ever-changing set list would be, was enormous. Do you think any more modern jam bands like "Widespread Panic", "The String Cheese Incident", "Medeski Martin and Wood", or "Dave Matthews Band" offer that same type of following?" A-"NO. NOTHING COMES EVEN CLOSE, NOT EVEN REMOTELY CLOSE, as of now." Q-"Are you going to the Jammies, 10KLF08, or Bonnaroo?" A-"We did Bonnaroo last year, we go every other year".
Q to a fan, who would like to remain nameless, "why doesn't Mickey Hart, Phil Lesh and Bob Weir tour together? "They don't see eye to eye, there are many unsubstantiated rumors, and no real basis or truth". Q-"Do you think they will play 'Desolation Row' in nyc?" A- "Not sure, they may play "Maggie's Farm".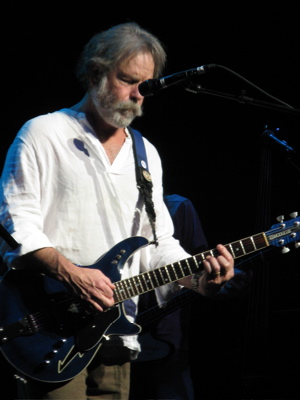 Chat with Bob Weir. I shared with Mr. Weir that I am advanced at yoga myself, and asked him what type of yoga does he practice? A-"Ashtanga". Q- "I understand you workout too, how often do you go to the gym?" A-"Everyday". Q-"What's your biggest accomplishment in life, what more would you like to achieve?" A- "I just want to keep playing, keep practicing, keep improving, that's what I really want to do, to keep on playing". Q-"Are you going to write a book?" A-"I have to write a book, it's long overdue."
"Bob Weir and Ratdog", consists of master musicians Bob Weir on guitar, Jay Lane on drums, Robin Sylvester on Bass, Jeff Chimenti on keyboards, Kenny Brooks on Saxaphone, and Mark Karan on guitar!!! Special guests on the April 4th show, was Dana Fuchs, Jimmy Herring, and Warren Haynes. This was Mark Karan's first tour after he underwent chemotherapy for throat cancer, and was, according to veterans, was a little more subdued, looking down a lot while he played, instead of being more energetic than he used to be."
I felt more like I was at a "Dead" show tonight at Bob Weir than I have with any other show. Setlist for April 5, 2008 at "The Beacon Theater". First Set: Jazzy Jam, Help on the Way, Slipknot, Maggie's Farm, Row Jimmy, Dark Star, Weather Report Suite, Jam, Let It Grow, Intermission: Half an hour, Second Set: You Win Again, City Girls, Victim or the Crime, Lazy River Road, Jack Straw, Dark Star, Stuff, Days Between, Two Djinn, Slipknot, Franklin's Tower and Encore: One More Saturday Night.
Three songs usually untouched by others, as they were considered "Jerry's songs" "Stella Blue", "Morning Dew", and "Days Between".
The nomadic band moves on to Baltimore, Maryland on April 8th and 9th, as well as a private, undisclosed location in Washington, D.C., on April 7, 2008.