Today, The Bogie Band featuring Joe Russo releases its debut album, The Prophets In The City, via Royal Potato Family. A collaboration between old friends, the New York City-based collective merges tenor saxophonist Stuart Bogie's fiery arrangements with Joe Russo's dynamic drumming. Utilizing only wind and percussion instruments, they are joined by a supporting cast of musicians whose resumes run through some of New York City's most beloved bands, including Antibalas, The Dap-Kings, Red Barat, Budos Band, St. Vincent and David Byrne's American Utopia. The resulting efforts on debut album, The Prophets In The City are riotous and jubilant, pushing the boundaries of instrumental music.
"The music we've created here revels in the human mysteries that unfold in New York City, basking in its connections, ironies, and myths," explains Bogie. "Through observing its humanity, we hope to invoke the underlying world of the spirits."
Indeed, The Prophets In The City presents a soundtrack to life in NYC that is at once ancient and immediate. The collection's nine tracks paint images of crowded streets, joy and fury together on the sidewalk, golden light shining through scaffolding, and characters that carry mysteries and truths in their hearts. The dynamic arrangements are built on the propulsion of Russo's drumming, alternating through transcendental minimalism, raucous humor and revelatory wonder; passages of bold gleaming brass ring back and forth in overtone rich harmonies, conjuring new melody in the listener's imagination.
"These are deep, thoughtful, beautiful and powerful compositions that could have only come from the mind and heart of Stuart Bogie," says Russo. "I'm so proud of this record and can't wait to share it with the world."
Stuart Bogie has worked with artists such as Arcade Fire, TV On The Radio and Iron & Wine, though he's best known for his time as member/conductor of Antibalas. He also wrote the score for the Oscar nominated film, How to Survive a Plague. Russo's career has included performing and recording with Furthur, Gene Ween Band and Benevento/Russo Duo. He currently leads his own group, the highly-regarded Joe Russo's Almost Dead (JRAD).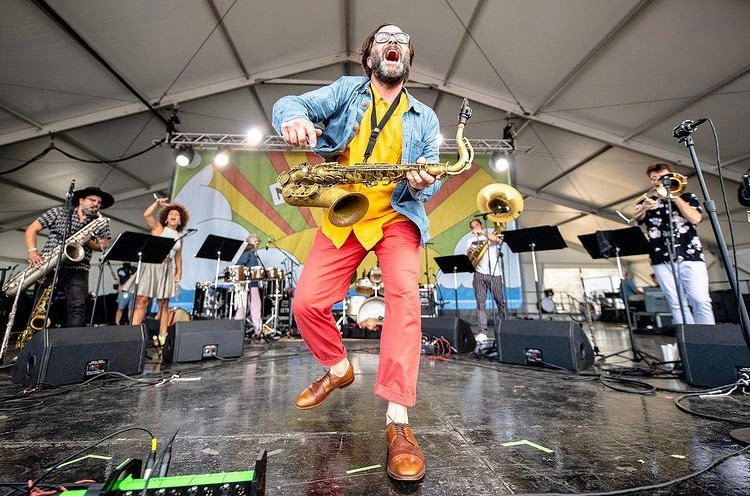 The Bogie Band featuring Joe Russo celebrates the release of The Prophets In The City with an album release performance tomorrow, Saturday, March 26 at Brooklyn Bowl. Tickets are available HERE. They return on Friday, July 1 to play Peach Music Festival in Scranton, PA.
The Bogie Band featuring Joe Russo
The Prophets In The City
Track Listing:
1. The Prophets In The City (Arrival, Balance, Discipline, Joy)
2. The Witnesses
3. We Met Them By The Water
4. Walking With The Holy Fools
5. Take Them On
6. We Organize
7. Joy (Reprise)
8. The Struggle
9. God In Us