The Bonnaroo Music and Arts Festival is proud to announce large scale greening initiatives for its 2008 event, set to take place June 12-15 in Manchester, TN. Festival organizers continue to take aggressive steps toward mitigating the event's environmental impact and raising awareness about green issues. By focusing on drastic carbon reduction at the festival and in the lives of its patrons, Bonnaroo continues its long time commitment to providing a first-rate entertainment experience while creating a community that cares for our planet. Clean energy initiatives, responsible product consumption, superior waste management, local sourcing and education programs are all part of the festival's aggressive environmental plan outlined below. "We work tirelessly to reduce the impact this festival has on the environment," says Bonnaroo sustainability coordinator Laura Sohn, "and we inspire the Bonnaroo community to do the same."
In partnership with the Clean Air Conservancy, Bonnaroo will buy enough carbon reduction credits to offset all emissions, making the festival a carbon neutral event. Attendees will be encouraged to enhance the effort by purchasing "Clif Cool Tags" wind energy credits to make up for emissions produced by their travel. The festival is also running a carpooling contest offering a chance to win VIP camping upgrades to vehicles with four or more people. To fight global warming throughout the year, Bonnaroo welcomes Carbon Shredders on site to help fans track their personal carbon reduction. Fans will be invited to make a pledge to reduce their energy usage and carbon footprint by 10 percent by 2010, a shift that will keep hundreds of millions of pounds of CO2 out of Earth's atmosphere.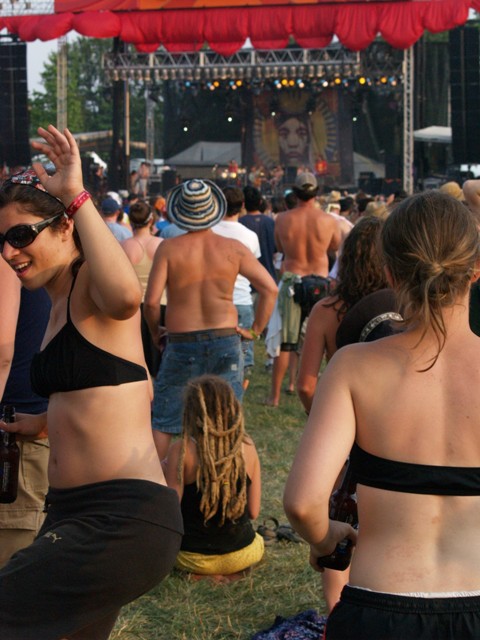 As always, Bonnaroo will run an extensive recycling and composting program in partnership with Clean Vibes, an organization that has diverted 50 percent of the festival's waste from landfills over the past two years. This year, the festival will start a compost processing site right on the festival property, which will eventually be used to nurture new life on the grounds. "With no offsite hauling, we can reduce fuel consumption and close the loop on the festival's biodegradable waste cycle," says Clean Vibes owner Anna Borofsky.
Bonnaroo 2008 brings back the popular Planet Roo village, an area dedicated to preserving the environment and promoting healthy living. Non-profit organizations, eco-friendly vendors and performers will gather to educate patrons about what they can do to protect their own health as well as the planet's. Fans who stop by Planet Roo will have the chance to learn about alternative fuels and energy sources, eat organic food at a waste-free restaurant and hear festival artists discuss topics related to the theme "Social Change Through Music." Representatives from dozens of organizations such as Rock the Earth, Headcount, Farm Aid, and Oxfam will interact with fans and artists to raise awareness about environmental and political issues.
Recognizing that green issues are of paramount importance to the organization, its patrons, and the world at large, Bonnaroo is proud to present an event that is not only a good time, but also an example of an environmentally sound gathering that helps our planet remain hospitable to life.
Bonnaroo 2008 Greening Initiatives:

PRODUCT CONSUMPTION:
-    Concession food served with biodegradable wraps, plates, cups and cutlery manufactured from renewable resources
-    Presenting a full line of organic cotton t-shirts
-    Using tree-free posters
-    Using post-consumer recycled toilet paper for portolets
-    Using 100% recycled paper (30% post-consumer) for all of the program and administrative needs
-    Use of VOC-free paint will eliminate 1,260 lbs of Volatile Organic Compound (VOC) emissions
-    All wood stakes and lumber used on-site are logged and milled locally
-    Whenever possible, recycled lumber, FSC lumber, and CF light bulbs are used on site
-    All horse food (15,000 lbs of hay) is purchased from local farmers
-    Horse manure is donated back to local farmers
-    Encouraging food vendors to source their produce and meat from local farmers
-    Reducing the use of Velon, a petroleum-based material used to decorate the tents, from 100% to 30%
-    Recycle or reuse 100% of Velon
-    70% of tent decorations are linens that we reuse each year
-    50% of the furniture on site is purchased from hotel liquidators and reused each year
-    Sourcing as many decoration materials, from carpets to mirrors to furniture, as possible from second hand or used sources as possible
-    Using earth friendly cleaning products to clean furniture
-    Festival golf cart pool reducing number of golf carts by 25%

EDUCATION AND OUTREACH
-    Hired year-round greening and sustainability coordinator.
-    Included a greening handbook as part of the employee manual including festival purchasing policies and greening tips for staff. This is distributed via email to all staff.
-    Planet Roo eco and social activism village dedicated to promoting socially responsible lifestyles
-    Created "Green Pod" in the campground as a hub for basic needs and information where we feature social mission entities and green or ecological organizations as an extension of Planet Roo.
-    Planet Roo Ambassadors share the festival's greening mission with attendees and assist with general information and support. Ambassadors help Bonnaroo attendees learn more about what we each can do in our lives and businesses to reduce pollution and become more efficient in our daily practices.
-    Waste-free café in Planet Roo
-    Dozens of non-profit organizations on site, many focusing on the environment and natural resources
-    Social change documentary tent showing features and shorts about sustainable living
-    Silent Auction with funds going to a number of worthy charitable causes
-    "The Academy" featuring lectures, art projects, etc. about environmental and sustainability issues
-    Solar Stage powered entirely by solar panels
-    Social Change Through Music panels at the Solar Stage
-    Yoga and dance classes at the Solar Stage and at the Academy in Planet Roo

FACTS FROM BONNAROO 2007:
-    Over 50% of waste diverted from land fills
-     60% of festival waste recycled or composted:
Total waste recycled: 94,340lbs / 47.17 tons
Total food waste and biodegradable products composted: 20,600lbs / 10.3 tons
Total waste sent to WastAway: 600,400lbs / 300.2 tons
Total waste diverted from the landfill: 574,160 pounds / 287.08 tons
-    Eliminated 200,000 pieces of paper by reducing the three-page letter to ticket buyers to a half-page letter
-    Implemented paperless ticket request system
-    67% of the festival's diesel consumption was locally sourced bio-diesel.
-    Offset festival emissions through Bonneville Environmental Foundation
-    Attendees encouraged to purchase energy credits to offset their emissions for travel to the festival
-    90 security horses used on site, replacing 12 security vehicles
-    Incorporated alternative fuel vehicles into the festival rental transportation fleet