Friday at Bonnaroo Music Festival 2023 in Manchester, Tennessee, brought a tidal wave of music, energy, and exhilaration. The festival grounds were once again teeming with enthusiastic music lovers, eagerly awaiting another day of outstanding performances from a diverse lineup of talented artists. From the thunderous beats of rock to the soulful melodies of R&B, Bonnaroo's second day delivered an unforgettable experience that will be etched in attendees' memories for years.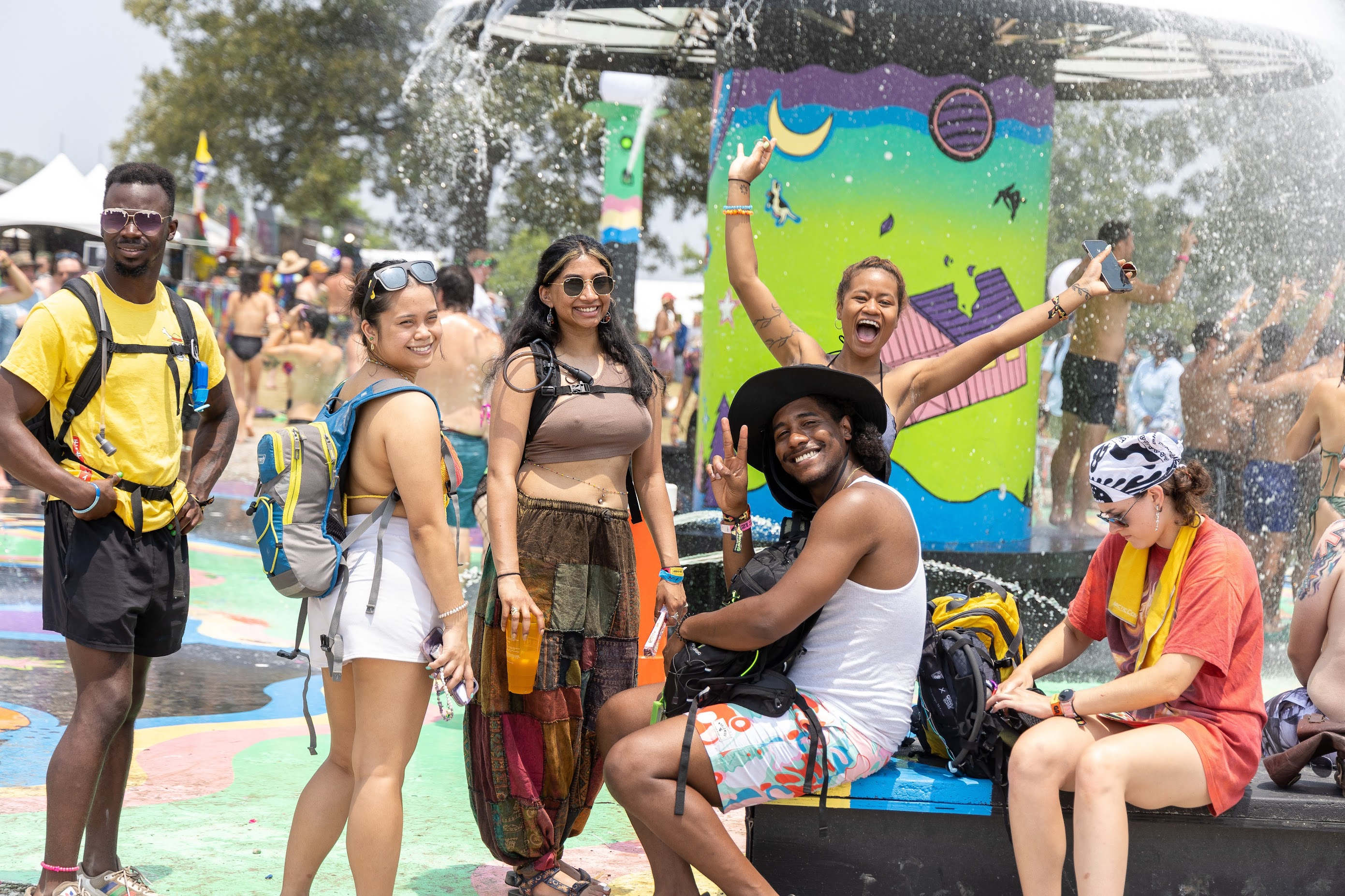 The day began with a short rain delay that kept Centeroo closed for 90 minutes. But most of the acts went on as scheduled for the sold-out crowd of 85,000 music fans.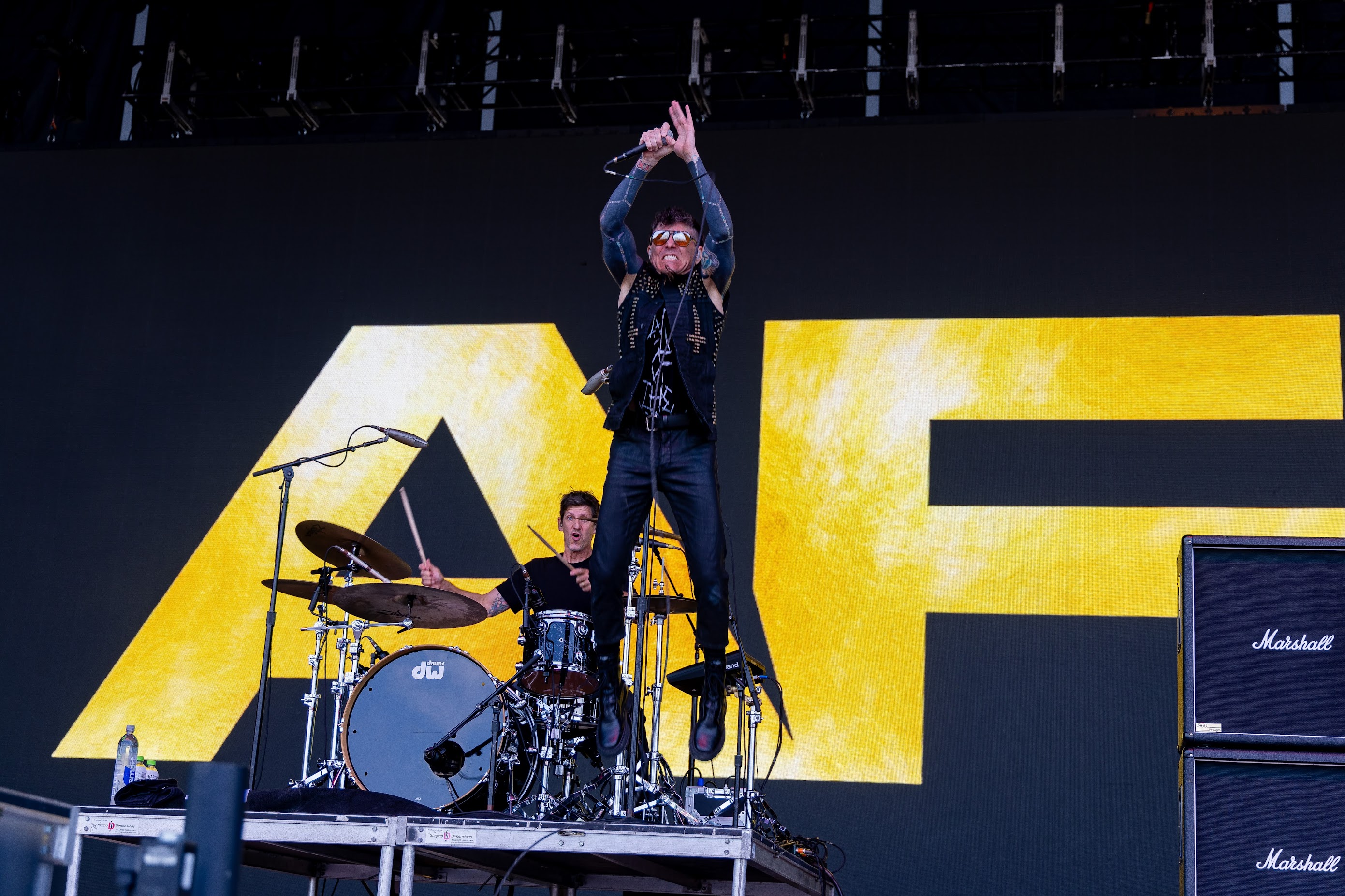 By 3.00 pm, AFI, the iconic punk rock band, opened the massive What stage, delivering a high-octane performance that ignited the crowd and left a lasting impression. With their powerful blend of punk, alternative rock, and gothic influences, AFI brought an electrifying energy and a raw intensity that resonated with fans and newcomers alike. The What stage became a frenzy of mosh pits, crowd surfing, and passionate sing-alongs as AFI unleashed their ferocious sound on the eager audience.
AFI kicked off their set with their hit single "Miss Murder," instantly captivating the crowd with its infectious hooks and catchy chorus. Lead vocalist Davey Havok commanded the stage; his energy was contagious, and his voice was as powerful as ever. AFI treated fans to a mix of old and new material, delving into their extensive discography. Hits like "Girl's Not Grey," "Silver and Cold," and "The Leaving Song, Pt. II" had the crowd singing along with unwavering enthusiasm, evoking a sense of nostalgia and reminding everyone of AFI's enduring impact on punk rock.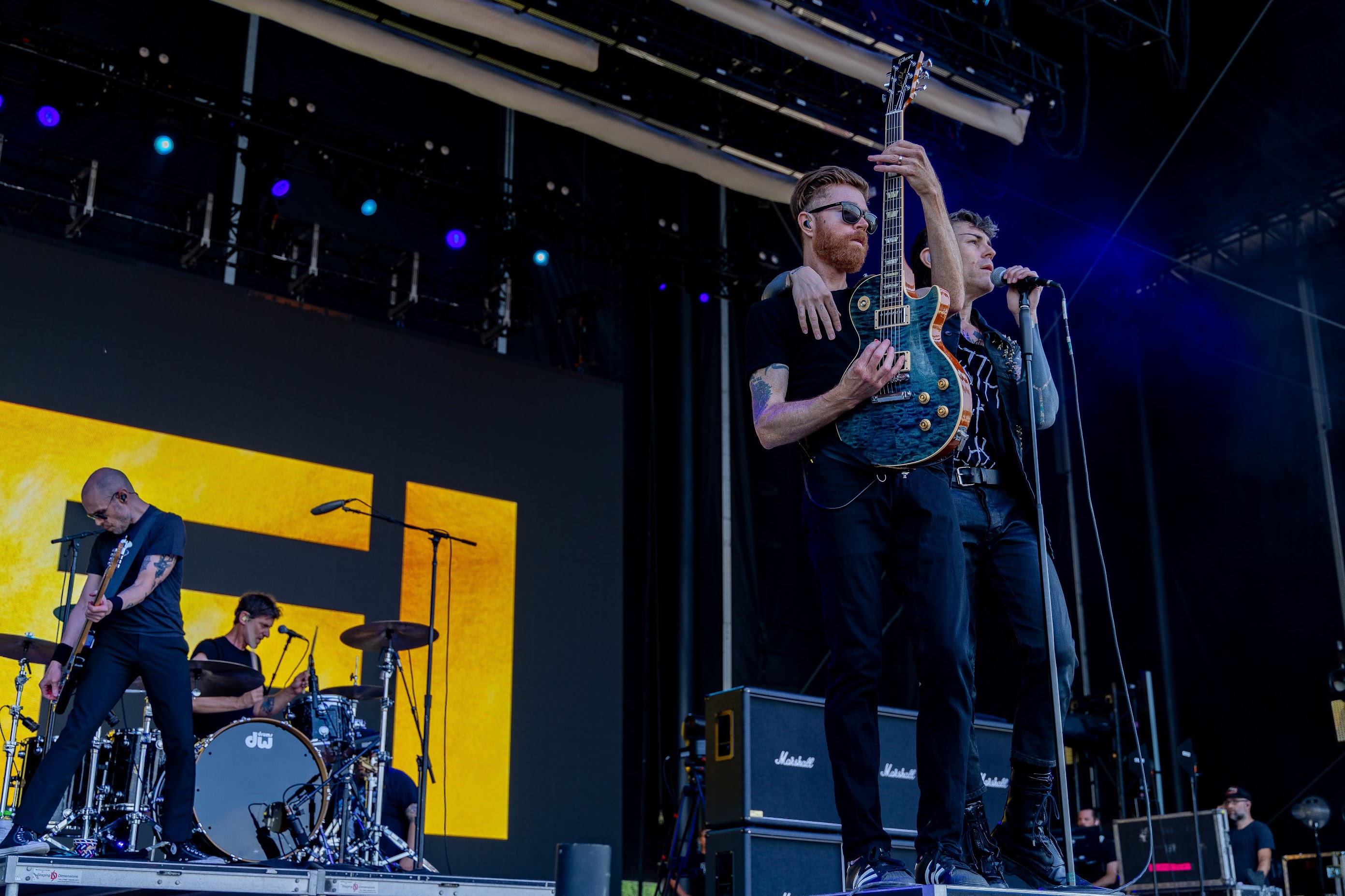 Davey Havok's charismatic performance, leaping across the stage and engaging with the crowd, was matched by the raw power of guitarist Jade Puget, bassist Hunter Burgan, and drummer Adam Carson. Their tight musicianship and cohesive energy elevated the entire performance to another level. AFI concluded their set with the fan-favorite "Days of the Phoenix," a high-energy anthem that excited the crowd. The band's unwavering intensity and the audience's euphoric response created an electric atmosphere that lingered long after the final notes rang out.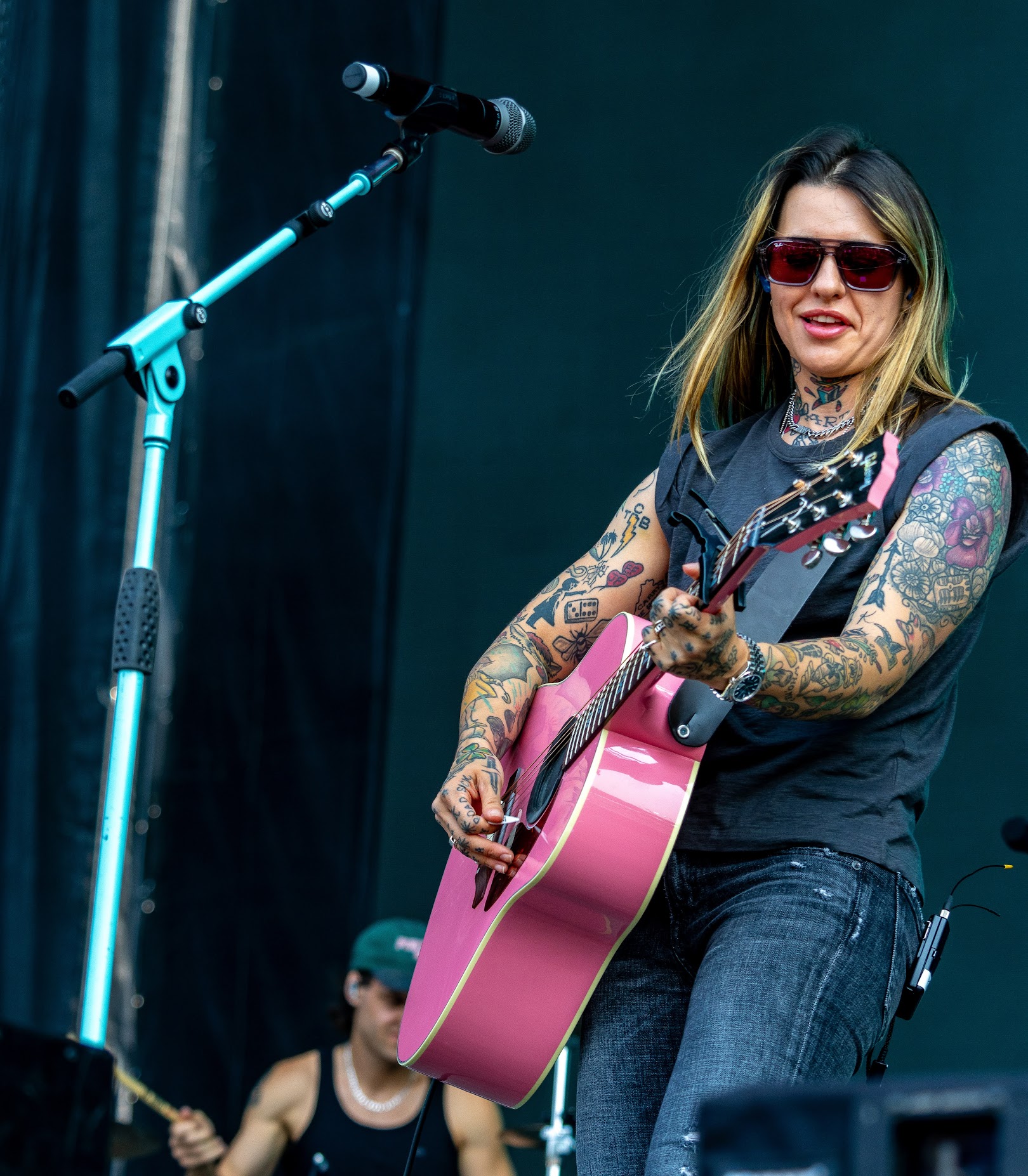 The nearly as impressive giant What Stage opened just before 4 pm. Morgan Wade, the rising star in alt-country and Americana music, took the stage, leaving a lasting impression on the festival-goers with her heartfelt and soulful performance. With her powerful vocals, authentic songwriting, and undeniable stage presence, Wade proved why she is rapidly gaining recognition as one of the most promising talents in the music industry. Her performance at Bonnaroo showcased a captivating blend of raw emotions, introspective lyrics, and a genuine connection with the audience.
A large crowd packed into This Tent stage just after 5 pm for a set by Kentucky Hardcore band Knocked Loose. The band stormed the stage at Bonnaroo, delivering a blistering and unrelenting performance that left a lasting impact on both die-hard fans and newcomers to the genre. With their aggressive sound, intense stage presence, and unyielding energy, Knocked Loose commanded the audience's attention and transformed the festival grounds into a whirlwind of mosh pits, crowd surfing, and cathartic release.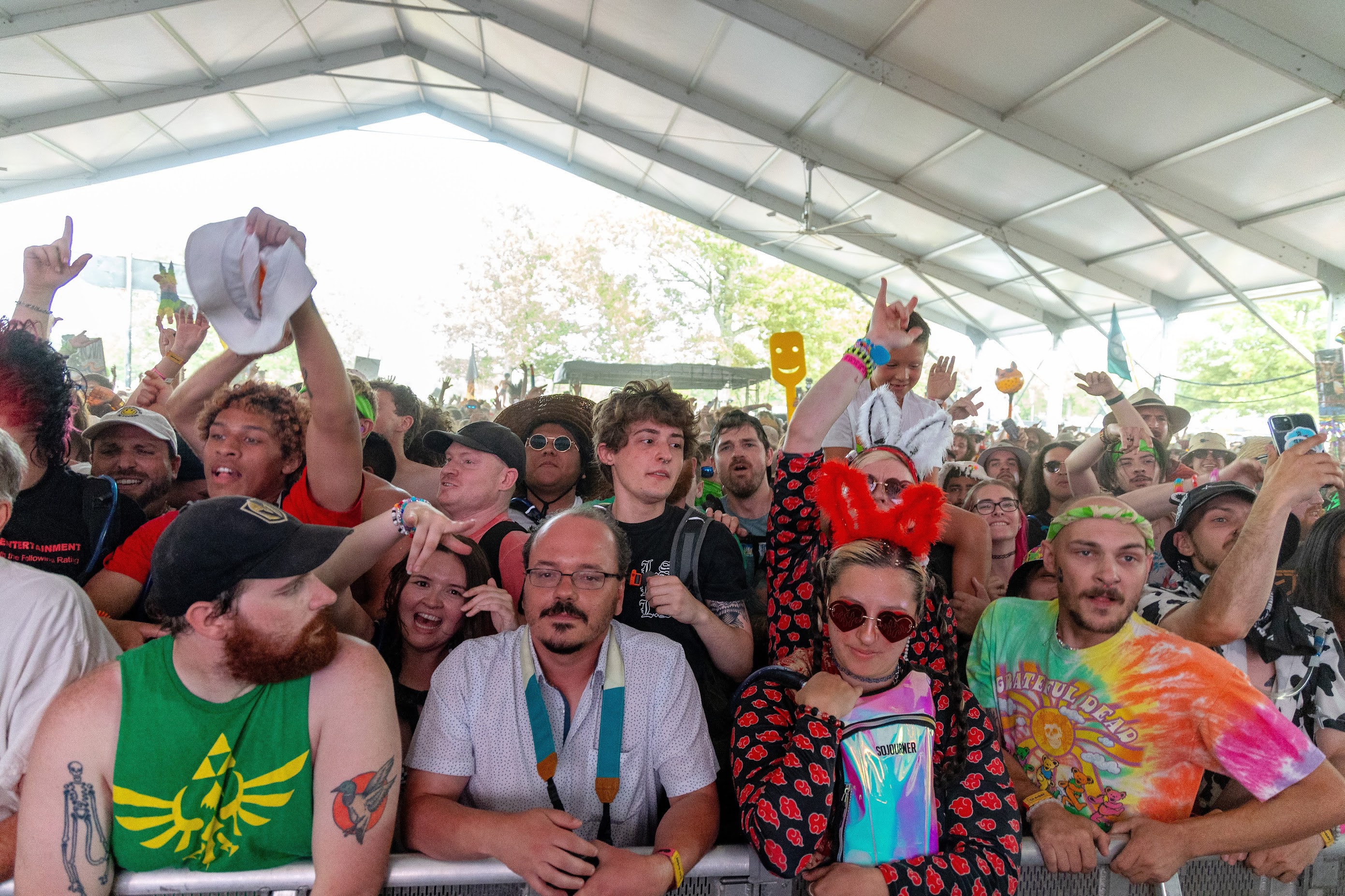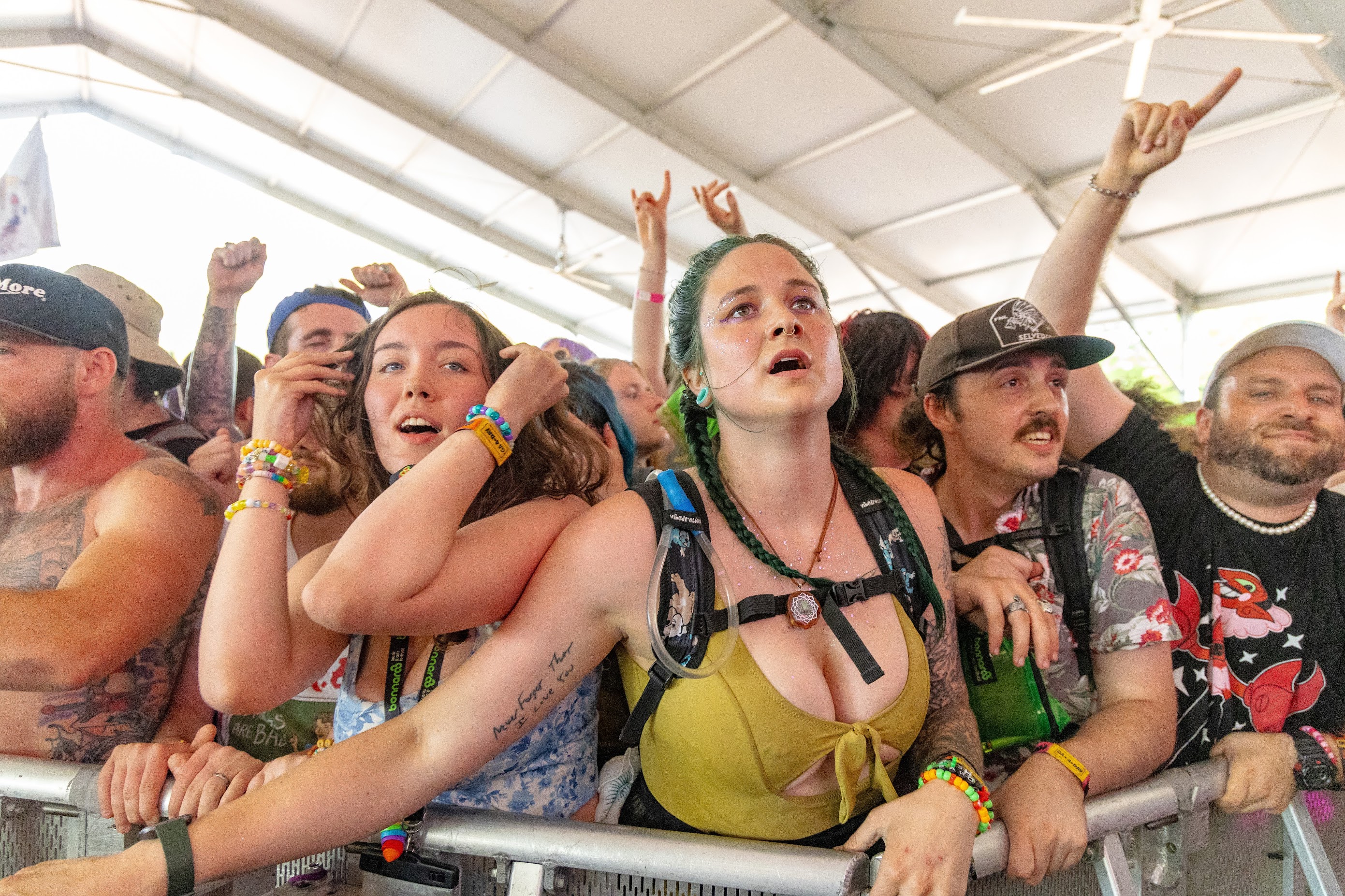 The band wasted no time making their presence known, kicking off their set with an explosive opener that immediately ignited the crowd. The pulsating drums, bone-crushing guitar riffs, and visceral vocals cut through the air, setting the tone for a high-energy performance. Knocked Loose unleashed a barrage of fan-favorite anthems that immersed the audience fully in the chaos. Songs like "Deadringer," "Billy No Mates," and "Oblivions Peak" sparked a frenzy of headbanging, crowd surges, and a sea of bodies colliding in the pit.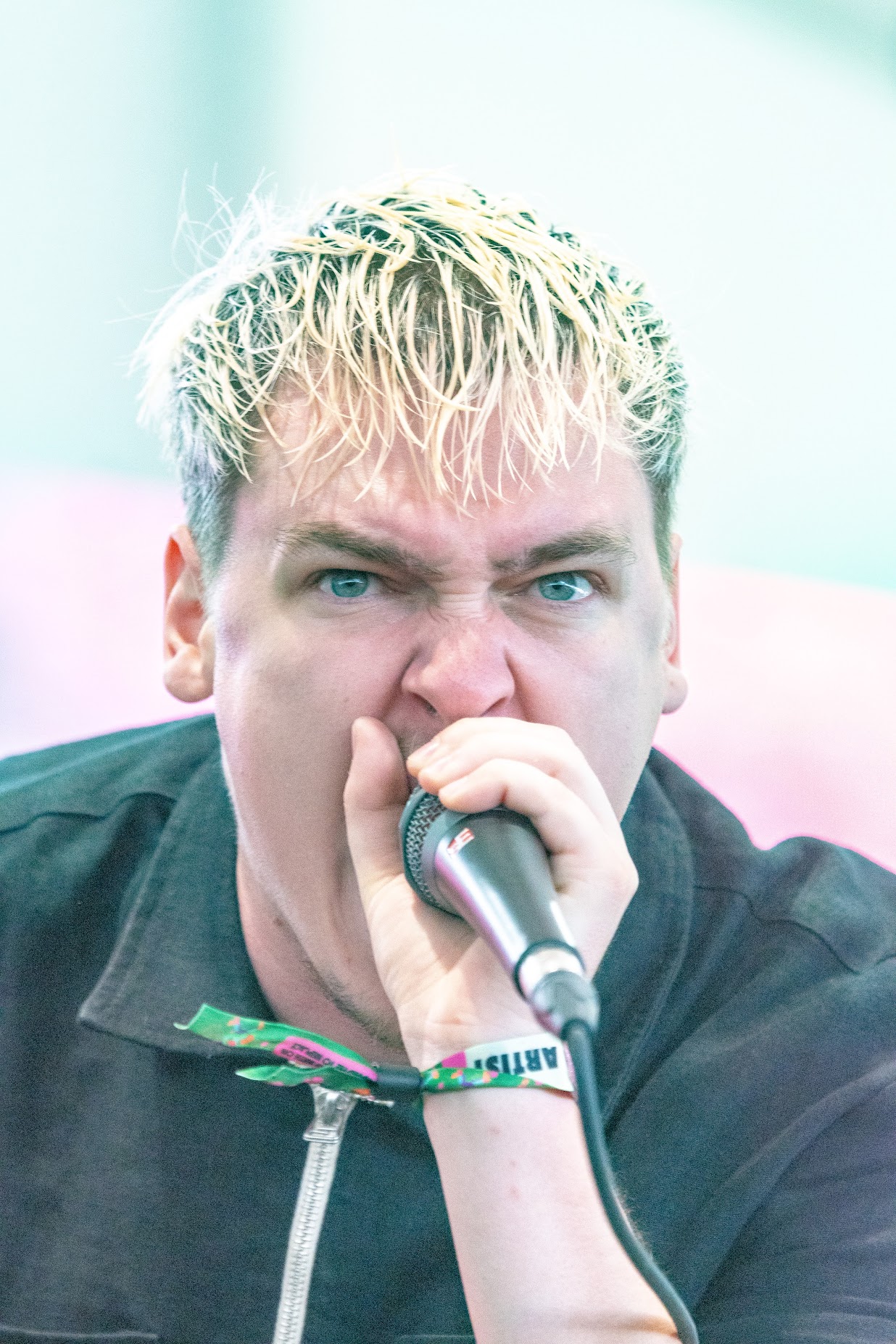 Frontman Bryan Garris commanded the stage with his commanding presence, exuding raw intensity and aggression. His ferocious screams and commanding stage demeanor drove the crowd into a frenzy, matching the band's relentless energy note for note. Knocked Loose's performance provided a cathartic release for the masses, offering an outlet for pent-up energy and frustration. The intense music and electrifying atmosphere allowed fans to unleash their emotions and connect in a shared experience of catharsis.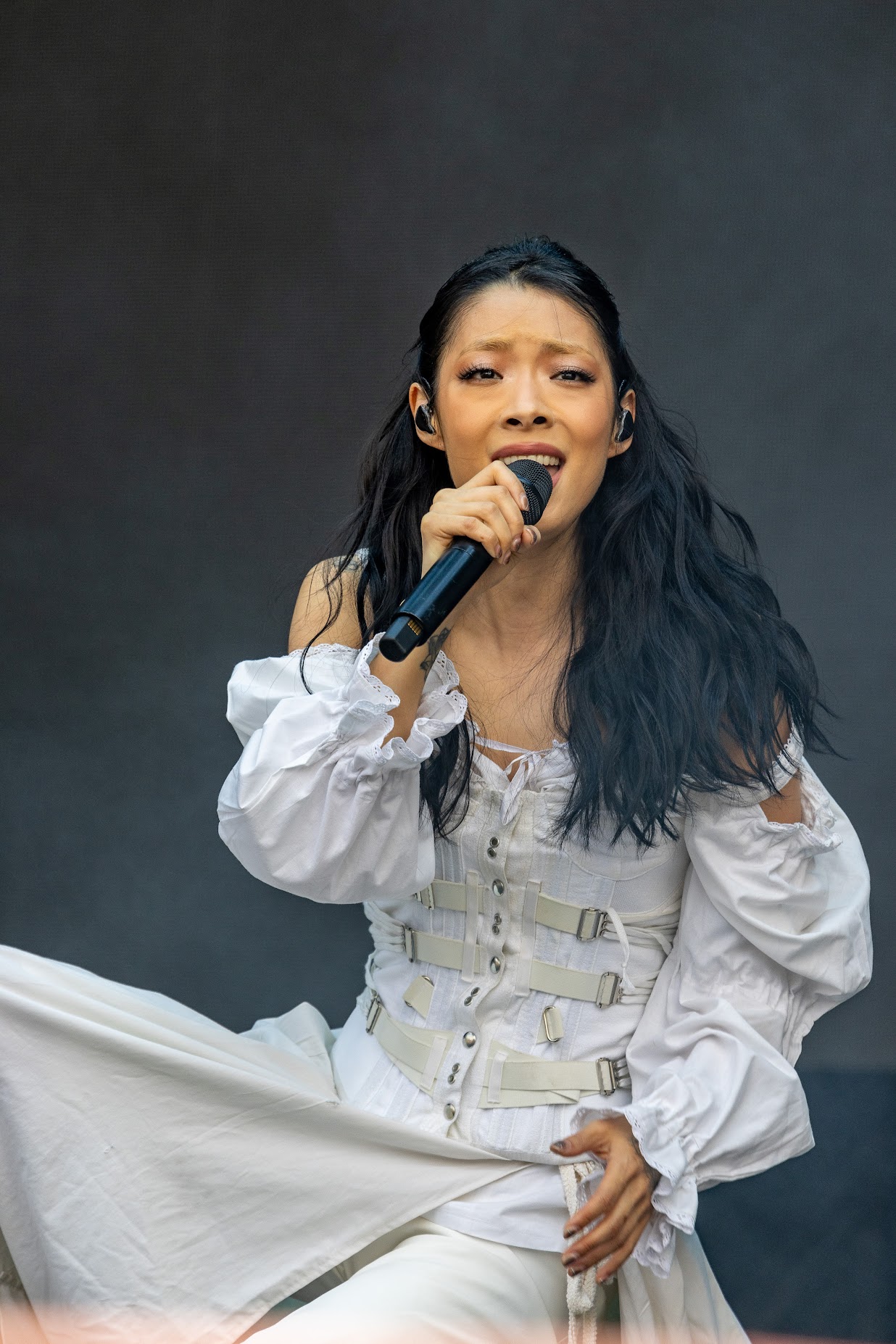 Back over on the Which Stage under a late afternoon summer sun that painted the festival grounds with bright orange hues, concertgoers were treated to a truly mesmerizing performance by the talented pop artist Rina Sawayama. With her infectious energy, impeccable vocals, and captivating stage presence, Sawayama captivated the audience and left an indelible mark on the festival. Seamlessly blending pop, R&B, and electronic elements, Sawayama's performance was a dazzling display of musical prowess and a celebration of individuality and self-expression.
Throughout her set, Sawayama treated the crowd to a mix of her catchy and memorable hits. Songs like "STFU!," "XS," and "Chosen Family" had the audience singing and dancing along, infusing the atmosphere with an infectious energy that spread throughout the festival grounds.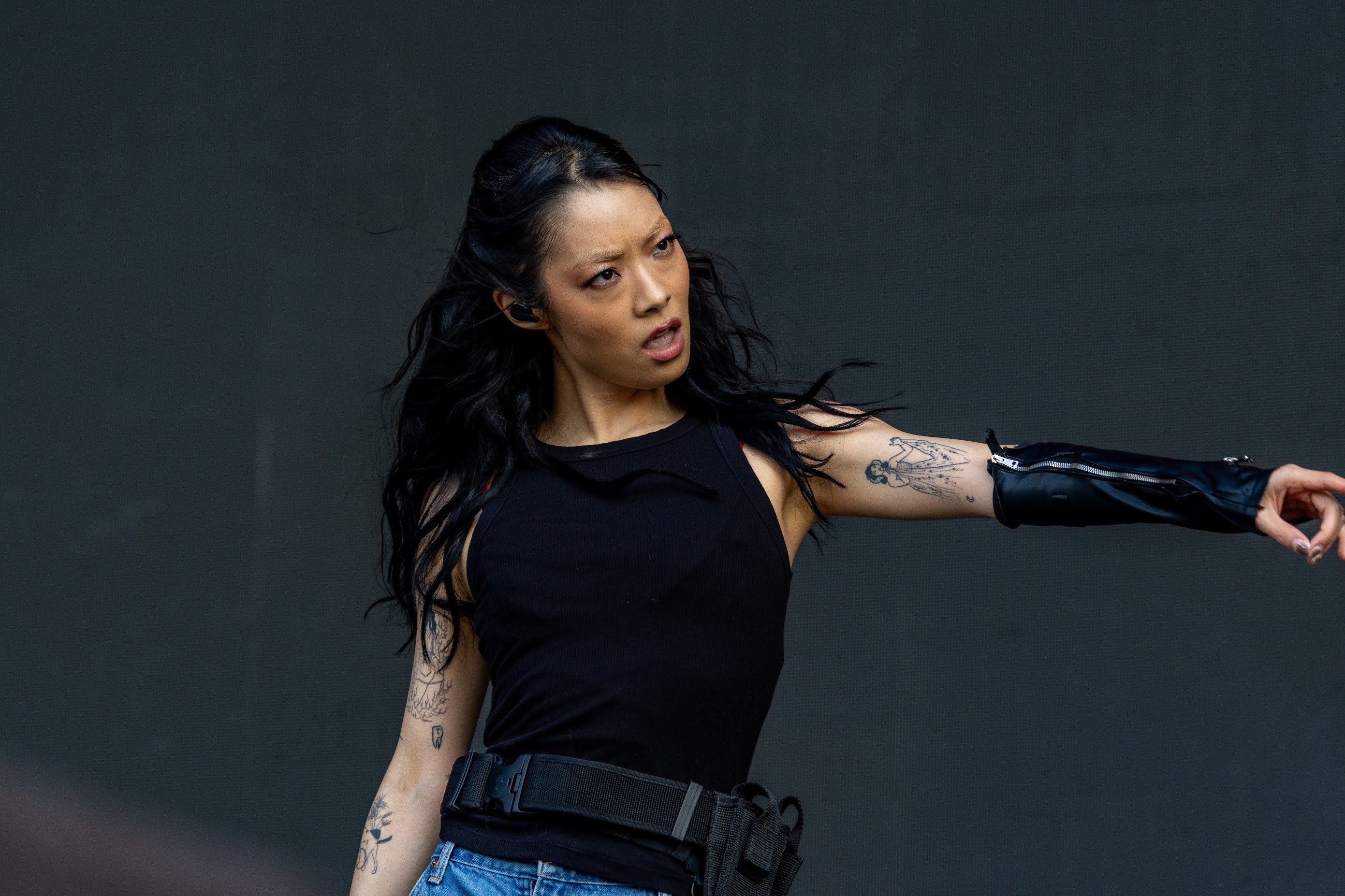 Sawayama's stage presence was nothing short of captivating. Her charismatic performance and energetic dance moves kept the crowd engaged and enthralled from start to finish. Her ability to command the stage confidently and authentically was a testament to her artistry and connection with the audience.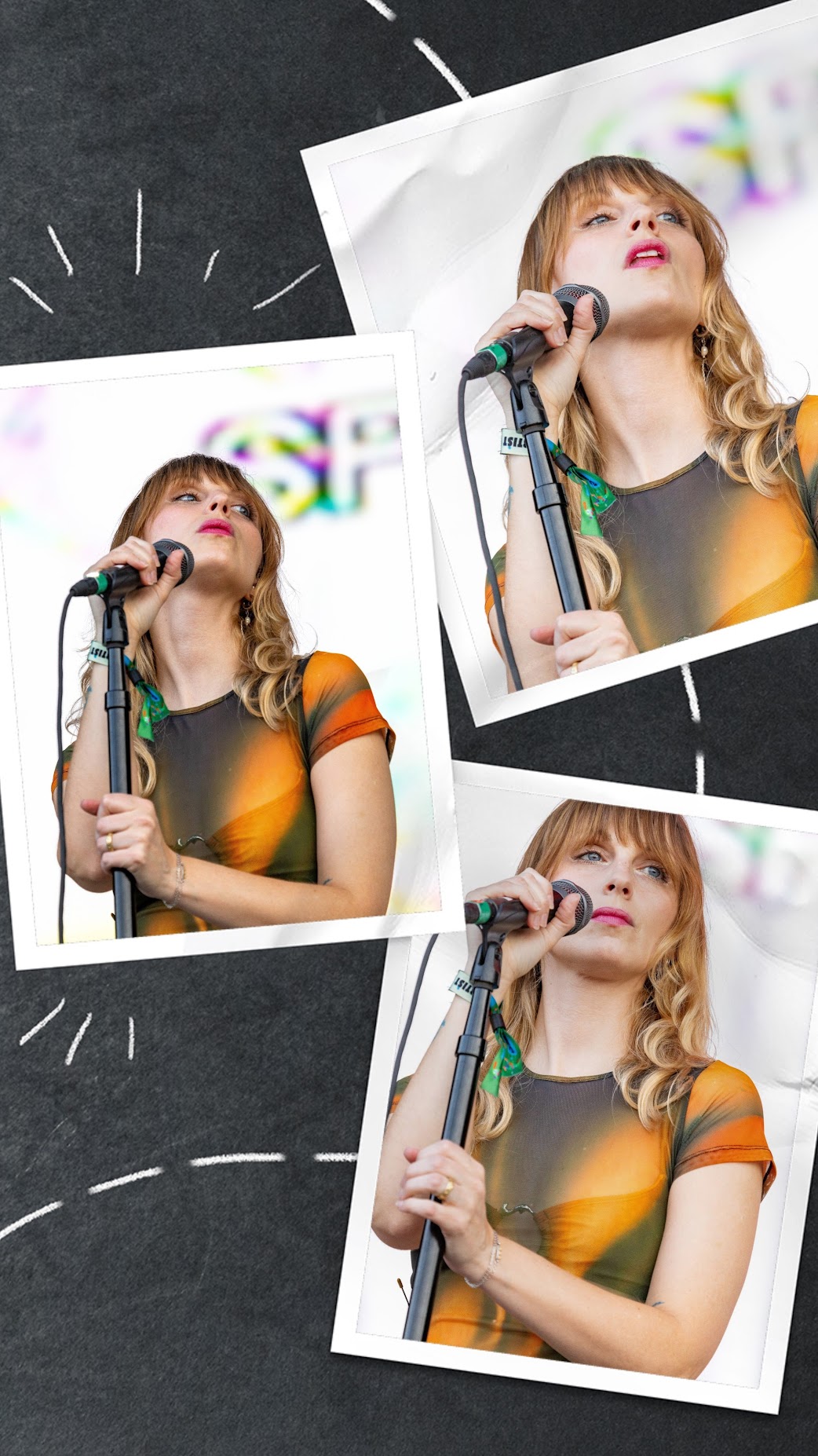 As one of the year's longest days neared its sunset, music festival veterans Portugal The Man performed on the giant What Stage before a large gathering of festival goers. Taking the stage with unparalleled energy and musical prowess, Portugal The Man delivered a memorable set that transcended boundaries, showcasing their unique blend of rock, pop, and experimental sounds. Their performance at Bonnaroo was a testament to their artistry and ability to captivate audiences with their eclectic repertoire and infectious stage presence.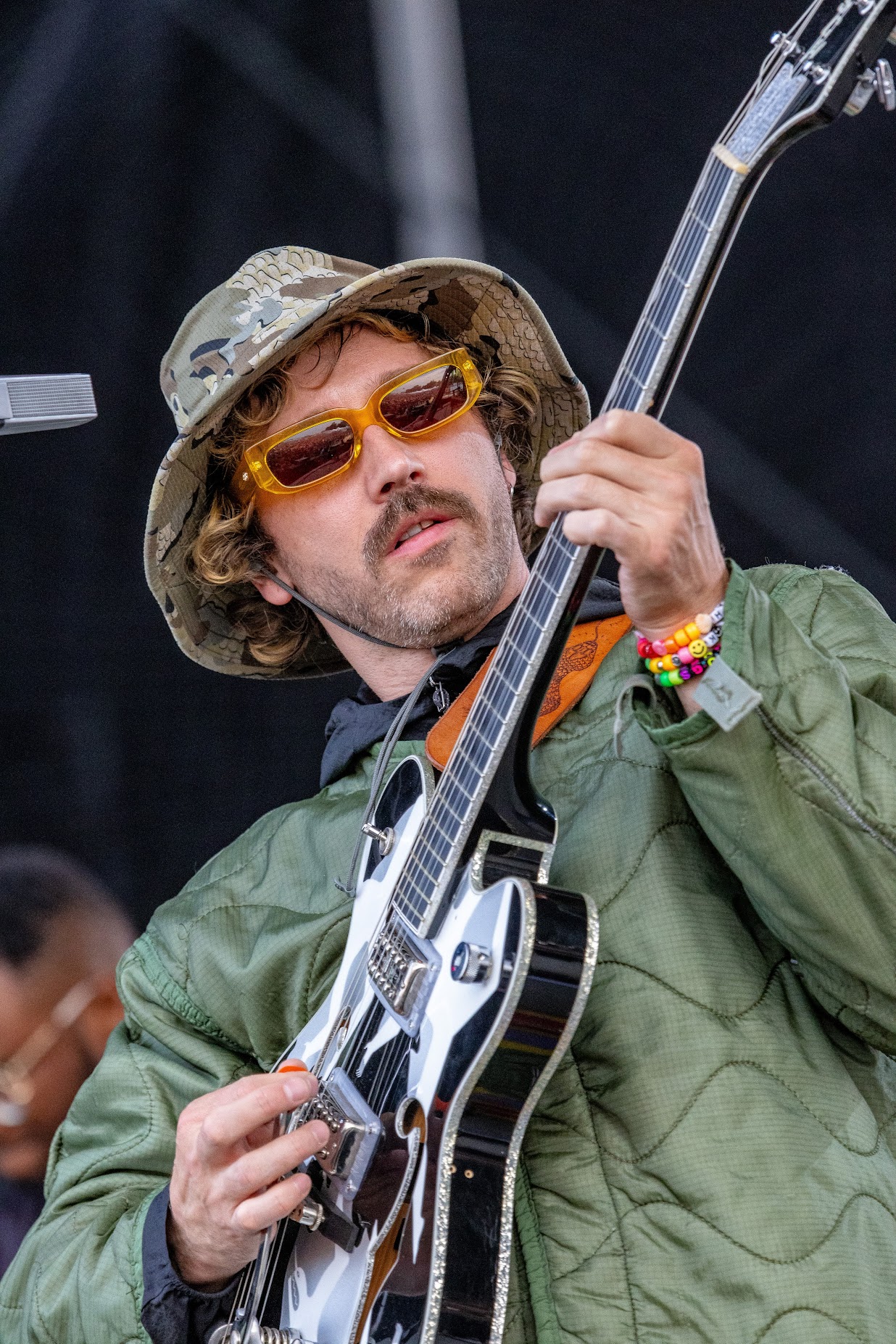 Portugal. The Man's performance at Bonnaroo was a captivating journey through their diverse discography, showcasing their musical brilliance and distinct style. The band wasted no time captivating the crowd, opening their set with the infectious hit "Feel It Still." The catchy hooks, funky guitar riffs, and frontman John Gourley's soulful vocals immediately had the audience singing along and dancing with unbridled enthusiasm. The band mesmerized the audience with their innovative approach to their songs. Blending elements from different tracks and genres, they created unique and exciting medleys that showcased their musical versatility and creativity. Their ability to seamlessly transition between songs and surprise the crowd with unexpected twists made their performance truly memorable.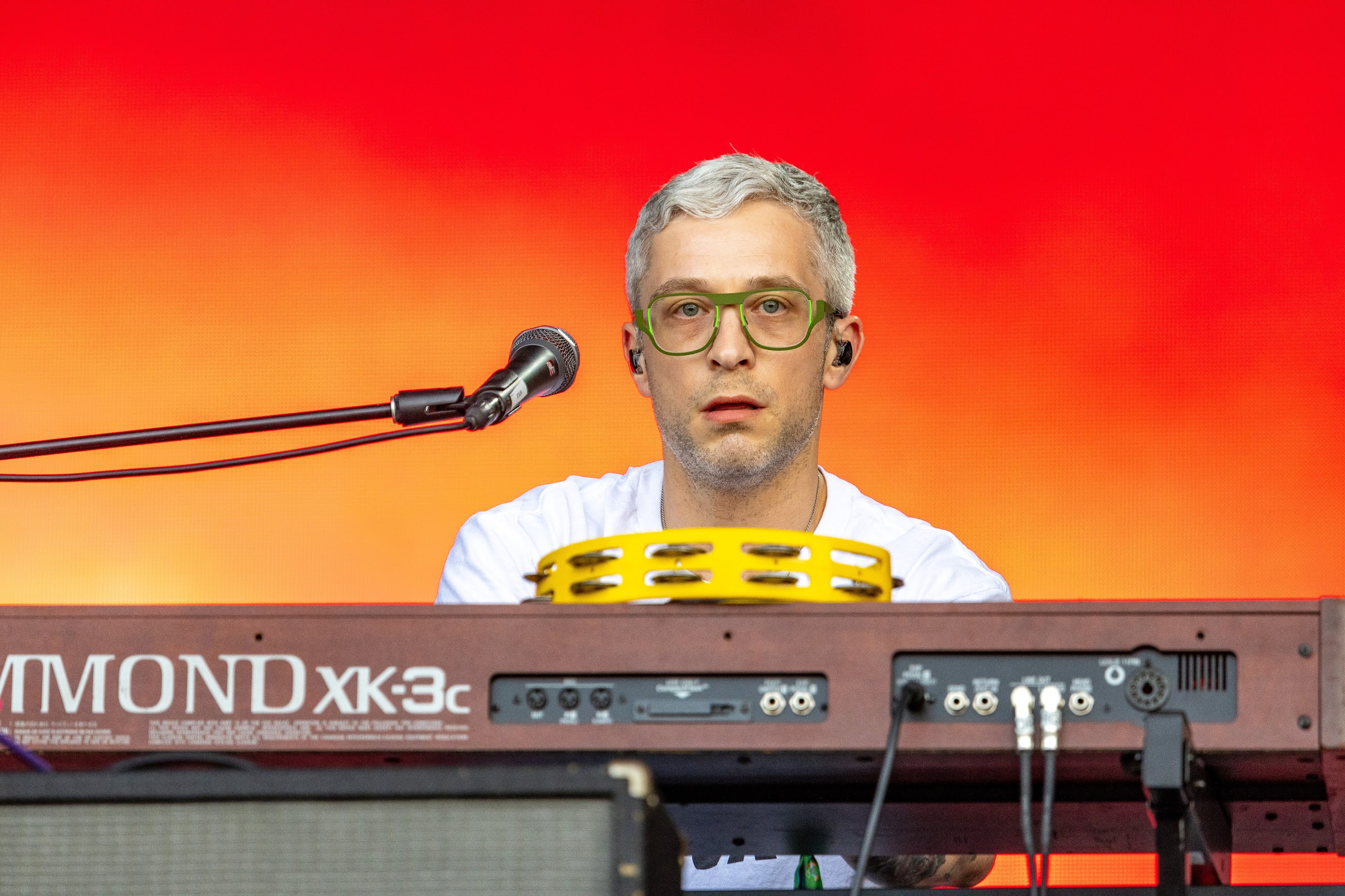 Each member of Portugal The Man displayed exceptional musicianship throughout their set. The intricate guitar solos, dynamic drumming, and mesmerizing keyboard melodies added depth and complexity to their sound. Their cohesion as a band was evident, creating a tight and polished performance that resonated with the audience. The band closed their set with a climactic finale that had the crowd in a state of euphoria. The anthemic "Purple Yellow, Red and Blue" filled the air, and the band's infectious energy peaked. The audience sang along, embracing the communal spirit that Bonnaroo fosters and creating a lasting memory for all in attendance.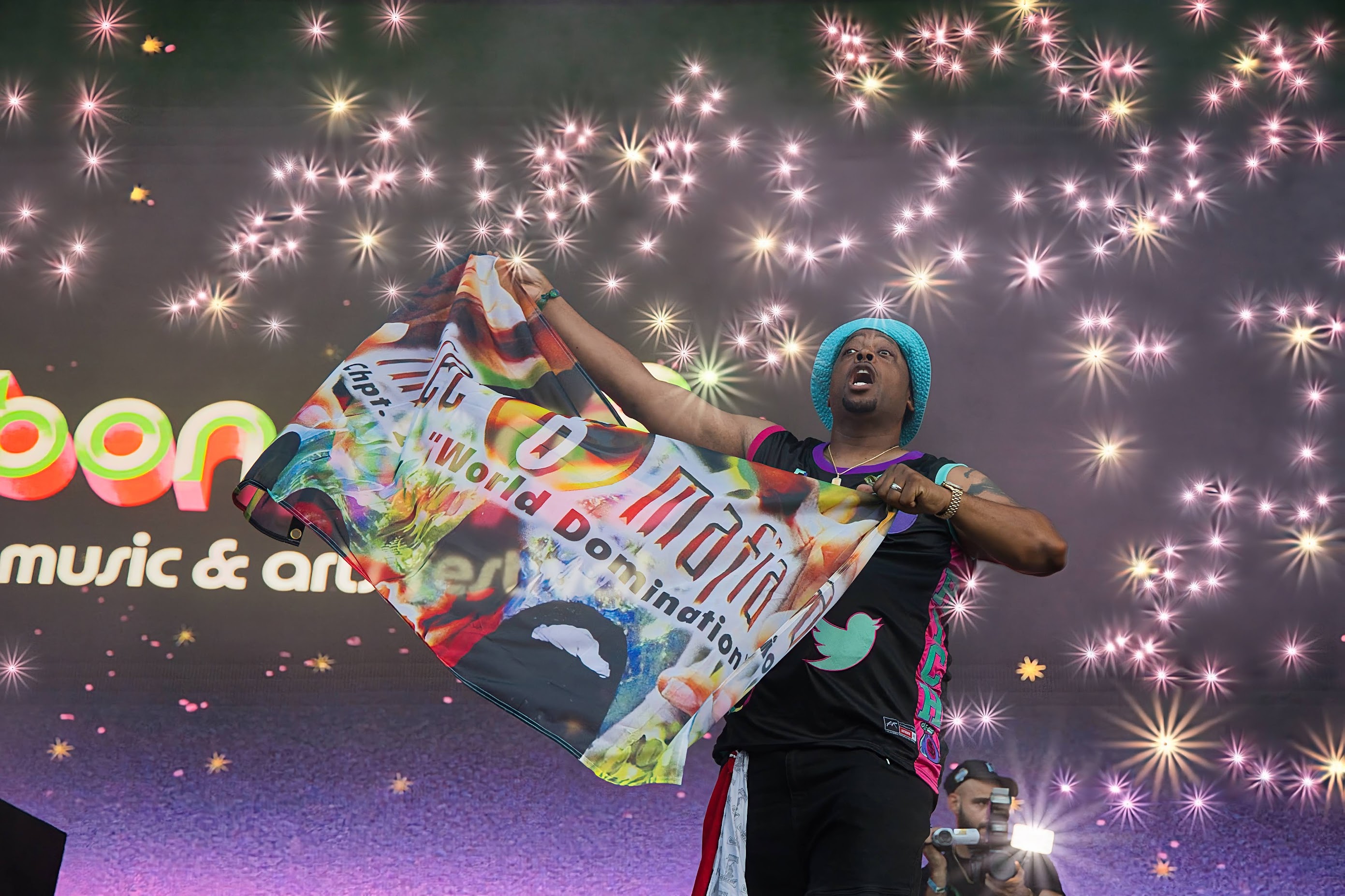 Just after sunset, on the Which Stage, the iconic hip-hop group Three 6 Mafia took Bonnaroo by storm, delivering an electrifying throwback set that transported the audience to the heyday of Memphis rap. With their hard-hitting beats, rapid-fire flows, and infectious energy, Three 6 Mafia reminded everyone why they remain legends in the genre. Their performance at Bonnaroo was a nostalgic journey that had the crowd on their feet, celebrating the enduring impact of their groundbreaking sound.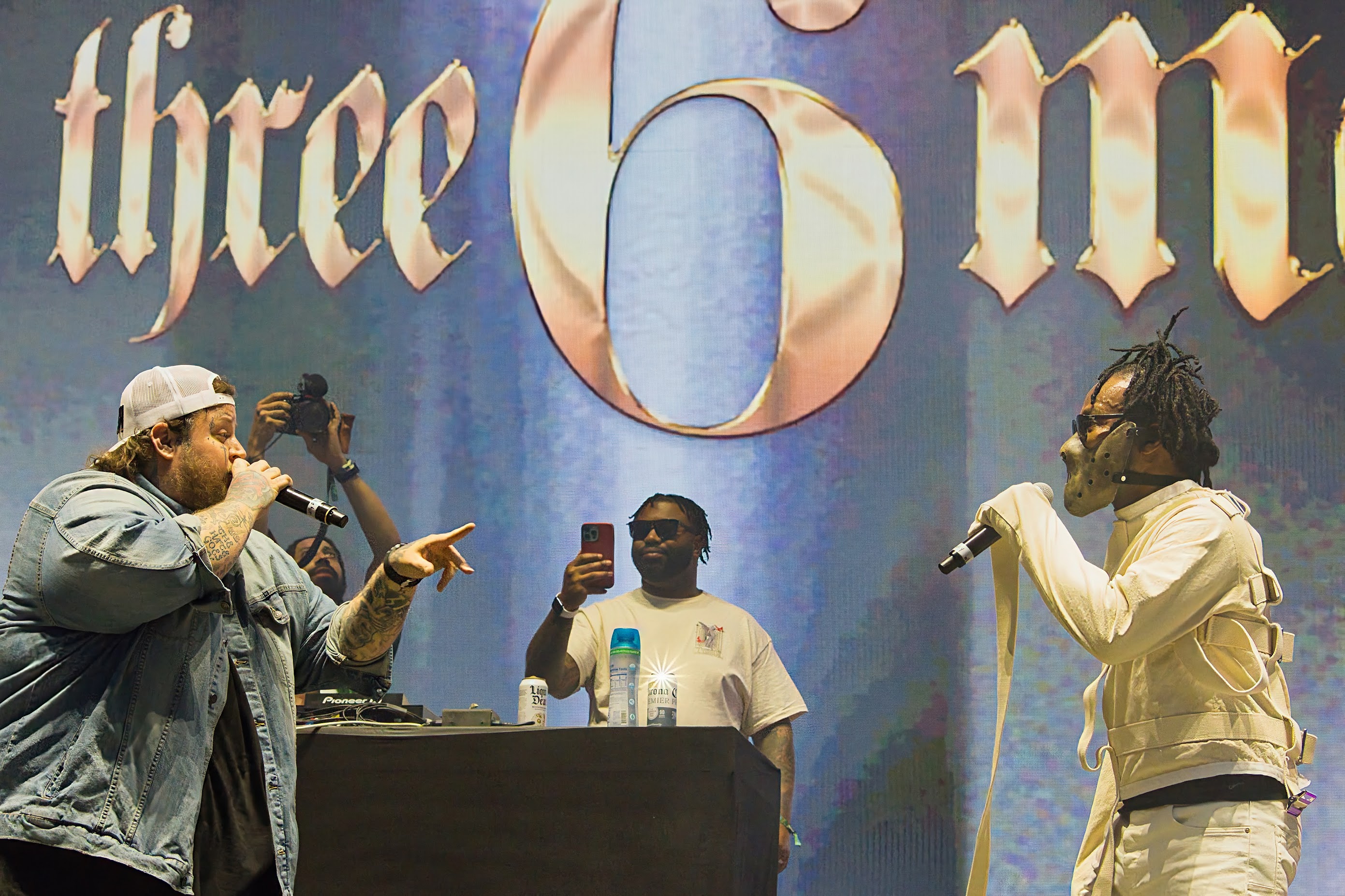 Opening with "Stay Fly": The crowd erupted excitedly as Three 6 Mafia kicked off their set with the iconic "Stay Fly." The infectious melody, heavy basslines, and hypnotic hooks set the tone for a high-energy performance that immediately had the audience hooked. Juicy J and DJ Paul, the driving forces behind Three 6 Mafia, commanded the stage with their larger-than-life presence. Their charismatic performances and dynamic chemistry created an electric atmosphere that drew the crowd deeper into their captivating world.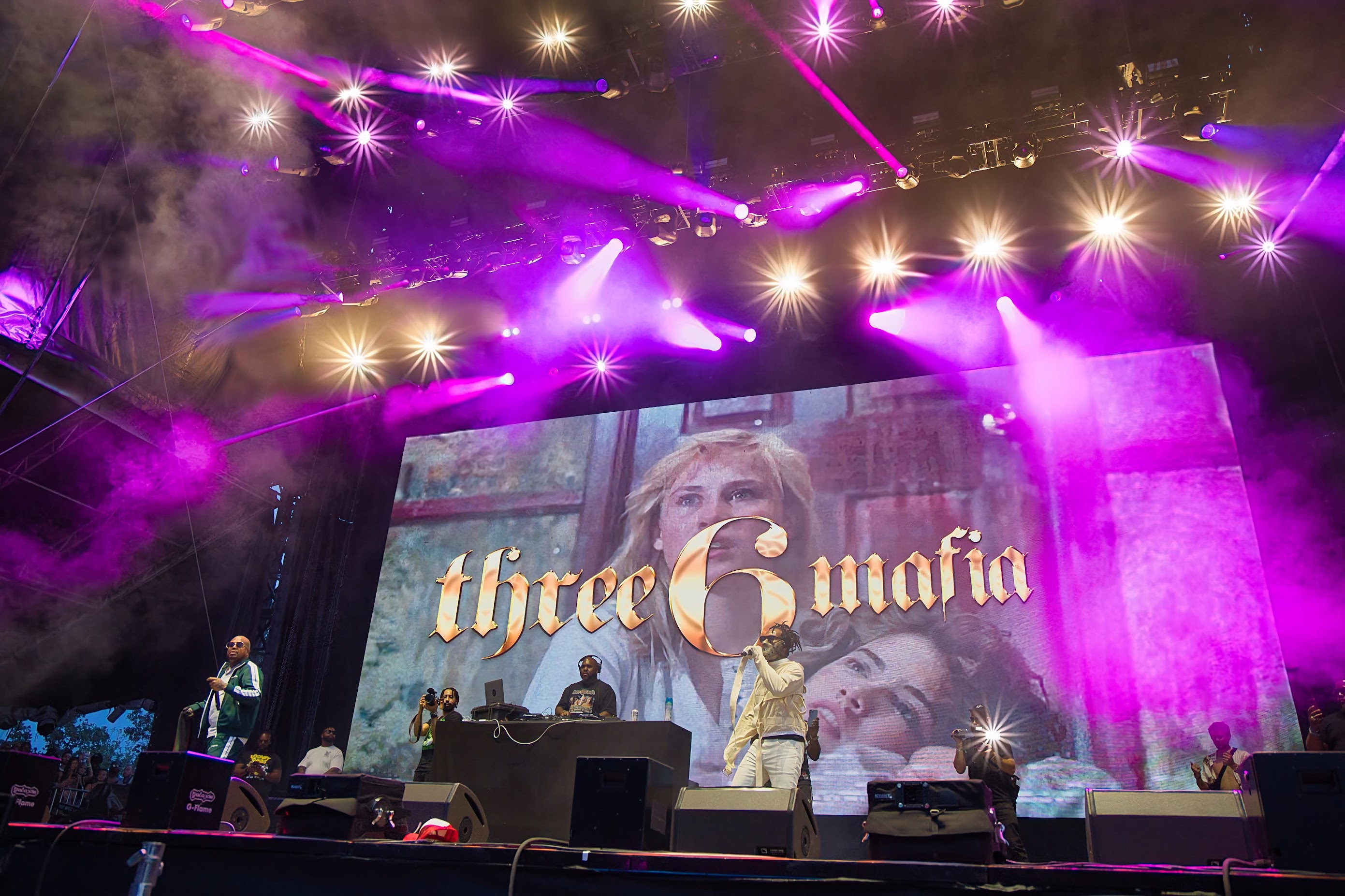 Three 6 Mafia took the audience on a journey through their catalog of hits, delivering a medley of nostalgic anthems that had fans rapping along with every word. Tracks like "Sippin' on Some Syrup," "Tear da Club Up '97," and "Late Nite Tip" ignited a frenzy of excitement and reminded everyone of the group's enduring influence. Three 6 Mafia brought some special guests to join them on stage, adding an extra layer of excitement to their performance. Surprise appearances by fellow artists from the Memphis rap scene, including Jelly Roll, further intensified the crowd's enthusiasm and solidified the sense of camaraderie within the hip-hop community.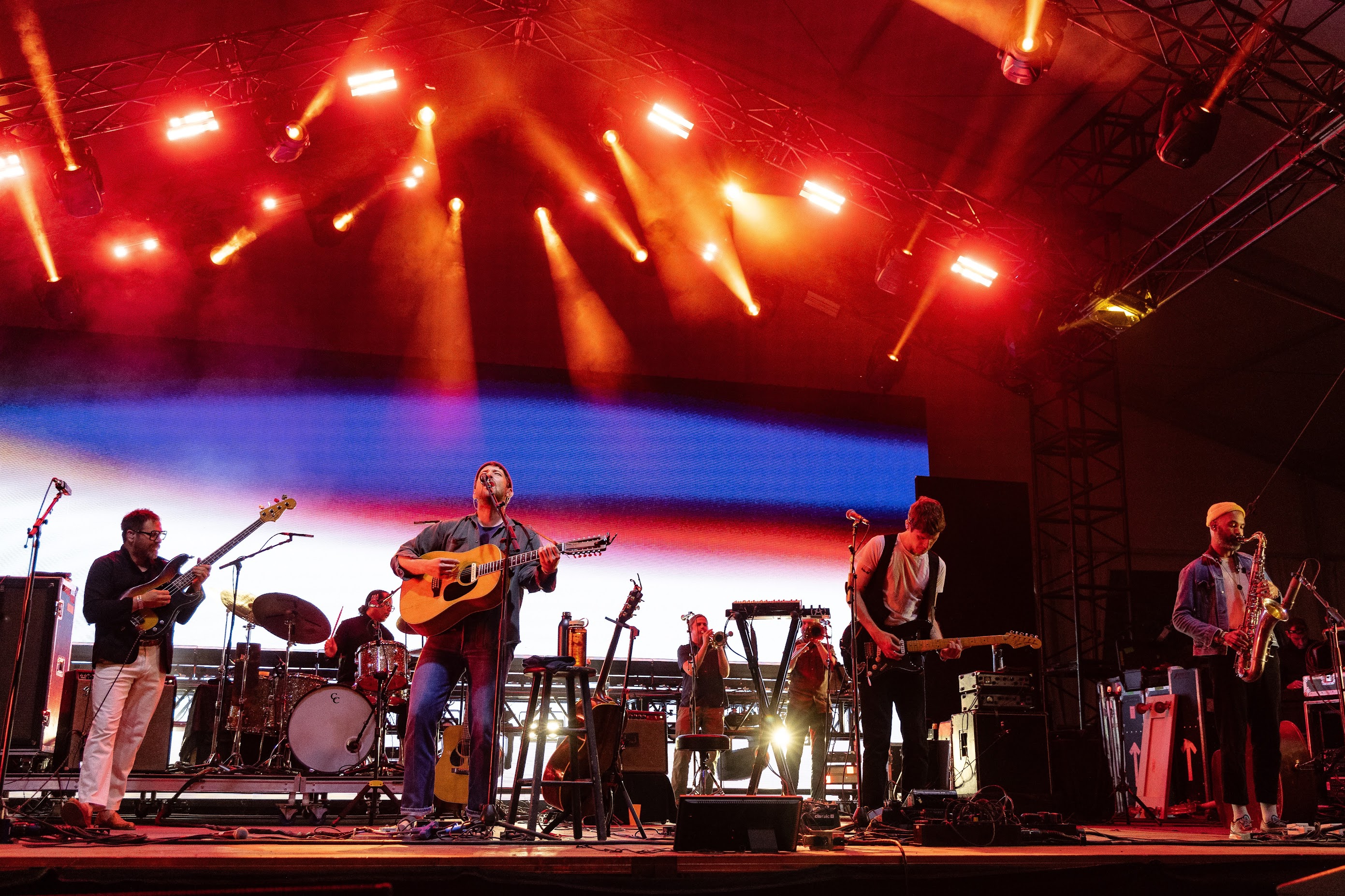 Fleet Foxes took This Tent stage as a balmy evening fell over Centeroo, creating a captivating and ethereal atmosphere with their signature blend of indie folk and intricate harmonies. Their performance transported the audience to introspection and beauty as their richly layered soundscapes and poetic lyrics resonated through the festival grounds. Fleet Foxes' set at Bonnaroo was a mesmerizing experience that showcased their musical craftsmanship and left an indelible mark on all who witnessed their enchanting performance.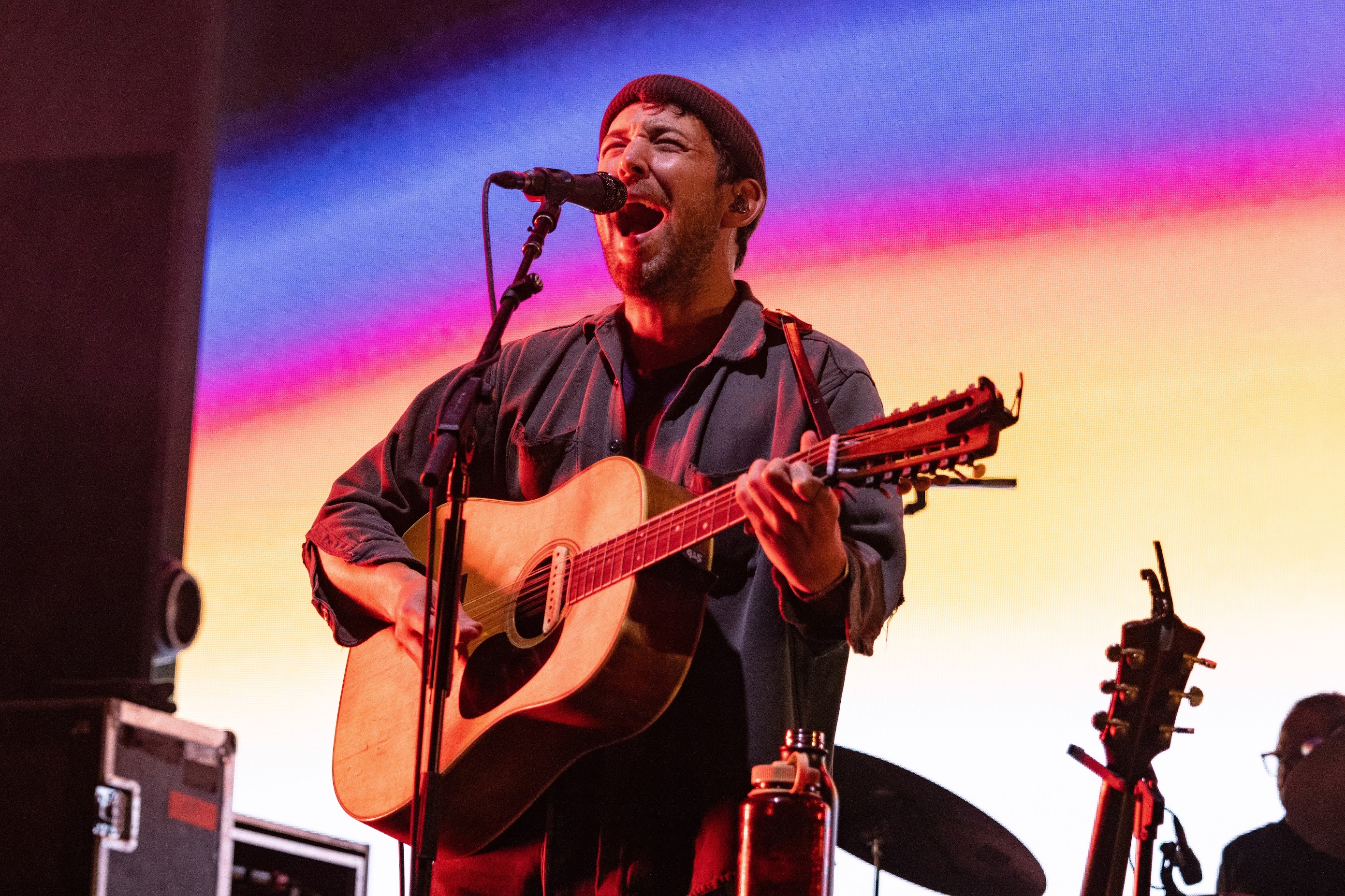 Fleet Foxes' impeccable harmonies were at the forefront of their performance, washing over the audience with a transcendent beauty. The intricate vocal arrangements, led by frontman Robin Pecknold, created a haunting and otherworldly presence that captivated the crowd from the first note. The band's expansive soundscapes created a sonic tapestry that enveloped the audience. From delicate acoustic melodies to lush orchestral arrangements, Fleet Foxes' musical layers built upon one another, evoking a sense of grandeur and introspection. Tracks like "Helplessness Blues" and "White Winter Hymnal" showcased the band's ability to create rich, evocative atmospheres.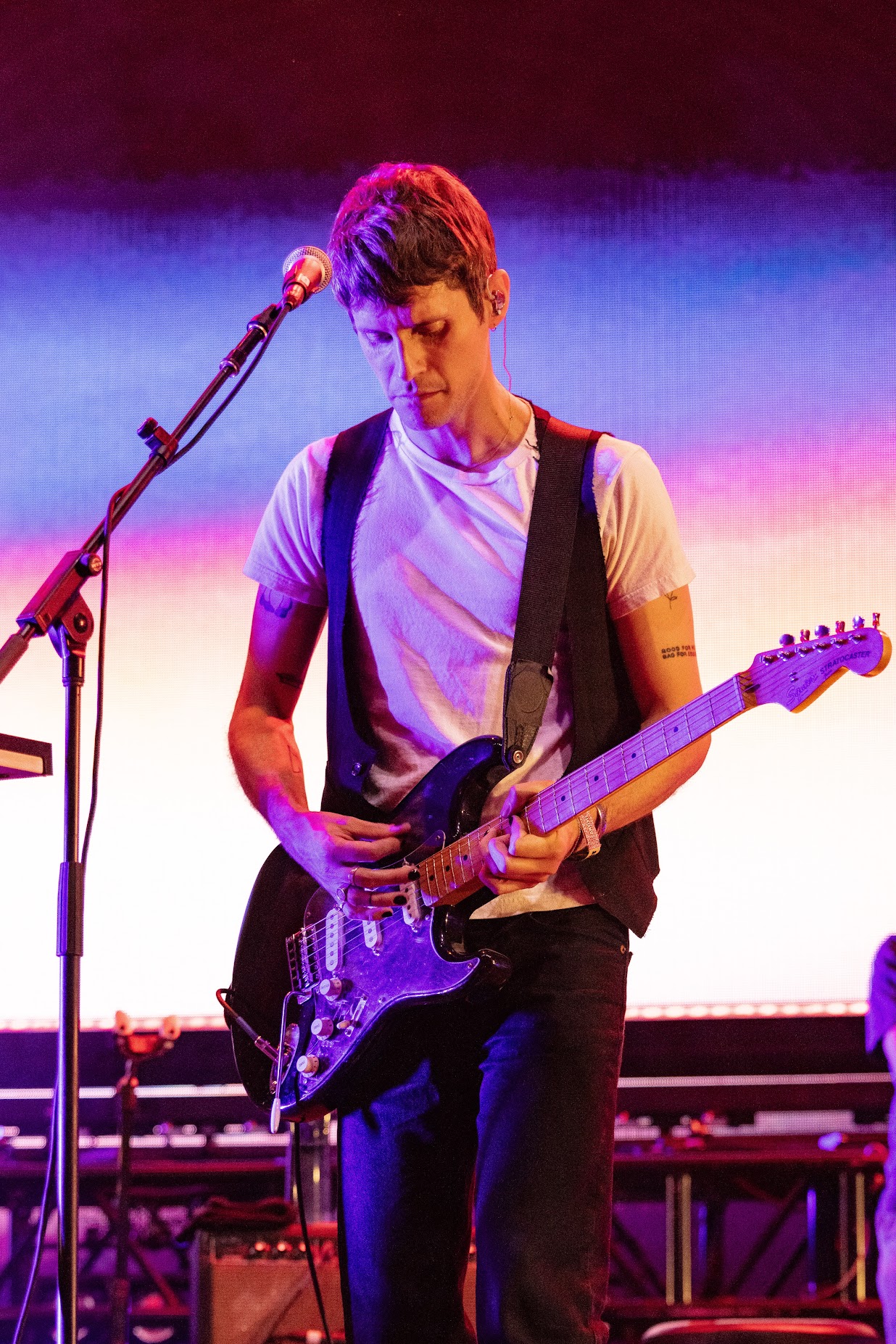 Fleet Foxes' set at Bonnaroo felt like a journey through time and emotion. From their early hits like "Mykonos" to newer tracks like "Third of May / Ōdaigahara," the band skillfully navigated their discography, taking the audience on a sonic expedition through their evolving sound. Each song felt like a chapter in a timeless story, drawing the crowd further into Fleet Foxes' captivating world.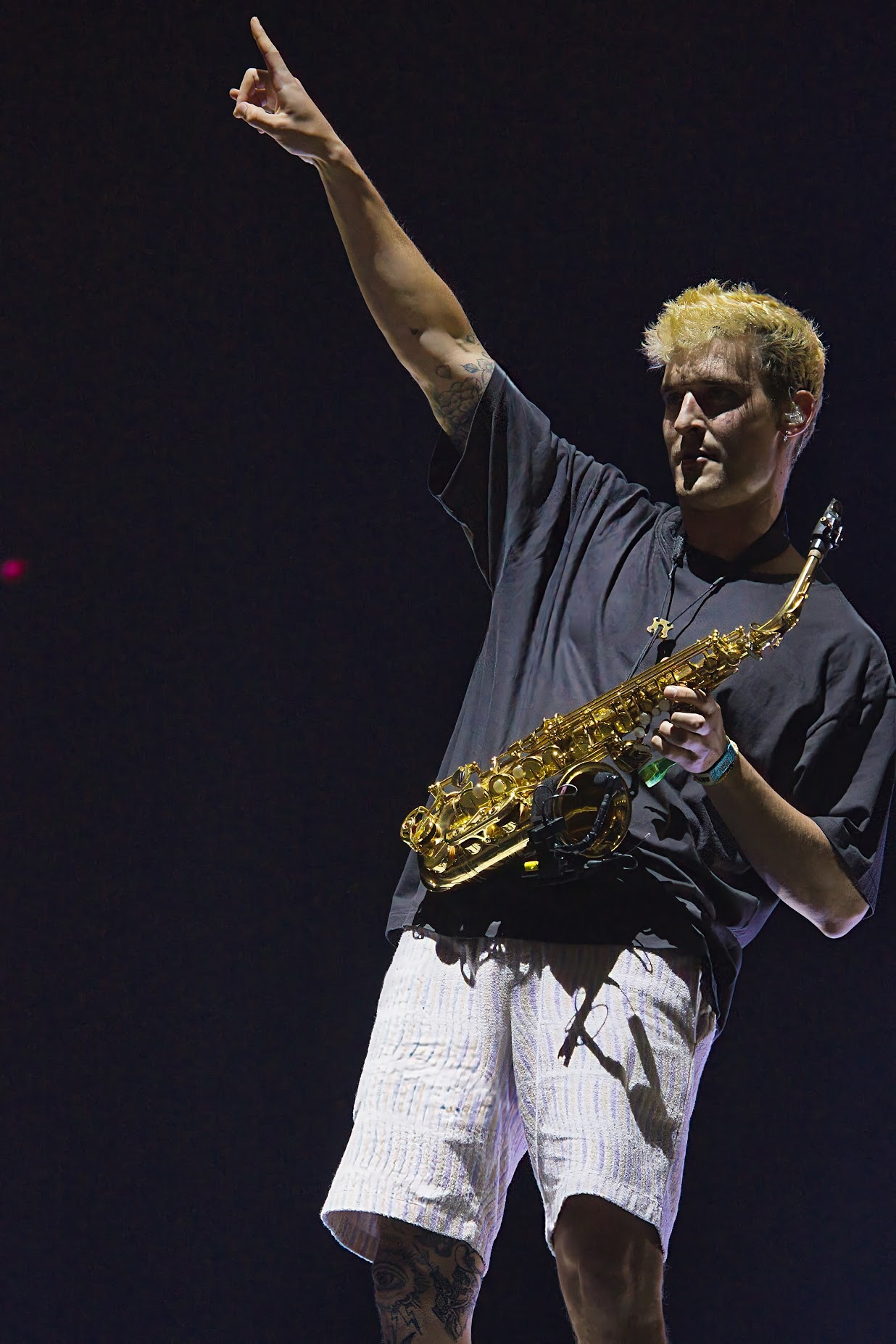 A beautiful star-studded summer night sky embraced the festival grounds as tens of thousands of EDM-loving music fans descended on the Which Stage for a massive multimedia extravaganza fronted by Griz. The electronic music maestro took the stage, delivering an electrifying performance that ignited the festival grounds and had the crowd dancing nonstop. With his infectious beats, seamless mixing, and magnetic stage presence, Griz created an atmosphere of pure euphoria and celebration. Griz's set at Bonnaroo was a testament to his mastery of electronic music and his ability to bring people together through the power of his music.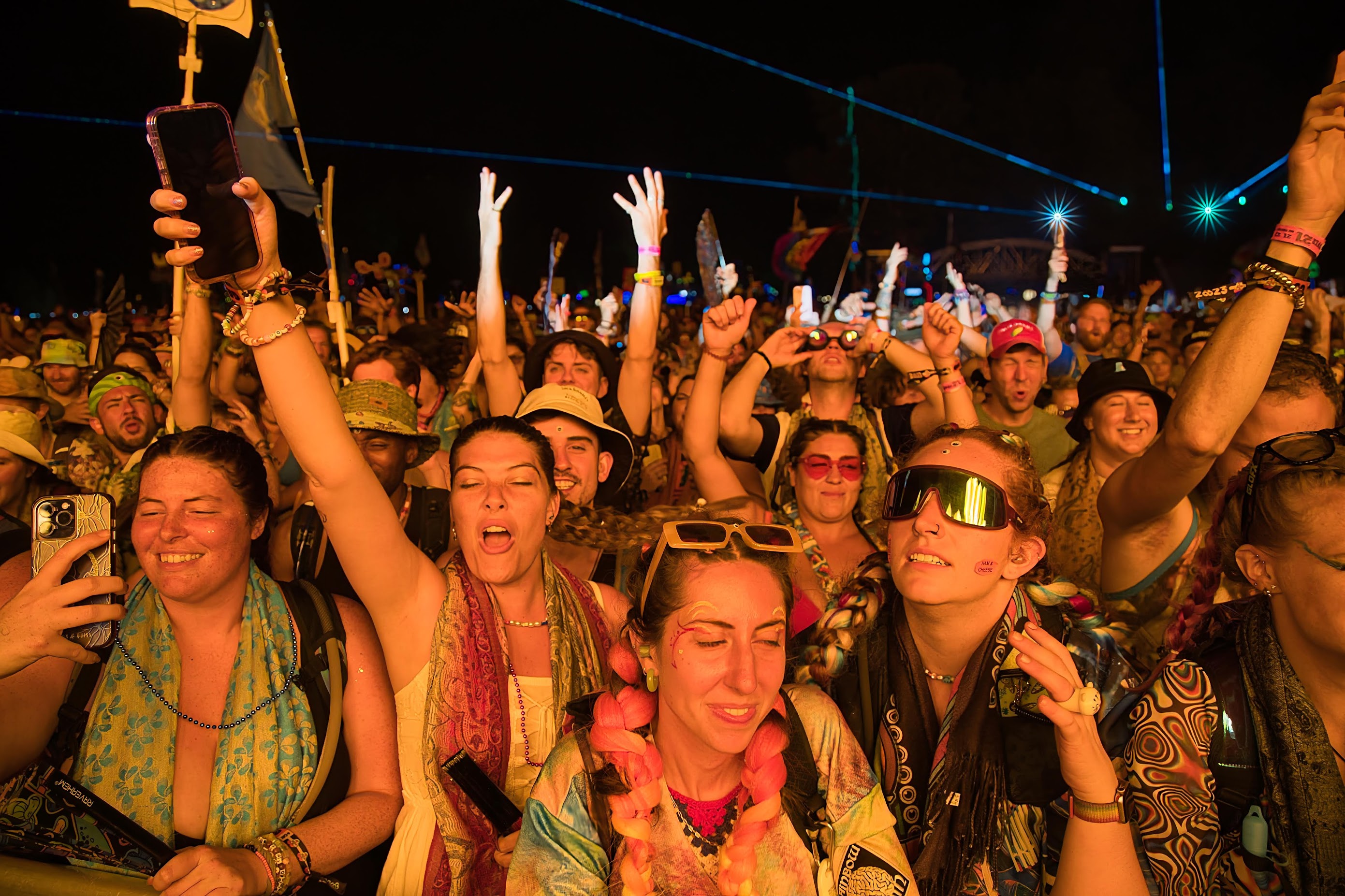 Griz kicked off his set with a bang, instantly commanding the crowd's attention. The opening beats reverberated through the festival grounds, setting the stage for a high-energy performance that had everyone on their feet and ready to dance. Griz's music seamlessly blended funk, soul, and electronic elements, creating a captivating sonic experience. His funky basslines, soulful melodies, and expertly crafted drops had the crowd moving in unison, captivated by the infectious rhythms.
His live instrumentation and collaborations with other talented musicians elevated his performance. His skills on the saxophone added an extra layer of depth and personality to the music, while guest appearances by vocalists and instrumentalists added surprise and excitement to the set, creating moments of pure magic. Griz's set was accompanied by a visually stunning production that added to the overall impact of the performance. Vibrant lights, mesmerizing visuals, and synchronized effects enhanced the music, immersing the audience in a multisensory experience that amplified the energy and excitement.
Just after midnight, The Silent Disco opened at the Who Stage, providing a unique and whimsical dance party experience that enchanted festival-goers into the late hours of the night. Under a starry sky, a silent gathering of extraordinarily united music lovers. With wireless headphones transforming the dance floor into a personal musical journey, the Silent Disco at Bonnaroo created an immersive and unforgettable atmosphere where everyone danced to their own beat. The Silent Disco came alive after dark, as the festival grounds became a pulsating oasis of dancing lights and silent beats. With the night sky as the backdrop, attendees reveled in the joy of dancing under the stars, creating an intimate and unforgettable dance party that stretched into the early morning hours.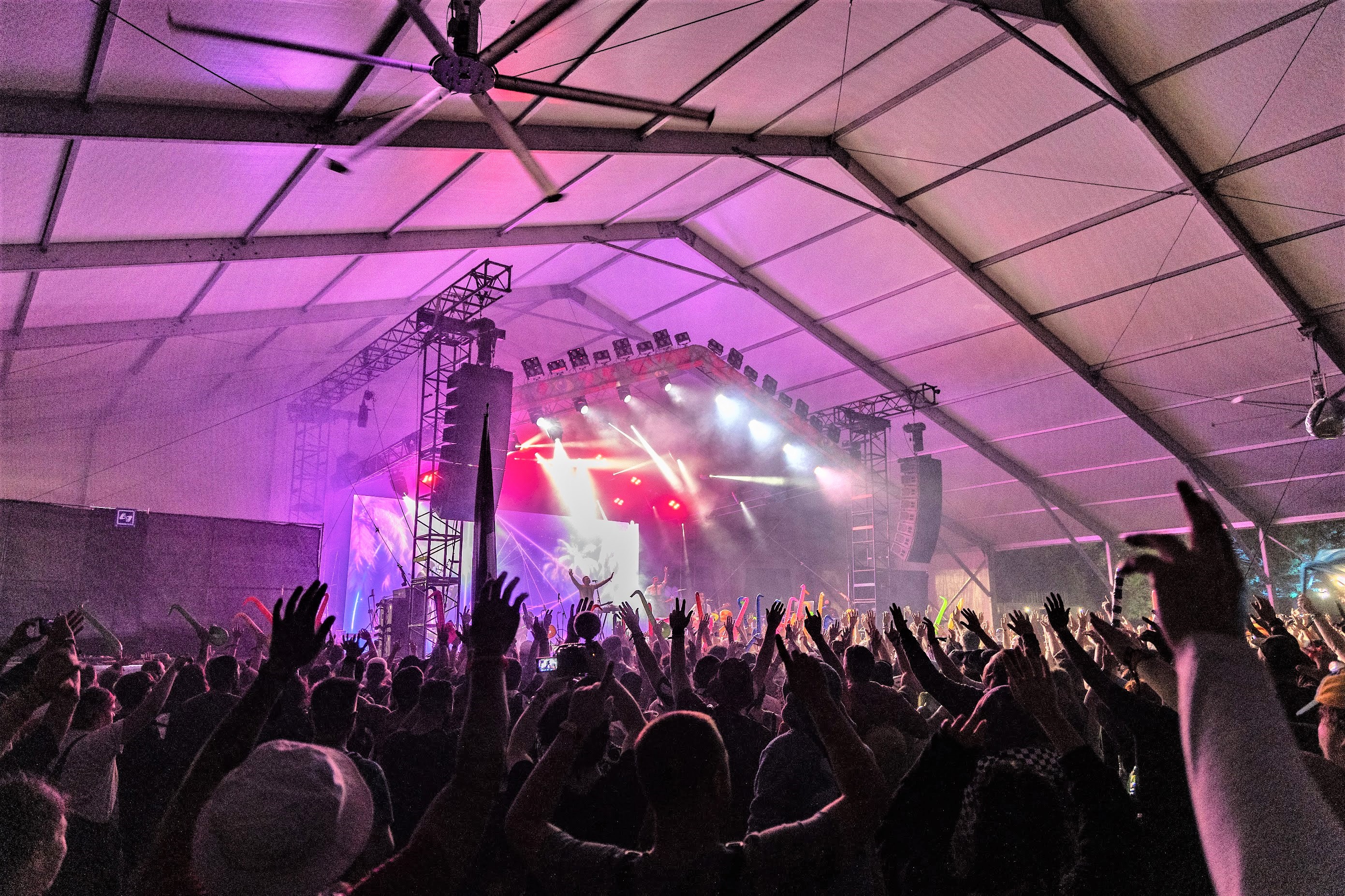 Late-night sets are one of the hallmarks of Bonnaroo that make it such a unique festival and 2023 lived up to the reputation. Just after 1230am at This Tent stage, the synth-wave duo The Midnight performed, transporting the festival-goers to a mesmerizing retro-futuristic world. With their blend of dreamy synths, nostalgic melodies, and captivating vocals, The Midnight delivered a spellbinding performance that seamlessly merged past and present. Their set at Bonnaroo was a sonic journey through the neon-lit landscapes of the 1980s, creating an atmosphere of nostalgia, romance, and pure musical enchantment. The band kicked off their set with a surge of retro euphoria, instantly captivating the audience. The blend of pulsating synths, infectious beats, and dreamy melodies set the stage for a dreamlike journey with the crowd swaying and dancing in unison.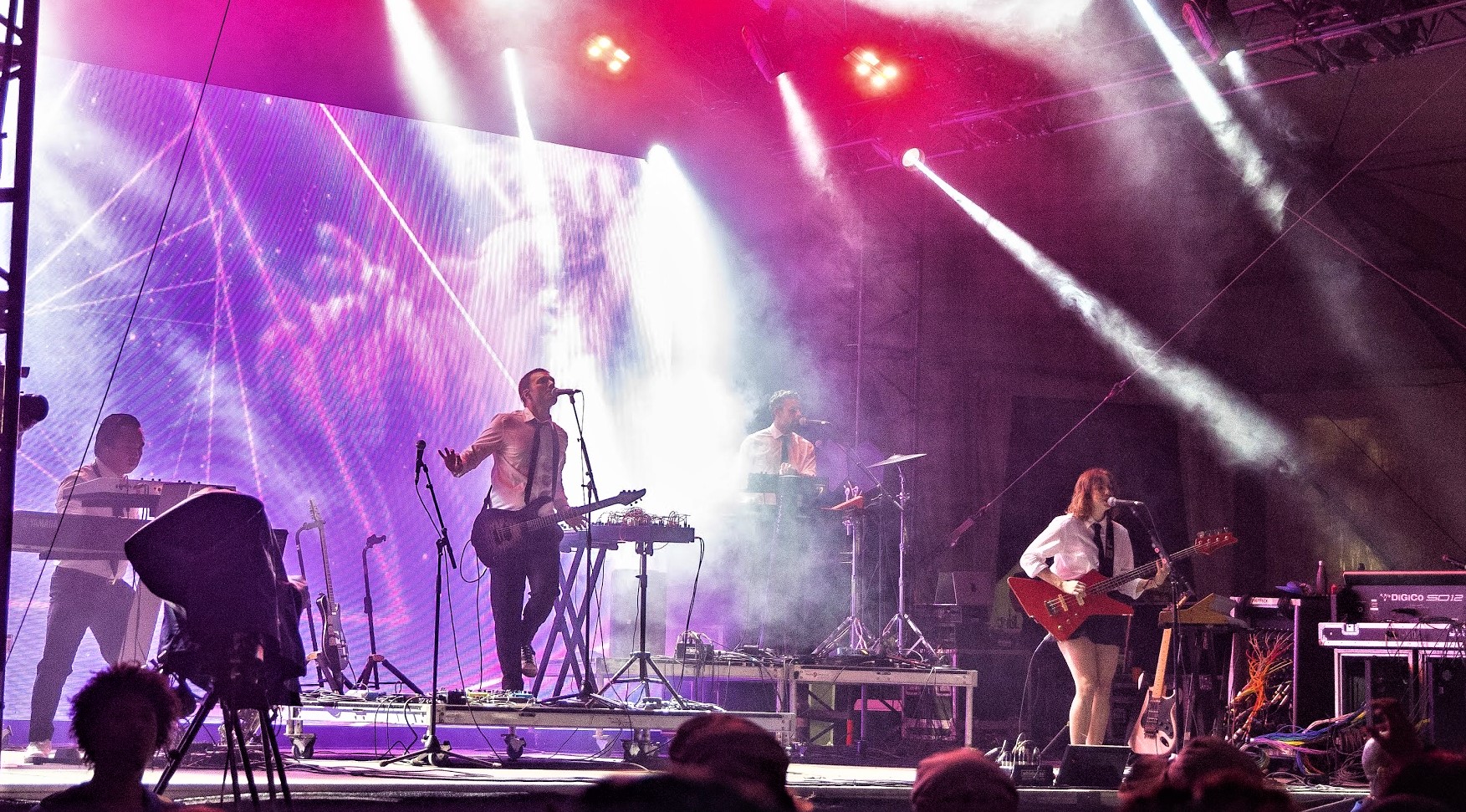 The Midnight's seamless vocal harmonies were a standout feature of their performance. The combination of Tyler Lyle's warm, heartfelt vocals and Tim McEwan's ethereal falsetto created a rich and captivating sonic tapestry. Their harmonies soared above the crowd, enveloping the audience in a blanket of dreamy melodies. The Midnight's performance was complemented by a visually stunning production that enhanced the retro-futuristic atmosphere. A dazzling display of vibrant lights, mesmerizing projections, and nostalgic visuals created a multisensory experience that transported the crowd deeper into the world of The Midnight's music. The synchronized visuals accentuated the music, creating a mesmerizing feast for the eyes.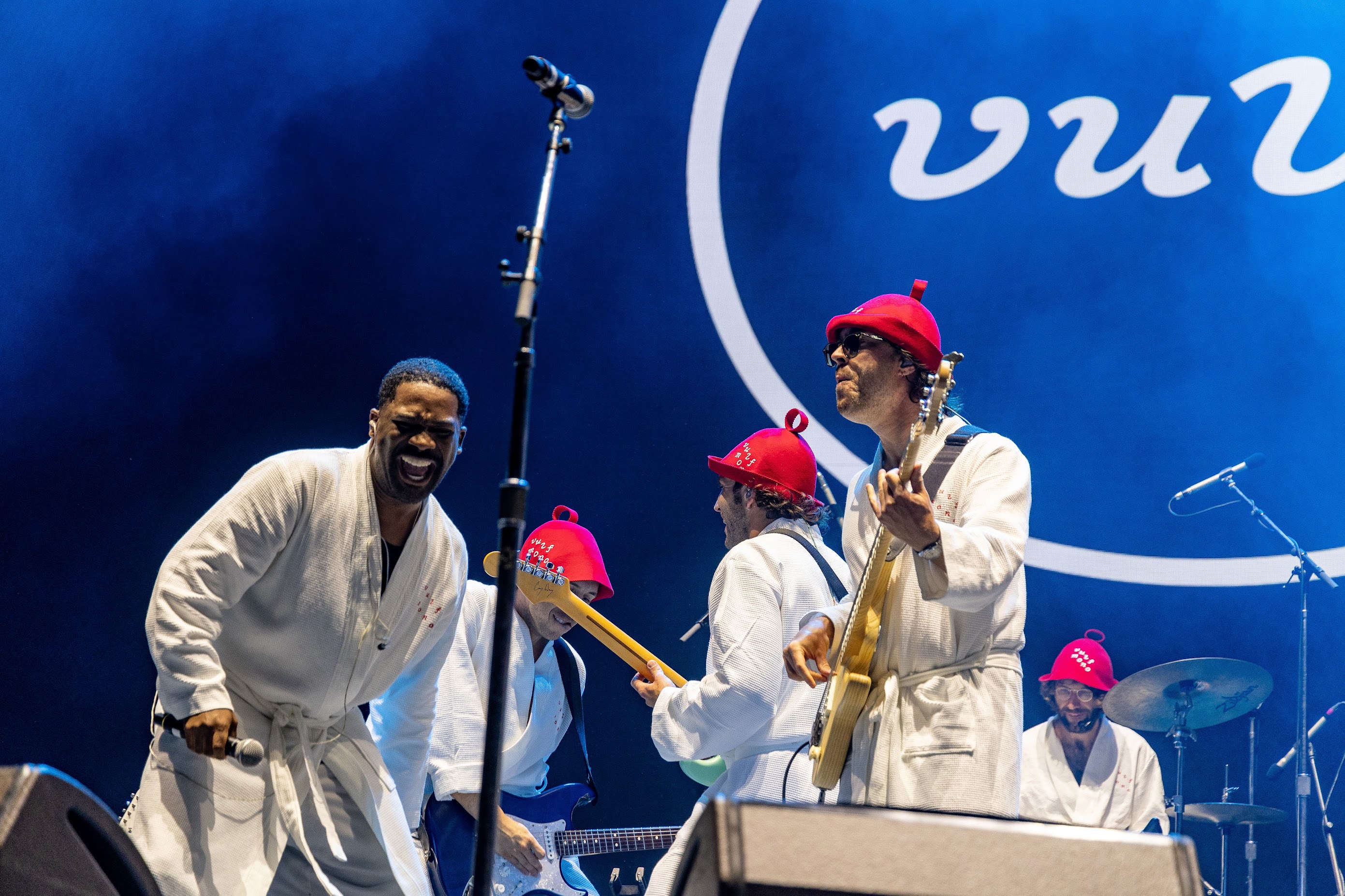 Vulfpeck, the funk-driven collective known for their infectious grooves and irresistible stage presence, took Bonnaroo by storm just before 1 am on the Which Stage. With their unique blend of funk, soul, and R&B, Vulfpeck delivered a high-energy performance that had the crowd moving and grooving from start to finish. Their set at Bonnaroo celebrated pure musical joy, leaving no doubt that Vulfpeck is a force to be reckoned with in contemporary funk. The set even included a marriage ceremony for a couple of festival goers onstage and a rousing chair-carrying salute afterward.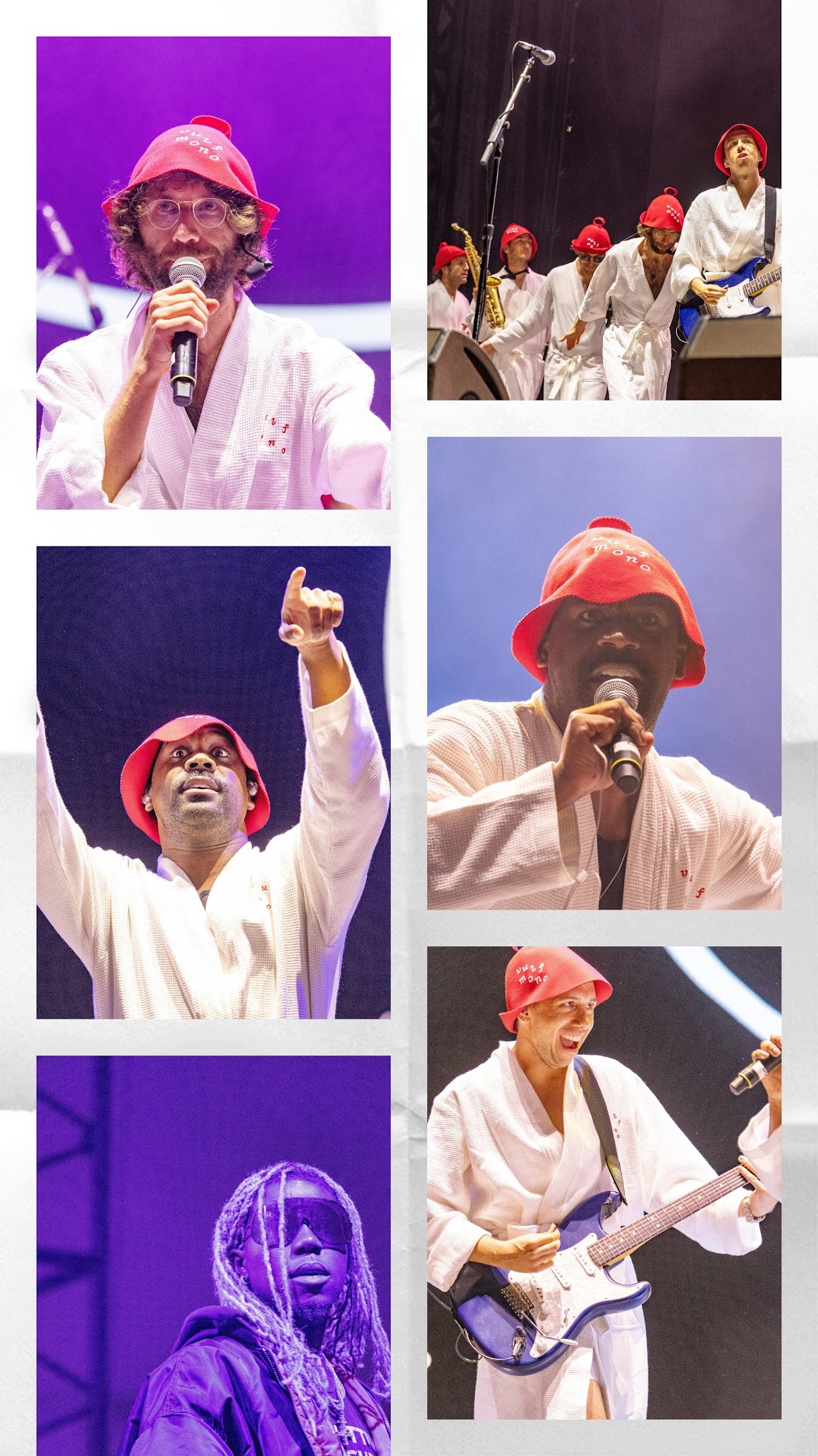 The collective virtuosity of the band members was on full display throughout their performance. The precision and tightness of their musicianship created a wall of sound that was both impressive and captivating. From Jack Stratton's funky bass lines to Joe Dart's dynamic and melodic bass solos, every band member shone with their exceptional talent. Vulfpeck's charisma and enthusiasm were contagious. Frontman Theo Katzman led the charge, engaging the crowd with his charming stage banter and powerful vocals. The band's playful interactions and genuine joy in performing together created a palpable connection with the audience, resulting in a shared experience of pure musical euphoria.
Vulfpeck brought some special guests to join them on stage, adding excitement to their set. Collaborations with renowned artists in the funk and soul realm showcased the band's ability to blend genres and create memorable musical moments seamlessly. These guest appearances added an element of surprise and further energized the crowd.